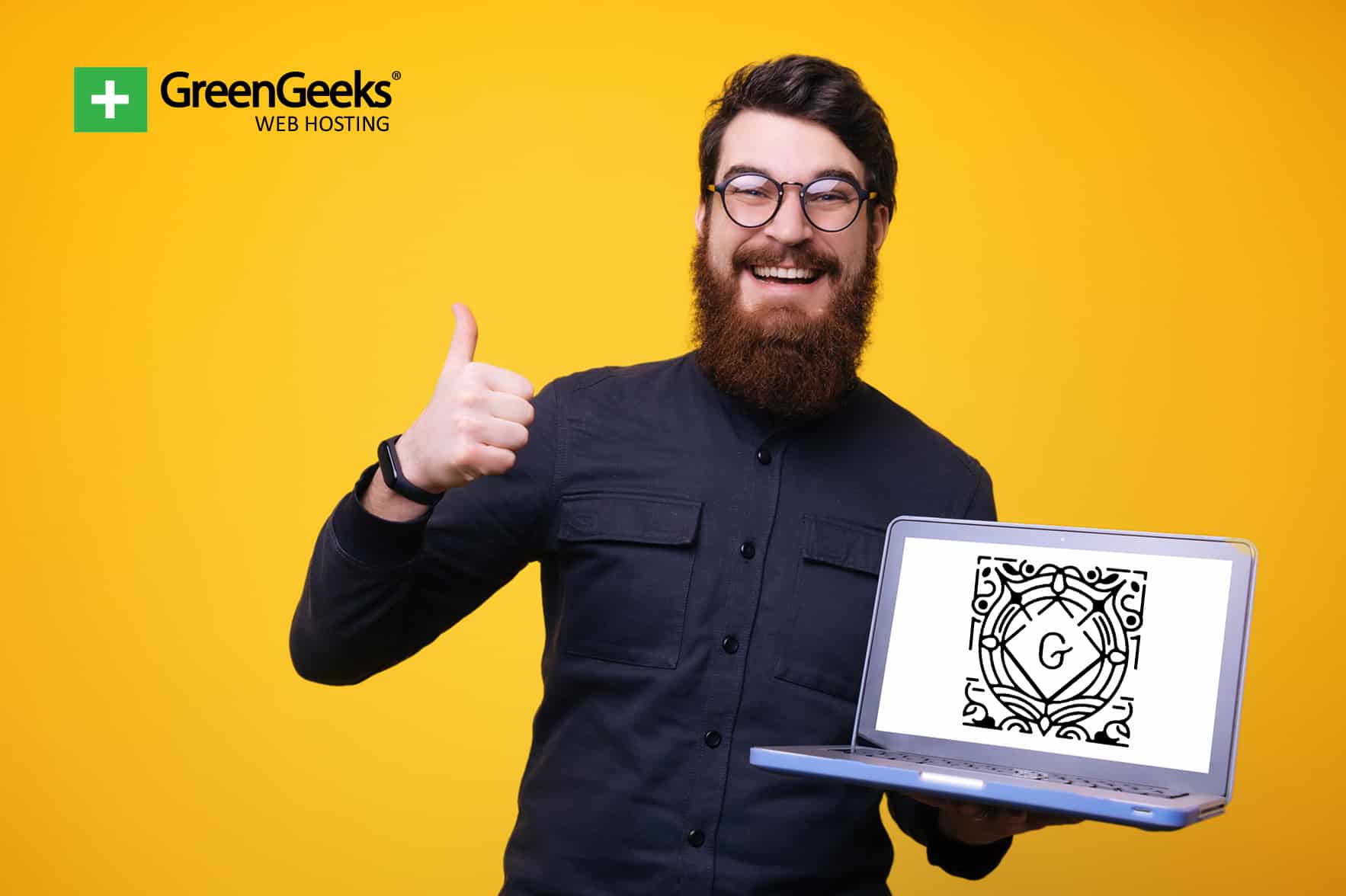 Since the release of Gutenberg, WordPress developers have been busy trying to upgrade and push out compatible Gutenberg ready themes. And in that time, these developers have now caught up and put together a lot of free Gutenberg themes available for everyone.
A WordPress Gutenberg theme is what you need now, as WordPress continues to move away from the classic editor. Even though WordPress will support the classic editor through the end of 2021, it is important that you have a grasp of everything Gutenberg-related before then.
Not only are WordPress users searching for new layouts, but they are searching for the best free Gutenberg themes available. Below you will find a list of some of the most attractive that are available for immediate download.
What is Gutenberg?
In case you don't know what has been going on in the world of WordPress over the last year, Gutenberg is the major release of WordPress that incorporates the new block editor. I get all kinds of interesting questions about Gutenberg, but the bottom line is that this is where WordPress is going.
It is time to get on board.
The block editor allows for a lot more freedom and functionality as opposed to the classic text editor that we have all grown familiar with. Instead of trying to add text, images, colors and line heights all in one massive text editor, the Gutenberg block editor shifts focus to blocks.
Each block acts as its own area of the post or page, and within that specific block, you can perform a function. You simply choose the block you want and go from there. You can even create Gutenberg reusable blocks in WordPress and have them on file for future use. This saves you a lot of time building once you have created a specific block you like.
The Best Free Gutenberg Themes
With a Gutenberg WordPress theme, you will be able to more easily build using blocks. Updating content is easy, and you can even build your own blocks and export and import them for use on other websites.
Here are 19 of the best free Gutenberg themes now available.
1. Clean Blocks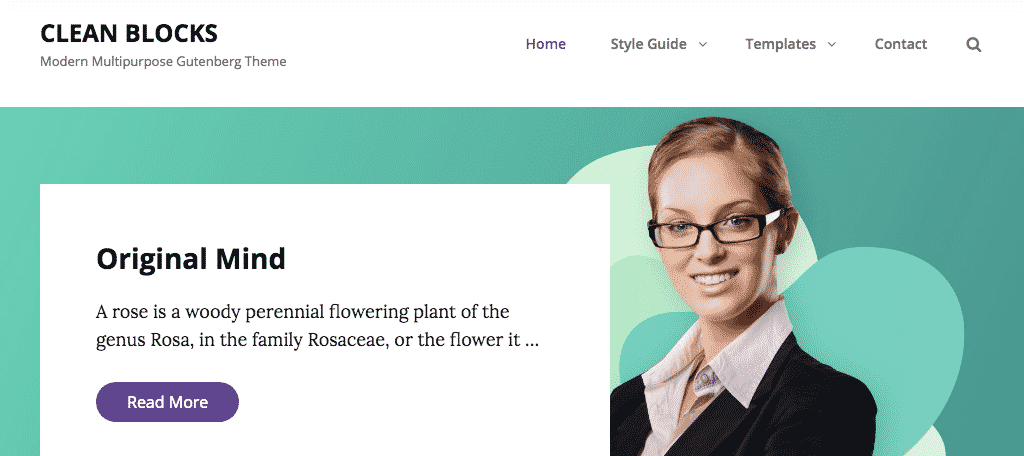 Clean Blocks is a free Gutenberg theme that is simple but packed with power. It has a beautiful design with several layout options and is built for any type of WordPress site you are building.
With features like a content slider, portfolio, hero content and header video options, this WordPress Gutenberg theme is about as complete as it comes.
2. Neve
With more than 82,000 downloads, Neve has quickly become one of the best and most popular Gutenberg themes for WordPress. You can use this theme for business or creative purposes. It has a clean, fast code design and is fully compatible with WooCommerce.
The theme is also compatible with all the major WordPress page builders, including Elementor. Definitely a theme you will want to check out.
3. Hestia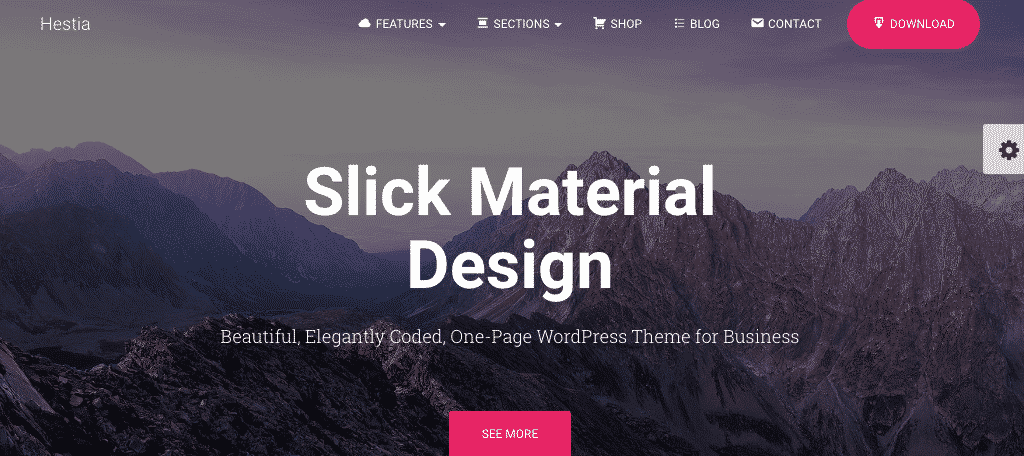 Hestia was specifically designed for small businesses and startups. It comes with an intuitive and mobile friendly design. It is built to be an excellent fit for both corporate and creative purposes.
The theme provides a clean and flexible appearance, an elegant portfolio and a catchy online shop. It may have everything you need in a Gutenberg WordPress theme
4. Newsphere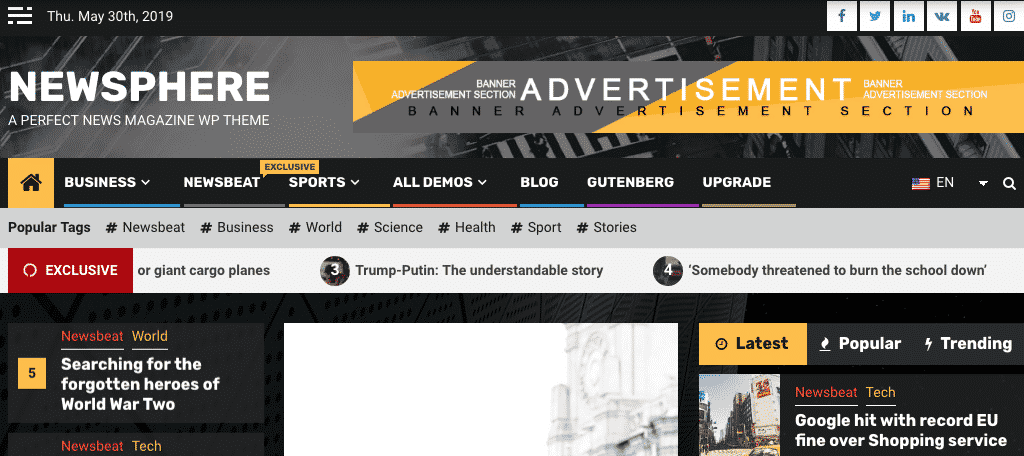 Newsphere is a free Gutenberg theme that is perfect for blogs, magazine and news related websites. The layout and design were specifically designed to look and feel like an interactive news portal.
It features sticky header toggles, WooCommerce integration, footer widgets and much more. It is also fully responsive and translation ready.
If you are thinking of launching a news site, this theme is for you.
5. Neve Charity
Neve Charity is a free Gutenberg theme designed for; you guessed it, charities. Perfect for churches, non-profits and more, Never Charity is fully AMP optimized theme and adapts perfectly on any viewing device.
With WooCommerce and page builder compatibility, there is really nothing you can't do with this WordPress Gutenberg theme.
6. Elemento Photography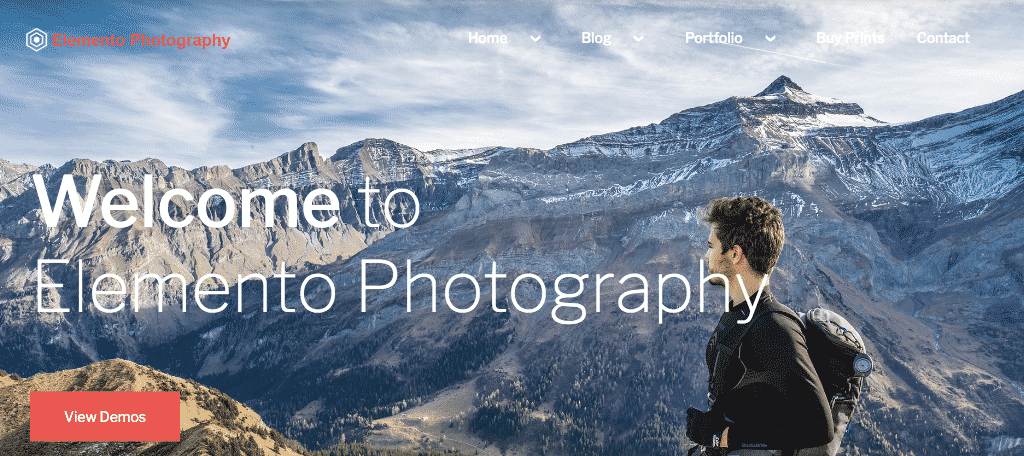 Elemento Photography is a free Gutenberg theme that is specifically designed for photographers. Even though it is a multi-purpose theme, Elemento has the designer in mind. The pre-made template comes in a parallax style and is visually appealing to designers and site visitors alike.
With the NextGEN gallery plugin already included and the ability to create multiple photo galleries, Elemento has everything a photographer needs to get their work online for free.
7. Blocksy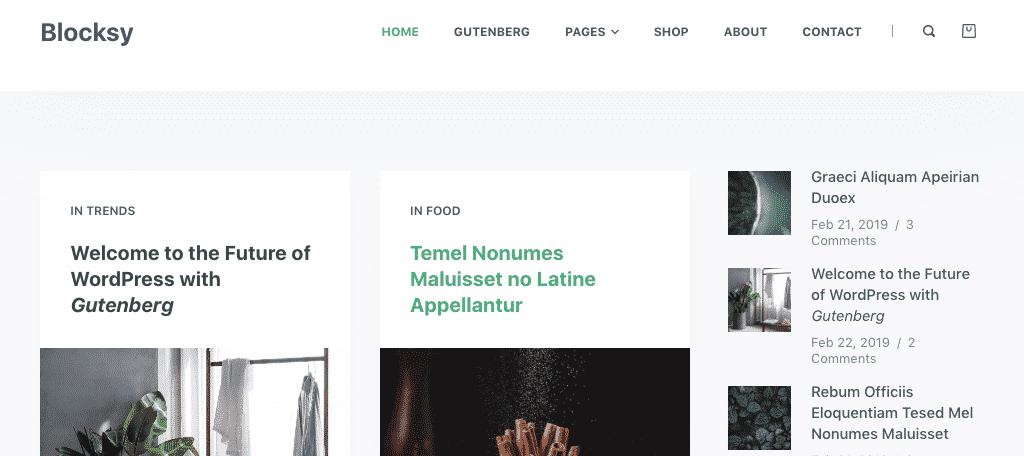 If you are looking for a fast, lightweight, multi-purpose theme, then look no further than Blocksy. Designed to build any type of WordPress site, Blocksy was created with Gutenberg in mind. So creating and designing with Gutenberg will be as easy as ever.
This free Gutenberg theme also supports every major WordPress page builder. Designing and creating with Blocksy is simple and fun.
8. Gutenshop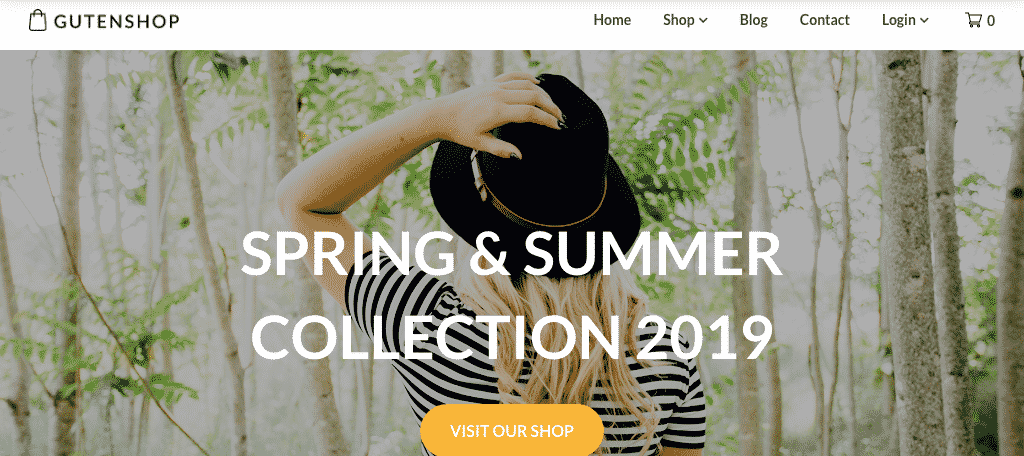 Gutenshop was created to allow the ability to automatically merge the world of Gutenberg and the world of WooCommerce together. The theme is ideal for eCommerce websites and other forms of sales.
With a lightning-fast loading speed, solid code, SEO optimization and plenty of widget areas, the Gutenshop theme is a solid free Gutenberg theme.
9. Music Lite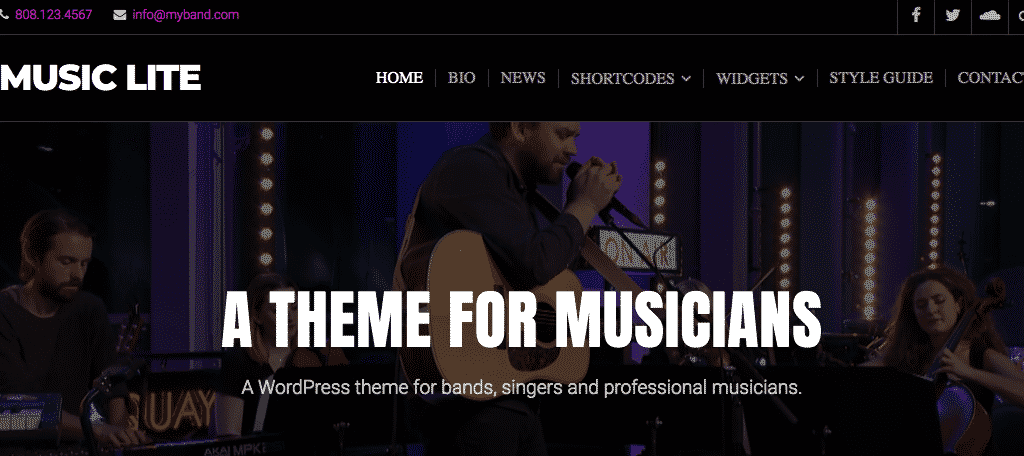 Music Lite is a Gutenberg ready WordPress theme designed with musicians in mind. If you are a band, instrumentalist, singer, DJ, or anything else in the music industry, then this theme is perfect for you.
It has a simple, smooth, clean look and feel. The theme is fully customizable and has a ton of behind the scenes options available. With built-in SEO optimization and multiple widget areas, musicians can build a solid website.
10. Willer
The Willer Gutenberg ready theme is easy to use and provides you with multiple layout options. A slick slide-out menu, tons of portfolio options, super clean code and a fully responsive design give this theme the upper hand for free Gutenberg themes.
Willer is perfect for your brand, company or portfolio. The theme does it all so be sure to give it a look.
11. SKT Consulting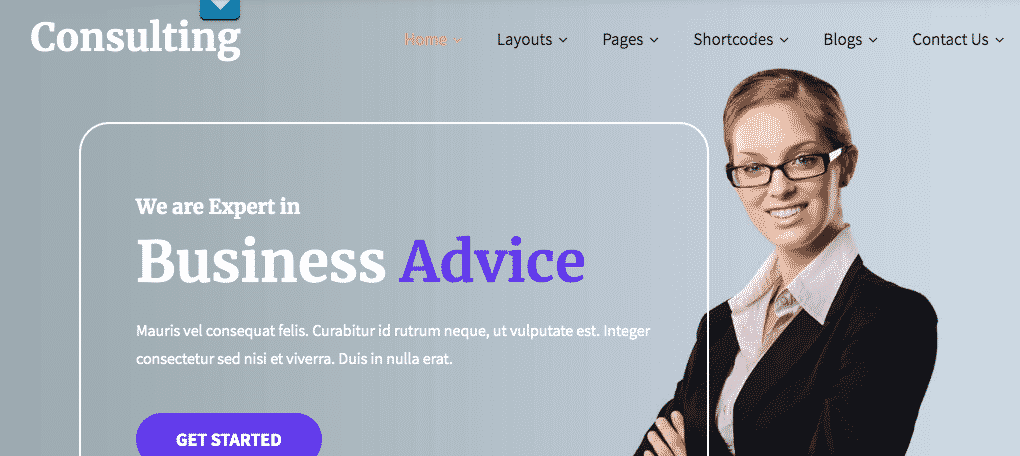 The SKT Consulting WordPress theme is a free Gutenberg theme that is perfect for any type of consulting business. It is compatible with WooCommerce and built with SEO in mind.
The theme shows correctly on all size screens and mobile devices while providing a clean and modern feel that is easy on the eyes. Design and set up your consulting website in no time at all with this theme. 
12. Zigcy Lite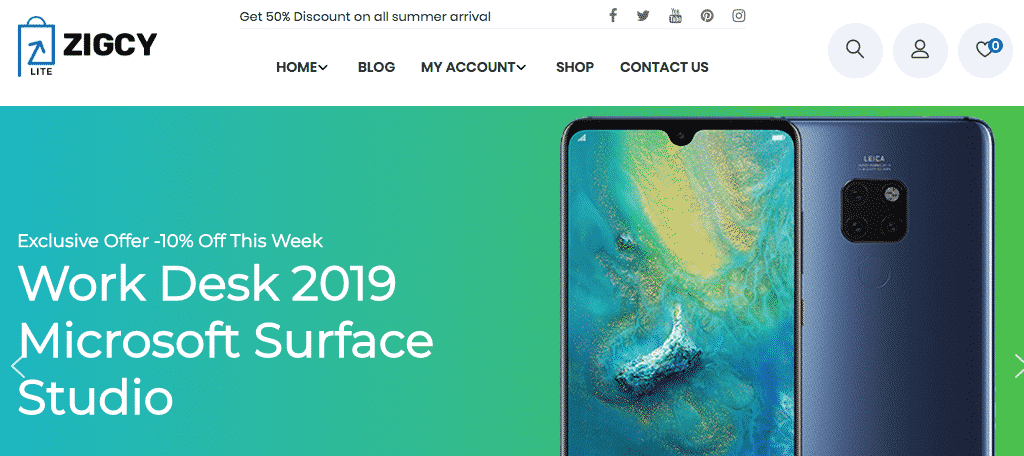 Zigcy Lite is actually a free Gutenberg theme built for WooCommerce and online selling. It comes complete with a deep WooCommerce integration package and plenty of layouts.
Plus, you can use the Gutenberg block editor to build all sorts of stunning post and page layouts.
13 Divi
The Divi theme from the people at Elegant Themes has always been a leader in the WordPress community. So it should be no surprise that their theme is at the top of this list.
Divi has now been updated to be a fully compatible WordPress Gutenberg theme. With one of the best integrated page builders around, Divi is definitely worth a try.
14. Novo
The people over at Genesis/StudioPress are famous for their themes that allow you to create amazing WordPress sites with a minimal feel. Novo provides you with a clean, smooth, modern layout that will get your website looking professional in no time at all.
With tons of theme options, built-in WooCommerce compatibility and plenty of widget areas, the Novo theme is a fantastic choice for a Gutenberg WordPress theme.
15. Roseta
Roseta is a fast, clean, smooth, highly customizable WordPress Gutenberg theme. It can be used and built around for anything including online shops, blogs, portfolios, business sites and more.
The theme is very lightweight and mobile friendly and was created with proper SEO optimization in mind. Roseta is definitely one of the best free Gutenberg themes available on this list.
16. Mizra Blog
The Mizra Blog WordPress Gutenberg theme is a fully responsive theme with multiple layout designs and plenty of backend functionality. It gives users a clean, elegant, modern design that can be integrated and built into any type of website imaginable.
Mizra provides users complete compatibility with Gutenberg and the classic editor, as it looks to cover all users. With a full-width and boxed-width layout design, Mizra Blog has something for everyone.
17. Creative Blog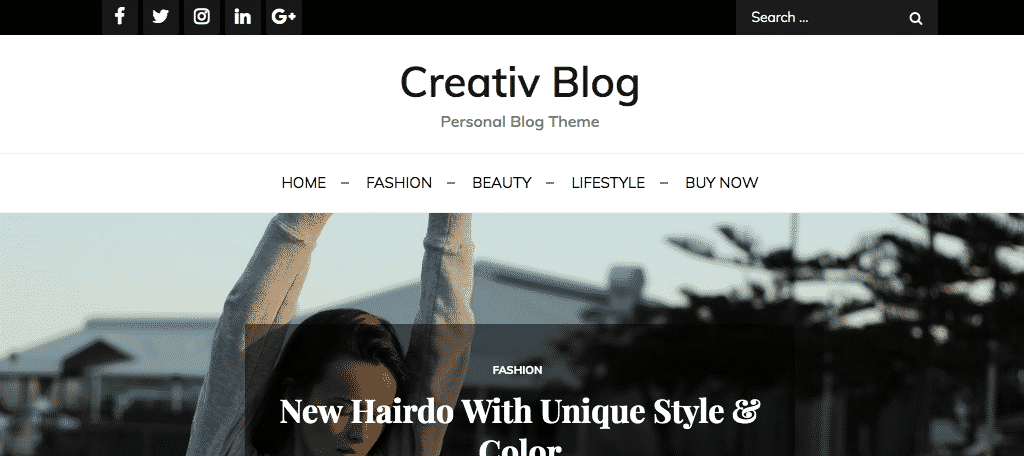 Creative Blog is a very modern Gutenberg ready theme that comes with tons of features and minimal design. This Gutenberg blog theme is perfect for all kinds of blog sites no matter the niche.
With multiple layout designs and plenty of widget areas, users will be able to build a smooth looking blog that reflects their personality.
18. Elementare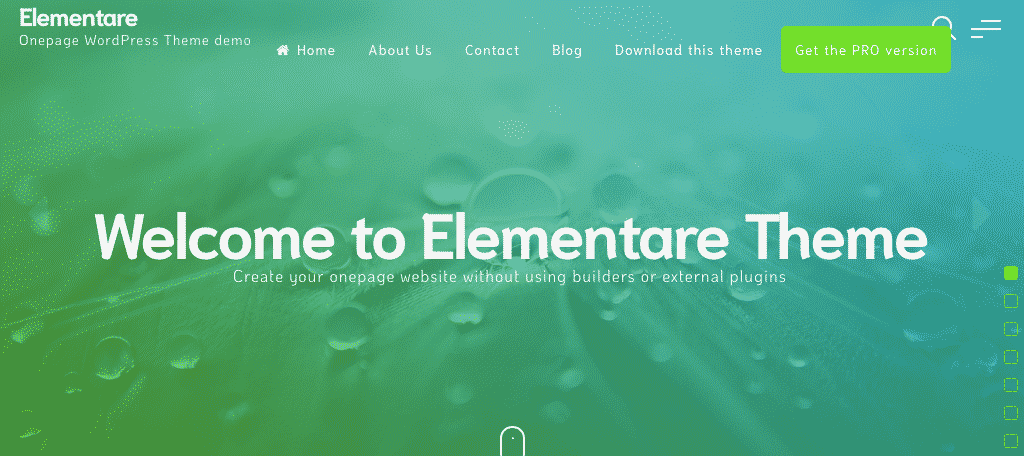 When it comes to free Gutenberg themes, you won't find too many better than Elementare. This theme is gorgeous and very easy to use. It is a multi-purpose Gutenberg WordPress theme that specializes in helping users create amazing one-page layouts.
The homepage includes drag-and-drop widget sections allowing you to create stylish and eye-catching designs for your website. Give Elementare consideration if you are looking for a stunning website design that is fully responsive and WooCommerce compatible.
19. Veganos
Veganos is yet another clean, responsive, fully customizable and mobile friendly free Gutenberg theme. The entire layout was redesigned to be Gutenberg-ready and features modern, easy-to-read typography and minimalistic design that will have your site visitors coming back for more.
Final Thoughts 
Finding free WordPress themes isn't difficult, but finding the right one for your needs is often daunting. Add this to the fact that many good themes are being redone to be compatible with Gutenberg, and sometimes you might feel lost.
And this doesn't include trying to find a small business theme that suits your needs.
There are tons of amazing free Gutenberg themes available online. You just have to look around for them and see what fits best for you. The list above consists of my favorite Gutenberg ready themes.
Have you seen better free themes anywhere? Is there a great one I missed? Feel free to comment and let us know.