Adding a WordPress contact form to your site has the potential to increase leads. Regardless of the type of business you operate, offering a way to contact you and collect information is critical for success.
In fact, eCommerce sites often generate more sales simply because the option is available to contact the company directly. This is because it inspires trust within the consumer.
Whatever your reasons, adding them to WordPress is quite a simple process. It's finding the best plugins for your needs that can pose a challenge. After all, there are a lot of plugins to choose from.
Here are five of the best WordPress contact form plugins available. Pay close attention to the versatility of number one.
What Are Contact Forms?
A contact form provides web developers with a quick way to collect information from visitors and it can be useful for a variety of topics.
A contact form can be as simple as asking for an email and a call back number to as complex as a job application. In many cases, contact forms are used to collect information from visitors and customers like email address, phone number, address, age, location, sex, and more.
This helps you understand your user-base and carefully select an advertisement campaign that best suits your website.
However, if you want to actually collect information, your contact forms need to look professional and match your website's style. Otherwise, visitors may not be inclined to trust them, thus you need to build stunning WordPress forms.
Here are some of the best WordPress contact forms you can install today.
1. Contact Form by WPForms
WPForms is perhaps one of the most versatile WordPress contact form plugins available. Start with an easy-to-use, drag-and-drop interface and end with pre-built themes and you have a system that allows you to create forms quickly.
Most importantly, because of how easy this plugin is to use, anyone can build a stunning contact form regardless of your skill level. Due to the flexibility of the plugin, you can literally build any kind of online form.
An important aspect to consider is that WPForms is SEO and mobile-friendly while being optimized for speed. Because a large portion of people will abandon a website if it takes longer than three seconds to load, you need a solution that is quick. This doesn't even include the high degree of customization and extensions of the plugin itself.
2. Forminator
Forminator makes it easy to add WordPress forms for visitors to contact you. It utilizes a visual form builder that allows you to drag and drop specific blocks into a new form, which means that it is perfect for any skill level.
You can do just about anything with this WordPress forms plugin including contact, order, payment, and email form generation. You can also do unique things like create feedback widgets, create interactive polls, generate quizzes, and more.
Most importantly this plugin offers both PayPal and Stripe integration, which means you can accept payments from the largest online payment solutions. This means customers will never not have a reason to pay online.
3. Contact Bank
Contact Bank is an excellent choice for developers who want more management and analytical tools for their contact forms. This plugin boasts to have more than 200 features through the paid premium version.
Adding forms is super simple regardless of if you are using the Gutenberg or Classic editor. That is because the plugin utilizes shortcodes on your site for customized contact forms with an unlimited number of entries.
Available in more than 35 languages, it has a great deal of versatility when it comes to a global market. One thing to note is that this plugin could seem overwhelming at first as you have so many fields for customization.
4. Ninja Forms
Ninja Forms is perhaps among the most popular plugins for creating forms of any kind. You have no limitations on how many you can build, a variety of customization options, and AJAX form submission to streamline the site.
One of the best features it offers that separates it from the competition is the support team available for both Pro and free users. You can send an email to the team and expect a response with 24 hours as a free user and even quicker as a Pro user.
As with many other form builders for WordPress, this plugin comes with anti-spam options such as Google ReCaptcha. This helps prevent those pesky spam bots from filling your forms out. The drag-and-drop interface to allow a quick and easy way to create the perfect layout, which is perfect for beginners.
5. Contact Form 7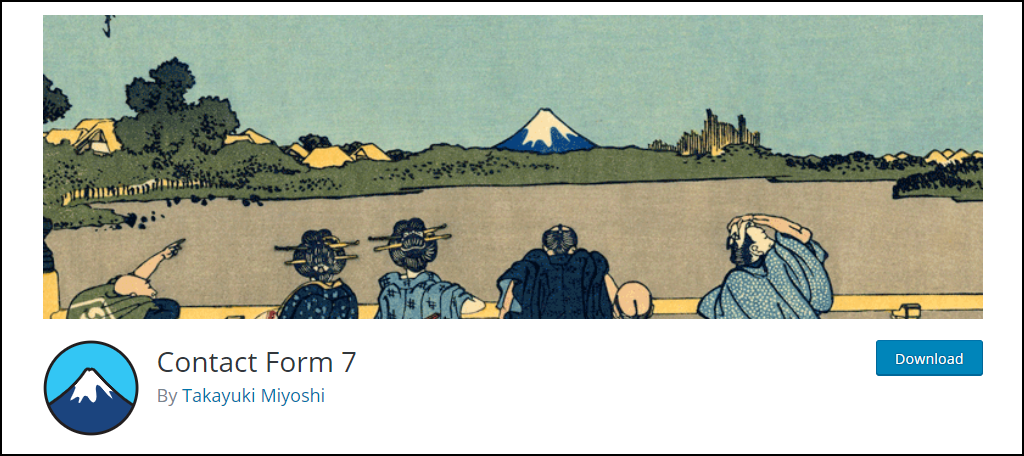 Contact Form 7 is the most popular plugin on this list with over 5 million active installs. Thus making it one of the most actively installed plugins for WordPress in general. And that is because it is good at what it does.
Building forms is a cinch with a simple interface that supports a variety of features like Akismet support and Google ReCaptcha for anti-spam features. But perhaps one of its more endearing features is the capacity for integration.
As Contact Form 7 is so popular, many third-party plugin developers put in the effort to make sure it works with their own system. Even more impressive is the slew of free add-on plugins that add even more features to this plugin. It really can do anything with the right add-on.
6. Formidable Form Builder
Formidable Form Builder is another top tier WordPress contact form plugin that utilizes a drag and drop interface to make form creation as easy as possible. As a result, you can build sophisticated forms regardless of your skill level.
This might just be the most optimized form builder on this list. It is optimized for speed and delivers maximum server performance. On top of this, the developers understand we live in a mobile world, as such, this plugin is 100% mobile responsive.
This means that regardless of the device someone uses, they will be able to fill out a form without trouble. With a library of pre-built forms to choose from and the customization options to make your own, this is a terrific plugin to choose.
7. Everest Forms
Everest Forms is another great choice for developers seeking a drag and drop interface to build WordPress forms. It is lightweight, fast, easy to use, includes multiple pre-built templates, and is mobile responsive.
And this is just scratching the surface of features the plugin offers. You can create forms using a variety of elements including text boxes, drop-down boxes, radio buttons, checkboxes, and other common form elements.
Adding the forms could not be easier. After creating them, all you have to do is add the Everest Forms block in the Gutenberg editor and select the form you want to add via the drop-down. It's really that easy!
Finding These and Other Plugins in WordPress
If you are new to WordPress, you may be wondering how to find and install one of these awesome plugins. Let me explain the process.
To begin, click on Plugins and select the "Add New" option.
A text box is located on the top right. Simply type in the name of the plugin or a term for the type of plugin you are looking for. In this example, you can type in "Contact Forms" and search for the results.
Alternatively, if you know the specific plugin you are looking for, you can just type that directly into the search box. Just make sure you spell it right.
Once you find the plugin you want, simply click the "Install Now" button and activate it for use.
The plugin is now ready for use, but the majority of plugins require additional set up steps before they actually work. In some rare cases, plugins work upon activation and require no additional settings.
Each plugin has a page that details all of the features the plugin offer and sometimes you can even find set-up tips or instruction on the same page. In fact, many popular plugins have a video tutorial in place to help beginners, so always be sure to check out the plugin page.
It's Easy to Add a Contact Form to WordPress
You don't need to have extensive HTML skills in order to implement forms on your website. All it takes is the right plugin. Take WPForms, for example. You can quickly build the form you need with a simple drag-and-drop interface.
Take the work out of setting up your own contact form and reap the benefits. You'll never know just how much it will impact your business until you actually add it. Just make sure they match the rest of your website, otherwise visitors may not trust them.
Especially when asking for sensitive information, like credit card info.
What kind of methods do you have on your website for contact? What other kinds of ways could you use a form?