One aspect of start-up business planning that never seems to get the attention it deserves is how a business gets its venture capital. Banks and investment institutions are looking for very detailed plans that outline your business. And business plan software can help you create those layouts.
What is Business Plan Software?
Business plan software helps you create a full business plan that is attractive to potential investors. The reports that the software generates will explain how you will get customers, who will run the business, and most importantly, where the start-up or venture capital will come from.
The reports are created with investors or financial institutions in mind.
This software is intended for people who have already done significant research and planning for their business. In most cases, the software will ask you to enter information that it already assumes you have available, like financial calculations.
Thus, this type of software is not intended for people trying to come up with an idea.
Alongside most business planning software, you are going to need other tools with the main one being spreadsheet software. In fact, many of these pieces of software will expect you to upload data straight from a spreadsheet.
Here are some of the best business plan software to use in 2022.
The Best Business Plan Software
1. LivePlan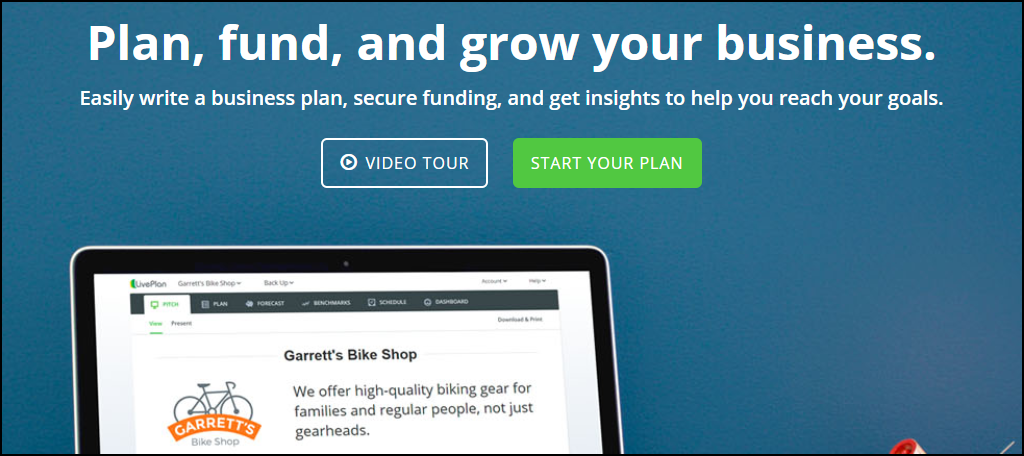 LivePlan is the most well-known business planning software on the market. With over 15 years of experience, it has helped over 850,000 small businesses achieve their goals. And that's because their software is easy to use and affordable.
And at the end of the day, what more could you want?
The software uses a step-by-step interface that helps lead you through the process of building a fully-fledged business plan. This process will help you create the initial pitch that you will use to secure funding, create a detailed report that will impress investors, and even help you map out future financial information.
This will help make sure that your business is on track to meet your goals. All of the information is entered through a series of text boxes following the questions. It's literally like going through a form, but the end result is that the software will generate a report from it.
It really doesn't get any easier than this.
Benefits of LivePlan
This is a cloud-based software
If you have all of the information ready, you could be done within an hour
Over 500 sample plans to help you get started
Price of LivePlan
Standard plans begin at $15 per month
Premium plans begin at $30 per month
2. Enloop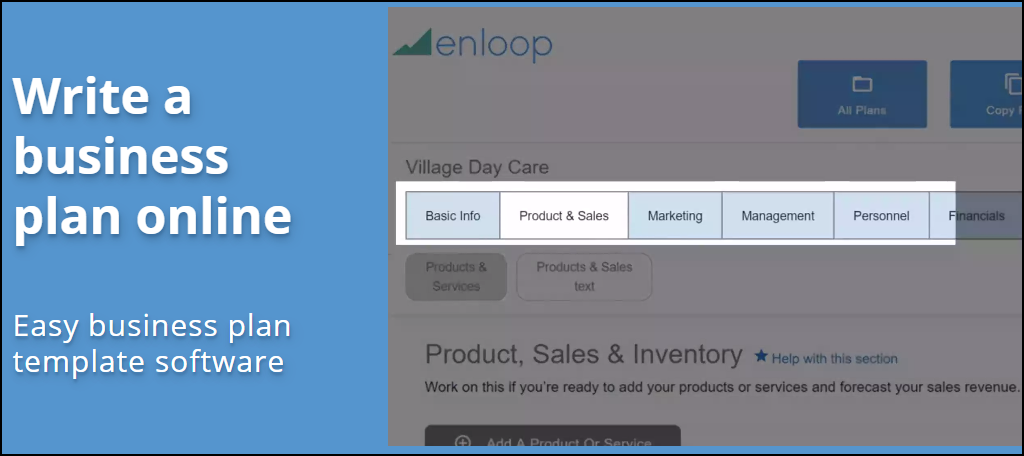 Enloop is another excellent choice in the business plan software market. It does everything you could possibly want at a low cost without all of the headaches. And, it even supports multiple users, which many similar software options lack.
But don't just take my word for it, try it today for free with the 7-day trial.
One of the hardest parts of starting a business from scratch is the language you must use. Luckily, Enloop will automatically generate text that you can utilize. The text is fully editable, so you can make changes to it at any time.
This will make your plan sound professional, and increase the likelihood of receiving funding.
Many people seem to think that starting a business all comes down to one person, but that just isn't true. While the core idea might start with one individual, you typically have partners, accountants, and others helping you out. Thus, allowing multiple users is necessary in many cases.
Benefits of Enloop
Compatible with over 100 currencies
An extensive evaluation of your report tells you if its good to go
Generates bank-friendly financial reports
Price of Enloop
Detailed plans start at $19.95 per month
Performance plans start at $39.95 per month
3. GoSmallBiz.com
GoSmallBiz.com is another top-of-the-line business plan generator that is completely web-based. That means you can log into your account from any device, including mobile. That's right, there are dedicated mobile apps for both Android and iOS.
However, there are far more features than just business planning software.
On top of building a detailed plan to start your business, GoSmallBiz.com will be there after your doors open. That's because it also includes access to legal advice (free and discounted), a website builder, customer relationship manager, digital marketing, and so much more.
However, when it comes to business plan software, it has a series of industry-specific templates to help you get started. Simply follow the step-by-step wizard and build your plan the same day. You can even generate detailed financial reports to give you an idea of your earning potential down the road.
Benefits of GoSmallBiz.com
Utilize a large library of business documents
Get a detailed website analysis to ensure your website is up to current quality standards
Communicate with an experienced consultant team
Price of GoSmallBiz.com
There is only one plan that starts at $39 per month
4. BizPlan
Looking for business plan software that has generated over 500 million dollars in investment? Then you must be looking for BizPlan. The Software was built by experts to help small businesses secure the funding they need.
It has all of the tools you need from plan generation to financial assessments.
Many people want to start a business but don't quite have the knowledge to do so, that's where the video courses come into play. BizPlan offers an extensive and informative set of courses to learn the basics of building a business from a start-up. There are hundreds to choose from at no extra cost to you.
The actual business plan software leads you through a guided experience to create a business plan. The process is simple and straightforward. It will highlight areas that investors look to help boost your funding potential. It also offers a wide array of financial tools to choose from.
Benefits of BizPlan
Drag and drop templates are available to speed up the process
Progress tracker lets you see your progress in real-time
Calculate team salary forecasts with minimal input
Price of BizPlan
Monthly starts at $29 per month
Annual starts at $20.75 per month
Purchase lifetime access for a one-time payment of $349
5. nTask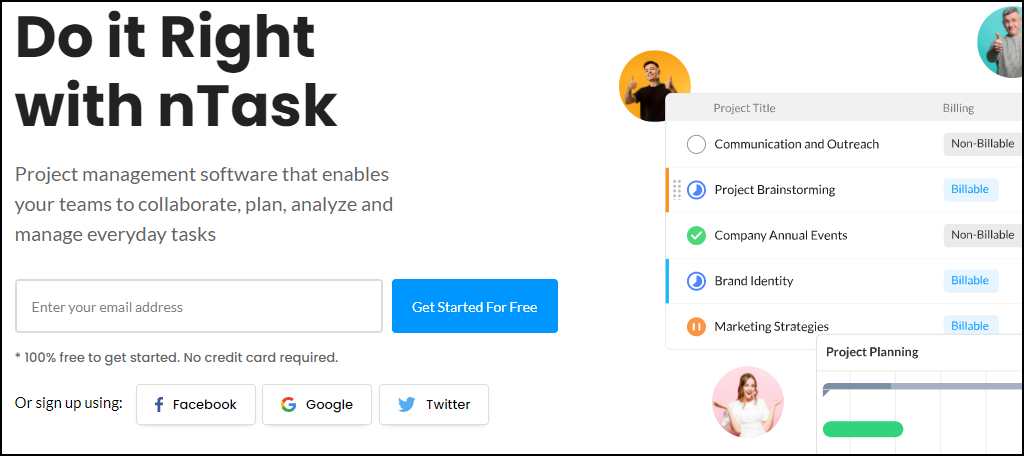 By far, the most common reason people do not try to start a business is the money they need to spend before they receive funding, and business planning software is no exception. However, nTask ensures you can build a plan without breaking the bank.
It is, by far, the best free business plan software on the market.
Even if you are not using the free plan, take note of its incredibly low prices in comparison to the rest of this list. There is no cheaper option than nTask. However, don't let the price fool you, this software is feature-rich and gets results.
This software is not just for creating start-up plans. You can use it to manage just about any project in a team-friendly environment. Thus, nTask will be with you before and after your business opens.
Just be aware that unlike most of the competition, there are no pre-built templates, so a little more work is involved.
Benefits of nTask
Visualize projects with an interactive Gantt chart online
Create detailed timesheets to help manage your employees
Integrates with Zapier, Zoom, Slack, Google Calendar, and Outlook Calendar
Price of nTask
A free plan is available
Premium plans start at $2.99 per month per user
Business plans start at $7.99 per month per user
Enterprise options are available upon request
6. EquityNet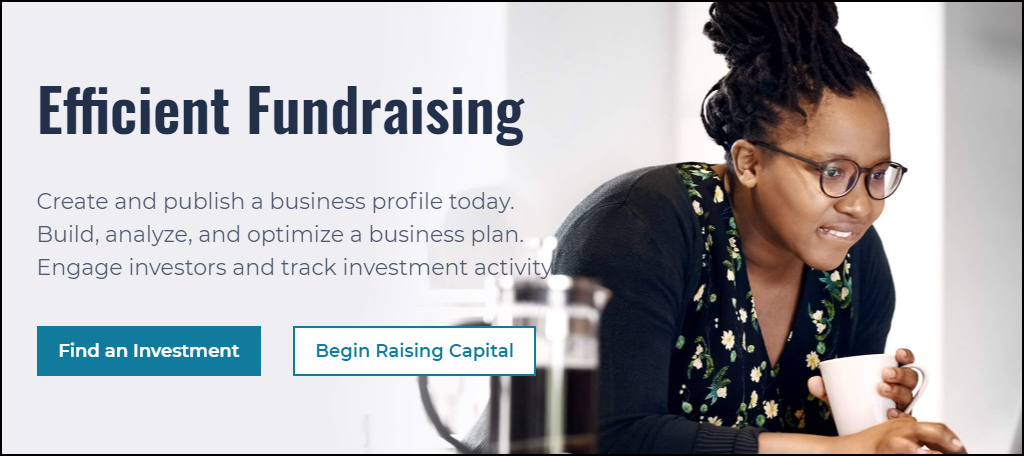 At its core, EquityNet is a network that helps investors connect with businesses looking for funding. It comes bundled with a wonderful business plan software that will help you attract investment on and off the website. And most of the website can be accessed for free.
Advertising your business plan on a platform filled with potential investors is a smart choice.
The business plan software itself is quite robust and will help you write up a professional report that will put additional focus on what investors are looking for. However, keep in mind that while the tool offers a lot of help text and explanations, you are still going to need to do most of the writing.
The main benefit of EquityNet is the premises of the platform. Think of it as a crowd funder that focuses on getting start-up businesses the funding they need. This platform really does make getting investments a breeze as long as you have a strong pitch and a plan to match it.
Benefits of EquityNet
The largest marketplace for private investment deals
Status bars help you identify parts to work on in your business plan
Supports both PDF and Word documents
Price of EquityNet
EquityNet does not make its subscription prices public. Thus, you must contact them for more information.
7. IdeaBuddy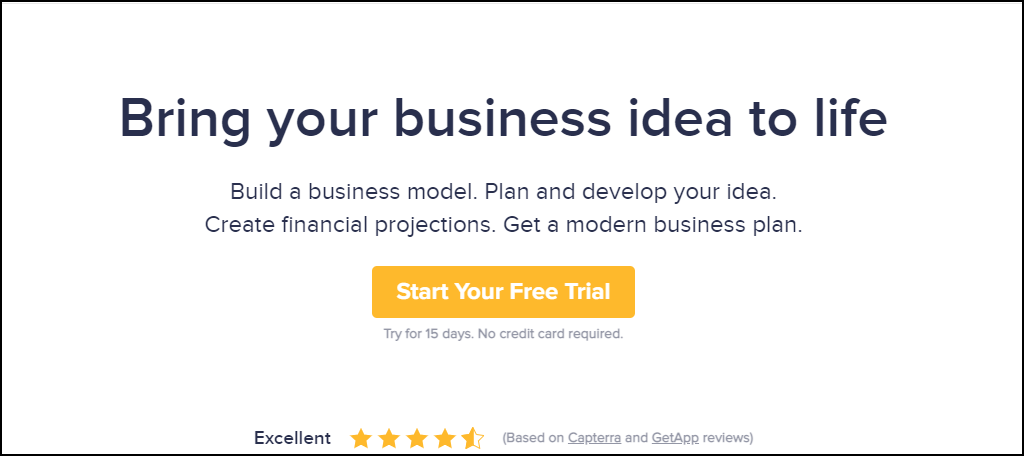 And closing up this list is IdeaBuddy, but don't let its placement fool you. It is one of the best. This software can take even the most basic idea and turn it into an attractive business plan that investors will be drooling over.
And you will never get lost during the process thanks to the excellent help center.
The planning process is similar to others on this list. You will be brought through a guided experience that will provide instructions and tips to help your business find success. You can also view multiple examples of similar businesses to help give you a clearer direction.
All of the financial calculations are done for you. The only part of this process you need to do is enter the numbers. These financial reports will look great and pique investor interest.
All of the reports and plans can be exported as PDF and Word documents to make sharing easy.
Benefits of IdeaBuddy
Use pre-built templates to speed up the process
15-day free trial
This software is great in a team environment
Price of IdeaBuddy
Dreamer plans start at $15 per month
Founder plans start at $25 per month
Team plans start at $55 per month
A lifetime deal is available for a one-time payment of $155
Who Is This Software For?
Business ideas come from the strangest places, and only a fraction of people act on them. That's because creating a business from scratch is extremely challenging and risky. However, if you are one of the few people who is actively trying to bring their plan alive, then you are going to want this type of software.
However, you need to do a significant amount of work to make this software useful.
It is not intended for people who have just had an epiphany. Instead, it's for people that have a full plan in place and just need to make it presentable. Banks and investors want to know everything about your potential business.
After all, if you have a great plan that is likely to succeed, the investment is safer. Thus, you are more likely to get the funding you need.
Bring Your Business to Life
The most common reasons banks and financial institutions do not lend small businesses money are the four C's of Credit: Capital, Collateral, Capacity, and Character. If banks are unhappy with any of these individual elements, you can kiss your loan opportunities goodbye.
Business plan software can help improve your chances by clearly outlining your business assets and the role they will play, financial estimates that compare the cost of business to potential earnings, who will be managing the business (experience matters to banks), and much more.
These reports show that you are serious about starting a business and you can handle the workload.
What business planning software did you use to secure your loan?