The prospect of using eCommerce software has become wildly popular over the last few years. With the way we shop and do business online these days, it doesn't seem like there is anywhere to go but up for eCommerce platforms. There are certain things to consider when choosing the best eCommerce software, and knowing where to start is key.
In years past, you would have paid a great deal of money for a developer to try and come up with an eCommerce platform for you that would allow you to buy and sell physical and digital goods and services.
However, things are not like that anymore, as the development of online shopping has led to an abundance of eCommerce software that you can easily access.
Remember, open-source eCommerce software may allow for a little more creative freedom because you can use a solid hosting service to self-host.
What is eCommerce?
Simply put, eCommerce is commercial transactions conducted electronically on the Internet. Selling online using eCommerce is a business model that allows firms, small businesses, and individuals to buy and sell things quickly and easily from their web browsers.
Overall, eCommerce operates four of the major market segments. These include:
B2B (Business to Business)
Business to Consumer

Consumer to Consumer
Consumer to Business
The process of selling using eCommerce means that since business can be conducted online, there is no need for a physical store to sell a product or service.
Mostly because eCommerce solutions can be used to conduct business over computers, tablets, or smartphones.
The best way to visualize or understand eCommerce platforms and what they do is to visualize a digital version of a mail-order catalog.
When it comes to choosing the best eCommerce software for your online store, there are several things you want to consider. I will go over several things below when listing some of the best services for online selling.
Let's dive right in together.
Best eCommerce Software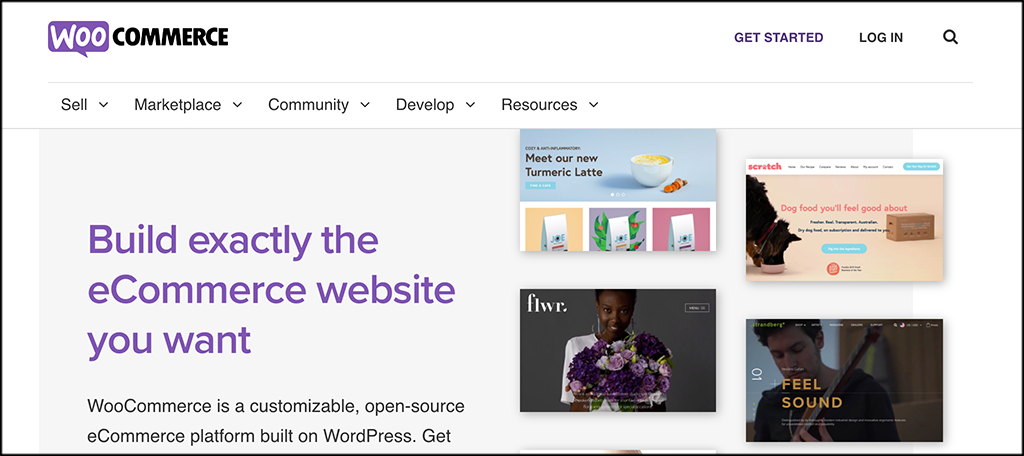 First up on our list of the best eCommerce software platforms out there today is the mighty WooCommerce. Chances are you have heard of them, as they remain the most popular way to sell physical and digital goods online.
My guess is that you have also heard of WordPress since it now powers around 40% of the sites on the Internet. These systems combine and allow you to create pretty much any type of eCommerce platform you want.
All you have to do is have WordPress installed. Once that happens, you can go download WooCommerce for free. The free plugin gives you all the tools necessary to start selling physical and digital goods quickly and easily.
However, the best part of WooCommerce is the expansion and freedom that it offers. By using code and any of their thousands of different plugins, website owners can design online shops that are second-to-none.
The plugin also includes a setup wizard that is built-in. This means you can install it on your WordPress website and follow the wizard step-by-step to get it up and running.
Features
Easy to install
Value
Tons of selling options
Design freedom
Translation for 24 languages
Multichannel selling
SEO support and functionality
Customize products
Dozens of payment gateway options
Cheap to build on
Thousands of plugins
Hundreds of third-party integrations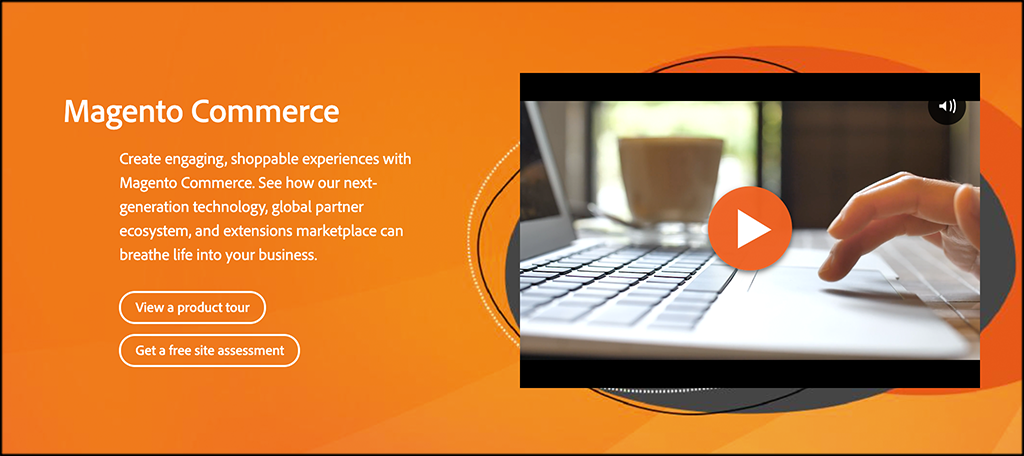 Another one of the best eCommerce software platforms, and also one of the most well-known solutions on the market today, is Magento. This platform is actually perfect for medium to large businesses.
While it doesn't have the same market share as WooCommerce, it does have powerful and sophisticated features that help power almost 250,000 online stores.
If you know or understand even a little bit of code, then Magento allows you to customize the platform and build the online store of your dreams. It should be pointed out that while this platform is powerful and recommended, it is also a little more advanced than the rest of the platforms on this list.
For this reason, I recommend you learn some valuable technical terms and then open the platform up and start learning before trying to build on it right away.
The Magento community is something you can fall back on when needed. There are always forums and help topics available. There are also a good number of quality online guides available as well.
All-in-all, if you have a little technical knowledge or you are willing to learn, then Magento can offer you the ability to build an amazing online store.
Features
Sell physical, digital, and service products
WorldPay is a built-in payment feature
Add multiple product variants
Generate total revenue reports
View total visitor counts
Back-end inventory has tons of built-in features
Bulk product import
Bulk product pricing
Excellent help and support tools
Hundreds of apps and plugins
Another very powerful eCommerce software platform that is also open-source. Welcome to OpenCart.
Just like WooCommerce and Magento, it promises to provide you with everything you need to build, scale, and run your online store. Also, just like WooCommerce and Magento, you will need a set of technical skills to get the most out of the product.
In my opinion, WooCommerce is not a difficult platform to run, despite the fact that you need to have some technical skills. My point is that OpenCart is the easiest to build on of the three that we have mentioned so far.
The interface is smooth and accessible, and you can easily add products and change your store's theme any time you would like.
Perhaps the biggest selling point of OpenCart is the number of payment processors that it accepts. This allows you (store owner) to select from and accept a number of different payment gateways, which can bring you a broader audience. In fact, there are over 20 payment gateways to choose from.
Features
Unlimited product categories
Customer reviews and ratings
Support for multiple currencies
Ability to sell digital products as well
Easier than other self-hosted platforms to use
Over 20 payment gateway types
Tons of extensions and themes
Excellent customer support
We circle back to yet another great open-source eCommerce platform. While this particular eCommerce solution may not seem quite as popular as you think, it still hosts over 300,000 online stores and provides a ton of functionality and features for its users.
Built on the Symfony framework, the platform is equipped with well over 600 features to go along with the more than 5,000 modules and themes that are available in the marketplace. Since it is open-source, just like all the other platforms above save Shopify, users and developers are guaranteed a secure scalable, flexible, and sustainable solution to build their online store.
PrestaShop has all the tools and features you will need to build your eCommerce project and to continue to scale it. This platform is definitely worth checking out and being a part of your final decision.
Features
Manage all payment types
Powerful integrations
eCommerce SEO
Integrated customer service tools
Quick install feature
Mobile commerce
Intuitive interface
Web agencies
Powerful store builder
Designer guide
Seamless checkout
Configurable tax rules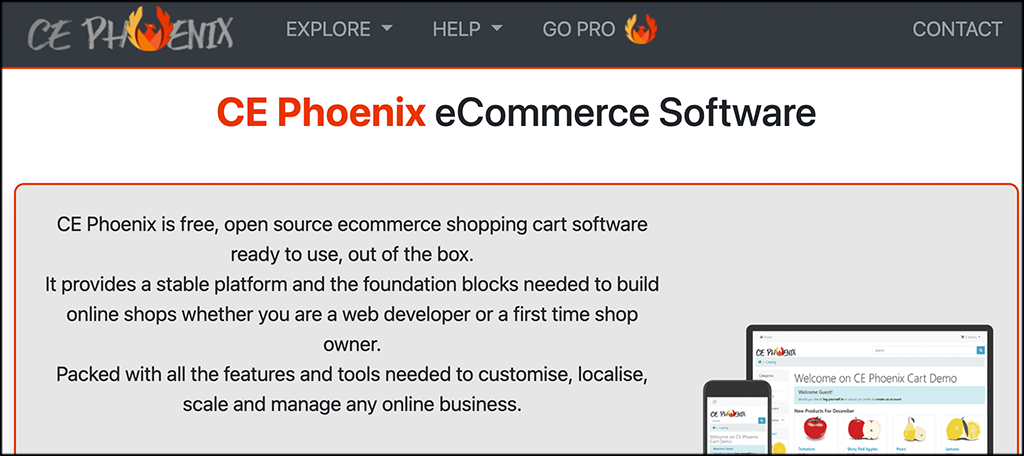 Rounding out this list of the best eCommerce software is CE Phoenix. You may not have heard of this eCommerce solution, but CE Phoenix is a very powerful tool that is ready to use right out of the box.
Why is this ideal? Well, this puts you in full control of your online store right from the start.
It provides users with a modern and responsive design that will look perfect on all screen sizes and render excellent on mobile devices. It gives you the power to create a very unique-looking shop.
The platform comes packed with features and functionality. The modular software also allows you to add even more features without having to possess programming skills.
All-in-all, CE Phoenix is a pretty great eCommerce software platform, and that is why it made this list. Give it a look if you want something that is ready to roll right out of the box.
Features
Shipping options
Payment gateways
No product limits
Sell around the world
Dozens of currencies
Multi-lingual support
Seamless customer experience
Localization
Fast
Tons of modules
Fully customizable
Advantages vs Disadvantages of eCommerce
As is the case with any product, you always want to have a list of advantages and disadvantages. So, with that said, let's take a look at a few of each when it comes to the topic of eCommerce.
Advantages
Convenience: Perhaps the main advantage of eCommerce software is the convenience that comes with it. Transactions can happen 24 hours a day, 7 days a week. This is also an advantage for the consumer, as it allows them to shop at any time.
Wider Selection of Products: Many stores will offer a wider selection of services and products online. The reasoning behind this can be different for different vendors, but the bottom line is oftentimes, the selection online is deeper than what is available at the brick-and-mortar store.
Disadvantages
Customer Service: The main drawback of shopping online is probably the lack of customer service access. When I say this, I mean it in a way that you have no instant access to customer service (on most online shops).
Sure, you can put an email in and wait, but instant customer service, that usually isn't available.
No Instant Gratification: While there are several differences when it comes to buying an item online instead of in-person, perhaps one of the biggest things you have to deal with is that amidst online purchases, there is no instant gratification.
What I mean is that when you buy something in-person, you are able to walk out with it right away. When you purchase online, you have to wait for the product to be delivered.
No Touching: Sometimes the ability to touch products and view them in real life is important. It can be a very unsatisfying experience when you purchase something online and when it arrives it does not live up to expectations.
What is Open Source eCommerce Software?
eCommerce software is offered in two different ways. You can use a closed proprietary system like Shopify, or you can use an open-source eCommerce platform like WooCommerce. There are quite a few differences, even though the end outcome remains the same…to sell goods and services online.
There are pros and cons of each, and it really boils down to personal preference and what you want to do.
For instance, some high-end eCommerce solutions have monthly fees, but they will also provide you with everything built-in including a website builder, plugins, marketing tools, and inventory options included.
However, if you want to leave some of those online selling platforms, you aren't taking the site layout and structure with you, as that is something that belongs to them.
On the other hand, using an open-source eCommerce platform like WooCommerce gives you total control of everything you build. That being said, you probably need to be a little more developer savvy to set everything up and keep it running properly.
While all the tools are there, they are not bundled together and you have to find them and make additions.
Yet, there is also total design control and freedom when using open source. You can build the site and create any functionality you want. You can also take site files and databases with you and go anywhere you want, as the site you built remains with you.
Conclusion
The prospect of using eCommerce software has given businesses big and small the ability to establish a larger market presence because it is a wide-reaching, efficient distribution channel for products and services.
Imagine even now how many businesses you are aware of simply because they sell from eCommerce platforms. Chances are that you have never even been to a physical store of some of the products you enjoy buying online.
Choosing the best eCommerce platform will have a lot to do with personal preference and the overall features and functionality you are looking for. Either way, you can't go wrong with any of the ones listed above.
Explore them, check them out, maybe even try a free demo. It won't be long before you have the perfect eCommerce software to fit your needs.
Now get out there and launch your new online store!