Do you want to build your own phone app, but don't have a ton of coding experience? That's okay. By utilizing a low-code development platform, you can build your very own phone app with minimal to no-code development experience. And the results will still look great and be functional.
Today, I will share some of the best low-code development platforms in 2022.
What is A Low-Code Development Platform?
A low-code development platform allows users to create applications and processes with little to no coding. Instead of traditional coding, these platforms utilize visual elements to help users build the apps they want.
Phone apps have almost become a necessity for many businesses in the last couple of years, thus small and large businesses need to adapt to the times. However, in the past, unless you had coding expertise, you had to hire a developer to create it, which was quite expensive.
Today, app creation software has become affordable for even the smallest business as a result of these platforms. And if you are more tech-savvy, you will immediately understand that these platforms not only have features for beginners, but tools for more advanced users to take advantage of.
It is also important to mention that not all low-code development platforms focus on mobile apps. Many will focus on automating everyday business operations.
The Best Low-Code Development Platforms
1. Microsoft Power Apps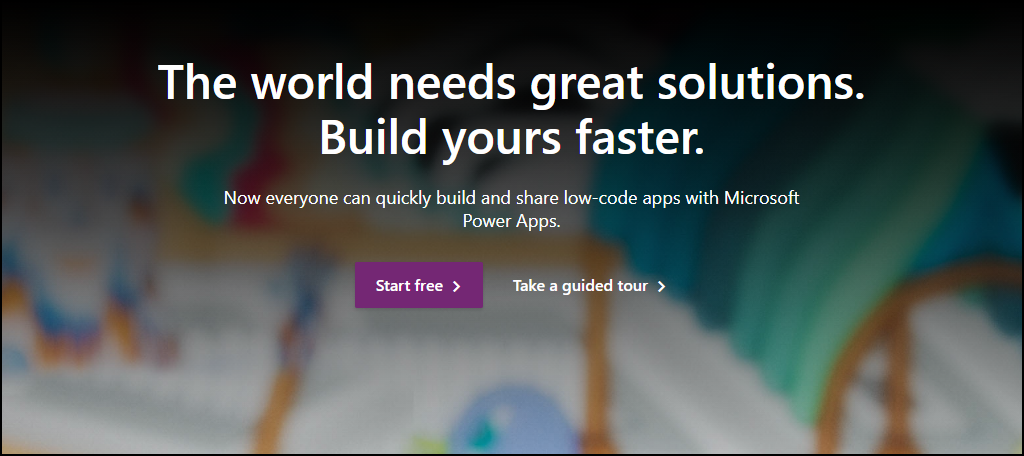 Microsoft Power Apps software is powerful, affordable, and easy to use. In fact, anyone that is comfortable with Microsoft Excel will find this tool somewhat familiar. And it is sporting one of the best user interfaces in the industry.
You might even already have access to this tool because it is included in select Microsoft 365 plans.
You can build an app without code reasonably easily. The tool provides a variety of templates and examples to help you learn the basics. In some cases, you can even use these as a starting point if your final goal is similar to the template.
And as a seasoned developer, there are plenty of more complex options available.
However, the true strength of this development software is the UI. It has by far one of the cleanest and easiest interfaces to use.
Many other tools often have very busy pages that can be outright confusing or make navigation a chore. Microsoft Power Apps is an excellent choice for beginners and pros alike.
Benefits of Microsoft Power Apps
View how your app will look on a mobile device to get button placements right
Integration options are available and plentiful
The App Checker function helps troubleshoot problems
Price of Microsoft Power Apps
Per App plans begin at $10 per user per month
Per User plans begin at $40 per user per month
Power Apps is also available in select Microsoft 365 subscriptions
2. Appian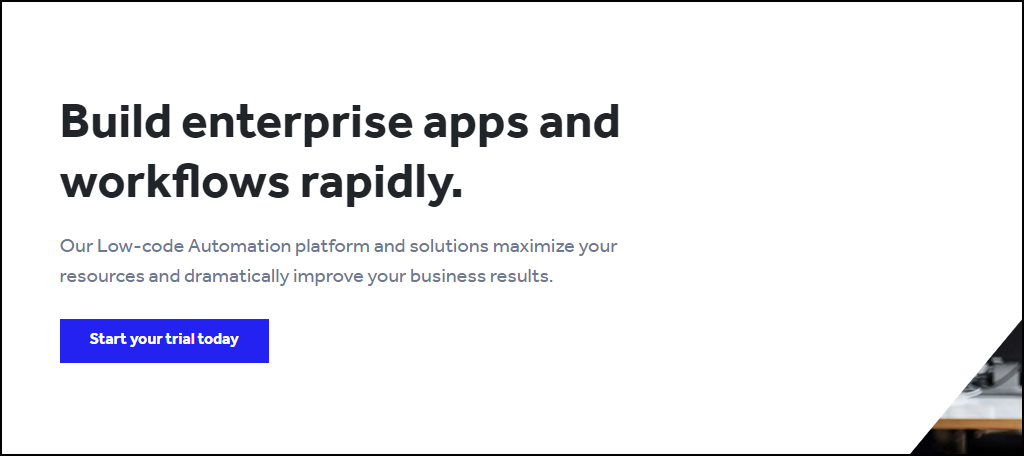 Appian has been around since 1999, and over the years, its experience in the low-code development industry really shows. This platform is easy to use and provides services for both beginners and experts alike.
And you can even build an app using the free tool. That said, it is extremely limited compared to the other plans.
One of the strongest aspects of Appian is its collaboration tools. Entire development teams can work on individual parts of the app simultaneously, which makes it the perfect choice for dedicated app creation teams, although this may be more useful to larger corporations.
However, fear not, you can build an app by yourself. Not only do you not need to write code but even the amount of data silos has been greatly reduced.
The UI is also worth mentioning because it is very sleek and you can even use a single workflow to handle AI, data, and existing systems.
Benefits of Appian
The Appian Quick Apps feature truly allows you to build apps without a line of code
Task management helps you keep track of group progress
Complex logic tools are available for developers with the proper knowledge
Price of Appian
A free plan is available
Appian does not make its pricing publicly available. You must contact them for a quote concerning other plans.
3. Kissflow
For small businesses that are not interested in any tech-savvy features and want true no-code app development tools, look no further than Kissflow. Unlike others on this list that require minimal coding, this one really requires no code.
And if you don't believe me, you can try it out by using the free trial.
As a true no-code development platform, you won't have to deal with a single debugging error. As a result, the app you make will always work in accordance with the logic you use. That said, it is still possible to make logical errors that do not generate the desired results.
The drag-and-drop interface allows you to edit fields, tasks, and logic at any time. You are never limited in how you approach development, and that means you will never have to limit the appearance of your app as a result of code limitations.
Benefits of Kissflow
It is by far the easiest low-code development platform on the market
Making changes to the app is simple and can be done at anytime
Dynamic reporting options are available to help you keep track of important metrics
Price of Kissflow
Starter plans begin at $390 per month for 20 users
Professional plans begin at $690 per month for 60 users
Enterprise plans begin at $1500 per month for 100 users
4. Zoho Creator
Zoho has quite the repertoire of development tools, and the Zoho Creator is their low-code development platform. And unlike many of the other choices in this industry, it is affordable for small businesses to utilize.
And that's why it is one of the most popular options with over 7 million users around the world.
It is important to point out that you will have to do a minimal amount of coding to achieve your desired result, however, the process itself is intuitive. You can automate the most common business operations using business logic.
One of the best parts is the plethora of templates Zoho creator offers users. These are the excellent starting point to automate the most common operations like logistics, order management, inventory management, distributor management, and so much more.
Benefits of Zoho Creator
All business information is available to users through a mobile app
Compatible with other Zoho products
The auto-translation feature is built-in, which is great for global teams
Price of Zoho Creator
Basic plans begin at $10 per month per user
Premium plans begin at $25 per month per user
Ultimate plans begin at $40 per month per user
5. Salesforce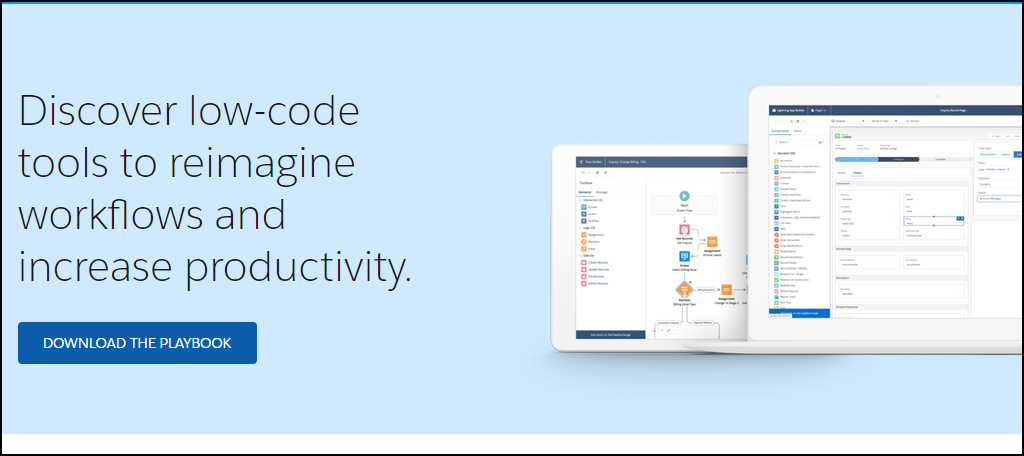 Salesforce is another major player in business software development and they also have a low-code solution. Similar to Zoho Creator, this tool focuses on automating everyday business operations with minimal code input.
Every application you build can automatically scale as more users are added, thus you can never outgrow Salesforce.
Without a doubt, Salesforce offers the most features out of any low-code development platform. Some of them include automation across multiple connected systems, protection for sensitive information, a drag-and-drop interface, embed individual components to increase functionality, and much more.
And fear not, every application can be converted to a mobile application. Thus, you can easily monitor your business on the go.
As a Salesforce product, it is compatible with other products like their CRM software. Therefore, it's the perfect choice for existing customers.
Benefits of Salesforce
The best mobile and tablet design interface
Trails act as guided tutorials o help users learn how to get the most out of the platform
Encrypt sensitive data
Price of Salesforce
Platform Starter plans begin at $25 per month per user
Platform Plus plans begin at $100 per month per user
6. Visual Lansa
Closing out our list for the best low-code development platforms is none other than Visual Lansa. It specializes in building web-based applications in a low-code environment and the entire process has been streamlined from start to finish.
And they offer the best free trial in the industry, which lasts for 90 days!
One of the most useful features within Lansa is its integrations. On top of being able to integrate with just about anything via API keys, it can also integrate with legacy systems that lack API functionality. This is a very big limitation on other low-code platforms, but not Lansa.
Visual Lansa is great for teams, in fact, it was built for teams. Multiple users can work on different components simultaneously. The plans are affordable and you can create an unlimited number of web and desktop apps.
Benefits of Visual Lansa
Define all of your business rules in location and they can be applied to every project
Create the entire application with the IDE
The interface is sleek
Price of Visual Lansa
Entry Level plans begin at $16.66 per user per month
Mid-tier plans begin at $13.34 per user per month
Enterprise plans begin at $8.34 per user per month
Why Mobile Apps Matter
Everyone has a smartphone in 2022, thus ensuring that your business can reach mobile users is a no-brainer.
One of the main advantages is an app's ability to build loyal customers and improve brand recognition. The average mobile user operates 30 different apps each month, and just seeing your app on a regular basis will keep customers thinking about you.
And when customers think about a business, it leads to sales.
It's also no secret that mobile apps now make up the majority of internet traffic. Thus, ensuring that customers have a great experience on their mobile devices is essential.
And in many instances, mobile apps operate far better than website alternatives. In fact, many websites will try to get you to download their app when browsing on a mobile device.
There are a lot of benefits to mobile apps, and with the app-making software on this list, you can create your own without much trouble.
Thoroughly Test Your App
While there are many advantages of a mobile app, there is one important caveat; your mobile app must actually perform well.
A bad mobile app can really hurt your business, and that's because bad word of mouth travels faster than good. If you have a bad or clunky mobile app, many users will not bother to try it again. Instead, you've essentially lost a customer.
That said, it's very hard to put together a great mobile app on your first try. Most successful mobile apps today have undergone several transformations over the years. However, in 2022, the standards have gotten too high for apps.
Thus, you need to ensure that your app works well before it launches.
Which low-code development platform did you use?