Magazine style layouts are becoming more and more popular with website builders. Not sure what a magazine theme is? Don't worry, we are going to cover it together. Let's take a look at some of the best magazine themes for WordPress.
Why a WordPress Magazine Theme?
If you are starting to build a website with WordPress, you will have a lot of different choices when it comes to themes. However, if you have a news or informational website, then a magazine-style theme is very ideal.
WordPress news themes provide a content layout, unlike other themes. Sure, a lot of your website traffic comes from Google searches. That being said, many people still see the front page of your website.
The best WordPress magazine themes provide a selection of layout styles that allow you to categorize and display a lot of different articles and content on the front page of your site.
This is ideal for someone who is both a first-time visitor and a returning reader. Displaying content options in dynamic layouts not only makes your website more interactive, but it also creates an easy to navigate layout that your visitors can use.
Instead of displaying a blog roll style layout with all articles in a row, you can display categories, features, videos, music, articles, and photo galleries. These can all be accessed from the homepage of your website. You will see more of what I am talking about by viewing some of the following magazine themes in WordPress.
Let's take a look at 30 of the best WordPress magazine themes available.
Note: Every theme listed below is responsive, mobile-ready, and SEO friendly.
The Best Magazine Themes for WordPress
1. Newspaper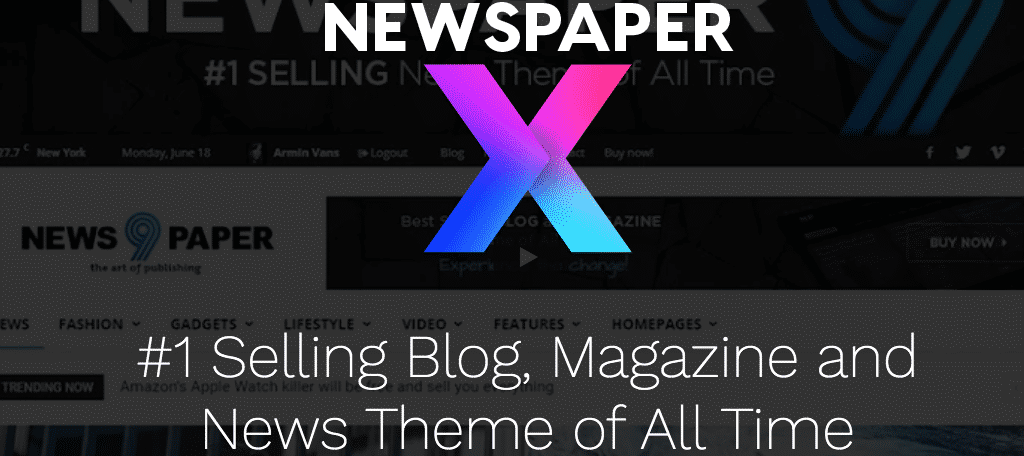 The Newspaper theme allows you to create all sorts of content with relative ease. It is a newspaper-style template and is widely considered to be one of the best WordPress news themes around. With a ton of built-in functionality, you can't go wrong with this one.
2. Magazine Pro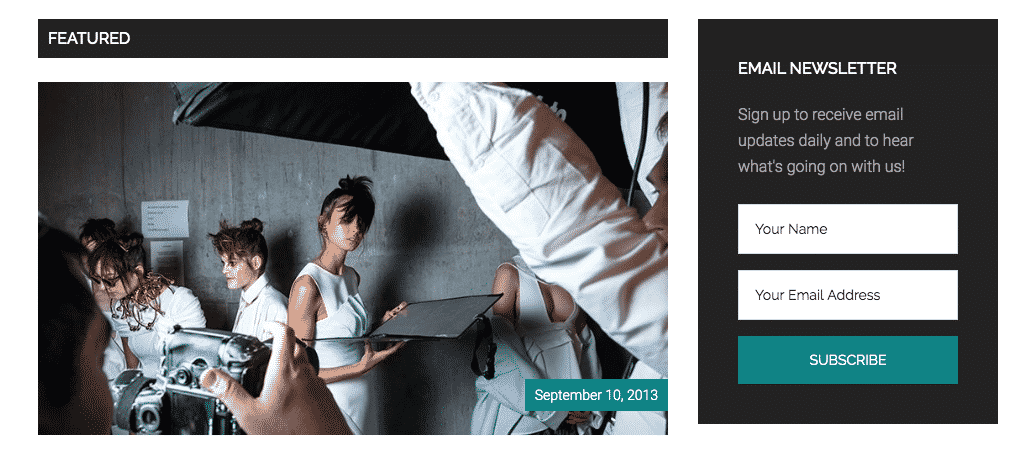 Magazine Pro is one of the best magazine themes for WordPress even now. The theme has been around for several years, but the developers keep updating and upgrading it. It features several versatile layouts and provides you with a media-ready design. Your content will shine in Magazine Pro.
3. Gillion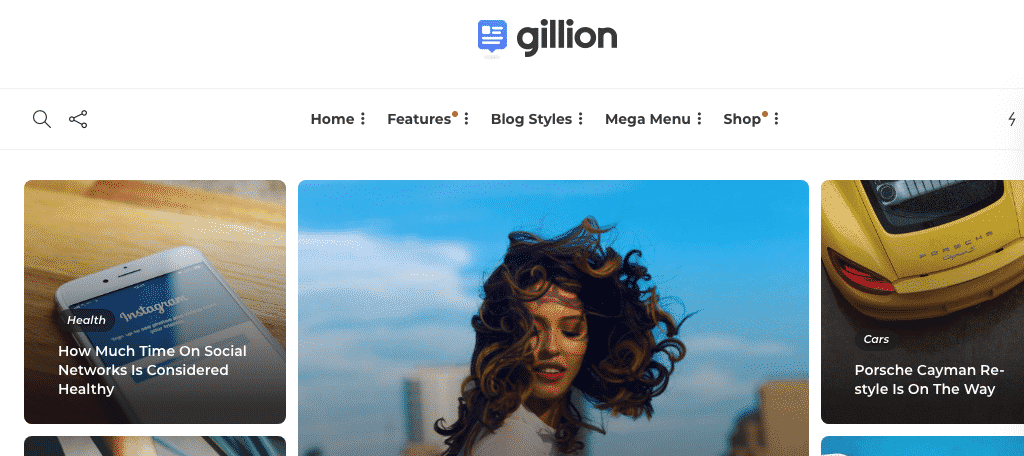 Gillion is a multi-purpose design and is one of the most recommended magazine themes in WordPress. It allows you to easily create a magazine-style website. With 15 different one-click installations available, there is a pre-built layout for everyone. Give this WordPress magazine theme a shot for simplicity of use.
4. Divi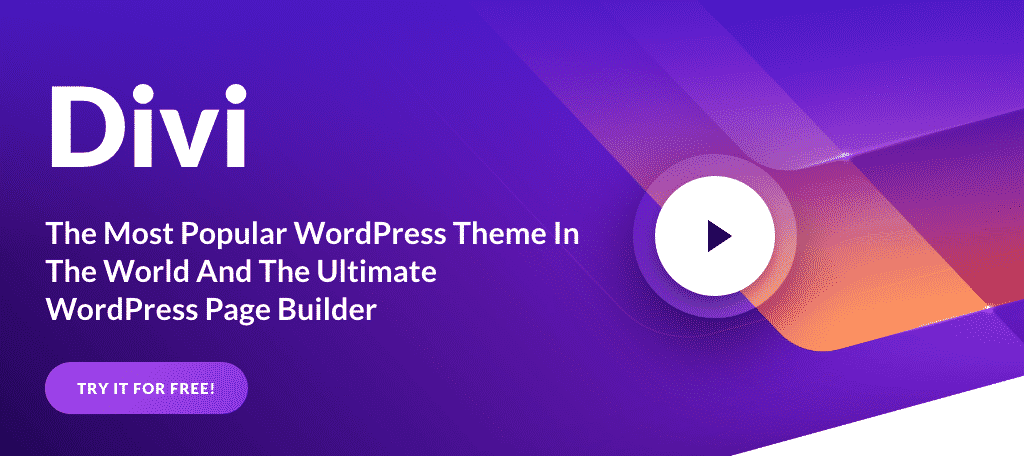 The Divi theme makes the list of magazine themes for WordPress because it is a multi-purpose designer that you can use to build anything. The theme has pre-built templates, but also comes equipped with a page builder that allows you to create almost any type of magazine-style layout you want. 
5. SmartMag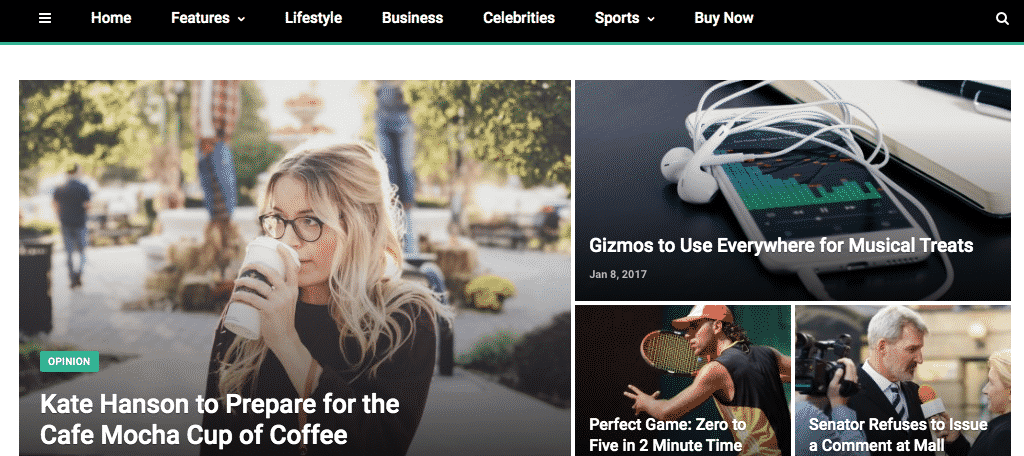 SmartMag is a modern, clean, responsive magazine theme for WordPress. It also includes a drag-and-drop page builder that allows you to create stunning homepage layouts for your audience. This is also another theme that has been around for some time and continues to deliver.
6. Astra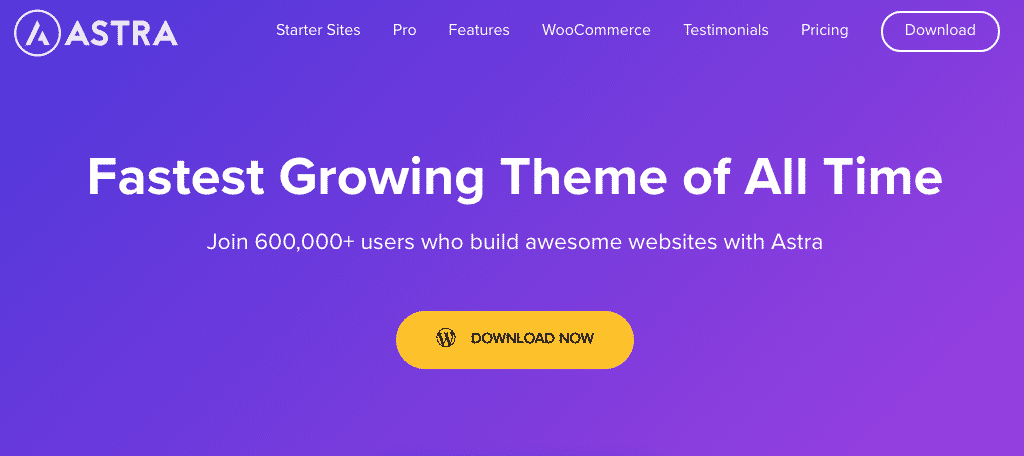 Considered by many to be the best multi-purpose WordPress theme on the market, Astra comes fully ready for you to create the magazine layout theme you have always wanted. You can add a WordPress page builder plugin if you want, or use one of the many starter site layouts it comes with. Give it a look.
7. Tribune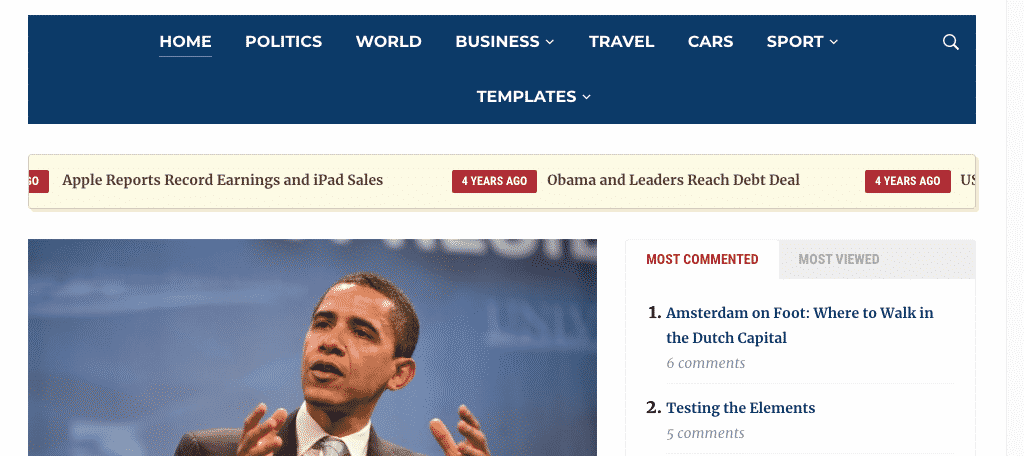 The Tribune add-on is a very powerful WordPress news and magazine theme. Display your articles, categories, and videos in a number of ways on the front page. You can also highlight featured posts with a carousel type display. Use this carousel at the top or the bottom.
8. MagPlus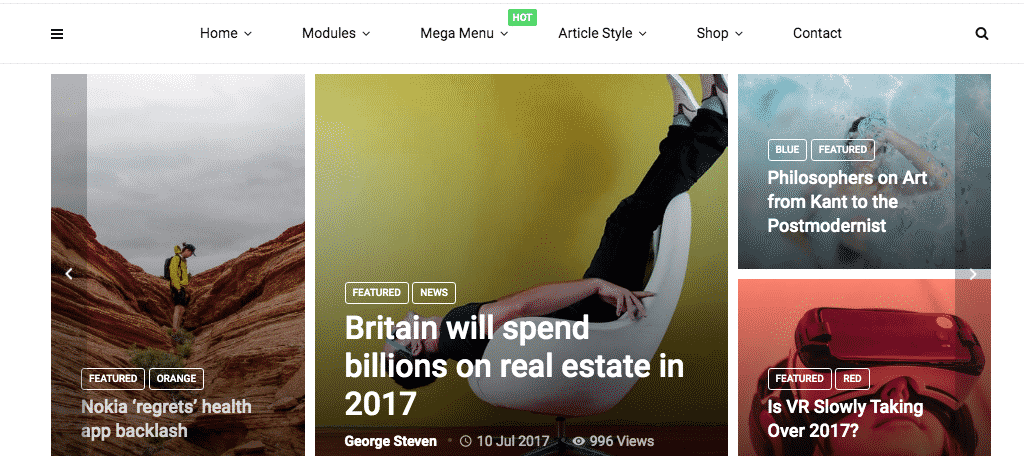 MagPlus not only gives you a solid magazine-style theme, but it also leaves plenty of room for advertising. The theme comes with multiple layouts and styles. It also offers you the ability to build and display ads in a number of pre-built locations, al of which are Adsense approved. 
9. The Daily Dish
The Daily Dish theme is designed to present your content in a number of magazine-style layouts. Easily design the homepage of your site using categories and custom post types. The theme makes it easy for you to add video and images and display them in a way that makes website visitors want to come back.
10. Webify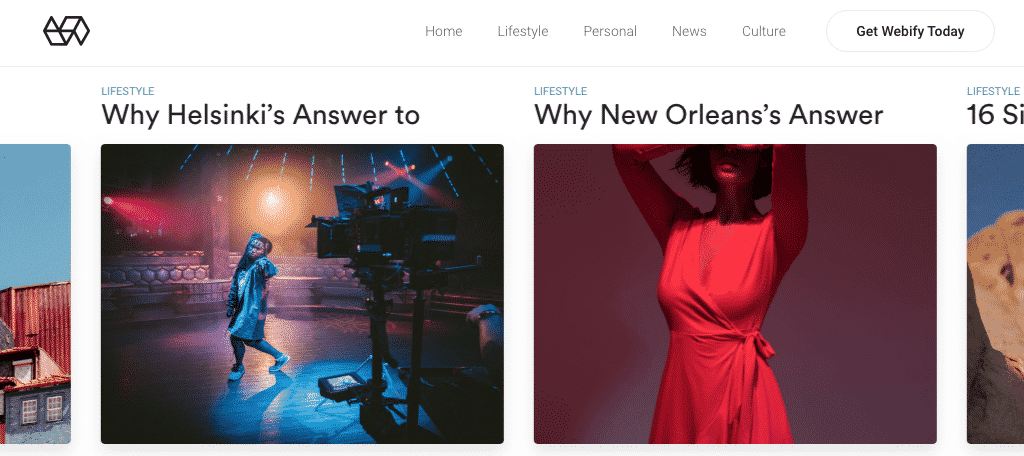 Webify is another multi-purpose theme that comes complete with a ton of pre-built layouts. One of these layouts is a magazine-style and news style. You can also use the Elementor page builder that is included in the theme to easily add drag-and-drop functionality to the front-page design.
11. Gridlove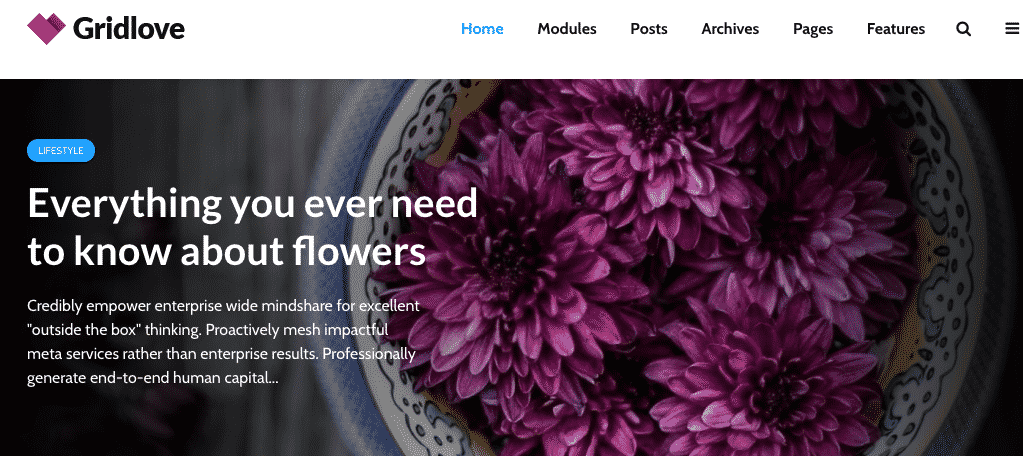 Gridlove continues our list of magazine themes for WordPress. It is a creative WordPress theme built specifically to focus on magazine and news style sites. It comes with several pre-defined masonry layouts that you can use to build and create the front-page of your website.
12. The Wonderwall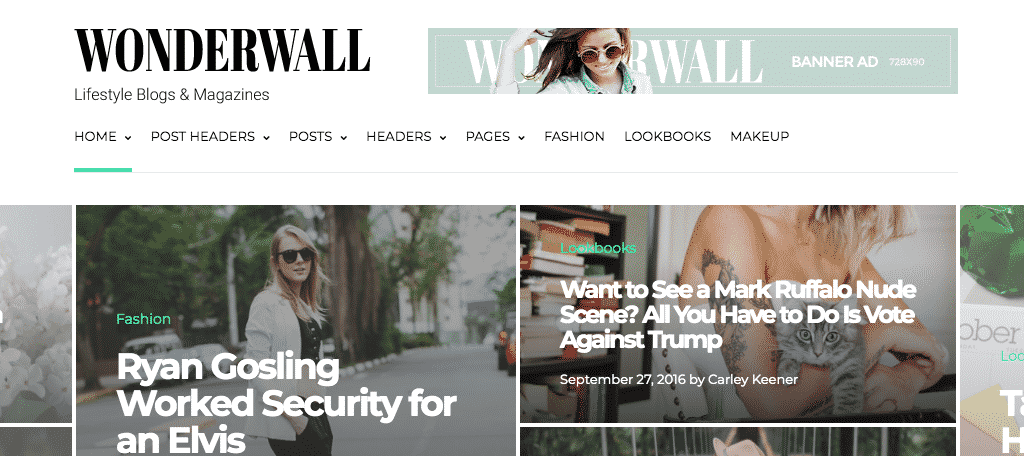 The Wonderwall theme is a very stylish and flexible WordPress theme that is built to tailor toward magazine and news style websites. The theme comes with 9 pre-built front-page layouts that you can pick and choose from. This will allow you to build and customize your magazine-style website how you want.
13. TheGem
TheGem is one of the best magazine themes for WordPress around. It is very versatile, highly responsive and modern. The theme comes complete with a huge collection of demos, demo content, layouts, and styling options. Simply put, if you are building a WordPress news theme, the TheGem is worth a look.
14. Felt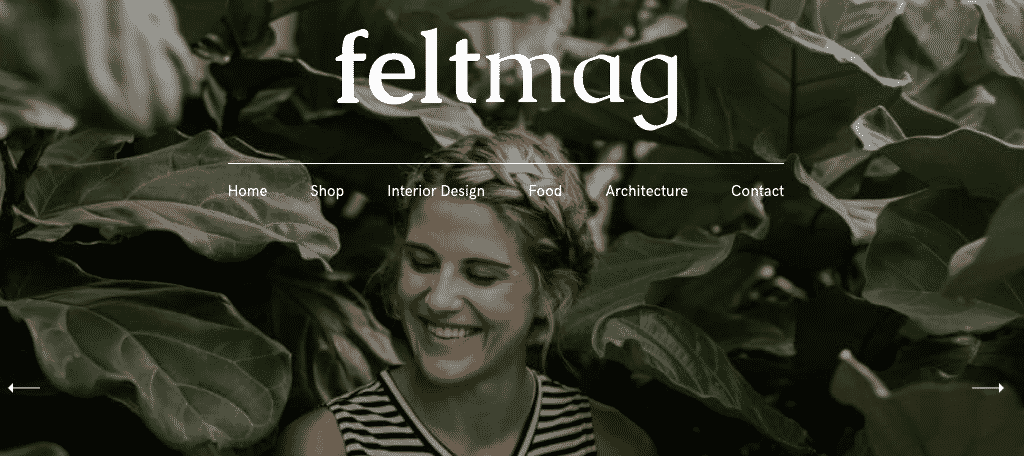 Felt is the perfect theme if you are looking for flexibility and style. It offers you the ability to create a simple, yet modern magazine-style appearance. It also includes a dynamic carousel and slideshow widget that can be used in a number of ways. Definitely one of the best magazine themes for WordPress out there today.
15. HitMag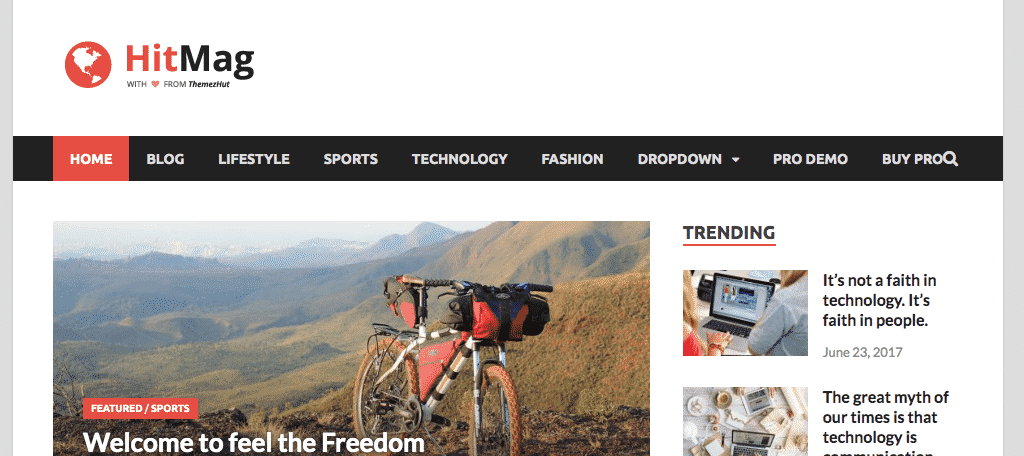 HitMag is not only a fantastic magazine theme for WordPress, but it is also free. This is one of the better free magazine themes for WordPress available. If you are looking for something that offers a ton of features and functionality for free, then HitMag is worth a few minutes to try.
16. Journo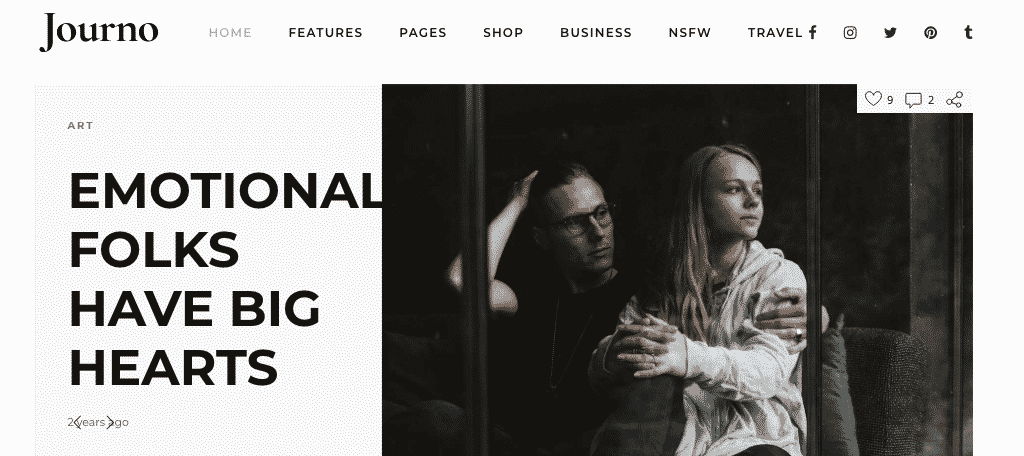 The Journo WordPress magazine theme gives you the ability to create a stunning website. The theme has limitless header and footer styles available. It also comes with several pre-built layouts. Add all this functionality together and you have a fantastic WordPress magazine theme to work with.
17. The Essence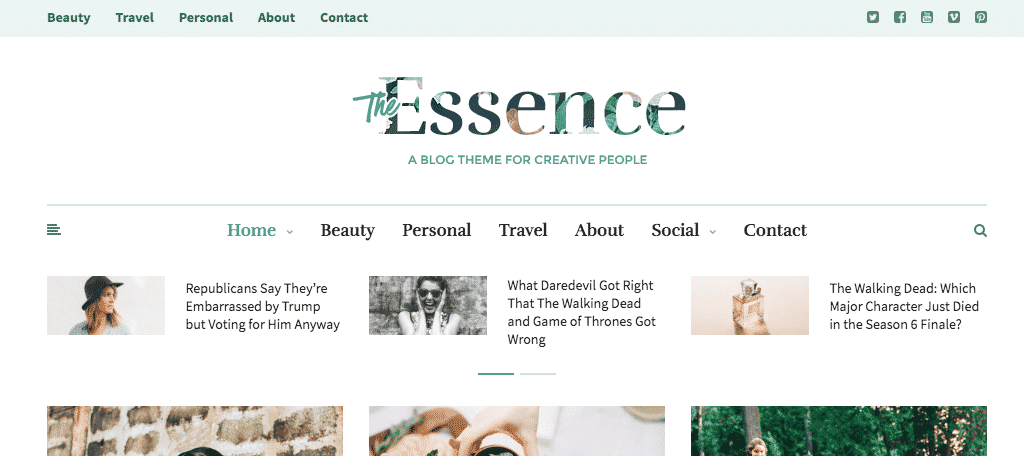 While you can create a feminine WordPress magazine layout with a lot of the themes on this list, The Essence is specifically made and designed to be more feminine from the start. With 17 different blog and magazine-style layouts, as well as a mobile-friendly look, The Essence is great for anyone wanting to create a more feminine-focused website.
18. News Pro
News Pro is specifically made for content-heavy sites that need a news or magazine-style layout. You can display your content in a number of ways using pages, posts, categories, and tags. The mobile-friendly and smooth content layout is also very easy on the eyes for your visitors.
19. Barta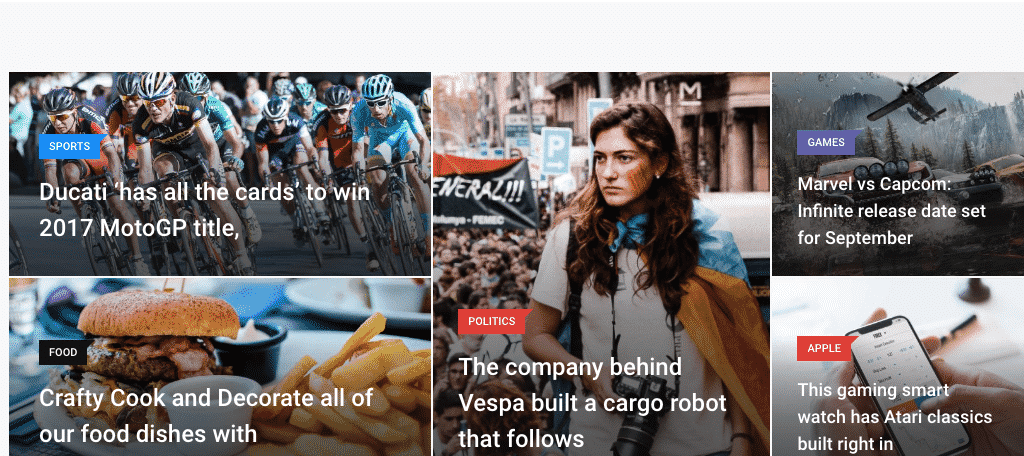 The Barta theme is a very clean, smooth, and fresh magazine theme for WordPress. You can build and display content in boxes, grids, sliders, tabs, and lists. The theme is easy to work with and leaves a lot of options available for displaying advertising as well. Give it a peek. 
20. The Issue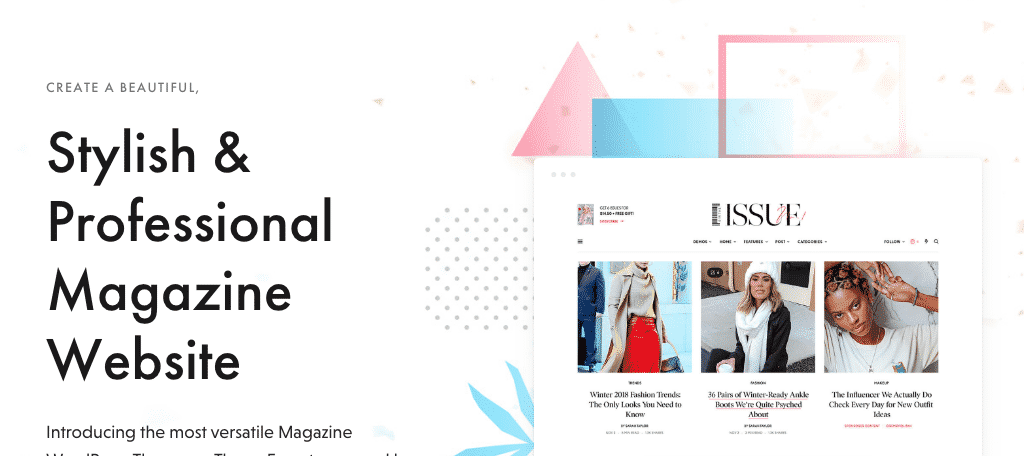 The Issue is a very stylish and professional looking WordPress magazine theme. It comes with a ton of features and support. Some of the highlights include WooCommerce support, page builder integration, one-click demo installs, and more. This is a dynamic theme to consider if you have a professional agency. 
21. Navigation Pro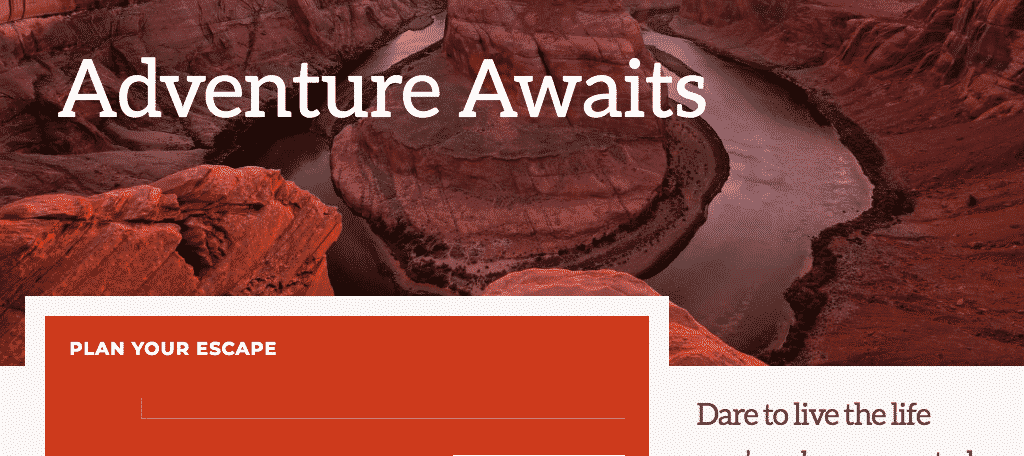 Navigation Pro is one of the new magazine themes for WordPress. That being said, the theme offers you a whole new way to build and display your content. You can use bright colors, bold images, and several different display options. The theme also uses Atomic Blocks and the Gutenberg block editor to style and build the homepage.
22. Newsmag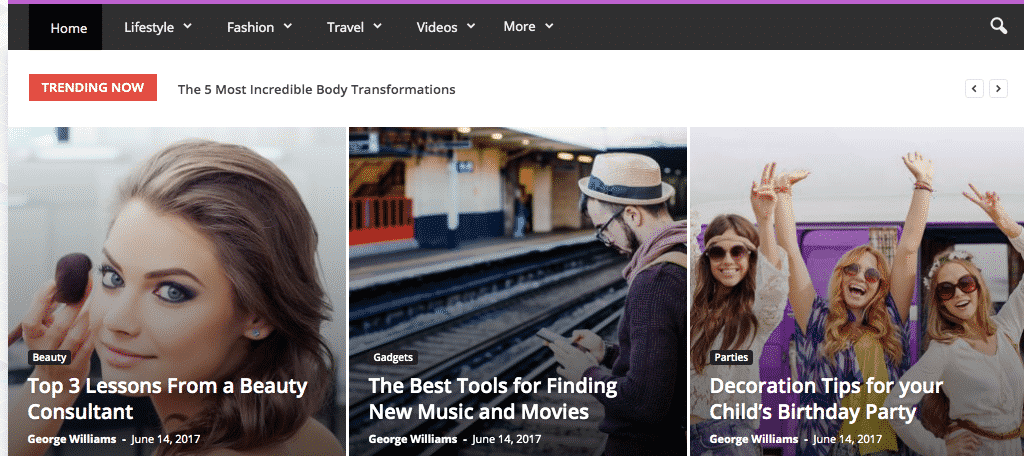 Newsmag is a very modern WordPress magazine and news theme that allows you to create content quickly and easily. The theme is packed with both basic and pro features. What you can do with them is to create a stylish and unforgettable magazine website. Newsmag is considered one of the best magazine themes for WordPress because of its functionality.
23. Public Opinion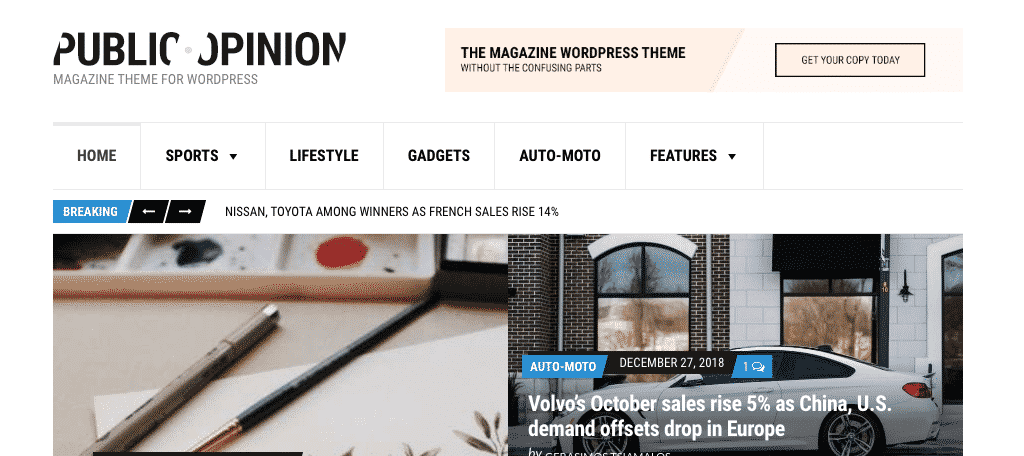 The Public Opinion theme was designed to help publishers create flexible and dynamic content for their readers. It comes complete with multiple layouts, unlimited colors, plenty of custom widgets, and advertising sections. The theme gives you everything you need to create a WordPress magazine website.
24. Buzzy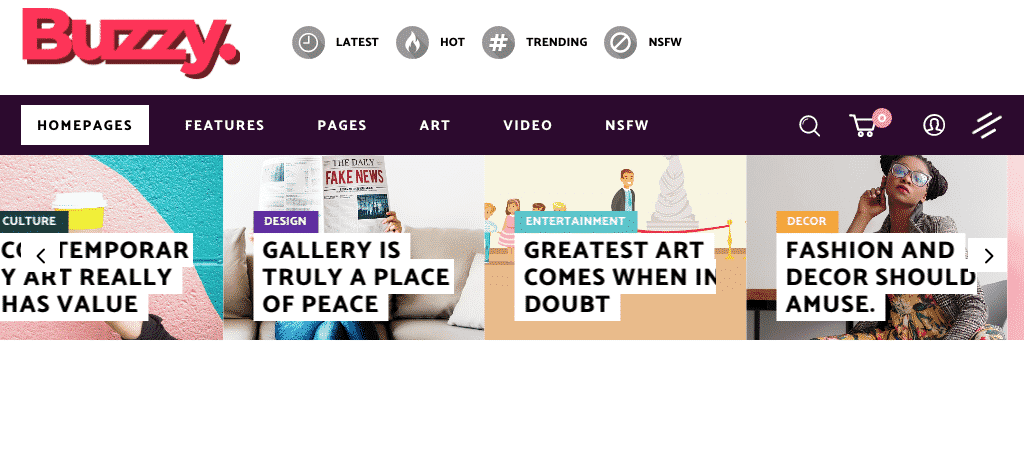 Buzzy is yet another creative magazine theme that helps you publish content like a pro. It is a contemporary magazine-style WordPress theme that will have you up and running in no time at all. There are plenty of post and page block templates for you to choose from. There is also a built-in selection of shortcodes that you can use to display content where, and how you would like.
25. OriginMag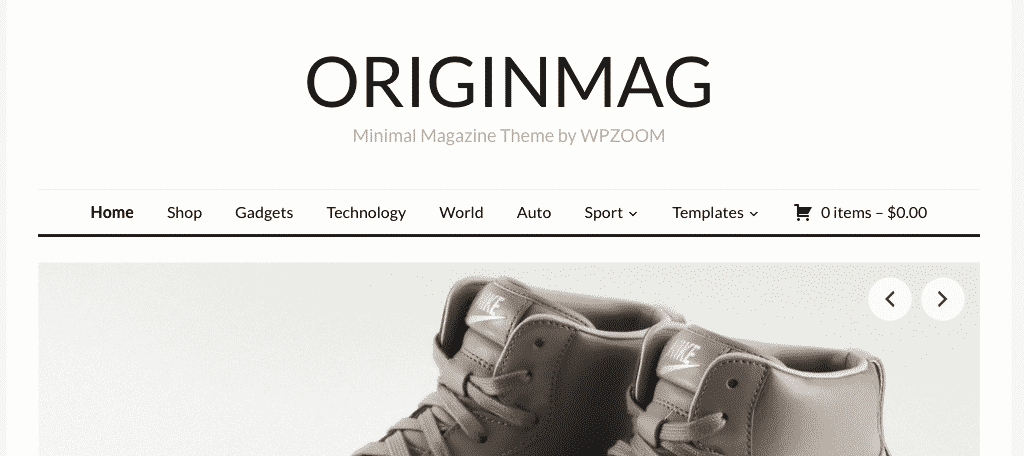 OriginMag touts itself as a simple, yet sophisticated magazine theme for WordPress. It has a very customizable homepage that you can make your own. It also offers eCommerce support. So if you are selling physical or digital goods from your website, OriginMag has you covered.
26. Jannah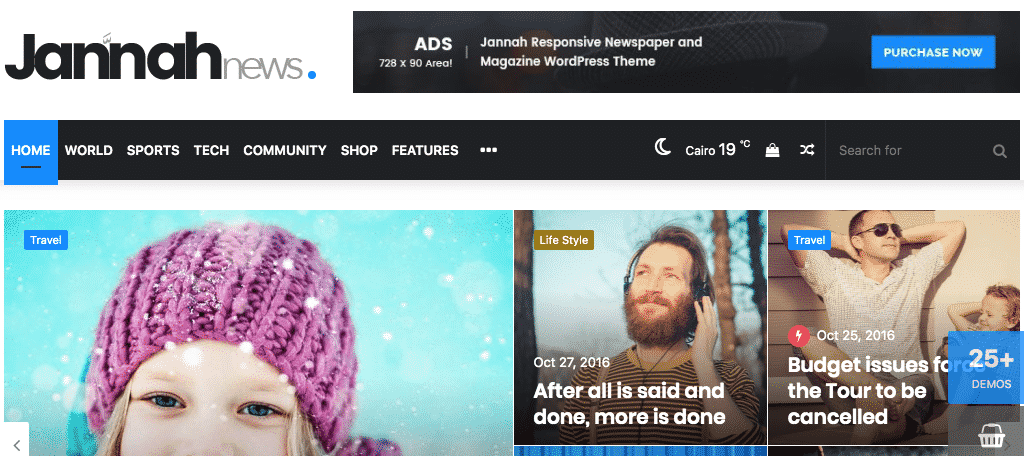 The Jannah theme is one of those magazine themes for WordPress that is also perfect for content marketing. With responsive designs, one-click install, and Gutenberg support, the Jannah theme is everything you need to market a website and add magazine and news style content.
27. PenNews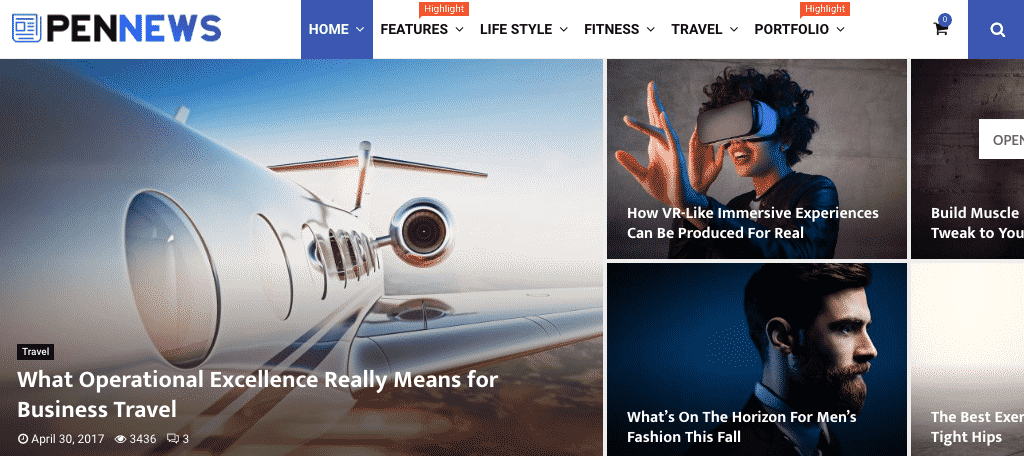 If you want to create a magazine-style website in WordPress in a short amount of time, then PenNews is the theme to use. It gives you powerful design possibilities by coming with an intuitive drag-and-drop page builder in the back end. The theme is multi-purpose, but it is perfect for magazine-style websites.
28. Patch
Patch is a more minimalistic magazine theme for WordPress. You can create and display amazing content, while at the same time keeping it simple, clean, smooth, and professional. It comes complete with a flexible design and layout system that automatically adapts to any screen size and any device.
29. Metro Pro
The Metro Pro provides you an optimized, mobile-ready layout that is excellent for displaying your content. This WordPress magazine theme includes spacious framing for content and amazing social features that will help you get noticed faster. This theme is content-driven and will allow you to post and share in a number of different ways.
30. Click Mag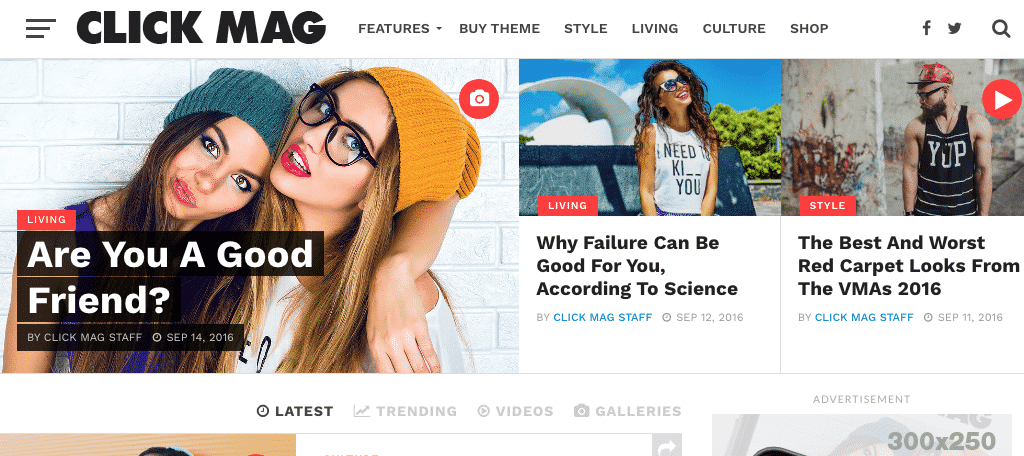 Click Mag is a fully responsive WordPress news theme. It is an older theme that still provides a ton of features and functionality for anyone using it. The featured posts layout function is particularly stunning, as it gives you several ways to display important content that is important to you and your readers.
Final Thoughts
Creating a magazine or news style website in WordPress has a lot of the same functions and steps as creating a business website. That being said, the layouts and delivery of content are much different. That is why you need to find certain magazine themes for WordPress. Using some suggestions from the list above will put you on the right track.
These are some of the very best magazine themes for WordPress. They all offer different features and functions, but all of them give you the ability to design and create the magazine-style website you have always dreamed of.
Take a look at some of them and see if you come across a few you like. There are a lot of choices, so you should be able to find the perfect one to fit all your needs.
Is there a current magazine theme for WordPress that you use and love? We might have missed it, so feel free to tell us about it.