It may shock you, but multipurpose themes are some of the very best-selling WordPress themes out there today. Why? Well, mainly because most people can build any type of website using one. This type of WordPress template gives developers a lot of freedom to create.
While WordPress themes in general offer a lot for users, the very best multipurpose themes for WordPress offer even more customization and styling options. This, as well as many extra built-in features, are why they are such a popular choice for developers today.
So, how do you go about finding these top WordPress themes? Well, I am going to give you a list of the best multipurpose themes available. This should be a good starting point for you to explore and see what all is offered.
What is a Multipurpose WordPress Theme?
A multipurpose theme is a WordPress template that gives you a wide selection of features and tools, enabling you to build any type of website you want.
While there are also tons of niche themes out there, a multipurpose theme will allow you to create something in a niche, while at the same time having the freedom to add different things around the site.
Perhaps one of the most attractive things about multipurpose themes is the built-in page builders and the extra tools and features that are included. For example, you may purchase a multipurpose theme, and within that theme, it may include a popular page builder.
I might also have tons of extra functionality like eCommerce, real estate, and other built-in tools.
Not only does this allow you to create on a higher level, but it keeps you from having to go purchase or find another third-party plugin or tool to help you accomplish something on a website.
Best Multipurpose WordPress Themes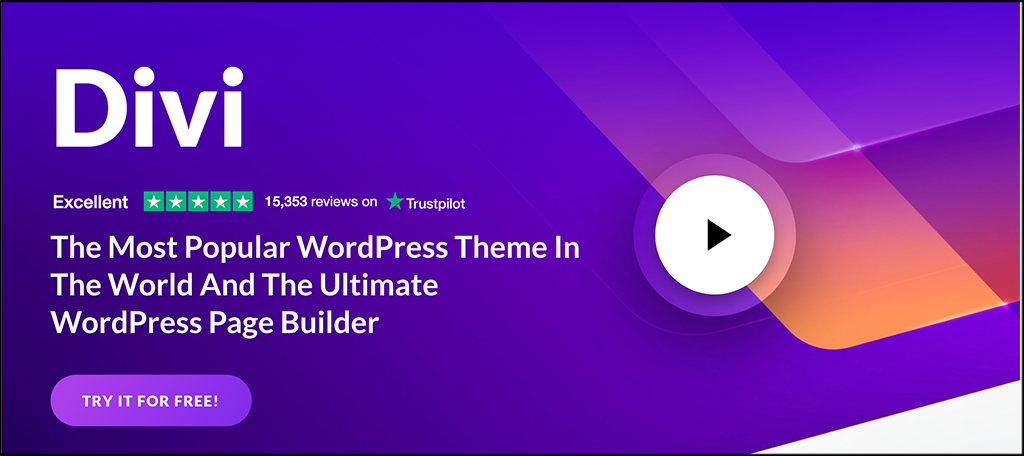 The king of multipurpose themes, and the most popular one, is Divi. This should not come as a shock to anyone, and even those first starting out with WordPress have probably heard the name mentioned before.
The Divi theme is packed full of pre-built layouts that can help you build any type of website imaginable. There is a page style and layout for any project, and it also included its famous point-and-click page builder tools that are arguably the most popular around.
If you want something that includes drag and drop functionality and gives you all the tools imaginable to easily build any type of WordPress website you want, then Divi is probably going to be a theme you want to look at.
With one of the most intuitive interfaces around and pre-built layouts, you will be hard-pressed to find a better multipurpose them.
Other Features
Over 20 pre-built content layouts
Divi Leads salt-testing tool
Countless customization options
Import and export layouts seamlessly
Shape dividers
Layout library
Bulk editing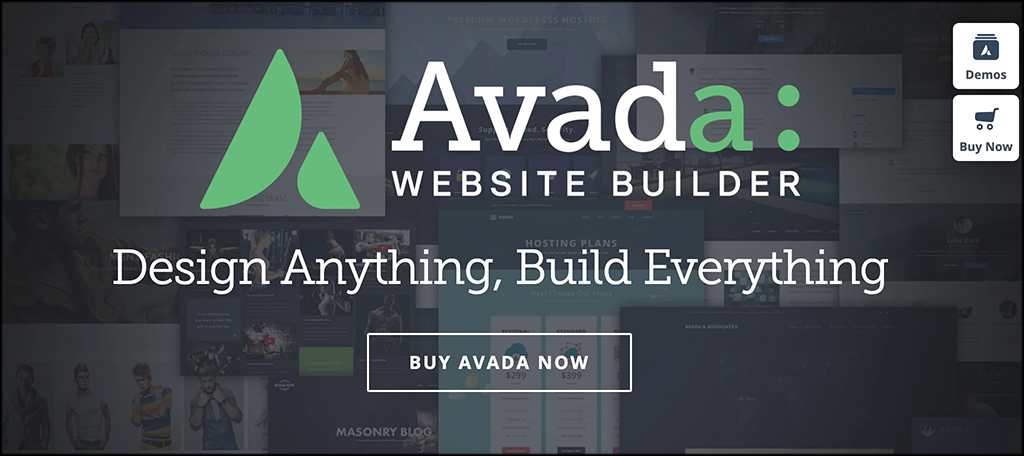 If you are familiar with ThemeForest, then you are probably familiar with the Avada multipurpose theme. They say it is their all-time best-selling theme on the entire platform. For good reason, as the theme is universal and continually updated with tons of features, tools, and improvements.
The reviews and accounts of users buying and building on this theme are fantastic. Some of the most recent upgrades include a page builder upgrade, advanced controls for mobile-friendly sites, and tons of new built-in demos and pre-built page styles.
The Avada website demos cover a number of niches, so chances are you might be able to use a pre-built style to build your new site. If not, then you still gain access to all the features and advanced controls offered.
Other Features
Over 22 website demos
Huge selection of page templates and layouts
Includes the custom-built Fusion Builder drag and drop page editor
Create shareable custom layouts
Detailed and expansive the options
Massive control panel that is intuitive
X Theme provides a ton of custom-built and third-party plugins and tools that make the theme easy to use for any type of website project. There are demos, advanced customizations, plugins, and lead generation tools all built into the theme.
If that wasn't enough, the dashboard is very easy to handle and intuitive. Other tools like a page builder, sliders, galleries, and color and style customizations allow you to build and design any type of site functionality you want without going to a third party.
Other Features
Bespoke Cornerstone front-end page builder
Tons of website demos
Powerful suite of tools and extensions
Detailed settings that are highly customizable
Full eCommerce support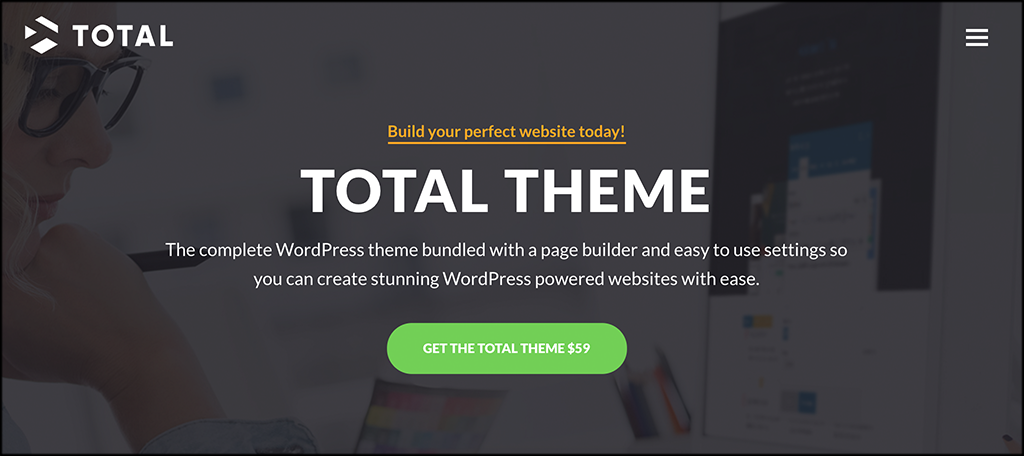 Many multipurpose themes describe themselves to be everything you need right out of the box, before failing to be even close to that. That is why it is important to find one that is exactly that, and this is what you get with Total.
With over 40 demo templates that cover an array of niches, there is a good chance you may not have to do much customizing at all unless you want to. The theme comes bundled with a lot of great tools including the popular Visual Composer plugin.
So, while there are not a lot of multipurpose themes (outside of this list) that deliver on what they say they will deliver on, the Total theme is a nice change of pace and definitely worth a look.
Other Features
Advanced theme customizer
Slider revolution
WooCommerce support
Tons of theme demos
Import and export options
Header and footer customizations
Translations ready
Tons of premium plugins included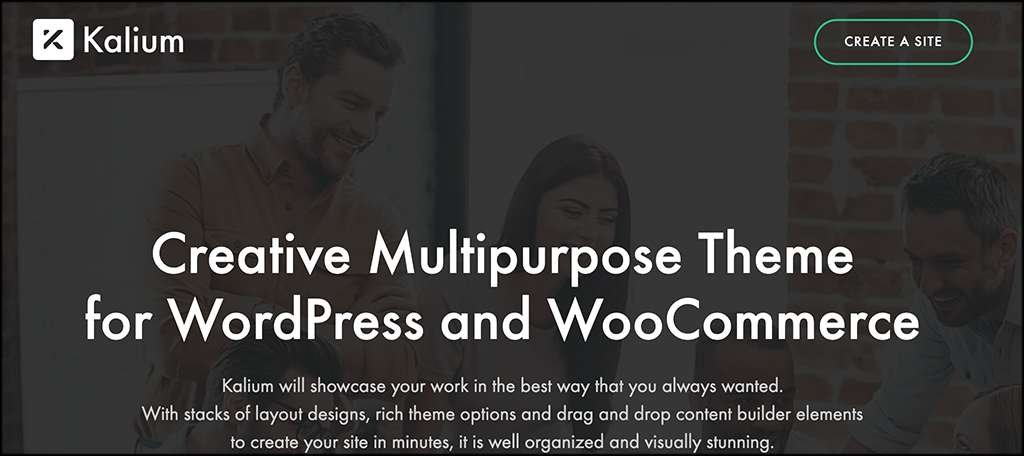 Another one of the best multipurpose themes out there is Kalium. It is a very unique theme that offers a lot of design options that can be used to create a website in any niche.
Beginners love multipurpose themes because they don't have to deal with code. Kalium takes it a step further and allows you to easily build professionally coded websites that are dynamic, user-friendly, and mobile-ready.
If you are someone who enjoys a more minimalist look as well that gives off an elegant vibe, then Kalium is probably a theme you want to take a close look at. It is also flexible, lightweight, and highly responsive. Really, you can't go wrong here.
Other Features
Bundled premium plugins
Ninja Forms
Layer Slider
Advanced Custom Fields
Portfolio options
Tons for theme demos
WP Bakery page builder included
Elegant and minimalist style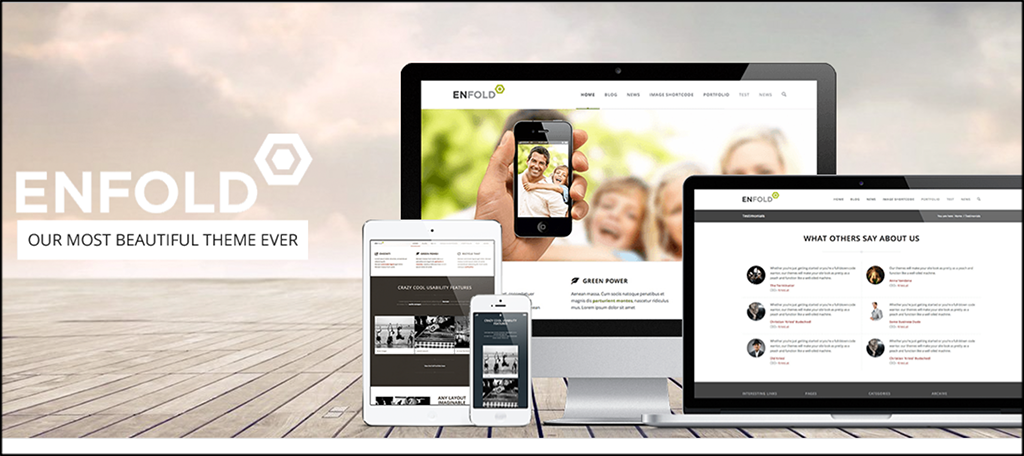 Enfold makes our list because it is elegant, easy to use, and very intuitive. Yes, that describes almost every layout on this list, but it can't be overstated. The theme includes several demos, as well as landing pages, creative portfolios, online commerce, and blogging options.
New site demos are added on a regular basis as well, so something fresh is always available for use. One thing that is very attractive about the Enfold multipurpose theme is that you can easily customize demo content and use the built-in global settings to apply it.
Other Features
Slider tools and demo slideshows
Extensive form builder tool
Advanced admin panel
Tons of video tutorials with voice over
Full support for eCommerce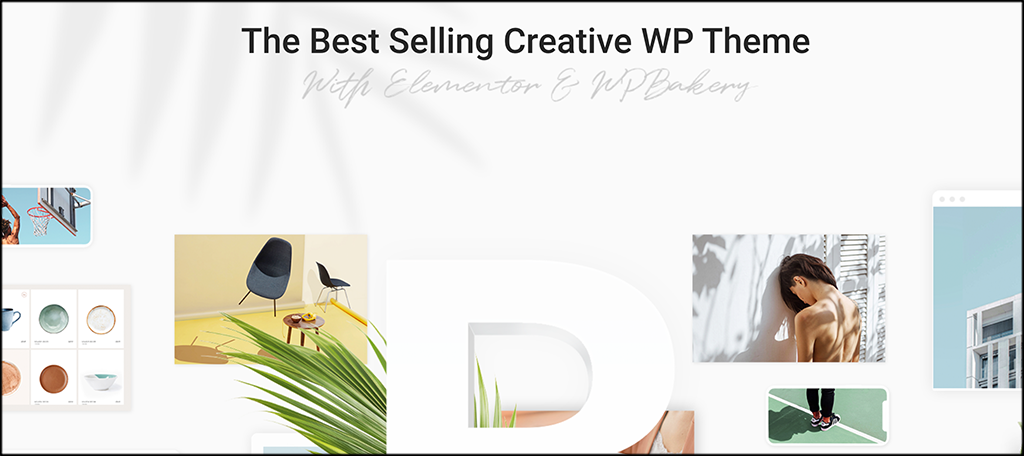 Bridge comes with more complete website demos than any other multipurpose site you will find (as of this article). With over 200 full website demos, you really can use the Bridge theme for anything.
And in case you missed that, I'm not talking about 200 homepage demos. I'm talking about full site demos with inner page templates included.
The demos vary, but most of them fall in the area of business, portfolio, blogging, and eCommerce. Bridge is an excellent choice for developers as well, as you will have access to so many demos that you may never have to buy another theme again.
Other Features
Comprehensive and intuitive admin panel
Detailed theme customization settings
Unlimited header and menu options
Shortcodes
Tons of feature-rich plugins
With extensive typography options, a highly customizable layout, and other cutting-edge features, look no further than Uncode for all your multipurpose theme needs.
When you first look at this theme, it looks a lot like all the other themes on this list. However, the developers of Uncode have planted a nice surprise for people choosing to use their product.
Where they succeed is their extensive branding options. They provide a ton of fonts courtesy of Google Fonts, Typekit, Fontdeck, and Find Squirrel. The theme also includes functionality that allows you to display an SVG file for your logo.
This means it will look clean and sharp on any device.
With the adaptive image function included in the theme, as well as the custom layouts included and the Visual Composer page builder built-in, Uncode is a multipurpose theme that can give you all the tools you need to build amazing websites.
Other Features
Layer slider
Featured plugins
iLightbox
Tons of documentation
Unlimited header, footer, and navigation options
Plenty of pre-built demos
Extensive functionality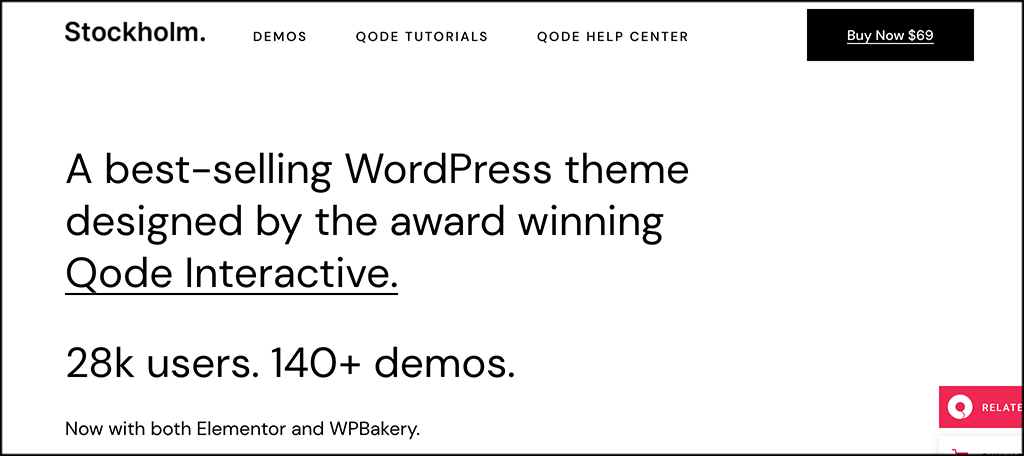 Rounding out this list of the best multipurpose themes for WordPress is the Stockholm theme. It is a brilliant theme that incorporates a ton of features, providing you tools to build any type of niche site you want.
There are over 20 full website demos included, so that should give you plenty to work with in regards to building websites. The site is designed to look minimal as well, and that gives it a clean, smooth, fresh, professional look right from the start.
The theme is packaged with all sorts of goodies as well. These will allow you to design and create just about anything. Give Stockholm a look.
Other Features

Visual Composer
Google Fonts
20 theme demos
140 overall style demos
WP Bakery
Font Awesome
Elegant Icons
Reasons to Consider Using a Multipurpose Theme
Basically, these popular themes can best be summed up in one word: flexibility. That being said, there is a lot more to it than that. There is a reason that multipurpose themes are some of the best themes for WordPress.
Here are some other reasons to consider.
Access to More Features and Tools
We touched on this above a little. However, more often than not, multipurpose themes will give you access to more built-in features and tools than a regular or niche theme would.
Some good examples of this include forms, buttons, eCommerce, pricing tables, team members, and other such functions.
Page Builders
Not every, but most multipurpose themes, will give you access to a high-quality page builder. These can be used to design a full site without ever having to touch or learn any type of code.
There are several excellent page builders out there like Elementor. However, a lot of these themes include it as part of the price or have added a page builder of their own.
Reusing a Single Theme for Multiple Projects
This might not be important to everyone, but for many developers, the ability to use a single theme for multiple projects is a very attractive feature. Instead of trying to find the perfect theme for each different project, you can use the same theme as your base and build and design it from the ground up differently every time.
This can be useful for many reasons. For one thing, a developer can get really good at building on a certain theme and then start to develop really great sites. Perhaps, though, the main reason would be saving money.
One theme purchase means being able to use that theme over and over.
Better Overall Support and Documentation
The best theme for WordPress will often provide really good support and documentation. However, more often than not, it will be hard to beat the type of support and documentation you will receive when purchasing one of the best multipurpose themes for WordPress.
Of course, this varies. But when you have a ton of great ratings, five stars, and a lot of purchases, people tend to understand that support is probably key to all this.
There is also the understanding that the more niche a theme is, the smaller its user base will be. Oftentimes, this can lead to a longer wait for support and less documentation.
With a multipurpose theme, you become a part of a large community and can get help in forums, from the developer, or from the extensive documentation that is provided.
Scalability
Last, but certainly not least, you should consider that scaling a site will be much easier if a high-end multipurpose theme is used. This has a lot to do with the built-in tools provided.
While you also need scalability on the web host side of things, built-in portfolios, theme options, eCommerce, blogs, and forums are all tools that will help you more easily scale a website.
Conclusion
Truth be told, the type of WordPress template or theme you use will be based a lot on personal preference, as well as what type of site you are building. That being said, these are both excellent reasons to use a multipurpose theme for WordPress.
With the functionality, built-in tools at your disposal, and features that are available only in these types of themes, you will be able to build any type of niche website you want using one type of theme.
Take a look at the WordPress multipurpose themes listed above. See what all they offer, and see if you can get a free demo to use. All of them are excellent choices and you really can't go wrong when using them.
Good luck with your search and enjoy!