If you are in charge of any sort of computer network, whether big or small, then chances are you want to make sure you have excellent network monitoring software in place. Not sure where to start? The lists below will give you a great idea of what is out there.
Even though most businesses take advantage of cloud services, a local area network (LAN) is still very important for cloud service delivery. Network monitoring is one of the most important, if not the most important, components of a solid IT infrastructure.
What is Network Monitoring Software?
Network monitoring software is what tracks the overall performance of a computer network. It helps detect problems and issues in a network by comparing what happens during live production to what is expected out of a performance baseline.
There are all sorts of things that one of these network management tools track and report. These include:
Response Time
Availability
Consistency
Reliability
Network Traffic
The trick is knowing where to start when you are looking for a tool that can help monitor your computer network. Let's take a look at some of the best network monitoring software available today.
Best Network Monitoring Software
At the top of our best network monitoring software list is Dynatrace. The system provides a ton of automatic and intelligent observability at scale. Dynatrace is an all-in-one platform that delivers every answer imaginable on a baseline you can easily understand and manage.
Some of the most well-known companies in the world count on Dynatrace to automate and protect all their cloud operations.
Perhaps the best thing about this network monitoring software is that it allows you to view and collaborate more easily with much less effort. This will save you time and money in the long run when having to deal with issues down the road.
Pros
Technology details
Detailed host analysis
Monitoring
Prevention
Finds exceptions occurring in the app
Makes excellent use of dashboards
Cons
System is very large and can be difficult to learn
Dashboard features are sometimes clunky
Too many false alerts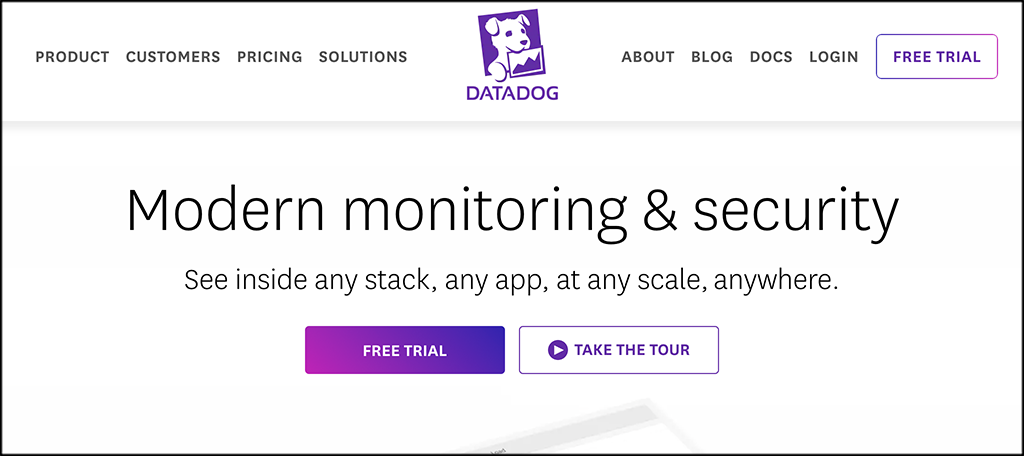 If you are running a mid-sized IT shop, the Datadog may be exactly what you need. It has a ton to offer, though, you have to get past the difficulty of the initial setup process. The software provides a lot of charts, data, alerts, and flexible integrations.
The product will allow you to gain very valuable insights across apps, systems, and services. And Datadog makes it very easy for you to monitor the full user experience from a singular platform. As stated above, it has over 400 integrations that you can easily set up and use in minutes.
Some of the reports available make it easy for you to view front-end metrics, back-end metrics, load times, and filter traffic by source.
Pros
Simple to use cloud-hosted model
Supports most service stacks
Tons of depth
Customize your views based on application
Cons
No automatic detection of services
Set up process can be difficult
No standard reporting
Another one of the best network monitoring software programs out there is called Progress WhatsUp Gold. They provide the ability to easily track common network devices while at the same time presenting you with something visually appealing.
Plugins are not as extensive and available from here as they are with some of the other providers on this list. However, the core product makes up for this and more, which is where this solution shines.
As far as network monitoring software goes, Progress has been a long-time entry for many and remains at the top of most lists. As a result, the brand demonstrates practicality and longevity.
At first glance, you may feel that the platform lacks some basic metrics. However, after a closer look, WhatsUp Gold actually delivers some of the best monitoring capabilities of any other software on this list.
Definitely give them a look and see all that they can offer your network.
Pros
Smooth and intuitive user-interface
Uses the agentless model
Covers most widely used management protocols
Several alert types right out of the box
Cons
Can only be installed on-premises
Works on Windows environment only
Another one of the best network monitoring software programs out there is PRTG Network Monitor. They offer an all-in-one network monitoring solution for your entire IT layout. This software will monitor all of the devices, traffic, systems, and applications that run as a part of your IT set up.
Perhaps the most attractive part of the PRTG Network Monitoring system is that it comes with everything you need right out of the box. That is where it shines, as you will not need any other installations or additional plugins like other systems on this list to get the most out of it.
It is very robust and very easy to use. Another one of the big upsides to this tool is that it can accommodate the needs of all business sizes. So whether your IT set up is massive, or just getting started, PRTG has all the tools you need to properly monitor and manage your entire IT infrastructure.
Pros
Very extensive
Strong support for most devices
No additional plugins or installations needed
Can accommodate all business sizes
Cons
Sensor-based licensing can get expensive
Requires a dedicated, on-premise server
LogicMonitor is a fully-automated, cloud-based software that makes it easy for you to monitor all of your networks, servers, cloud, and other applications. It does all of this from a singular platform.
The best thing about LogicMonitor? It is easy to scale and lightweight.
If you have devices scattered all over the place geographically, then you will be hard-pressed to find a solution that will fit your needs better than LogicMonitor.
With over 2,000 pre-configured integrations right out of the box, things like cloud monitoring, storage monitoring, dynamic services, network, server, container, and configuration monitoring are all right at your fingertips.
There are a lot of different plans to choose from as well. No matter what your set up might be, LogicMonitor is definitely worth a look.
Pros
Cloud-based service
Agentless operation
User-interface is intuitive and rich
2,000+ pre-configured integrations
Cons
Requires web connectivity
No missing local network alerts
Pricing is based on "quote only"
Do you want end-to-end visibility of your entire network layout? ManageEngine provides analytics for options like wireless networks and local drivers. They will even give you data and analytics on non-computing devices like access points and printers.
OpManager gets on this list because they are exceptional when it comes to troubleshooting functionality. They provide users with tons of planning and configuration management tools.
With real-time network monitoring, WAN link monitoring, multi-level thresholds, and customizable dashboards, you will be hard-pressed to find a more complete, affordable, and easy to use system.
As was the case with LogicMonitor, ManageEngine OpManager also has over 2,000 built-in network performance monitors. These give you the ability to easily monitor visual and virtual servers and their overall performance from your dashboard.
Pros
Easy to use
Intuitive map creation
WAN link monitoring
2,000+ built-in network monitors
Monitor visual and virtual servers
Cons
Multiple networks monitoring of devices requires upgrade to more expensive version
No reports in the default installation
Requires an on-premise installation
Rounding out our list of the best network monitoring software is NetCrunch. The product is beautiful from a visual standpoint, and while it hasn't adopted all the web-based interfaces used by some of the other products on this list, it does make up for that with the other rich features provided.
It does require a fat client to add mobility and remote functionality. That being said, it provides excellent day-to-day reporting and management features that are easy to understand and easy to access at any time.
However, NetCrunch is a native Windows platform. This means you won't be able to access remotely easily without a remote access scheme in place. Therefore, it might not be the best option for off-site employees.
You can view network status, run reports, and view other similar activities. However, if you want full administrative control, then the previously mentioned fat client needs to be installed.
There is a 30-day free trial available to see if it is right for you. Go ahead and take full advantage of this.
Pros
Fast performance
Visualization tools are top-notch
Fine-tuned control over alerts
Run full network status and reports
Cons
No administrative capability without a fat client
Requires local installation
Needs more web-based interfaces added
Key Benefits of Network Monitoring Software
Simply put, network monitoring software allows companies to basically track and keep tabs on every aspect of their network's functionality. Most companies need to set a functioning and trackable baseline for all of their networks. This means that there is a starting point when running the network monitoring software.
There are a lot of benefits to having network management software. Perhaps one of the best things about it is that you will have a fully functioning dashboard that allows you to view the performance of your network in real-time.
So if you need to fix something, you will be able to see where the issue is and exactly when it happened.
By providing companies (or individuals) with a continuous, live, and updated stream of all network functionality, network monitoring software plays a major role in keeping things running smoothly for businesses.
Some of the other benefits of having a good network management tool in place include:
Detecting Network Performance Incidents
Reducing Network Downtime
Diagnose Network Incidents
Resolve Network Incidents
Manage Network-Related Inventory
Document and Record all Historical Incidents
And that's just a start. The benefits of using network monitoring software are far-reaching. There are a ton of features that the best network monitoring software offers.
Aside from giving you a clear resolution process, there are a few other things to look out for. Some of the other main features include:
Network Performance Baselines
Performance Alerting
Solution Suggestion and Improvements
Performance Visualizations
All-in-all, having good monitoring software is extremely important for tracking the overall health of your business or individual computer network.
Three Main Things to Look For
It should be noted that not all network monitoring software is created equal. Matter of fact, finding the right solution that caters to your specific needs may take a little time. However, with the information above, you can definitely get there.
Aside from all the things listed above, there are three other main things you want to consider when making your final decision.
Custom Dashboards: You will want to have a program that has intuitive and ready to customize dashboards. Certainly, most of the products on the list above do. This means you can customize your entire dashboard, from looks to reporting. This will make it easier for you to read and understand.
Automation: This is specifically important for those of you who are managing very large networks. A large number of devices can be managed more efficiently if the solution you choose monitors multiple tasks at the same time, on the fly.
Remote Monitoring: Finally, remote monitoring is definitely a key aspect of all this. If you have to manage multiple clients at once, then you definitely want this functionality. This allows you to manage their needs from anywhere. It also provides top-of-the-line customer service for all clients.
Conclusion
Sifting through all the available pieces of software out there can be tricky. I hope the list above gives you a good place to start. You can't go wrong with any of the network monitoring software that is listed above.
That being said, the choice you eventually make will be mostly about what you are looking for and what feels right for your particular business. But, this list gives a good jumping-off point and provides you with a lot of good information. Good luck with your search!