WooCommerce and Elementor. These are probably the two most popular words in the world of WordPress today. One is a page builder, the other is a fully-functioning eCommerce plugin.
If you can combine them together, then you get the best of both worlds. To do this, you need to find the right theme. Here are some of the best WooCommerce Elementary themes out there today.
To enhance the shopping experience, an Elementor WooCommerce theme is a great choice. Both of these will combine together and run perfectly on the WordPress platform.
Elementor will give you all the page building tools you need to create and design a site without touching code. WooCommerce will provide the eCommerce solution that allows you to sell physical and digital goods online in just a few steps.
How to Use WooCommerce With Elementor
If you have been wondering how to use WooCommerce with Elementor, then you are in the right place. Truth be told, the page builder that Elementor provides works just about the same way as any other WordPress-related content does.
The page builder gives you the opportunity to design beautiful pages using a drag and drop technique. WooCommerce has functionality that works well with Elementor and the page builder technique.
That being said, there are specific themes that work best for using both these products together. The trick is finding the best WooCommerce Elementor themes out there.
You want to be able to use all the functionality that both things offer, so when put together, you can build things like product listings and pages on the fly.
WooCommerce brings with it peace of mind because you know it is secure and reliable. Combine it with the most popular WordPress page builder around, and you will have the ability to create something really amazing.
Here are some of the best WooCommerce Elementor themes out there right now.
Best WooCommerce Elementor Themes
Astra is a multipurpose theme for WordPress with Elementor at its heart. It also supports other page builders, but along with Ultimate Addons for Elementor, this theme delivers full compatibility with Elementor as well as WooCommerce and most other WordPress plugins.
Astra comes with over 180 Starter Templates that can be installed in seconds. They include some specifically designed for online stores and Elementor. Template designs are modern, colorful and include some great features and can be installed in seconds. 
Astra is designed from the ground up to be fully compatible with WooCommerce, be lightning-fast, and deliver the seamless online shopping experience your customers expect.
Starting off our list of the best WooCommerce Elementor themes is one directly from Elementor called Hello. Not only is this arguably the very best theme available to combine the two together, but it is also one of the free WooCommerce themes from Elementor.
This theme is perfect for Elementor and allows you to do all sorts of great things. Aside from giving you the ability to create modern landing pages and other types, the theme really hits it out of the park because of the integrated WooCommerce builder that is included.
With a responsive design, fast and secure code, and the ability to design and build around WooCommerce, Hello is definitely a theme you want to check out.
Porto is a multipurpose WordPress theme that is fully compatible with WooCommerce and Elementor. The theme can be used universally with just about any plugins and gives users the ability to build a fantastic online store.
There are over 90 demo sites included in the package, all of which are designed specifically by the Elementor page builder. There is also a built-in studio function along with the ability to build as many different layouts as you want.
Combine that with the added customizations you will find for WooCommerce, and you have yourself one of the best WooCommerce Elementor themes available out there.
WooStroid is another one of the best WooCommerce Elementor themes out there today. The theme gives you a nice little way to work the combo of both products. There is a ton of functionality, a lot of different templates and layouts, and the ability to sell anything you want using an almost unlimited number of product page layouts.
There are also multiple areas for widgets, and the theme works great with Gutenberg. Honestly, this theme has it all. While not as well known as some of the other themes on this list, it definitely packs a punch and gives you all the tools you need to build an amazing online shop using WooCommerce and Elementor.
The Retailer is one of those must-have (or at least must try) WordPress themes that is perfectly compatible with WooCommerce. It has built-in color swatches for WooCommerce, several different page layout options, and even more when Elementor is attached.
The theme handles both the WooCommerce and Elementor plugins perfectly and also comes with an easy setup process. It has tons of WooCommerce related options to go along with the color swatches.
With flexible layouts and mobile-friendly designs, the Retailer theme gives you the ability to sell any type of item online in a number of different ways.
If you are interested in a minimalist look on your site, while at the same time being able to use WooCommerce and Elementor to their fullest potential, then Claue is a theme you will want to take a look at.
This theme is responsive and mobile-friendly, and it can be used for an online shop, blog, or portfolio. There are multiple header and footer layout options, and more importantly, a ton of built-in WooCommerce options that you can use in the Elementor page builder.
Product variation swatches, color swatch gallery images, product video thumbnails, custom tabs, custom layouts, and a categories filter are just the tip of the iceberg as far as what you get.
With plenty of built-in theme demos and an easy-to-use and understand control panel, Claue is the theme to use for any minimalist designer.
OuiOui is a theme that allows you to build an online marketplace quickly and easily by using the combination of WooCommerce and Elementor. The theme comes with over 10 home page layouts built-in, is mobile friendly and responsive, and provides multi-vendor support if needed.
There is an easy-to-use, one-click demo import system, along with a hot deal slider, daily countdowns, product live search, and color and image swatches. It has a very modern design and provides users with WooCommerce product blocks.
With easy customization options, powerful theme options, and featured video thumbnail support, the OuiOui theme is worth a look if you are trying to build an online marketplace.
Zita Storefront is actually a free WooCommerce Elementor theme that you can download whenever you want. It provides a ready-to-use front page for a store and is fully compatible with WooCommerce.
Even better? Add on the Elementor page builder and you have a fully free way to build a mobile-friendly, fully-functioning online store.
Set the front page up how you want while using Elementor. Then go ahead and use WooCommerce to build product pages, categories, display types, and so much more.
The Zita theme is one of the best free ways to get a store online using all of the plugins described in this article. Give it a look if you are starting from scratch and looking to save some money early in the setup process.
Neve uses a mobile-first approach in its theme and combines that with AMP. Then, it allows WooCommerce and Elementor page builder integration so that you can build a high-end, mobile-first online shop that people can easily access from anywhere, on any device.
The theme is fast and lightweight, easy to use, has a lot of built-in page designs and layouts, always has new features being added, and perhaps the most attractive feature, it is free.
The Neve theme is well-known for its amazingly fast load time. The site usually loads inside a second if it has been built and optimized correctly. You can then add WooCommerce and Elementor and really drive up the functionality and layout options of the site.
However, even with those plugins added in, the site remains fast and keeps its load time in-tact. Give Neve a look if you need something fast, mobile-first, and free to use.
Aora is a lifestyle theme that is fully compatible with WooCommerce and has everything already built-in. The theme is also compatible with all the different marketplace apps, so you can easily use it to start an online multivendor marketplace.
Unlike some of the other themes about there where you have to install WooCommerce and Elementor when you activate the theme, Aora already has the page builder and eCommerce plugin built-in and ready to roll.
There are dozens of pre-built home pages, mobile layouts, smart cart popup functionality, Ajax live search, product filters, and even amazing-looking blog pages. The theme gives you everything you need and so much more to use WooCommerce and Elementor in one place to build an incredible online store.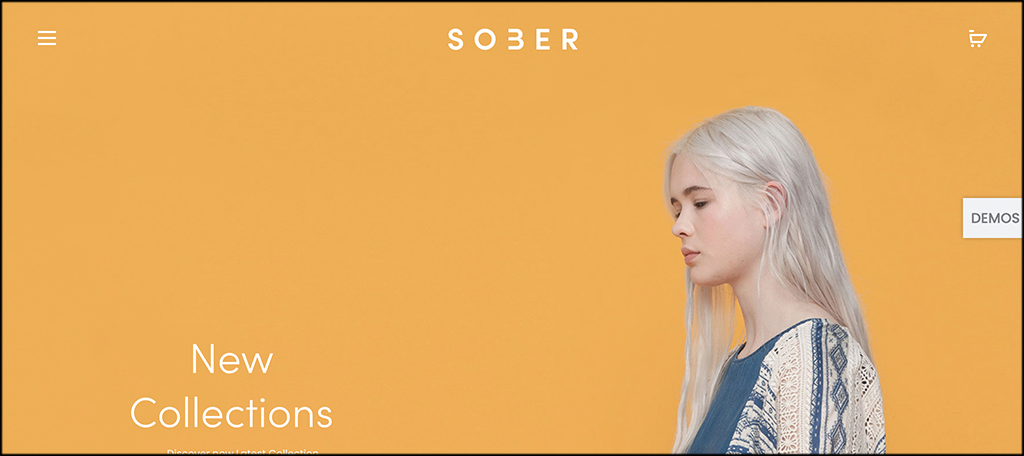 Sober is another one of the best WooCommerce Elementor themes available. The theme makes it easy for you to sell just about anything online using the combination of WooCommerce and Elementor.
It has tons of plugin features and widget areas, a mini cart, unlimited color schemes, a built-in slider with smooth effects, and multiple column styles with advanced widgets.
With minimal design options for the minimalist in you, this is a great choice. It has a mobile-ready layout and design with over 16 pre-built demos you can use. The Sober theme is definitely one you want to check out on your journey toward finding the right theme.
Rounding out our list of the best WooCommerce Elementor themes available is one called Agota. Once again, this theme, like the rest of them on this list, gives you the ability to craft and design a fully-functional online store using WooCommerce and Elementor.
There are quite a few built-in and pre-made site demos to use. There is also something else unique about this theme. They call it the "Agota Store."
This is a built-in store function provided by the theme. It allows you to use quick, one-click installs to import amazing store functionality to your site that is ready to go.
With a responsive and retina-ready design, mega menu support, customizable layouts, Ajax layered navigation, and order management, Agota gives you all you need to build an online store.
What Makes a Great WooCommerce Elementor Theme?
Truth be told, if you wanted to combine these, you can get it done on most WordPress themes. However, the theme suggestions above go a step further by being designed specifically for these two amazing products to work together.
Of course, you want to think about things like fast loading speeds, level of integration with WooCommerce, and conversion rate possibilities.
So, let's talk about what makes a good WooCommerce Elementor theme. All of the themes above on this list have the functionality and options you would want.
Fast Load Time
First, a good theme needs to load fast. This needs to be the case no matter what. So, even the free WooCommerce themes for Elementor need to be able to load fast and perform properly.
Not only does a fast load time keep customers on your site longer, but it is also a very crucial part of overall website SEO.
Remember, it doesn't matter how good a theme looks, if it isn't optimized for performance correctly, then you are already behind the eight ball.
Flexibility
The next thing you want to make sure you have when selecting a WooCommerce Elementor theme is flexibility. Being able to customize all of the demo content to match your store is a must.
If you are not able to do this, then it becomes frustrating. You end up with an online store that doesn't look right and is mismatched from the start.
This leads to potential customers clicking away from your eCommerce store. You want the correct layout, customization, and functionality to be there.
Integration
Last, but definitely not least, you have to make sure that there is proper WooCommerce integration happening within Elementor. Remember, there is actually quite a big difference between being "compatible with WooCommerce" and being able to create an amazing shopping experience for your customers.
With the right WooCommerce Elementor theme, you will be able to create an online shopping experience. Amazing features also help. Some of these include::
Trust Badges
Optimized Checkouts
Filters
Unique Product Pages

Sales Badges
Reviews
Optimized Sales Channels
Social Interaction
All-in-all, you are looking for the eCommerce and Elementor theme integration to work as one smooth, fast, steady, online shopping experience.
Conclusion
WordPress has continued to grow and grow over the years. It is now the most popular website platform in the world. With it, things like WooCommerce and Elementor have thrived. It makes sense to combine both of them together.
This helps create a fantastic online shopping experience that is unique and fun for your customers.
I hope this article points you in the right direction of finding the best WooCommerce Elementor themes. You can't go wrong with any of the suggestions on the list above.
Give them a look, try them out, and see what you think. Before you know it, you will have found one of the best WooCommerce Elementor themes available. Now, you can start building the online store of your dreams.
Good luck!