Restaurants have evolved over the years. Nowadays, ordering online is the norm, and that is likely not going to change. Thus, building a website for a restaurant has become essential. And with the help of a restaurant plugin in WordPress, your website will be perfect.
What Is a Restaurant Plugin?
A restaurant plugin refers to any plugin that is intended to be used for restaurants. As you can imagine, that makes it quite a vague term because the needs of every restaurant are quite different.
That said, there is some consistency when it comes to these tools.
For instance, every restaurant needs to create an online menu, and that requires a plugin to do so. At least if you want to make it look good. Other common features include reservations, store hours, store locator, and more.
Luckily, there is no shortage when it comes to finding a WordPress restaurant plugin.
The Best WordPress Restaurant Plugins to Use in 2022
1. Five Star Restaurant Menu Plugin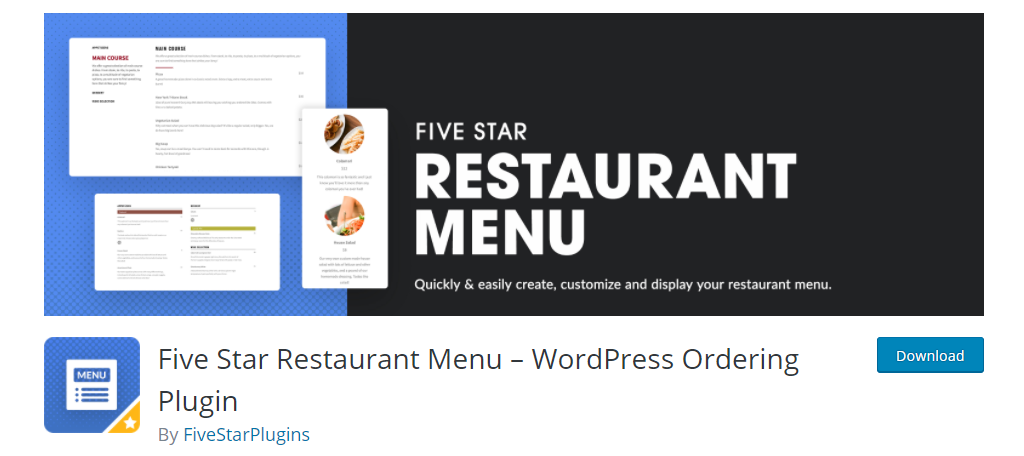 Without a doubt, a WordPress restaurant menu plugin is the most important choice you are going to make. Luckily, it's not a hard choice to make. The Five Star Restaurant Menu plugin is the perfect fit for just about every restaurant.
It allows you to create a stylish and responsive menu for your website.
One of the most useful features of this plugin is the additional three Gutenberg blocks. These allow you to place the entire menu, a specific section (like lunch specials), or an individual item on any post or page.
The plugin is actually really easy to use. You simply need to add menu items, then add them to the menu. They are grouped together by which section of the menu they belong to.
Most importantly, there is no limit on the number of items you can store.
2. WP Store Locator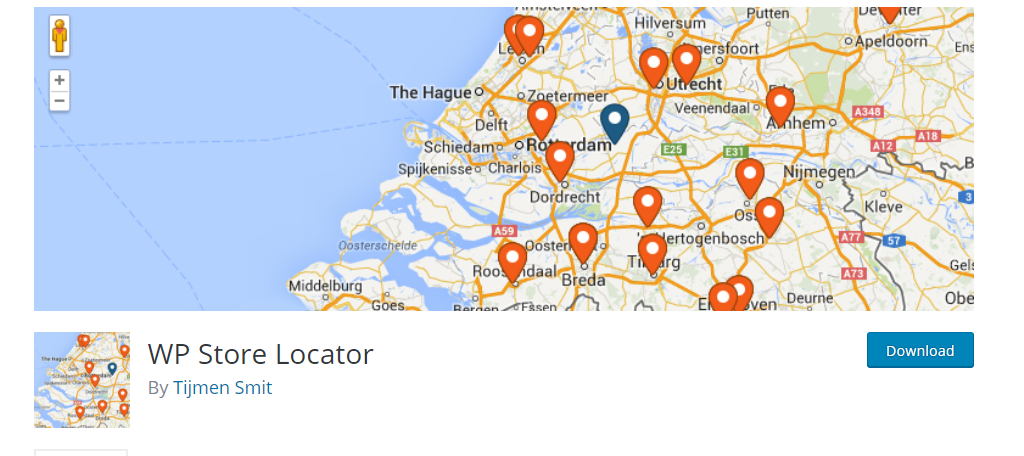 The days of customers blindly finding your restaurant are over. Today, most people look up reviews and use Google to find the closest restaurants to their location. The WP Store Locator plugin helps customers find your establishment.
With it, customers can get driving directions to your location.
This plugin is particularly useful for restaurant owners that manage multiple locales. And that's because it can show multiple locations. Thus, a customer will get directions to the store that is closest to them.
The map itself is customizable. For instance, you can control the zoom level, the display language, choose from multiple map styles, and provide location-specific information like store hours, phone number, and more.
3. Store Hours Manager for WooCommerce
If you're using WooCommerce to power your online orders, then you should use the Store Hours Manager for WooCommerce. This tool allows you to set your restaurant store hours for the online market.
Thus ensuring that orders are not placed when you are not open.
The core features of the plugin allow you to set hours for when the store is accepting orders (when you're open) and when the store is not accepting orders (when you are closed) for each day.
You can also set up special hours for holidays.
One of the coolest features is the ability to force an override on the schedule. If your restaurant has too many customers at once, you can actually turn off online orders until you can catch up.
This ensures that the kitchen doesn't get overwhelmed.
4. Five Star Restaurants Reservations Plugin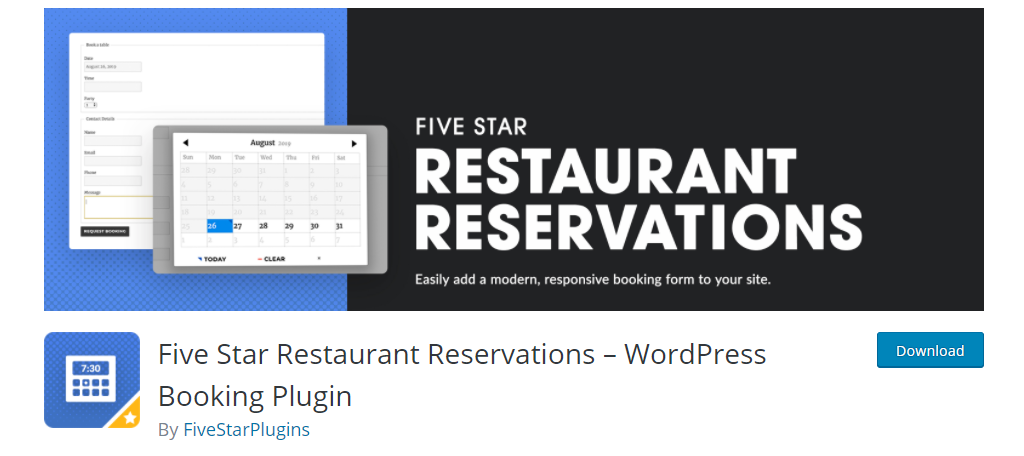 While not all restaurants need a reservation system, it is good to have, especially for big parties. The Five Star Restaurant Reservations plugin adds an entire reservation system to your website.
This includes booking tables, sending out email notifications (reminders), and much more.
One of the main advantages of this plugin is actually placing the reservation form. In many instances, placing a form in WordPress requires using a shortcode. While these are easy to do, this plugin adds a block to Gutenberg that makes placing a form a cinch.
You can set the plugin to automatically accept reservations if the number is below a certain threshold. However, if the number exceeds, the plugin can be set to reject the reservation or send it for manual approval.
This helps ensure your dining area never gets overcrowded.
5. WP Yelp Review Slider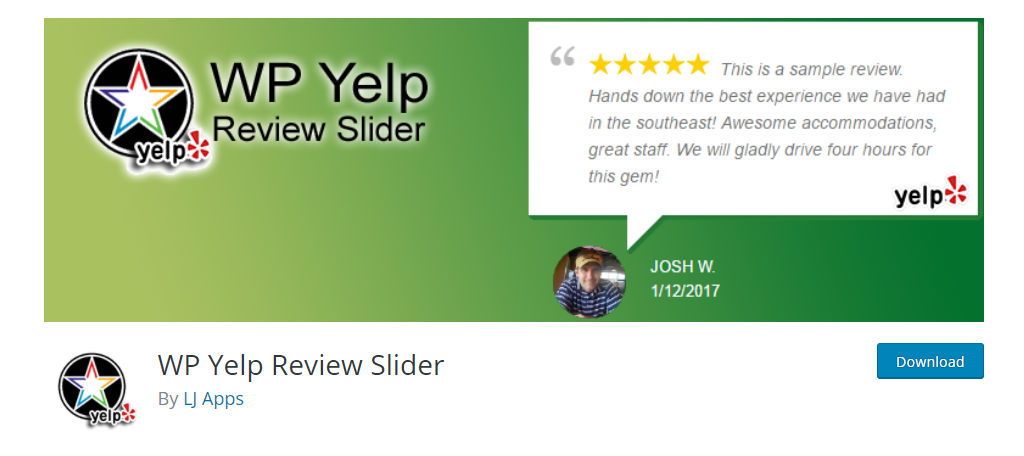 Restaurants can be propelled to stardom with a good review, and other times they can sink into the abyss. No other name is more noteworthy than Yelp in this regard, and the WP Yelp Review Slider allows you to display those reviews in WordPress.
To put it simply, it displays Yelp reviews on your website, which can help get new customers in the door.
You have full control over what reviews are displayed on your website. Thus, there is no fear of having a bad review showing to visitors. That said, if you have an overwhelming number of bad reviews, this might not be a good plugin to use.
After all, it's very likely that customers might check out Yelp themselves to see more information.
The slider is also customizable. You can change the color of the text bubble, border, choose to display the name and date of the reviewer, and more.
6. Restaurant Menu by MotoPress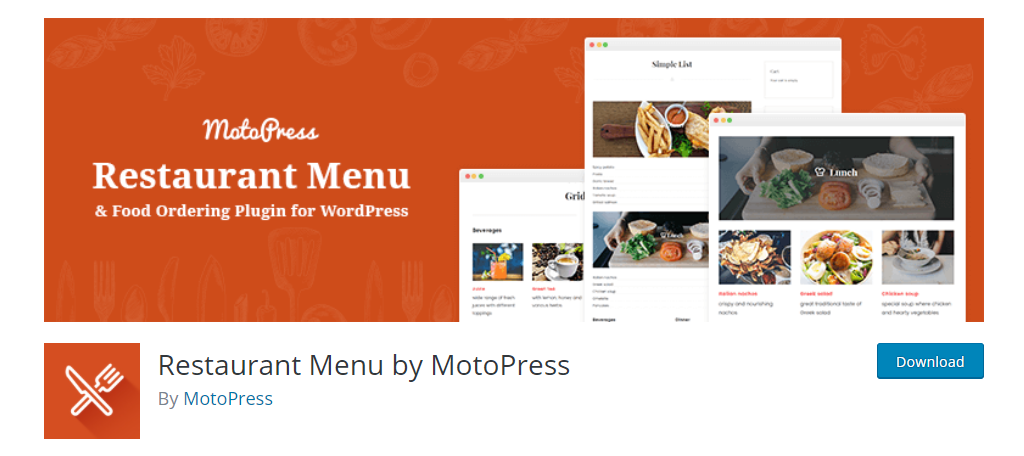 Restaurant Menu by MotoPress might just be the best free WordPress food ordering plugin available. It handles everything a restaurant needs including menu creation, pricing, accepting PayPal and Cash payments on WordPress, and much more.
You even have the ability to add ingredients to specific orders (like toppings on a pizza).
In terms of eCommerce, the payment systems for PayPal and Cash are integrated into the plugin for free, which means you just need to connect your accounts.
You will have to pay any transaction from those respective platforms, though.
The customization that the plugin offers lets your menu items shine. You can add multiple pictures of the food, descriptions, ingredient lists, and you can allow customers to enter special directions, like how meat is cooked.
MotoPress really adds everything.
7. Bookly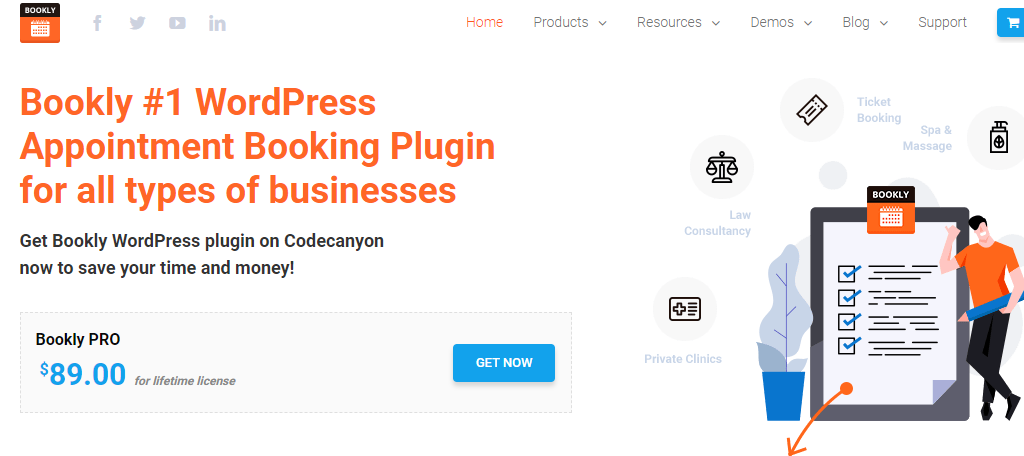 Bookly is a premium plugin that is the one-stop shop for reservations. This is ideal for any business that may rely heavily on catering and hosting large events like parties or weddings.
That said, it wasn't made with just restaurants in mind, so there are many other uses and features available.
Now you might be hoping to avoid premium plugins, but this one is robust enough to warrant the price tag. No other reservation plugin can come remotely close to Bookly in the options it provides.
For restaurants, in particular, you can use it to manage your table reservations in real-time! This is extremely important when you might be dealing with in-person reservations and online ones.
This ensures that you don't overbook.
8. WPPizza – A Restaurant Plugin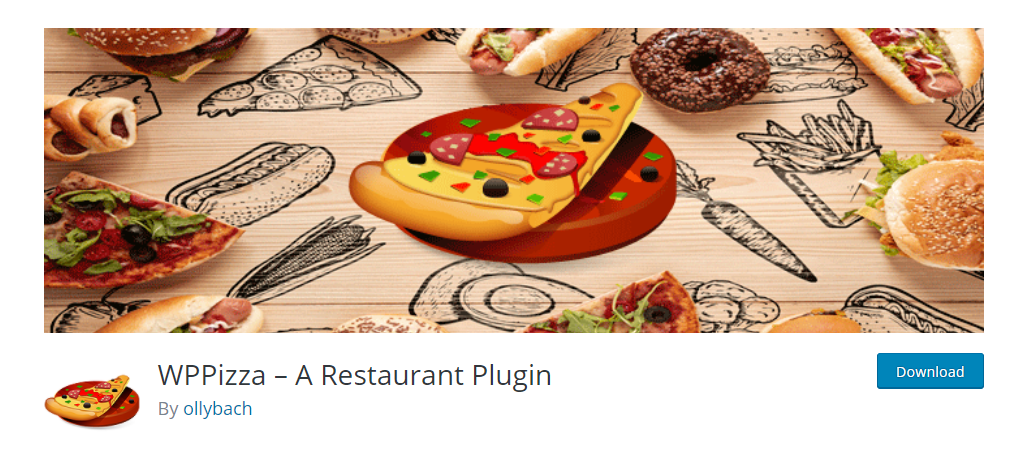 If you run a Pizzeria, the WPPizza plugin was made for you. And even if you don't, this plugin can still be a huge help if you plan to sell different-sized foods (small, medium, large, etc.).
And you can even have the option to accept cash on delivery of orders. Granted, cash sales are getting rare in 2022, but it is there if you need it.
Other key features include multilingual support, multisite support, check delivery availability by zip code, a rewards program to give back to loyal customers, and much more.
It's also terrific at handling online payments. The premium version supports PayPal, Stripe, and many other major payment gateways. There are several premium extensions that add support for things like coupons, preorders, timed menus, and more.
9. Five Star Restaurant Reviews Plugin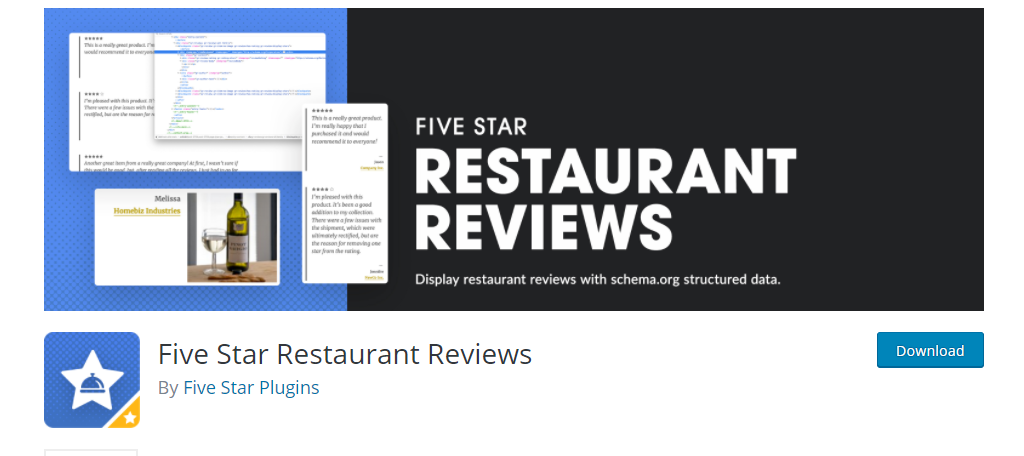 Your eyes are not deceiving you, this is the third plugin by the Five Star Plugins team, Five Star Restaurant Reviews. This time, the developers focus on accepting and displaying user reviews directly in WordPress.
And most importantly, it does it in an SEO-friendly manner.
It accomplishes this by making sure all reviews appear using the Schema.org markup to help search engines. This helps integrate the reviews with your listing in actual search results.
Thus, more reviews could actually help, assuming they are real.
The actual review that customers can fill out includes room to describe their visit, a rating system (one to five stars), responsive design, the ability to add pictures (great for takeout), and there are multiple templates to choose from.
10. Restaurant Menu Plugin for WooCommerce
If you're searching for a WordPress food menu plugin that's WooCommerce friendly, look no further. The Restaurant Menu Plugin is the perfect addition to WooCommerce and allows you to build menu pages in minutes.
And it has a plethora of features to take advantage of.
Some of the key features to try include the ability to select different side dishes for certain meals, add individual prices for side dishes, display multiple categories on one page, require a minimum number of side dishes a customer must order, and more.
However, the biggest advantage of using this plugin is how easy it is to use. The plugin page claims it's easy enough for a kid to use, and they are not lying. You can build a robust menu with multiple side options for each dish in minutes.
Make Sure Pictures of Food Look Good
One of the biggest mistakes that restaurant owners have made in the past is using bad pictures.
Sometimes, food just doesn't look good and that can easily scare away visitors. You need to take multiple pictures of any product you plan to add to your website and get a second opinion on which ones look the best.
Trust me when I say, you are going to lose customers if the food doesn't look good online.
However, don't make an item that looks good for the photo. This might sound contradictory, but let me explain. It's 2022, almost every single person has a smartphone on them when they eat out or get an order at home.
In fact, 69% of millennials take pictures of food.
They are going to take and share pictures of food that doesn't look good and spread it online. It can destroy a restaurant in some areas. On the flip side, if it looks good, it can help your business grow.
Making sure the images you use online are high quality and properly reflect the food is integral to success.
Get Building
With these plugins, you should be able to build a spectacular WordPress restaurant website. They provide all of the necessary features that customers expect, they are easy to use, and many of them are even free.
The only thing standing between you and the website of your dreams is getting started.
Which restaurant plugin do you use?