Webinars are a great way to engage a large number of people simultaneously. From a single live video, you can demonstrate products or help others learn a new skill. Regardless of why you would like to stream live on the Internet, you can find a variety of webinar software to use.
The best part is that many of them can be easily added to your WordPress website.
According to statistics, people on social media sites like Facebook are watching live video feeds three times more than regular video. This plays into how the content type can become part of several types of website marketing. Some webinar software will let you become a part of this statistic.
In today's article, I am going to show you where to find some of the best online software for hosting webinars from WordPress. As an added bonus, I'll even throw in some of the best plugins that can help boost the experience.
1. YouTube Live
Formerly known as Google Hangouts On Air, the system moved to YouTube Live late in 2016. Instead of streaming from your basic Hangouts account, you now have the power of YouTube to support the content. This means your feed is also connected directly to one of the most powerful search engine systems in the world: Google.
YouTube Live is as easy to integrate into WordPress as a regular video. You also have the capacity to connect social media accounts to easily share the stream as well as using the system's optimization techniques similar to uploading a traditional video.
Don't worry if you want to keep the broadcast private. YouTube Live lets you manage who can see the broadcast by setting control for Public, Unlisted or Private. This is aside from the great tools that are available during the stream, such as creating highlight clips and channel art.
2. AnyMeeting
AnyMeeting is a popular platform for hosting Webinars. It's among some of the oldest systems around as the company has been providing this function since 2010, according to the company blog. It provides a variety of abilities ranging from integration to promotion.
AnyMeeting allows up to 2,000 attendees at any given time. It supports high-quality video rendering while being mobile friendly as well. Users can also take the live broadcast further by sharing YouTube videos during the stream.
As analytics is important to anyone building strategies, this webinar system delivers an extensive reporting system. You can also send out follow-up emails, create surveys for your guests or even provide quizzes to further engage the audience.
3. Adobe Connect
Popular for its visual tools such as Photoshop and Illustrator, Adobe Connect also provides a way to engage an audience. This platform works just as well for mobile users as it does for those on standard computer systems. You can be as interactive with your audience as you like while delivering a rich visual appearance.
Adobe Connect comes equipped with management tools to help customize registration forms, emails and confirmation messages. You can customize the live environment to suit your purposes, and the system can be re-branded to show your company logo and information.
The analytic tools for this webinar application are nothing short of amazing. Using graphics to deliver data lets you see the real-time performance of the webinar. If you're interested in doing more than just one webinar, this data can be invaluable to plan the next.
4. ClickMeeting
ClickMeeting is perhaps one of the most user-friendly webinar systems in this list. It uses an easy-to-follow interface that makes setting up a live broadcast simplistic. It also has some great tools and functions when you need to engage a wide audience.
This system has a great deal of customization options available. Everything form the registration page to the re-branding of the webinar itself is accessible through the software. For those who are using this as a corporate platform, you can also add a waiting room and an agenda to show what is being covered.
The interaction abilities of ClickMeeting are quite attractive as well. If you like to draw on a digital whiteboard like I do, this is also part of the experience. Polls, surveys, presentation tools and more are at your fingertips. Like other systems, this one also supports a variety of analytics and sharing abilities.
5. WP WebinarSystem
Why worry about a third-party integration to show a webinar when you can just use a plugin that does it all in WordPress? WP WebinarSystem is a plugin that turns your website into a powerhouse for live streaming. The best part is that it has both free lite versions and paid premium services.
The WP WebinarSystem helps users organize their feeds whether it's hosted as an embed or directly through other platforms. It also has the ability to sell tickets through the use of the WooCommerce plugin for WordPress. This is on top of the shortcodes that are available to customize the experience.
One thing that is of great interest is the ability to set automated webinars. In reality, the whole system is capable of being automatic allowing a saved webinar to continue generating revenue while distributing evergreen content. This could be ideal for businesses or even individuals looking to make money from their website.
6. OnStream Media Webinars
OnStream Media Webinars is only one part of this marketing company. However, it's worth mentioning simply because it's easy to add the webinar directly into WordPress. It offers a flat monthly rate regardless of how many meetings or broadcasts you hold and delivers a strong, 128-bit encryption for security.
Because the Visual Caster software supports H.264 encoding, broadcasts are compatible with virtually any device. The only thing I don't like about the platform is that it's a Flash-based system.
Although this is still a popular and widely used format, I have seen flash slow down and even crash a variety of systems.
The saving grace of this software is the ability to deliver polls, Q&As and support PowerPoint presentations while live. This offers a layer of interaction with visitors and often leads to improving visitor retention.
7. WPWebinar
If you like the idea of WordPress controlling more of the webinar experience, you may want to look at WPWebinar. This plugin supports an incredible number of auto-responders while allowing you to control the experience using your own WYSIWYG editing system.
The system installs a large number of additions for WordPress such as displaying call to action areas, timers, follow-up systems and more. Although it will use virtually any theme you're currently using, you can also choose from a built-in webinar appearance provided by the developer.
The only real drawback to this plugin is that it's a premium-purchase only. It doesn't have a free version available. However, it's also not a subscription-based platform. This means you buy the plugin for a one-time fee and it's yours forever.
8. Stealth Seminar
When you need to engage mobile users as well as those on desktop computers, Stealth Seminar offers that ability. Broadcasts can easily be sent to iOS users live, which gives them the same experience as computer users. You can also engage Android users as Stealth Seminar also connects to YouTube Live.
This platform offers live stats regarding your viewers. At a glance, you can see when people are leaving in real time. As a result, you're able to adjust your tactics live to keep your audience watching.
Stealth Seminar gives you a way to promote calls to action during the broadcast. For example, you can demonstrate how a product works while giving the live viewers the link to buy it from your website. As video is a powerful motivator when it comes to sales, this may be very beneficial for businesses.
9. WebinarJam
WebinarJam uses YouTube Live to promote the stream, but it also connects to a standard account. This is a powerful solution if you already use YouTube as part of your marketing strategy. It makes transitions from live broadcast to a saved feed quite easy.
Because you can show up to six presenters from around the world simultaneously, it is a great solution for interviews. All of the windows operate independently giving the broadcast constant activity. However, it might get a bit confusing if everyone tries to talk all at once.
WebinarJam comes with a page builder, templates, password protection and file sharing to give the webinar more functionality. It also integrates with platforms such as Salesforce to offer better business connections.
If Facebook is part of your target market, you can push the signal to Facebook live as well.
10. WebinarsOnAir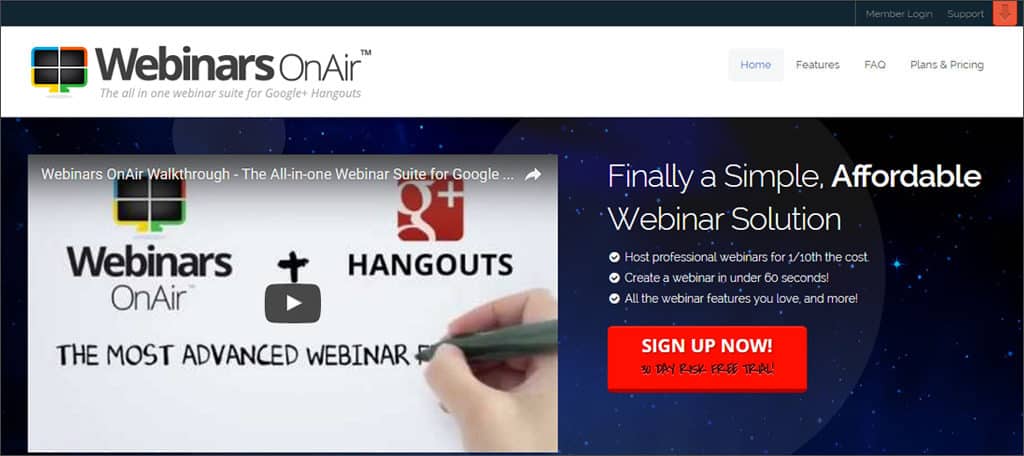 Like many other webinar platforms, WebinarsOnAir utilizes the power of YouTube Live to drive the system. This makes it easy to setup and operate while benefiting from the versatility of Google's products.
An engaging feature is that of hosting automated webinars. Because you're probably a very busy person, you might not have time to sit and record a live broadcast during peak hours.
WebinarsOnAir gives you freedom by letting you broadcast the video automatically. While this takes away from the interpersonal connection of a live feed, it's a time saver.
This software also lets you set up recurring shows, deliver polls live, promote goods by giving a purchase link and a Q&A system. You can embed both the webinar and the registration form easily into your WordPress website.
11. ReadyTalk
When you need a solution for integrating apps like Google or Outlook, ReadyTalk has that capacity. In fact, the system can be connected to a wide rang of online tools you're probably already using. Things like CRM software, audio conferencing and even marketing platforms like Hubspot are supported.
One of the features that stands out is the easiness behind promoting the webinar through social media. With a few clicks of the mouse, you can engage your fans and followers without using a third-party module.
Audience tracking is another feature that many people enjoy. Surveys, follow-up email and tracking campaigns are available through ReadyTalk. Recordings, co-presenters, surveys and more are all handled within the software. This is in addition to the extensive customizing options that are available.
How do you add these to WordPress?
The list above is made of those systems that offer the ability to embed the feed or use WordPress directly. Other webinar systems available online often only have the registration form available for the website. This means that not all live feeds are capable of being added to WordPress.
The above webinar platforms are easily integrated by adding the embed code the company provides. Simply copy and paste this code into a page or post and the webinar is live on your website. I would suggest setting up a page on the menu bar in WordPress for this. It makes it easy to find for yourself and visitors.
Please note, there is a difference between embedding and uploading video to WordPress. These are two very distinct processes that are not the same.
5 WordPress Plugins to Boost the Experience
1. RSVP Maker
RSVP Maker is an event scheduling addition that helps you promote the webinar. It is easily integrated with social media as well as email such as using MailChimp to send messages.
If you plan on charging visitors for the event, RSVP Maker lets you accept money through the use of PayPal.
2. Calendar Event WD
Informing visitors of future webinars is important if you want them to join. The Calendar Event WD plugin will help. Not only can you display an unlimited number of events, but the system is also SEO-friendly.
It has an easy system for setting up categories, social sharing and even Google Maps Integration.
3. CoSchedule
CoSchedule brings the power of its online platform directly into your WordPress website. The system is useful for keeping schedules of your webinars, scheduling social media messages and monitoring social traffic.
It is a great tool if you want to further understand your target audience.
4. Arlo training and event management system
Arlo integrates your website with the cloud-based training and event management app of the same name. The system allows online registration, event management for live webinars and training and includes customer relations management.
One of the highlights to Arlo is the ability to integrate with other online apps.
5. CM Video Lessons Manager
Many hosts of webinars save the video and upload it to the website at a later date. The CM Video Lessons Manager helps you keep track of all those additions while giving visitors a way to further engage with the content.
This is a perfect platform for those who offer educational pieces on their websites.
Accentuate the Website with a Webinar
Webinar software has potential to vastly enhance business interaction online. Because social video generates approximately 1200% more shares than any other content, adding elements like Facebook and Twitter is important.
These live streams offer a chance to boost reputation as well as promote the brand to a large number of participants. All of this is done through the right platform and integration into WordPress.