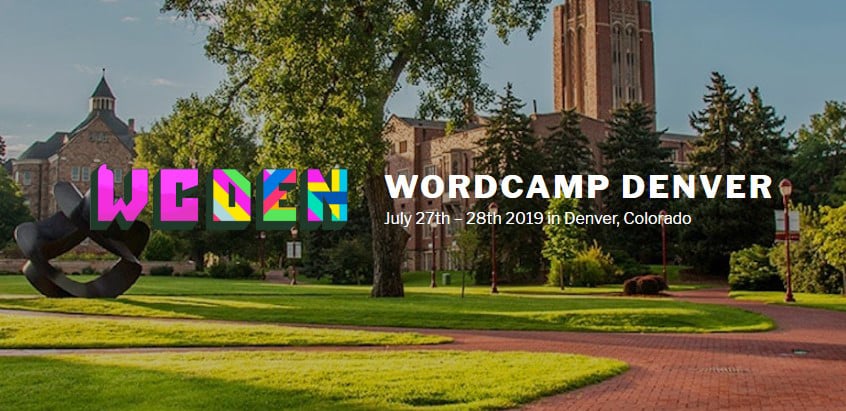 WordCamp Denver 2019 was an incredible weekend. Not only did we meet a lot of awesome people, but I managed to sit in on a couple of incredible talks. This was my second WordCamp ever, and it was definitely one to remember.
Although, I might be a bit biased simply because this is my home town. I'm sure every WordCamp has awesomeness surrounding it. But for it to be at "home" makes it more real to me for some reason.
Arriving in Denver
Shortly before two in the afternoon, I drove out to Denver International Airport to pick up Anna Gargioni. It was about a 30-minute drive through the beginning of rush hour traffic and construction here and there.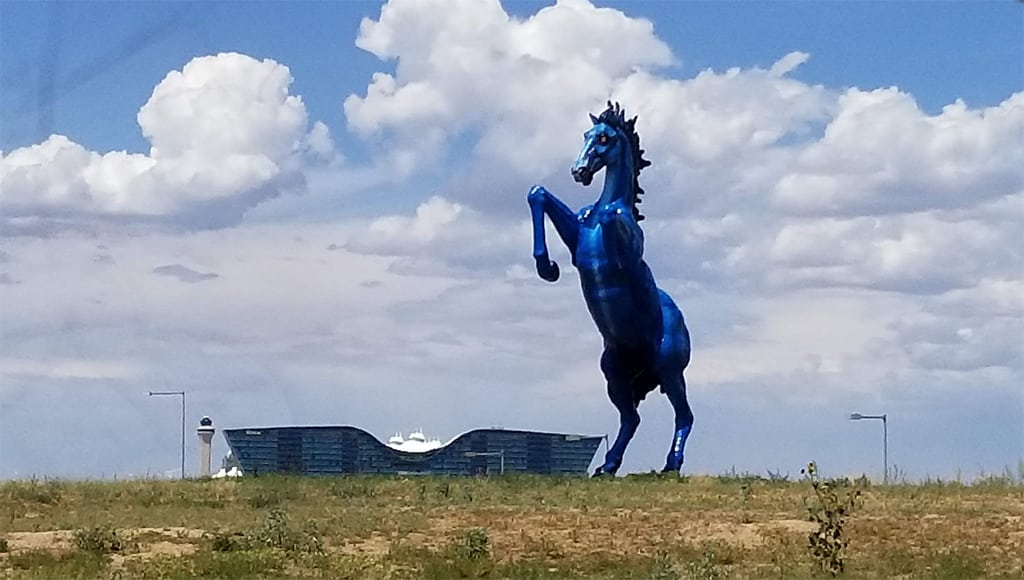 At least I was able to get a good picture of Blucifer and DIA while en route to pick up Anna. I've tried so many times in the past, but they never really came out as I'd hope.
On a side note, he's not nearly as menacing looking during the day than he is at night.
Unfortunately, traffic was pushing our agenda a bit. So, we went straight to dinner before heading to the hotel.
Having "Dinner" at Elway's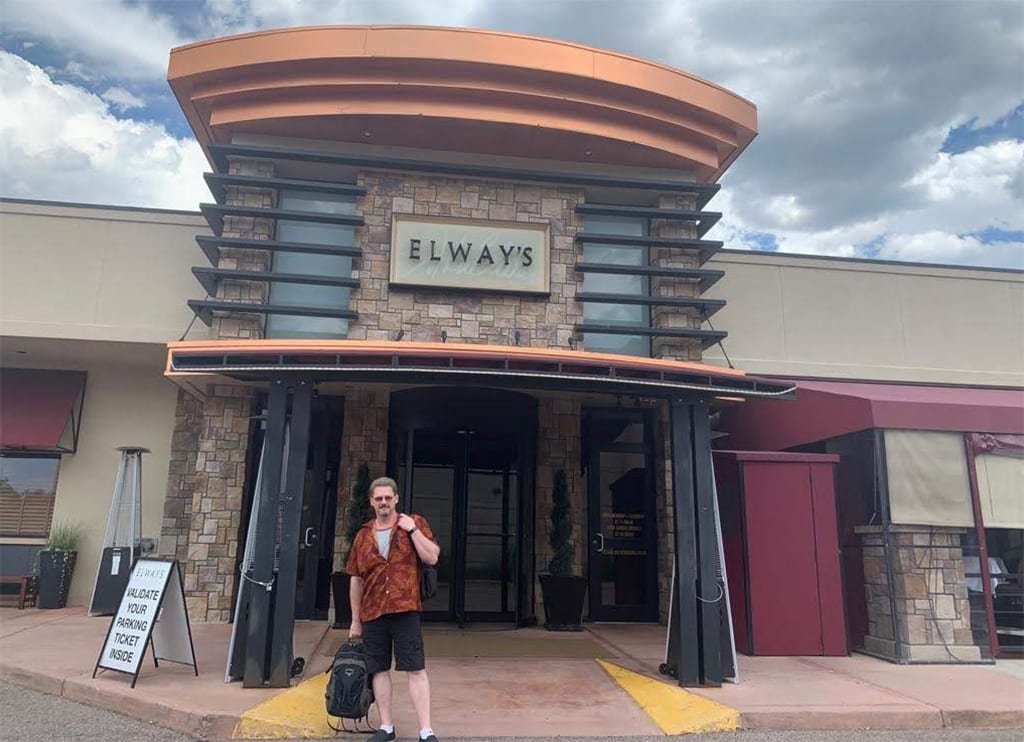 One of the things we wanted to do was have dinner at a Denver-specific locale. And although most of our restaurants double as breweries, we do have a few that are more concentric to dining.
And Elway's is one of the best.
The restaurant is named after Denver Broncos quarterback legend, John Elway. And the food was just as amazing on the plate as he was on the field.
Now, I said we had "dinner" in quotes because it was closer to 2:45 by the time we were eating. This is because the kickoff party for WordCamp Denver 2019 started at 5:00 and we didn't want to be late.
Not to mention trying to get a table on a Friday night after the party was going to be next to impossible.
But I have to say, the basil pesto pasta and grilled chicken sandwich were simply amazing. If you're in the metro area, Elway's is a place you have got to try.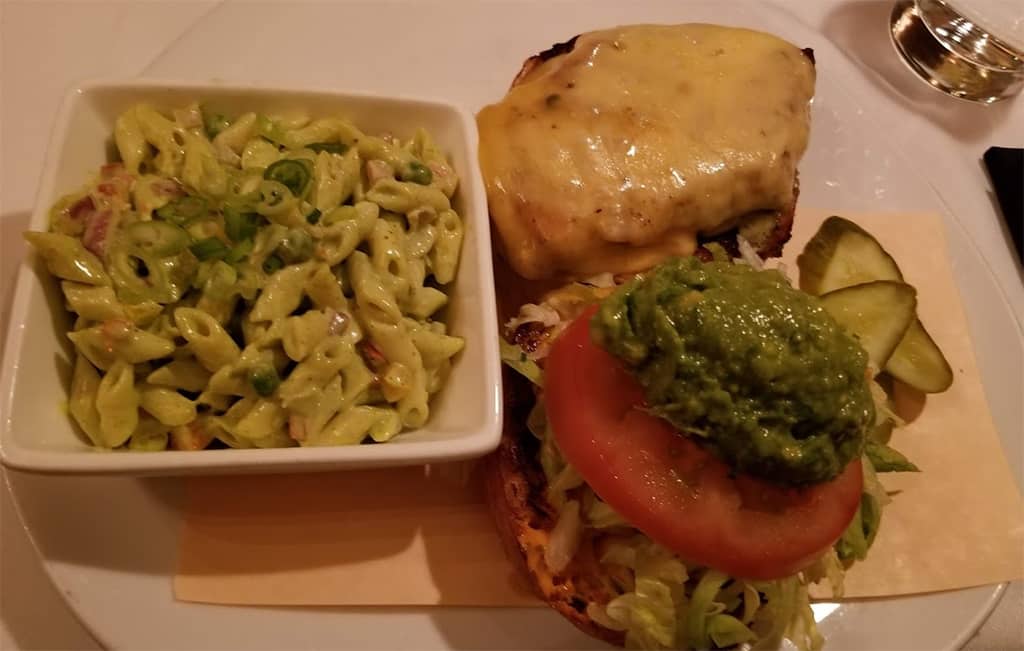 Anna told me she liked her sirloin, which did look quite delicious. But I was in the mood for chicken, and Elway's didn't disappoint.
Unpacking at the Hotel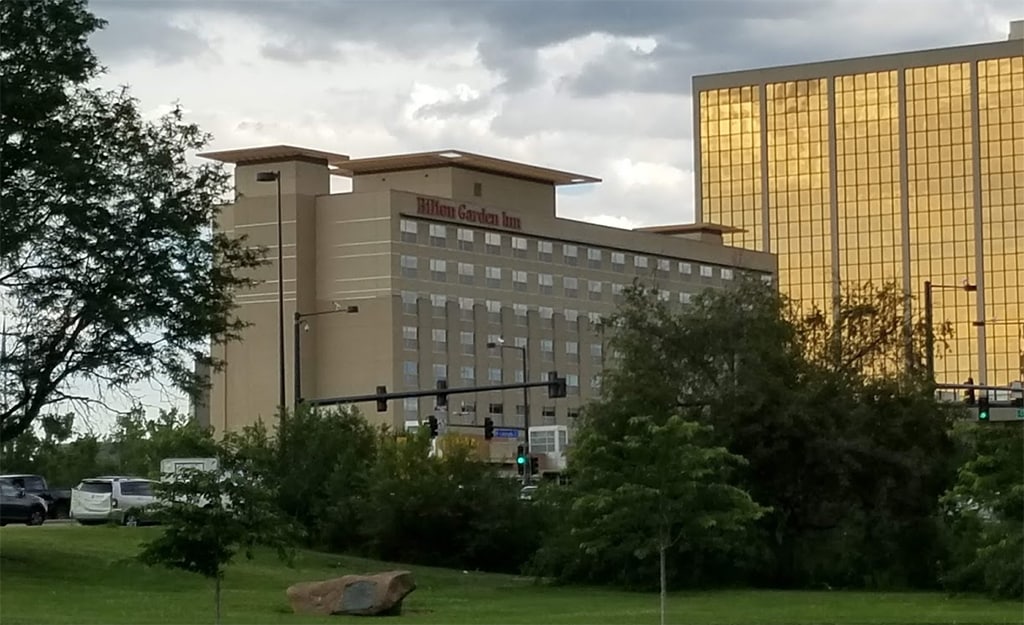 After an amazing lunch/dinner, we finally arrived at the Hilton Garden Inn in Cherry Creek. I was pretty excited since we were staying in the area I used to live in when first moving to Colorado back in 2001.
The hotel itself had a modern feel and was nicely decorated. And the pillows…I have to find where to get those pillows!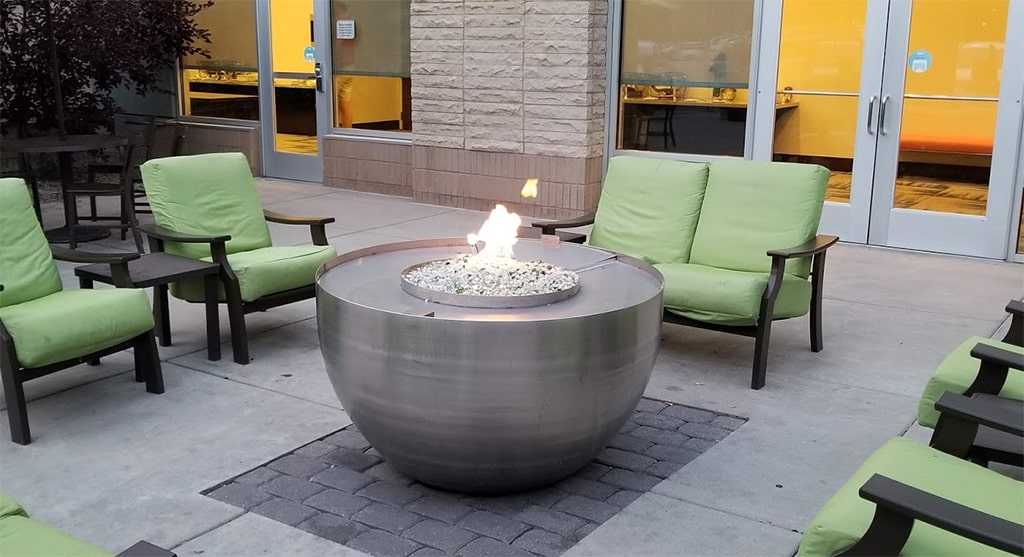 Luckily, we didn't have to worry about unpacking swag or looking for deliveries. Since I had everything here in Denver ready, it cut out a lot of stress and time trying to unpack.
Enjoying the Kickoff Party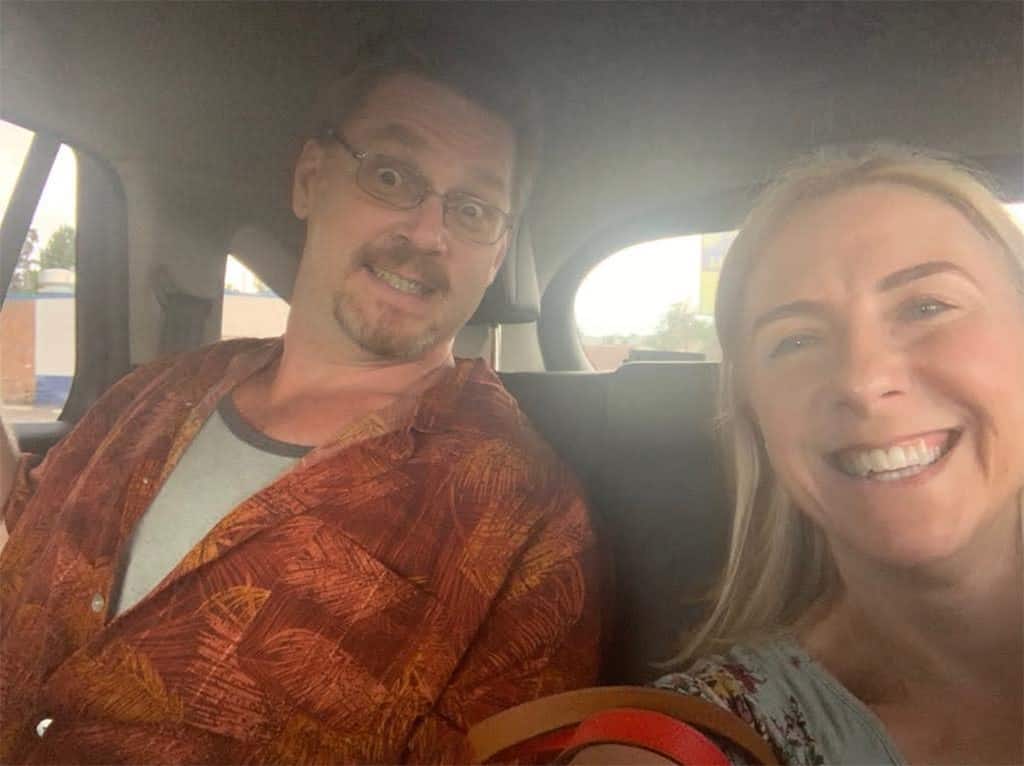 After getting somewhat settled at the hotel, Anna and I hopped in an Uber. We were on our way to the kickoff party and were pretty excited to meet new faces and talk with everyone.
The meetup was at The Pioneer. It's a double-level eatery with awesome tacos and other Mexican dishes, as well as serving drinks.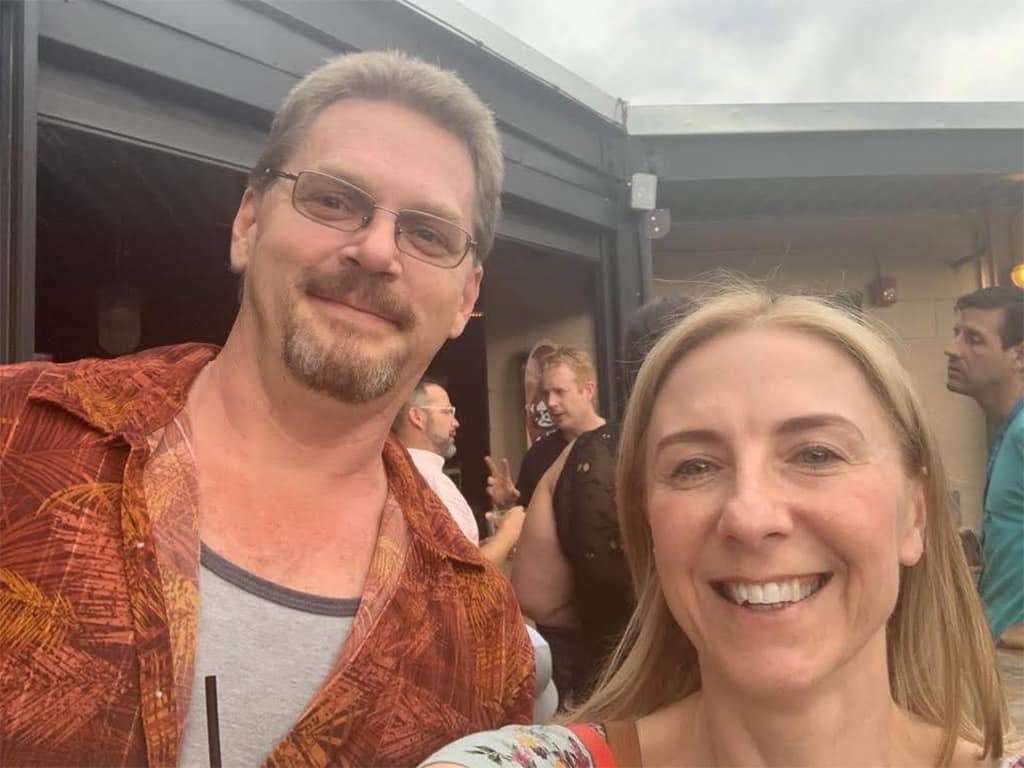 One of the nice things about this location is that it was fairly close to the venue. Which meant we really didn't have to go scouring the countryside looking for either one. In fact, it's right across the street from the University of Denver.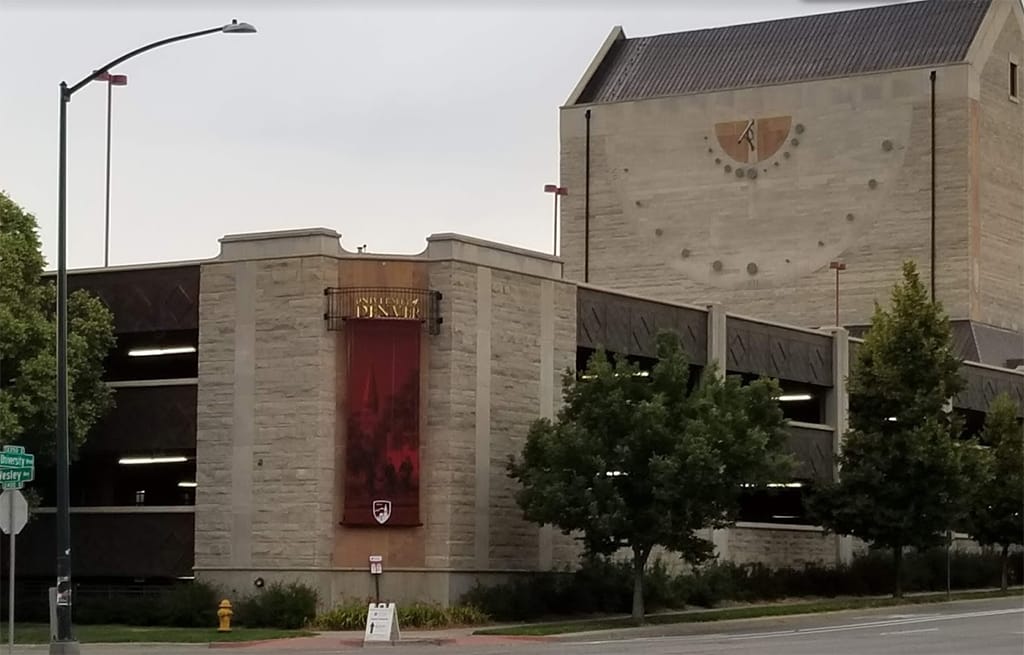 While attending the party, we met up with a lot of sponsors and speakers for WordCamp Denver 2019.
One of the nice things about these get-togethers is how even competing brands can interact in a relaxed atmosphere without trying to one-up each other. It's a place where ideas are shared and friendships can form regardless of what you do for a living.
It's the bonding of a community that helps deliver success to everyone involved, whether you're a sponsor or an attendee.
Saturday at WordCamp Denver 2019
It wasn't super hot, but it was a typical summer day in Denver. Which meant climbing temperatures as the sun made its way overhead. However, a lack of humidity makes all the difference as Colorado is drier than a lot of places.
We got to Sturm Hall at the University of Denver and unpacked our swag. While I had to carry the bulk of the boxes quite a distance because of construction, I did get some help from one of the organizers.
A Shoutout to a Couple Volunteers
Anna met up with a couple of volunteers from WordCamp Denver 2019. Simone Canady and Lucy Clark. Thank you for all that you do, and you guys were awesome!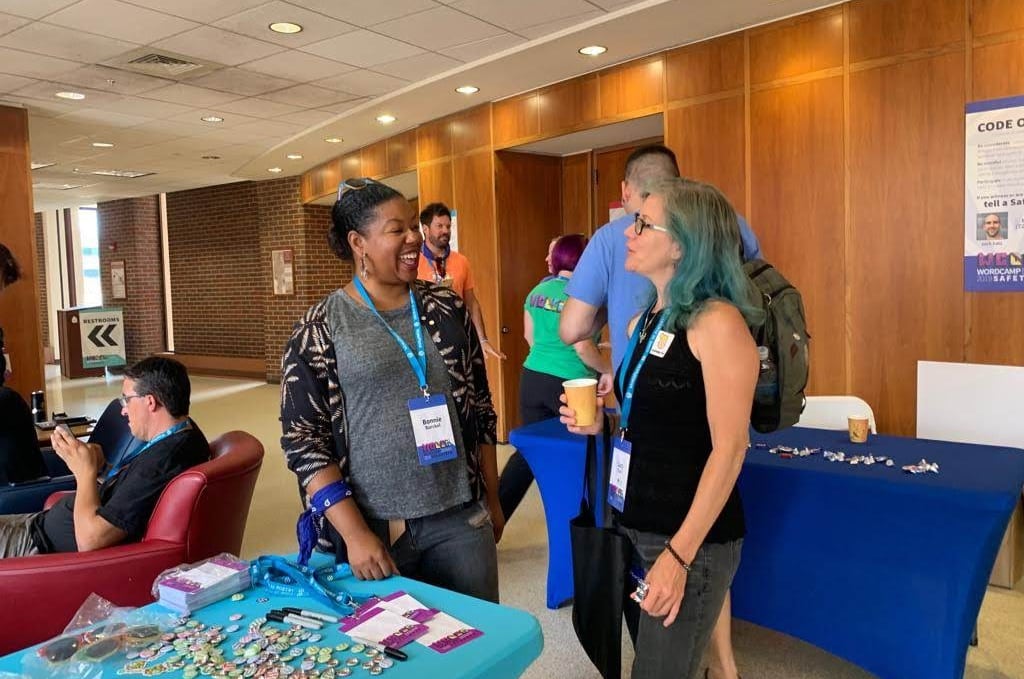 Of course, there were a lot of volunteers that helped out. And I wish I could have met up with all of them. Thank you all!
We also got to spend time with Zack Katz and Leah Ashley, two of the organizers for WordCamp Denver 2019. They were simply amazing and I hope to see them both next year.
Anna and I set up the table and got ready for the patrons.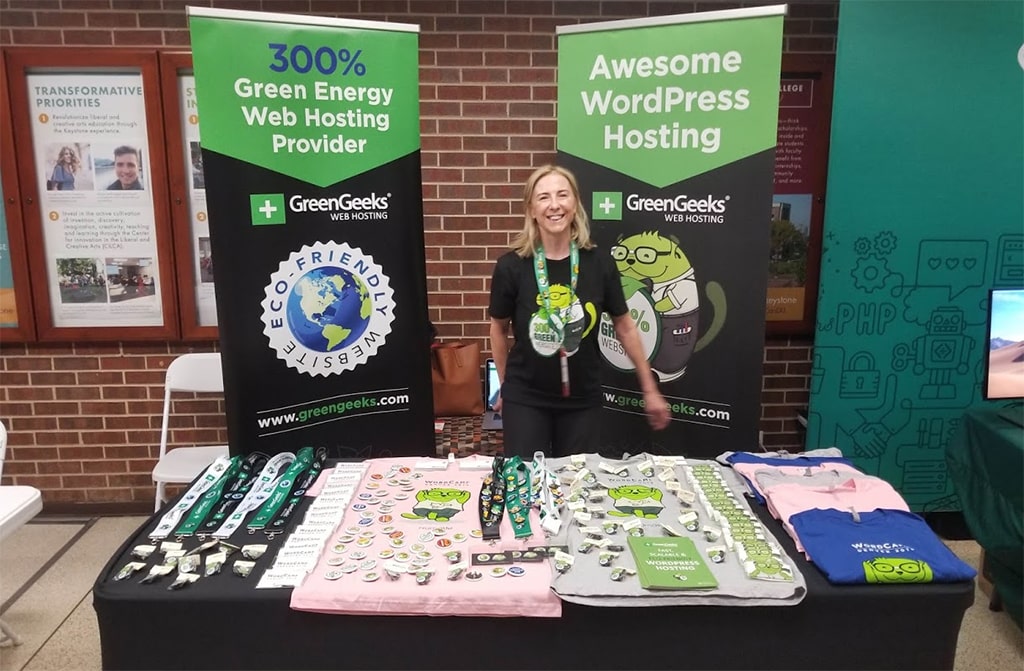 In the first couple of hours, I bet we talked to well over 100 people.
I wasn't sure what to expect as this was only my second-ever WordCamp. And we had an amazing flood of people come up to talk with us.
After a while, we were met up by Trey Gardner, the CEO of GreenGeeks. As he was able to get right into engaging people, I was able to venture out and experience some of the talks at WordCamp Denver 2019.
Becoming a Community Builder: A WordPress Story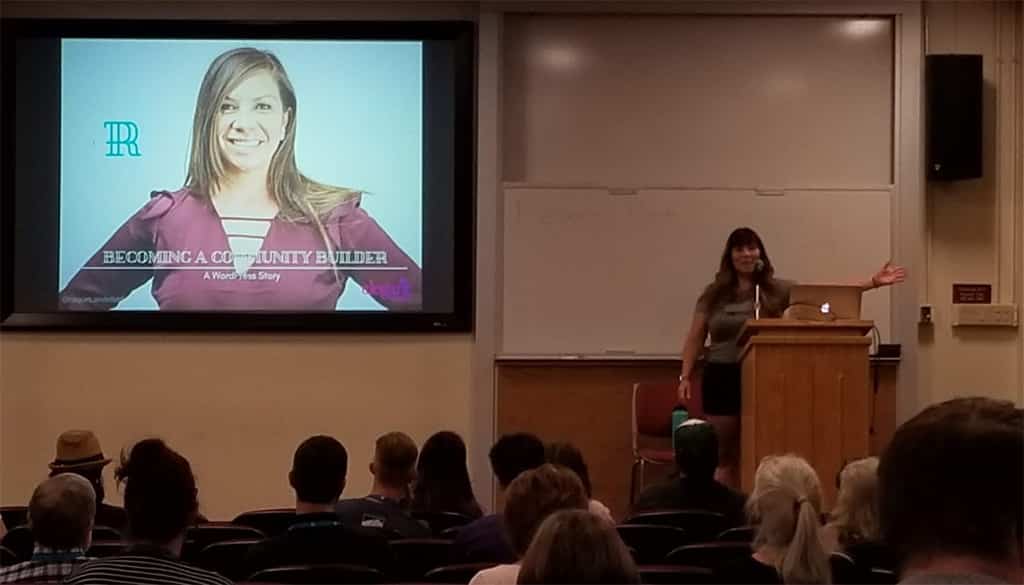 The first talk I was able to attend was Raquel Landefeld's "Becoming a Community Builder." It was an inspiring tale about how she went from being the co-founder of a business with her husband to spearheading a lot of points for the WordPress community.
It goes to show how your future is never truly written in stone. Sometimes the slightest alteration of your course can change things in profound ways.
If you have the chance to attend any of Raquel's talks in the future, they are worth sitting in on. In fact, I feel a bit more motivated to include myself more in various community projects.
Thank you, Raquel.
Having Some Lunch
After an inspiration talk, it was time for lunch. It was catered by Chipotle and smelled amazing. Unfortunately, I wasn't feeling good at the time and wasn't hungry. However, the spread looked very appetizing.
And the line for the buffet table was incredibly long.
It didn't take long after lunch for the crowd of people to continue exploring the row of sponsors. In fact, Trey and Anna had quite the gathering for the longest time. It was to the point where I couldn't get anywhere near the table.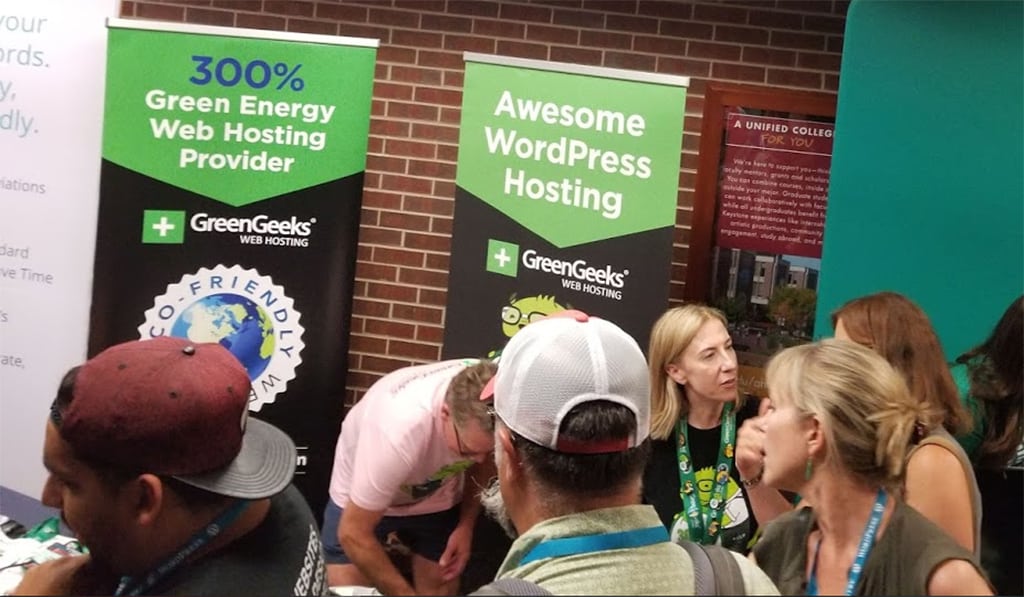 But that was OK because I had another talk to attend.
Must-Have Tools for Podcasting in WordPress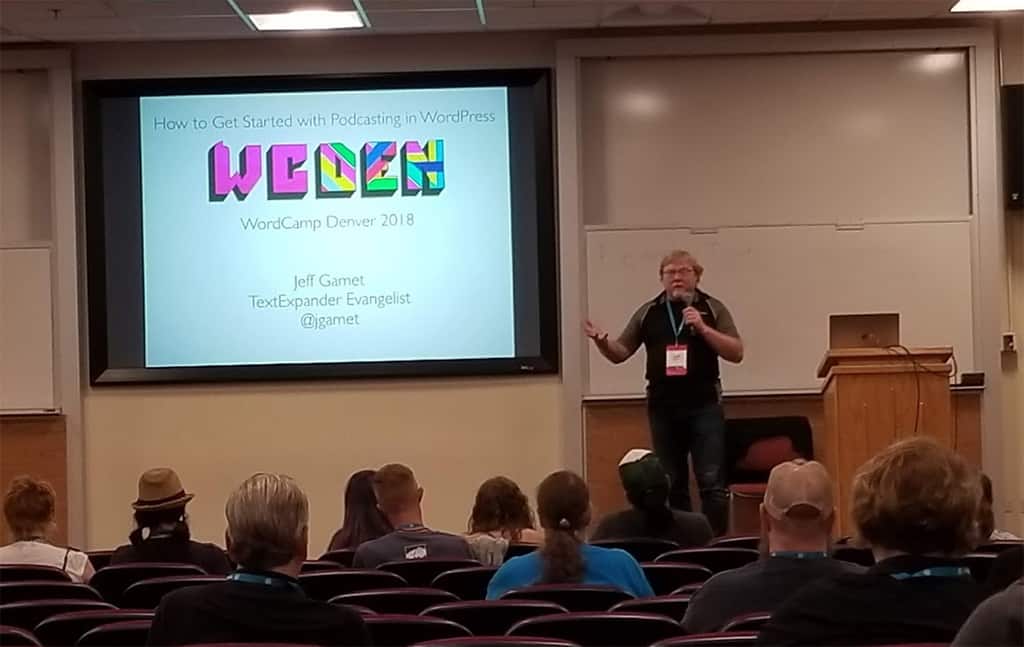 I was very excited to attend the talk regarding podcasting by Jeff Gamet, a speaker from TextExpander.
As I am interested in setting up our own podcast in the future, I am very keen on any talks at WordCamp regarding the topic. In this instance, Jeff Gamet not only delivered information for setting up a podcast, but he also showed the best tools to use.
Jeff showed the software, hardware, WordPress plugins and more for getting your own podcast up and running. He even broke down some of the best practices for different tools as well as details regarding the pros and cons.
Thank you very much, Jeff. You've given me a great deal of information!
An End to an Awesome Weekend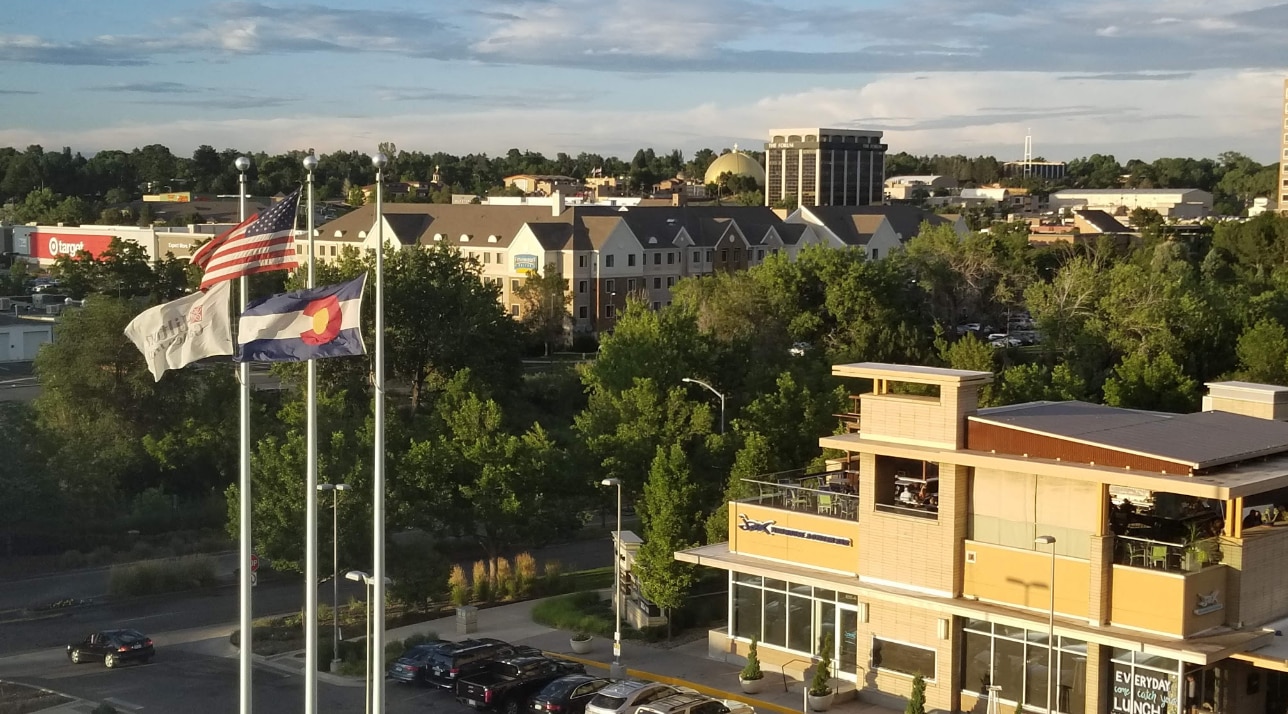 WordCamp Denver 2019 was an awesome experience. Not only did I get to sit in on a couple of incredible talks, but I met a large number of people from all over.
And that's what these kinds of events are all about – community. As such, I would like to thank all of the volunteers, organizers, sponsors and attendees for making these WordCamps happen.
While it's only my second camp, I can see why they are so addicting to attend. I'm glad that I get to experience this with so many people.
I'm also glad that Trey and Anna had a safe flight home.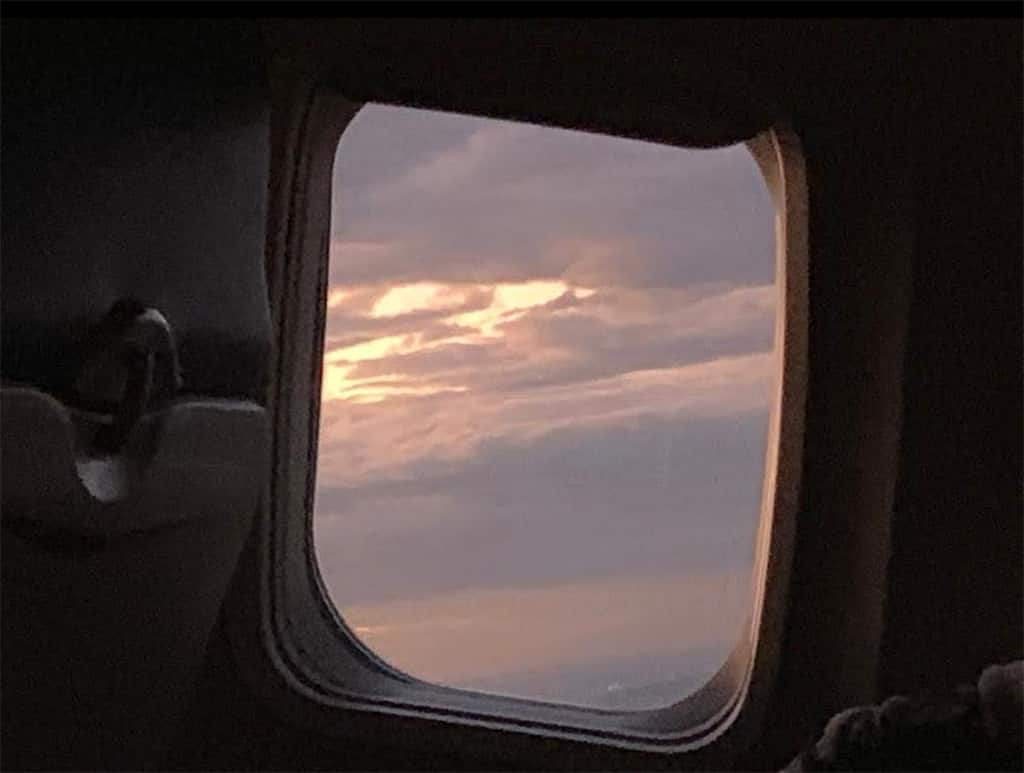 Until next year, Denver! I'm looking forward to it already.