One of the best ways to engage your readers is to offer a comments section that is robust. Although WordPress comes with a decent system out of the box, there are some fantastic comment plugins that go far above and beyond.
These plugins can sometimes add that missing element that keeps visitors coming back to the comment section. And if you can achieve that, you can build a great community around your business.
Here are 12 of the most engaging WordPress comment plugins you can add today.
What Are Comment Plugins in WordPress?
Comment plugins are those that either add a new comment system to replace the default one in WordPress or provides additional features to the existing one.
With such a broad definition, you can probably already imagine that there are a ton of these to choose from.
So the real question becomes, what makes a good comment plugin?
Well, this is not a one size fits all situation. Each website has different needs and that's even true in the comment section. For example, it might not seem professional if you gamify your comment section.
That said, it can easily fit into other websites and improve the user experience tremendously. Thus, you need to ask yourself, what does your website need from a comment section?
In most cases, comments are used to increase user engagement, improve SEO, and collect feedback about the content you create or the products or services you sell. For this reason, most websites have a comment system in place.
With that said, I have assembled a great list of plugins that many different kinds of websites will find useful.
1. WpDevArtFacebookComments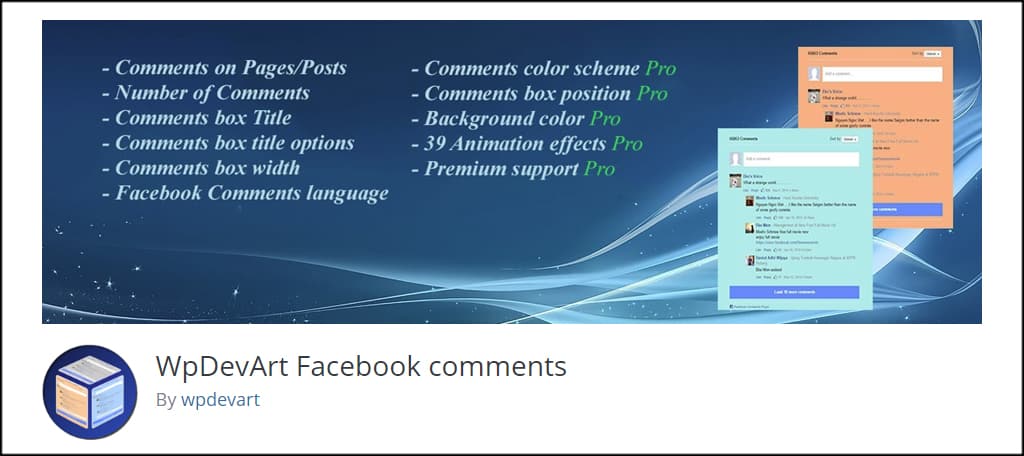 The Facebook comment system took the internet by storm several years ago and is still a popular option today. However, the options to enable it in WordPress have been on the decline.
Luckily, the WpDevArt Facebook Comments plugin is still around and provides a great way to integrate Facebook and WordPress.
Users, will not need to sign up for a new account to leave a comment on your website. Instead, they will be able to log in to their Facebook account and leave a comment. And if comments are easier to leave, more will be left.
With that said, users will need a Facebook account. This could be an issue as some users prefer to stay off the platform for a variety of reasons. However, in most cases, users won't have much issue with this and ultimately engage more as a result.
Benefits of Using WPDevArt Facebook Comments
Choose from multiple color schemes to make sure the comment section fits
Includes all of the Facebook features like Likes, media support, and more
Facebook login shrinks the barrier of entry as most users are already logged in to Facebook
The plugin is free to use and offers a Pro version that only costs between $10 and $31 dollars (depending on the plan)
Includes access to 39 unique animation effects
2. wpDiscuz
Perhaps one of the fastest and most reliable comment systems is the wpDiscuz plugin. It really is in the running for the best comment plugin for WordPress, which is why it ranks so highly.
And it even touts one of the best designs on this list with multiple customizations available.
One of the main ways it keeps your website running fast is by automatically using lazy load on comments. This will prevent a long list of comments from slowing down your page speed by only loading them when a user scrolls down to them.
While the plugin itself is free, you can actually purchase premium add-ons to extend its functionality. Thus, you'll have access to a variety of useful features like a comment search tool, GIPHY integration, and more.
Benefits of Using wpDiscuz
Allows the site to enable sharing on social media platforms to further boost engagement
Includes an up and down vote feature to let commentators rate each other
Users can use an anonymous account name instead of creating one themselves
Users can log in with their favorite social media platform to help make it easier
All of the comments are stored on your database so you won't be connecting with a third party
3. Disqus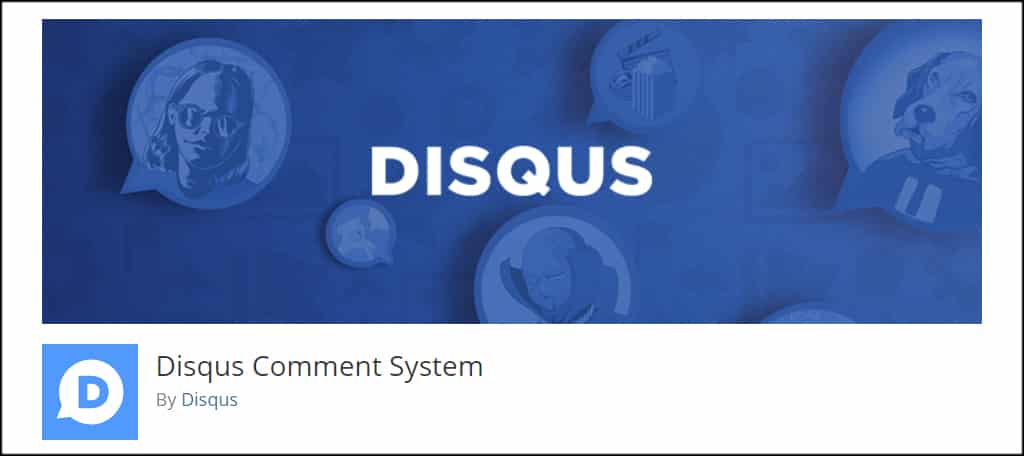 When it comes to finding the best comment system for WordPress, it is impossible to not talk about the Disqus Comment System. It is widely used in and outside of the WordPress space.
It even has its own login that allows users to comment on any site using Disqus, thus, making it very easy.
In terms of tools and features, Disqus is feature rich and contains the essentials all comment sections need to thrive. This includes strong anti-spam tools, social media mentions, whitelisting, blacklisting, and much more.
The tool does offer a free plan but is warned that Disqus will place ads on your site if you use it. For this reason, it's recommended to purchase the premium version, as these ads can ultimately impact the user experience.
Benefits of Using Disqus Comment System
Paid plans allow you to place ads and earn money from them
Disqus boasts the largest community of members, which means many users will already have an account
Setup just includes a one-click installation, which makes it ideal for beginners
Does not impact site speed by loading asynchronously
Supports threaded comments to help keep the conversation flowing
4. Thrive Comments
Thrive Comments is a premium comment system for WordPress that replaces the default system. As a premium option, it is feature-rich but lacks any options for users to try it for free. Instead, you'll have to settle for videos to get an example of the tool.
One of the strongest aspects of Thrive Comments is the gamification of the comments system.
In case you are unfamiliar, this is a technique in which you add a rewards system that encourages users to continuously use it, and it really does boost engagement.
In this case, the more users comment, the higher their rank will grow, which unlocks cool badges that you can customize. This helps reward and incentivize your biggest contributors in the comment section.
Benefits of Using Thrive Comments
Allow commenters to post their comments on social media platforms
Offers sites a clean modern design that can be customized to fit your needs
Visitors can use their social media accounts to leave a comment instead of logging in
Offers multiple analytics tools so you can see what posts get the most comments
Comment moderation is made simple with a variety of filters and sorting options
5. Fancy Facebook Comments WordPress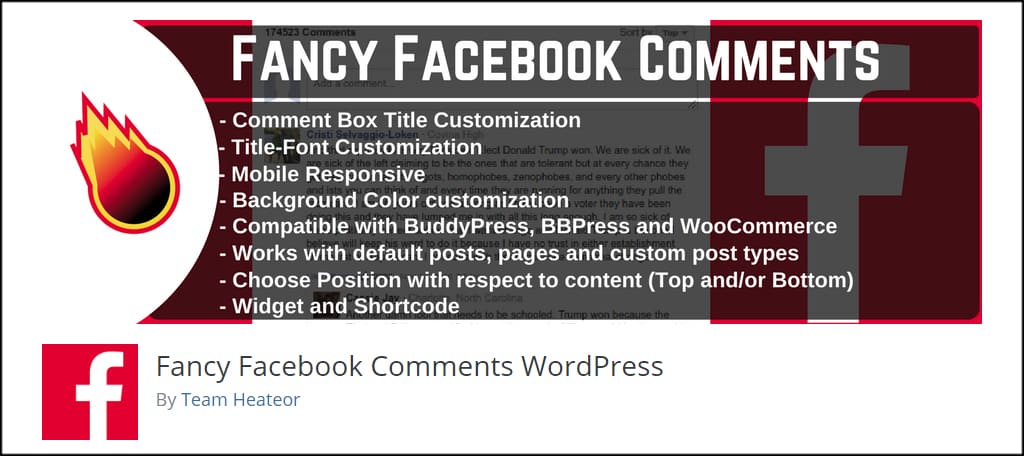 Fancy Facebook Comments WordPress delivers a variety of options for connecting WordPress with the Facebook comment system. And you'll be able to customize the color scheme to your liking.
The setup is incredibly simple. After installing the plugin, you'll just need to link your Facebook API key, and you're done.
Outside of the color scheme changes, you are limited to the Facebook comment system tools, but for most sites, it's more than enough. As you might expect, users can log in using their Facebook accounts, which just about everyone has.
You'll also gain access to a new widget to place in your widget areas (most likely the footer). Or, alternatively, you can use shortcodes to add the comment section wherever you want on a post or page.
Benefits of Using Fancy Facebook Comments WordPress
The comment system is mobile responsive by default, so no matter what device your visitors are on, they can leave and read comments
Works well in a multisite environment
Compatible with most major plugins like WooCommerce and BuddyPress
Users gain access to a support team available 24/7
Helps recover comments lost after installing SSL
6. Better Recent Comments
When it comes to commenting on WordPress, or any platform for that matter, showing the most recent comments on your site helps attract visitors to certain pieces of content, especially if those comments are relatable.
And that's where the Better Recent Comments plugin comes into play.
This plugin adds a sidebar widget that makes it easy to display your most recent comments on your website. This includes the text they display, the user who posted it, and what post they were commenting on.
Of course, you can also utilize a shortcode if you do not want to use the widget, thus, giving you a variety of options.
This isn't a comment system of its own. Instead, it enhances the current comment system you have.
Benefits of Using Better Recent Comments
Customize how many comments will be displayed at once
Choose how much of the comment is shown (select the number of characters or just display it in full)
Choose whether to include the avatar and what size it will be
You can choose to either show the date or not
All settings can be customized via the widget or shortcode
7. Comments Like Dislike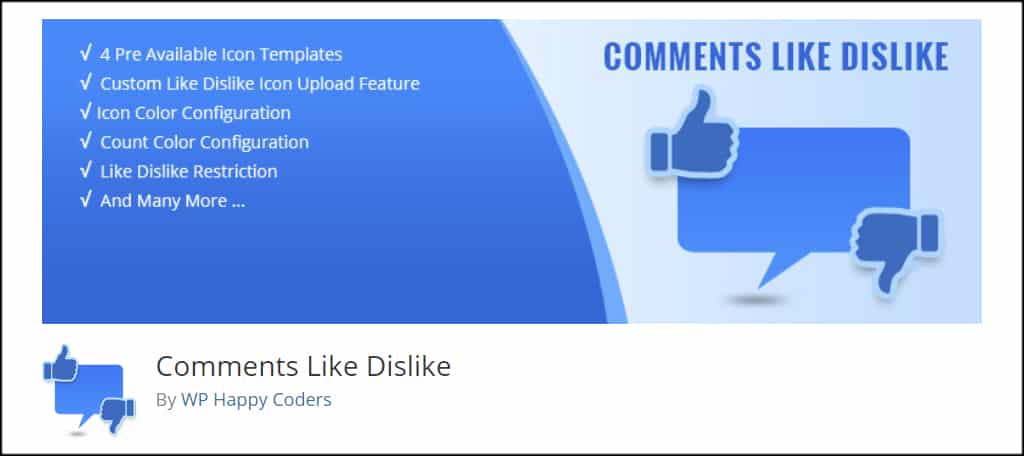 Do you like the default WordPress comment system, but wish there was a way for commenters to rate one another? Well, the good news is there are a variety of WordPress comment plugins that can add this functionality.
And potentially the best among them is the Comments Like Dislike plugin.
This plugin adds a voting feature that offers a bit of engagement. Users can click on a thumbs-up or thumbs-down to offer their opinion on other users' comments.
It's quite similar to the like and dislike system that used to appear on YouTube.
You'll also be able to change the icons users click. The default options are thumbs, but you can also use hearts, smiley faces, and right or wrong signs.
Everything from placement to colors is customizable, so it fits into any website.
Benefits of Using Comments Like Dislike
You are not limited to the four icon choices as you can upload your own custom icons
You can customize it to only show the negative or positive icon
Choose to place the like or dislike feature above the comment or at the bottom
You can change the color of any default icon to fit your website
Restrict user access to these features based on IP address
8. GraphComment Comment system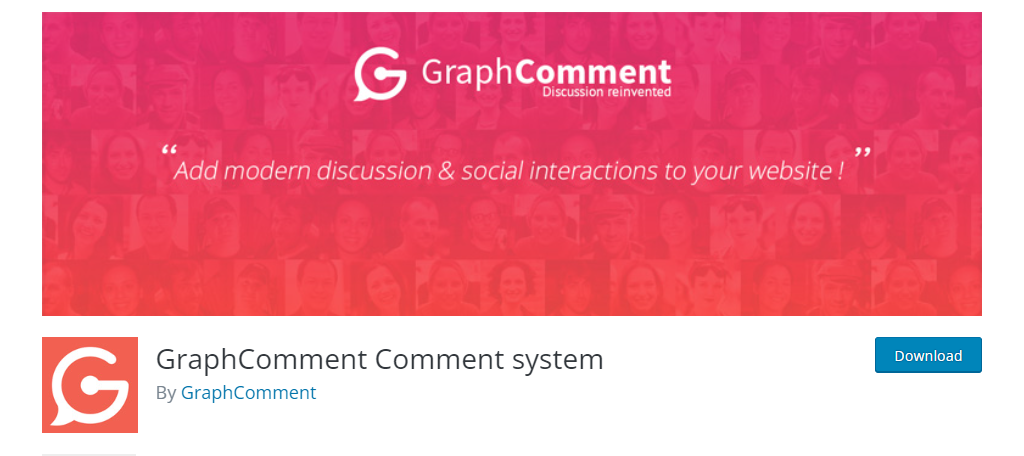 Are you unhappy with most comment systems you see and are just looking for more? If so, you might be interested in the GraphComment Comment System plugin for WordPress.
You'll have all of the standard features a comment system should offer, but expanded on greatly.
For instance, normally, a comment system may only include a like or dislike option. And to be honest, that really isn't good enough for some. You might really like something, really dislike something, or feel neutral. Well, with GraphComment, you can express that.
What really makes this one of the best comment plugins for WordPress is that it goes beyond comments. You can use it to host open discussions, include polls, and much more. It's quite useful for most sites looking for feedback.
Benefits of Using Graph Comment Comment System
The core plugin is free to use, but a Pro version exists with even more features
Import comments from the old comment system you were using
Users can log in using their favorite social media platform
You can backup all comments
Due to the unique toolset, it is comparable to forum plugins
9. Reply Box
When compared to the other tools on this list, Reply Box is the newest, but don't let that fool you. It's a premium option that is loaded with amazing features your website will be thankful to have.
In terms of function, it's similar to Disqus in the way that it is a hosted comment platform.
This just means all of the comments are stored on their servers and not your web servers. This means it can help save some space if you have a very active community. This also helps improve site performance, and that's a big focus on this one.
One of the most important things to consider is that Reply Box doesn't sell your user's data like other premium comment systems. This means it doesn't keep any of your user's data in any capacity.
Benefits of Using Reply Box
Users can edit their comments after submission
Supports markdown for styling comments
Leave Comment button available at both the top and bottom of posts
Supports logging in via social media platforms
Includes gamification badges to help encourage more comments
10. Postmatic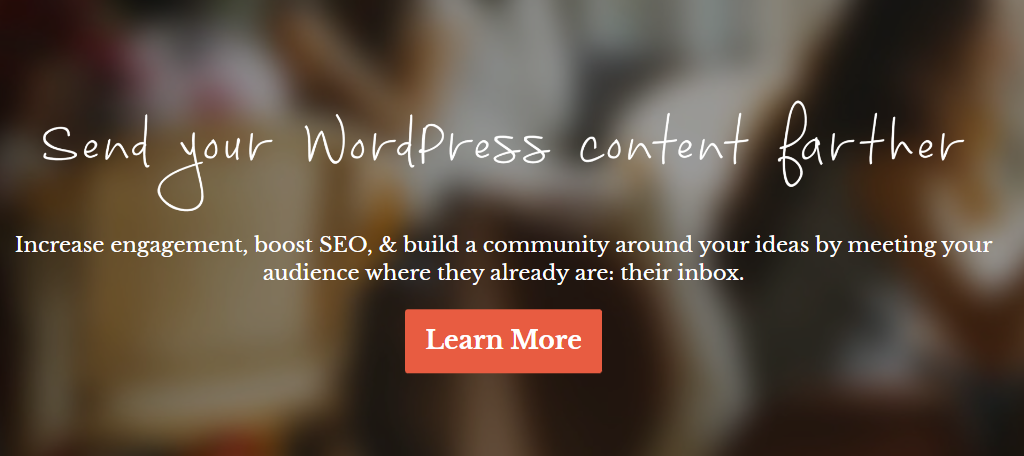 Postmatic is another premium option to consider if you want to upgrade your WordPress comment system. However, it adds a lot of other features besides a different comment section.
As such, you may install it for another reason entirely.
For example, with it, you can set up a variety of options like pop-ups that are lightweight and fast.
Now, focusing on the comment system itself, you'll receive email notifications when a new comment is safe under certain conditions.
These conditions can actually be adjusted so you can only receive notifications for emails of a certain length, which helps you keep the notifications from becoming spam themselves.
Benefits of Using Postmatic
If your comment section is busy, it will combine multiple messages into a single email
Includes an email subscription widget
Supports Google Analytics
Works with a variety of other apps like Google Sheets and MailChimp
Utilizes webhooks for just about everything
11. Jetpack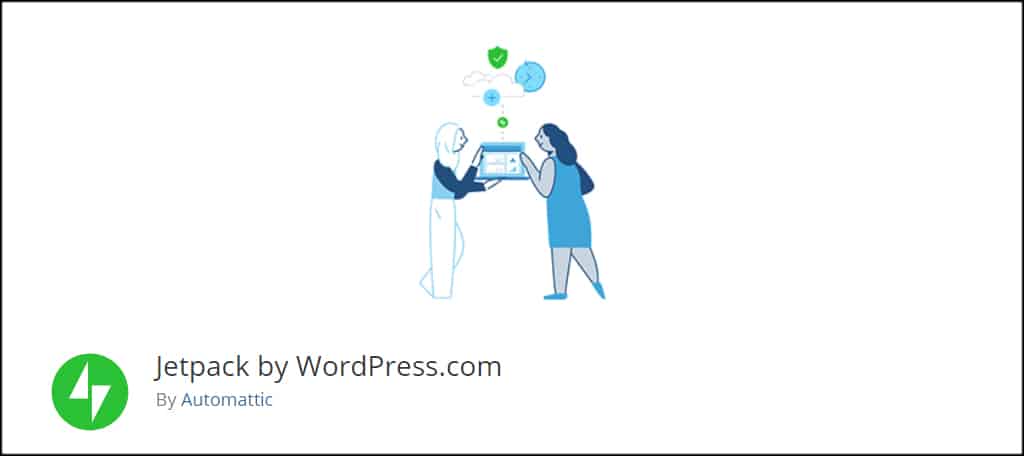 Most WordPress websites come with the Jetpack plugin pre-installed. This system offers a large number of modules including boosts to the comment section.
This one allows visitors to use WordPress.com, Twitter, or Facebook accounts when commenting on your site. It helps reduce the amount of spam while allowing others to post a message by clicking their preferred method of login.
Jetpack offers social media login support for both Facebook and Twitter, or users can simply leave their name and email address. Overall, it's really easy to leave a comment using Jetpack.
Luckily, the same is true for anyone planning to moderate the comments. Everything is quite intuitive and easy to locate. If you already have Jetpack installed, definitely check out this module today.
Benefits of Using Jetpack
Access to tons of features not related to comments
Easy to add the Comments module to Jetpack
Includes great anti-spam functionality
Saves account names for commenters
Change the comment form color
12. Reviews Plus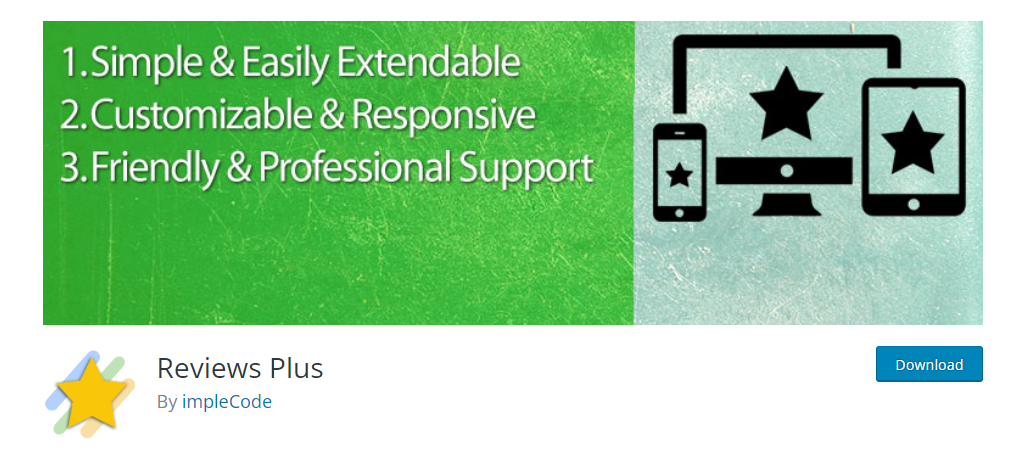 If you have an eCommerce site, you might be curious about comments because they do work differently than a blog. Most sites nowadays only allow you to leave reviews, and to be completely honest, a review is technically a comment.
The only difference is that it's a comment from someone who bought a product.
According to studies, reviews and comments on products can increase the likelihood of a sale. As a result, this may be greatly beneficial for boosting income.
You can use the Review Plus plugin to add a beautiful review system to your store. Many stores also utilize messaging systems to ask the seller questions about products, but those are different than comment systems.
Benefits of Using Reviews Plus
Replaces the default WooCommerce review and comment system
Reviews can be added anywhere using shortcodes
Displays the date when the review was left
You can approve reviews and remove them to filter out inappropriate terms
Comment moderation is simple
FAQ
Managing a successful comment section is quite challenging and requires a lot of work, thus, you'll likely have some questions about comment sections in general.
Here are some of the most frequently asked questions users have:
Are Comment Sections Good For SEO?
Absolutely!
When search bots scan your content, they also include the comments in your total word count. And as anyone who has studied SEO trends probably knows, higher word counts mean higher rankings.
This is because search engines think that having more content to share means that the content is of higher quality. Now, we all know that isn't actually true, but if the search engines rank based on this assumption, the content will be created with it in mind.
It's also worth pointing out that many commenters include the keyword in their comments. For example, "Thanks for helping me pick out a greater comment plugin for WordPress" includes the keywords for this article.
Visitors can actually write them in a unique way that you might have missed. And they ask questions that you can reply to in detail and potentially rank for that answer.
With this said, you NEED to moderate your comment section as they can definitely have a negative impact in some cases.
Do You Need to Hire Moderators?
It largely depends on the size of your comment section.
For example, think about a larger website that may receive thousands of comments on a single post in a matter of hours of going live. While they have software enabled to help moderate spam, you do end up needing real people to moderate.
For smaller websites that only get a handful of comments a post, you won't need to hire anyone. Moderating them only takes a few minutes.
However, eventually, you will find a point where the time you spend moderating comments exceeds what you can handle. At that moment, you need to consider hiring someone to moderate your comment system.
Is It Good To Disable Your Comment Section?
While it is easy to disable your comment section, there are advantages and disadvantages to doing so.
For instance, we just mentioned that they can help SEO, but may require you to hire additional workers as it grows. That's an advantage you miss out on and a disadvantage you can dodge.
Now, sometimes, there is a good reason to disable comments on specific posts.
For example, let's say you are talking about a very controversial issue or policy. The comment section is not going to be a nice place and would probably require a lot of additional moderation.
This is generally a great article to disable comments on. And to be honest, negativity in general does accumulate in this area of your website. This can definitely take a mental toll on the authors, thus, it can be healthy to turn it off.
Overall, disabling the comment section loses you an important way to communicate and engage with users, so the good tends to outweigh the bad.
Should I Reply To Comments?
Absolutely!
Honestly, if you are choosing to not reply to comments yourself, you should probably not even have a comment section in the first place. Visitors love getting replies from the creators.
One of the best examples of this is something like YouTube. They have a really good comment system that not only allows creators to reply but also highlights comments with the option for the YouTuber to accentuate the message with a "heart."
This level of engagement helps build a YouTube community and the same is true for WordPress.
Of course, this needs to be said, respond accordingly and politely. You are representing your business. Your replies should be researched and accurately answer the question or address the complaint.
What Does Comment Gamification Actually Mean?
You might have noticed that many of these WordPress comment plugins mention gamification as a feature on this list.
Gamification of a comment system provides a ranking system that rewards users with badges, trophies, avatars, and other "rewards" for leaving comments on the website. As they leave more comments, their rank goes up.
The logic behind this practice is actually pretty sound. The truth is people like having a goal in front of them and having a way to make themselves distinguished from other users. Thus, some users start commenting more to raise their rank.
This can have multiple advantages for your website, assuming they are leaving behind positive comments.
For instance, let's say someone asks a question about one of your posts. A user could step in and reply to that message. And this kind of system encourages positive behavior.
With that said, some users may try to "game" the system by leaving a lot of short low quality posts as well, but this is often a minority. And moderators can remove these to discourage the behavior.
Is the Default WordPress Comment System Really That Bad?
Not really.
Yes, many WordPress websites utilize different comment plugins, but that's usually for the additional features they offer. The WordPress comment system lacks more advanced options such as likes/dislikes, gamification, and other staples.
However, it's actually not a bad comment system. It's just a bit basic for many people. It will definitely meet the needs of a small or even a medium-sized website, and even some of the plugins we have showcased here work with it.
Install Comment Plugins Today to Enhance Your WordPress Site
WordPress comment plugins take your posts to a greater level by offering a way to further engage the reader. Statistically speaking, websites that offer this sense of engagement perform better.
Whether it's eCommerce or a simple advice post, keeping the attention of visitors can have a profound impact on your site. Find the additions that work for your strategies and get more out of WordPress.
What are some of your favorite kinds of WordPress comment plugins? What kind of perks do you give your visitors?