The one huge drawback to publishing your own content is that you are the writer and the editor. You are responsible for all your spelling and grammar mistakes. A great way to remedy this problem is to allow WordPress user spelling notifications to be sent to you.
Producing your own WordPress content has become so easy that even a beginner can get a post up within a few hours.
In this article, I will show you how to allow WordPress user spelling notifications. In other words, let's look at an easy way to get WordPress push notifications sent to you from your users when they see an error in your content.
Are Small Errors Really Important?
The short answer… yes! Have you ever gone to a blog or any other website and read something you thought was good, but there were spelling and grammar errors within the article? Even the smallest ones hurt.
Be honest, you don't look at the content the same way when you see these errors. Maybe English isn't your first language? Maybe the article attempts to spell or show something in a different language.
Obviously, as the author, you don't always catch all of your mistakes. When you are the only one looking at the content you have written things can get muddled. It is easy to miss something, even something as small as a misspelled word or a little grammar mistake like missing a comma, etc.
Other things like typos, broken links, incorrect stats or facts because they have changed over time, can really hinder a WordPress post. What was supposed to be a dynamic piece of content is getting viewed in a different way. There are many common WordPress errors that can live inside content for years because once it is published you aren't paying much more attention to it.
Whatever the case may be, allowing WordPress post spelling notifications from your website users is a great way to fix any content that may be wrong. There are other ways to check your spelling and grammar, but this puts the power in the hands of the user.
Allow WordPress User Spelling Notifications
There are a few ways to do this, contact forms, emails, etc. However, let's focus on a simpler and faster way to allow your users to send you WordPress push notifications when they see an error in your content.
First of you will want to go find, install, and activate the Mistape plugin.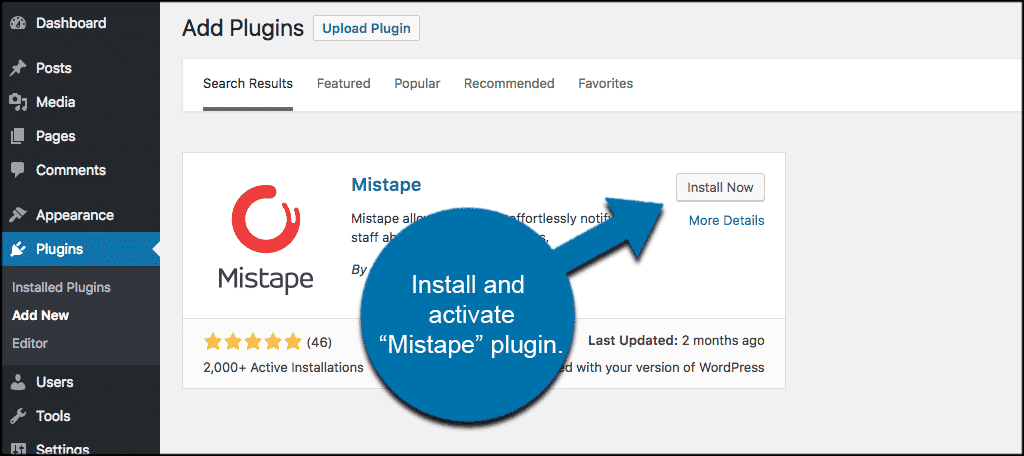 Once you have installed and activated the plugin you can head over to Settings and then Mistape and get a good look at the plugin's configuration page. This is where you will set the entire thing up so that your site users can send you WordPress article spelling notifications.
Once on the plugin configuration page, you are able to see a number of options. You will also notice that the plugin is very lightweight, can be attached across the entire site immediately via "post types," or can be added to certain site content only by using a list of shortcodes.
Let's take a look at some of the Mistape plugin's settings available to you. The Configuration tab lets you set the email recipient (you as admin or anyone else), and below that you are able to set post types and shortcodes.
Set those up and scroll down a little more and you will find a caption format area along with the icon display setting. This allows you to set up your caption of choice or leave the default in place. Set the icon you want to be displayed as well.
Finally, in trying to bring the entire thing together, Mistape offers s simple color scheme that allows you to match the main color of your website. Set that and dialogue mode and you are now set up to allow WordPress user spelling notifications to get bumped to you from anyone reading your content.
How Does it Look on the Front End?
Oftentimes you download and install a plugin, only to find it does not look that great on your site. Rest assured that not only will the Mistape plugin look good on your site, but it will also give you the upper hand when it comes to website content because it allows for WordPress post spelling notifications to be sent right to you from those who are reading your content.
What other techniques have you used in the past to make sure you are getting WordPress push notifications regarding your content? Have you found an easier way to do this?