Testimonials are among some of the most important content you can put on a business website. In fact, 84% of people trust reviews on the Internet as much as the opinions of friends and family. Because of this, it's a good idea to consider showing rotating testimonials.
This lets your past customers help market your business. And because you're using WordPress, a testimonials page is relatively easy to set up. All it takes is the right plugin and a few minutes to set it up.
In this tutorial, I'm going to teach you how to show rotating testimonials in WordPress.
Using Testimonial Rotator
Today, we'll be using the Testimonial Rotator plugin. It's an effective tool that comes with quite a few options for customization.
Install and activate, «Testimonial Rotator.»
Let's take a look at some of the options that are available.
Settings
First, you'll need to configure your rotators. It's only a few settings, and you may want to just leave them as default. However, you can easily make changes to fit your website.
Go to Testimonials and click, «Settings.»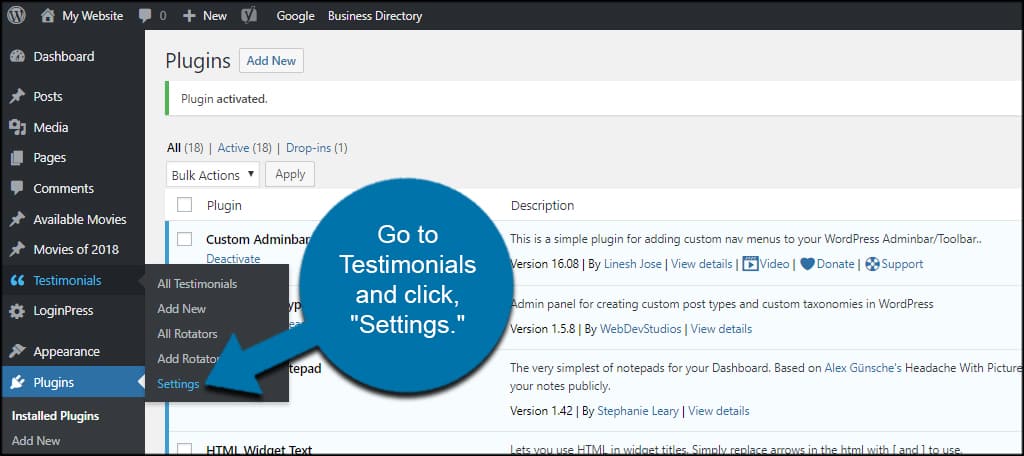 In this screen, you can change who can see the rotator menu to make changes, how errors are handled and disabling the plugins built-in Font Awesome support. This is useful if you find it conflicting with your theme.
One thing you may want to take note of is adding custom CSS. If you know how to modify this code, you can completely customize the appearance of the testimonials on your site to fit your designs.
After making adjustments, just click the «Save Changes» button and the plugin is ready.
Add Rotator
Rotators are focused on a single element. For example, you would create one for a specific product or service. The more focused the testimonials are for a certain item, the better they will appear in terms of viewership and search engines.
Click «Add Rotator» from under Testimonials on the left.
Here, you will create a new rotator to use on the website. You can make several of these depending on your needs.
Give the rotator a name.
Input custom fields if you'd like. These are optional, and I'm just going to leave them as default for now.
Choose the rotator options you want for the site. You can adjust things like the thumbnail image, how long each testimonial is shown, randomizing and more. This is completely up to how you want the testimonial to appear in WordPress.
Input the name of the item being reviewed. This is strictly for search engine use and is not displayed on your website. For example, if this is a rotator for your business, you would put the company name in this slot.
Choose the theme you want to use. Testimonial Rotator comes with two basic layouts. You can add more themes if you want. However, these are premium layouts from the developer and will cost a bit of money.
Scroll back up to the top and click the «Publish» button.
After clicking «Publish,» you'll see a list of shortcodes on the right. These are the testimonial rotator shortcodes you can use in various places in WordPress. For example, you can easily create a testimonials landing page to convert sales while pasting one of these in the content.
Add New Testimonial
Now that the rotator is ready, it's time to add some testimonials. Click the «Add New» link in the left panel.
You'll notice the editor for testimonials is similar to that of pages and posts in WordPress. You'll also have the same features and tools in the visual editor.
Enter the highlight of the testimonial. This is the brief sentence describing the customer's experience.
Input the testimonial's details. You can copy and paste this directly from a customer's review or enter this manually.
Scroll down to Testimonial Options and click the box next to the rotator you want to use.
Choose a star rating to use. You can also use «Don't Know» if the customer didn't provide one.
Input the author information for the testimonial if any is present. Otherwise, you can leave it blank.
Input a testimonial image if one is available. This will set the image as a featured graphic for it. If you kept the «thumbnail» option in the settings, WordPress will automatically shrink the image to fit.
Change the order number if you want to show testimonials in a specific way. Of course, this doesn't matter much if you selected to show them at random.
Scroll back to the top and click the «Publish» button.
Showing the Rotating Testimonials in WordPress
With the testimonials and rotators ready, now you need to add them to your website. There are a couple ways to do this:
Using shortcodes on posts and pages
Using a WordPress widget
Adding Shortcodes to Content
Copy the rotator's shortcode you want to use.
Go into any post or page and paste the code.
Once you update or publish, the testimonials will then be visible.
Using the Widget
Widgets are the useful tools that usually appear in the sidebars of websites. In this case, it's the WordPress testimonial widget.
Go to Appearance and click, «Widgets.»
Drag and drop the Testimonials Rotator into a sidebar. You may have to scroll towards the bottom of your widget list.
Make the changes to the widget to fit your needs. For example, you can select from specific rotators, limit the number of shown items, and setting excerpt lengths to save on space in the sidebar.
Click the «Save» button on the bottom right.
The rotator will now be available in the sidebar.
Engaging the Visitor
Testimonials and reviews are effective at driving traffic and influencing sales. It's the reason why they've been a part of marketing for decades. Now, you can take advantage of the same platforms some of the largest brands in the world implement. And all it takes is a few moments of your time.
What kind of additions do you have on your website to engage the visitor? How often do you write review articles to improve your content marketing strategy?
Michael has been in the tech industry in some form or another since the late 1990s. He's built a variety of websites using HTML, Joomla and WordPress. Starting his freelance writing career in 2012, he's completed thousands of projects world-wide covering a wide scope of topics. Michael is currently the Content Marketing Team Lead. Today, he manages a team of writers to create tutorials, blog posts and support content for customers. Outside of GreenGeeks, he manages a YouTube channel that helps others learn how to become freelance writers, bloggers and overall professionals.