WordPress is known for creating great blog content and is used by many big named bloggers, but were you aware that you can actually remove blog features in WordPress? This is important for sites that will not use blogs at all or very minimally. This will keep your websites focused where the developers feel it is best used.
You may be wondering why you would want to reduce the number of features your website offers and the simple answer is less is more. You want to create a compact website that has exactly what visitors need to enjoy and if blogging is not one of those, it's better off gone. Today I will demonstrate how to disable blog features in WordPress.
Why Disabling Blogs Could be Important for You
Blogs are pieces of content that are meant to share the author's thoughts and experiences on a specific topic. They can act as a stand alone piece of content and are easy to make. On other websites, however, they feel like tacked on pieces that don't quite belong on the site. Remember sometimes it is better to cut off content if it's out of place.
Let's say that you want to run an online chair store using WordPress. Blogs don't really have a place if your website is for viewing and buying chairs online, whereas a tech related website may have blog sections discussing a different type of technology like hardware, software, website creation, and web hosting services. Remember you can disable comments in WordPress, disable posts in WordPress, disable RSS feeds in WordPress and much more if you feel they don't belong.
How to Install and Use the Disable Blogging in WordPress Plugin
Today I am going to demonstrate how to install and use the Disable Blogging in WordPress plugin to completely disable blogs. This plugin is very easy to use and the settings can be changed at any time. This is great if you are considering expanding your website and blogging will be a relevant part of your website in the future.
Let's start by going to the plugins area of WordPress and click on the «Add New» button.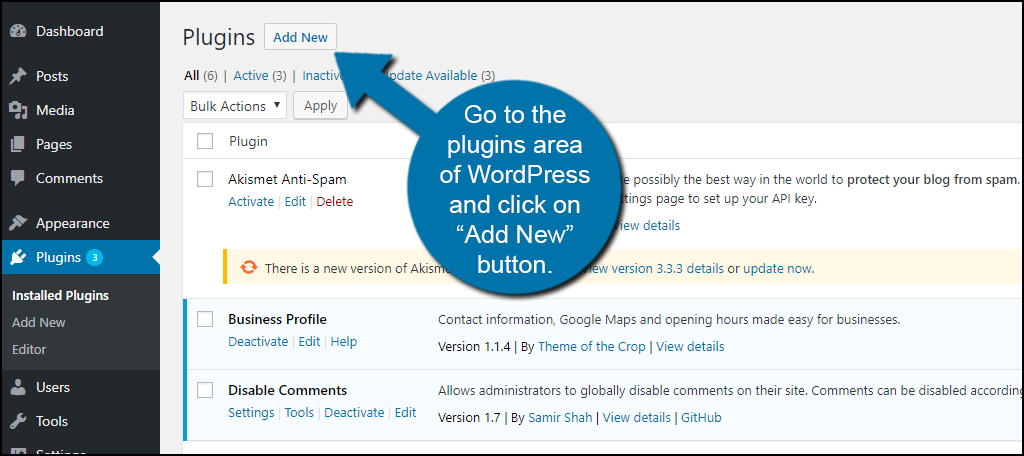 Search for Disable Blogging in WordPress in the available search box. This will pull up similar plugins that you may find helpful.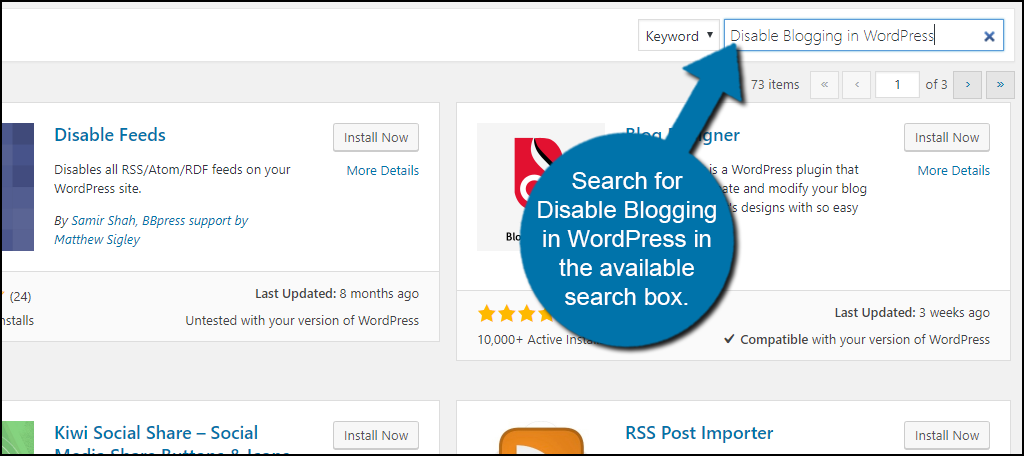 Scroll down until you find the Disable Blogging in WordPress plugin and click on the «Install Now» button and activate the plugin for use.
On the left-hand admin panel click on settings and click on the «Blogging» option. This will pull up the main setting page and allow you to directly control what blogging features are active on your website.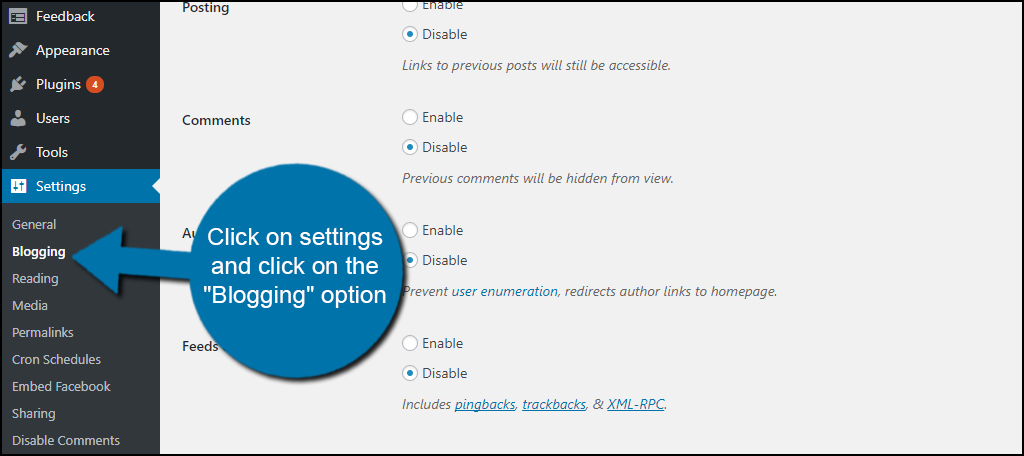 The plugin will automatically disable blog features on posts, comments, author pages, and feeds and related categories. Feel free to enable these feature where you feel they are needed. This can be changed at any time so don't be afraid to try new things. You can enable these features by clicking the enable buttons.
Let's explore the extra tab by clicking on it.
On this tab, you can change screen options, help tabs, admin greetings, the query string version, emoji support, and admin footers. Pick the best settings for your website.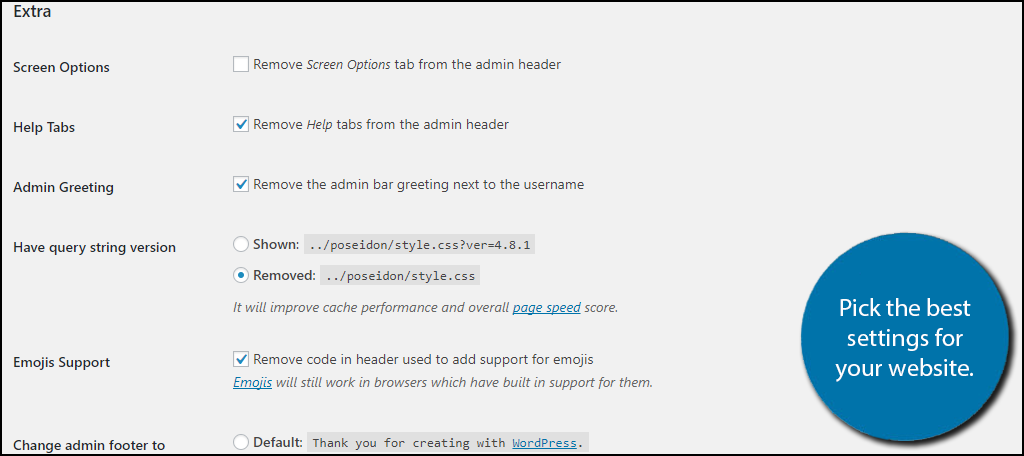 If you changed any of these settings remember to click the «Save Changes» button.
Next, let's take a look at the Profile tab by clicking on it.
The profile tab includes personal options, name, contact information, about yourself section, and any additional fields you may want to include. Select the best options for your website.
If you changed any of these settings remember to click the «Save Changes» button.
Finally, let's take a look at the Menu tab by clicking on it.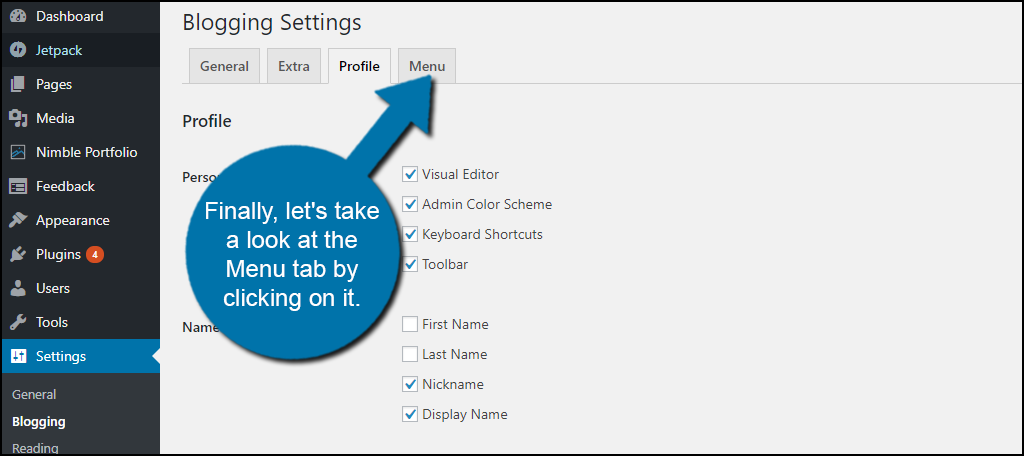 The menu tab contains settings like redirect dashboard menu to, have menu dashicons, what menu separators will be, and page menu. Pick the best settings for your website.
If you changed any of these settings remember to click the «Save Changes» button.
Congratulations, you have successfully disabled all blogs features on WordPress, Remember disabling these plugins is not the same as deleting the content. It will all still be there if you enable them. You can change any setting freely so test what works best for your website.
Additional Plugins to Disable Blogs in WordPress
There are many alternatives to the plugins on WordPress. Here are some blog disabling plugins I can recommend trying to use.
Disable Blog
Disable Blog is another useful plugin to try. It works very similarly to the Disable Blogging in WordPress plugin we just covered. Its features are almost identical, but it does not have a feature to disable comments. You can, of course, install other plugins to disable comments to make up for this weakness or choose this if you already are using a plugin to disable comments. It's a handy plugin that you may want to try out.
Blog Designer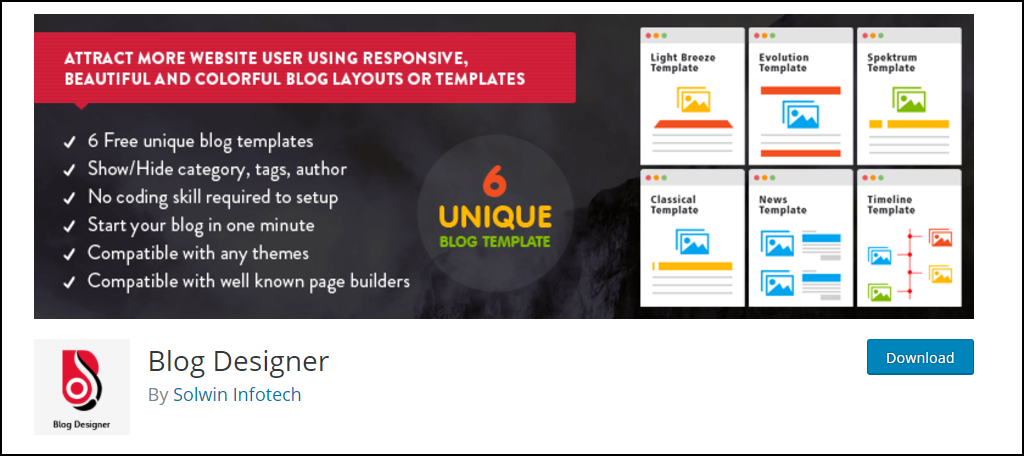 Blog Designer may be a better approach to handle your blogging needs. By following the tutorial, it is clear that you can choose to disable certain parts of you blogging features. This plugin will allow you to take full control of blogging features that you leave active on your website and to make them look better. It's a great plugin packed full with templates options in its premium version and is worth giving a try.
Only Keep Mandatory Features Active on Your WordPress Website
Websites should contain as many features as necessary to operate them. Any extra features will only make the website look bad if they are not properly maintained and have quality content. Blogs are one of these features that you may want to disable if your website has no use for them.
Just imagine clicking onto a blog area of a website and discover that there is no content. The visitor may feel that the website is not safe to make purchases off of. It is important for every part of a website to look and run perfectly and using the Disable Blogging in WordPress will help you achieve this.
Has disabling blogging features made you want to disable other features? Do you feel that your websites quality has improved since removing blogs? Do you have any plans for reintroducing blogs in the future?
I currently work for GreenGeeks as a Support Technician. My primary roles are supporting our VPS and Dedicated server clients, as well as performing site migrations. With experience in the web hosting industry since 2009, there is rarely a question I can't help answer. In my spare time, I enjoy gaming and working on cars as an automotive enthusiast.