Do you want to import and export WordPress widget settings? If you run multiple WordPress websites, you might want to borrow settings from your other websites. To accomplish this, you will need to import and export in WordPress.
WordPress has one of the most impressive import and export features in the world. You can import and export entire websites or small parts of them. The best part is you can import and export content from one WordPress website to another in an instant.
Today, I will demonstrate how to import and export WordPress widget settings using the Widget Importer & Exporter plugin.
Why Import/Export Widget Settings?
Widgets are extremely important for any website because they are responsible for filling the header, footer, and sidebar areas in WordPress. The possibilities of what you can add are almost endless and once you find something that you like, it's normal to try and keep it.
Es[ecially when it takes you a long time to find. For this reason, importing and exporting in WordPress is the best way to transfer your widget settings to multiple websites.
Why Would I Need Multiple Websites?
Obviously, if you are importing and exporting widget settings, you must have at least two websites. Of course, this raises the question, why?
It is actually quite common for developers to use a test site. This allows them to make significant changes without interrupting your visitor/customer's experience. Thus, once you finish testing, you can export those changes and import them to your main website.
Of course, it is also just common to have multiple websites. This allows you to cover a greater range of topics and do so in a different manner. And of course, with two websites, you have twice the chance of earning money.
And let us not forget that there is a very strong business for growing websites up and then selling them. Thus, there are plenty of developers who are in control of multiple websites at once.
Installing Widget Importer & Exporter
The Widget Importer & Exporter is a terrific plugin for transferring your widget setting between websites. And with over 300,000 active installs, you know it works. The plugin exports files using JSON format with the .wie extension.
Due to this, you will need to use this plugin to import the files as well. This file format will not work with other plugins or the built-in importing options WordPress offers.
Thus, you will need to install this plugin twice: once on the website you are exporting from, and once on the website you are importing to.
To start, begin by clicking on Plugins and selecting the Add New option on the left-hand admin panel.
Search for Widget Importer & Exporter in the available search box. This will pull up additional plugins that you may find helpful.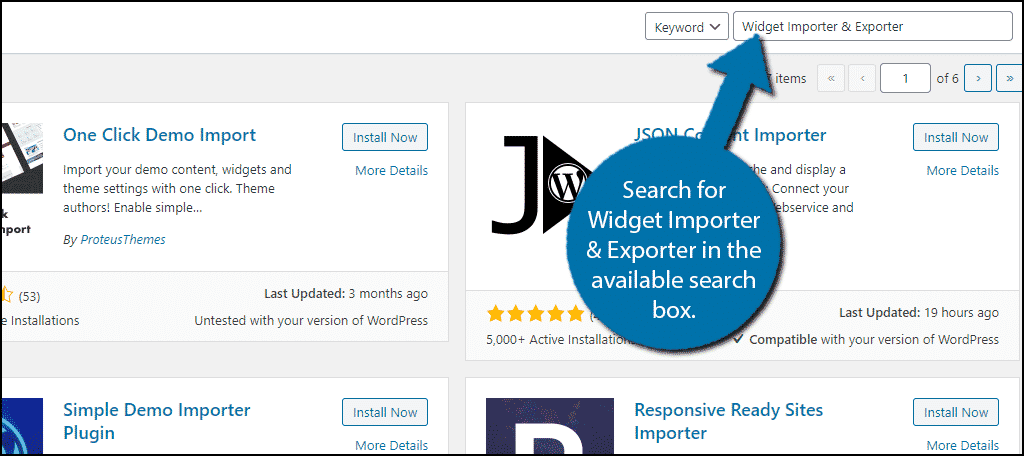 Scroll down until you find the Widget Importer & Exporter plugin and click on the «Install Now» button. Then, activate the plugin for use.
Remember, you must install this plugin on both websites you want to transfer widget settings between.
Exporting Widget Settings
On the left-hand admin panel, click on Tools and select the Widget Importer & Exporter option.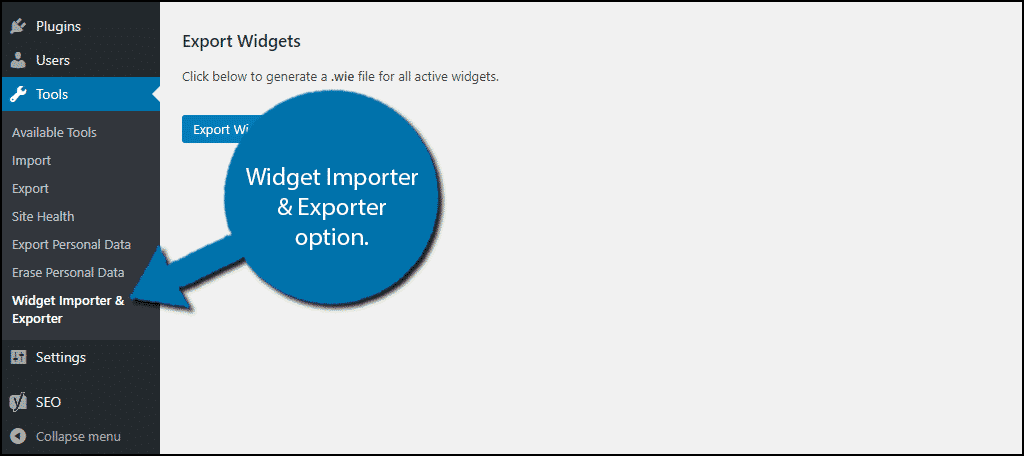 This plugin is extremely simple to use. You will see two sections: Import Widgets, and Export Widgets. Both processes are extremely easy to understand for any skill level.
Let's start with exporting. There are two things you need to keep in mind before you begin.
The plugin only exports active widgets.
All text and settings stored in the widget will be saved.
To export your widgets, click on the «Export Widgets» button.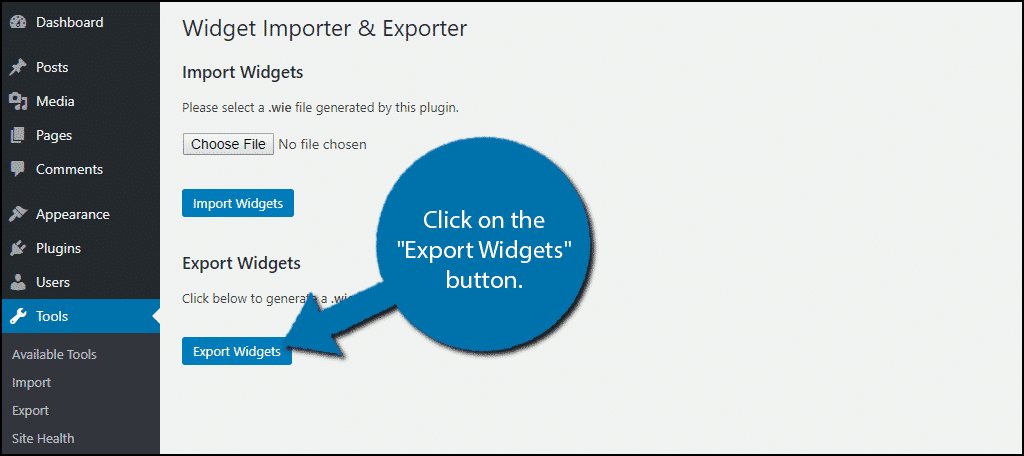 Upon doing so, a file containing all of your active widgets will be added to your downloads.
You will need this file to import.
Importing Widget Settings
Now that you have exported your widget settings, it is time to import them to the other website or websites. Remember, you need the Widget Importer & Exporter plugin installed on the website you are importing to.
Importing is equally as simple as exporting. However, there are two things you need to keep in mind when doing so.
Upon importing, all widgets in the file will become active.
If you exported a widget that required a plugin, you will need that plugin on the website of which you are importing.
On the left-hand admin panel, click on Tools and select the Widget Importer & Exporter option.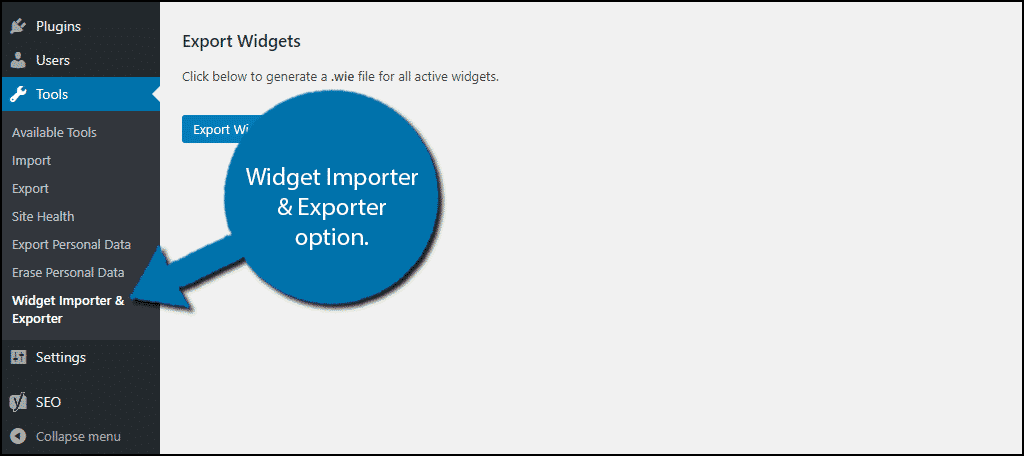 Click on the «Choose File» button.
By default, the file should be named:
And, it should be located in your downloads folder. Choose this file and click on the «Import Widgets» button.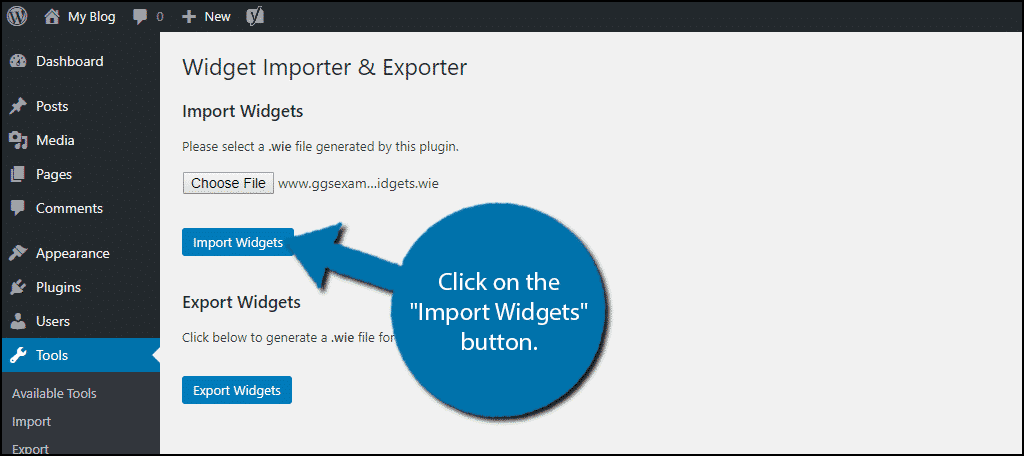 The widgets you are importing will now be made active on your website.
Congratulations, you have successfully imported and exported your WordPress widget settings. You can also use the export option to backup widget settings in WordPress. If you ever need to use the backup, simply import it back into your website.
Properly Manage Your Websites
It can be hard to manage one website and it is even harder to manage multiple websites. To help with that, you should consider using a multisite network. A multisite network will allow you to easily manage all of your websites from one location. This will save you valuable time switching between them.
How easy do you find the plugin to use? How many websites do you manage?
Robert has been writing tutorials about WordPress and other CMS for over 3 years since joining the GreenGeeks marketing team. Thanks to this, he has had the opportunity to research and master several areas of WordPress including plugin usage, SEO, website design, and social media integration. When he is not creating content for WordPress, Robert is digging up new content ideas for environmental pieces. These range from the pollution in our air to the danger's wildlife face. And with a bachelor's degree in electrical engineering, he is always eager to discuss the way our technologies are affecting the environment, especially when it comes to solar energy.