Social sharing is an important part of online activity in today's world. Not only is it often engaging for users, but it also helps boost traffic by making others aware of your content. Adding a social media sharing floating sidebar in WordPress makes this happen.
This is a tool that includes the most popular sites giving people a way to distribute your content. And when it floats, it stays with the user when he or she scrolls down your page.
Think of it as a way to boost your social media marketing toolkit. And it doesn't really take much from you to set it up.
In this tutorial, I'll show you how to add on of these social media sharing floating sidebars in WordPress. It's not overly complicated, and it's one of those things you can simply set and forget.
Using AddToAny Share Buttons
The AddToAny Share Buttons plugin is one of the most popular tools for this purpose. With more than half a million active installs, it seems many trust this plugin's abilities. One of my favorite aspects about this particular tool is the sheer number of social media accounts you can add to your site.
It's perhaps one of the best social media sharing icons for WordPress plugins you can use.
Install and activate, «AddToAny Share Buttons.»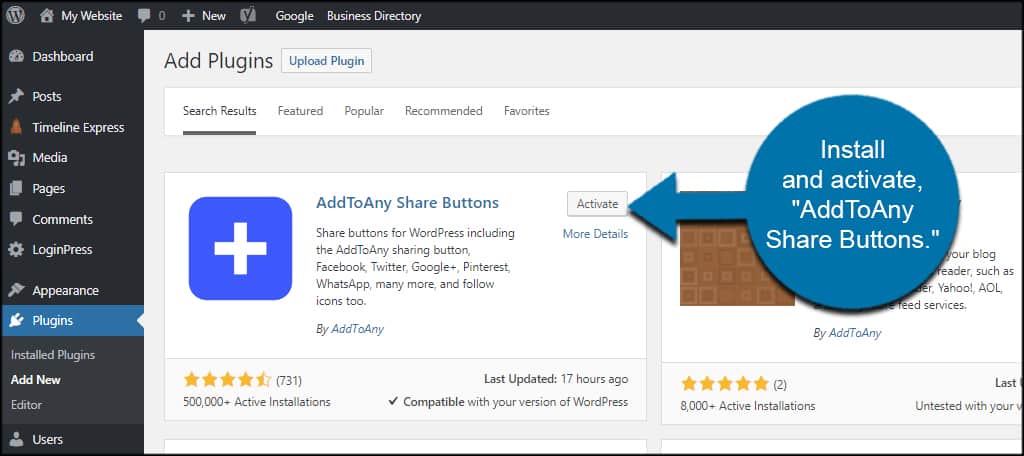 Go to Settings and click, «AddToAny.»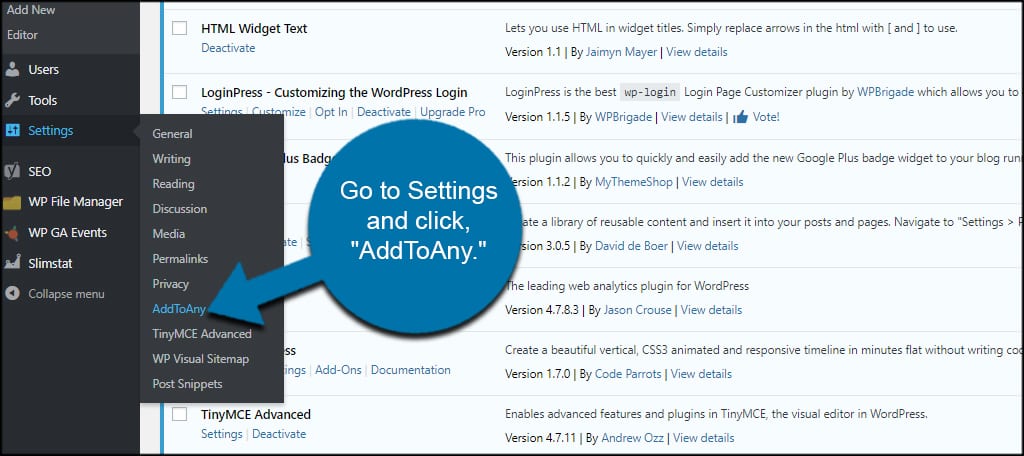 In this screen, you can modify how your icons appear on the website. You have control over sizes, an extensive list of social sites to add, where the buttons are placed and more. You can also add your own CSS to the tool if you want to further customize the experience.
Spend some time configuring the standard options first. It's worth the effort to make everything look just right for your website.
When you're done, click the «Floating» tab on the top.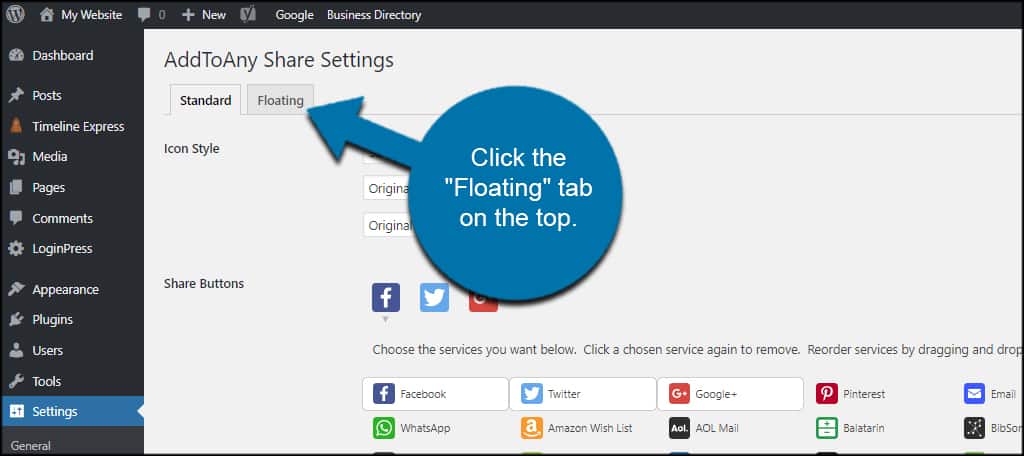 By default, floating is disabled in AddToAny. Choose where you want the buttons to appear by clicking a radio button under, «Placement.»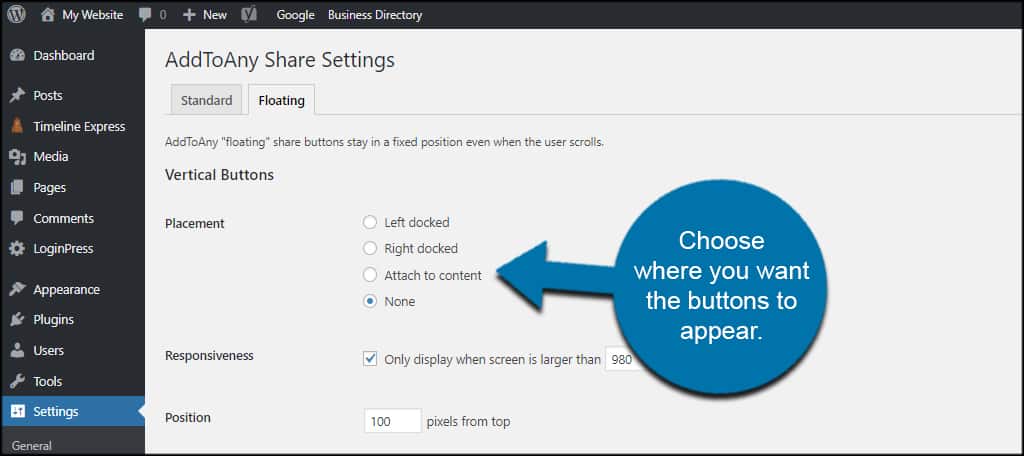 You can decide whether you want vertical, horizontal or both types of buttons. For this tutorial, I'm just going to set the vertical buttons on the right.
Select the rest of your options regarding how you want it to appear. This includes things like responsiveness settings, position, background colors, icon size and more.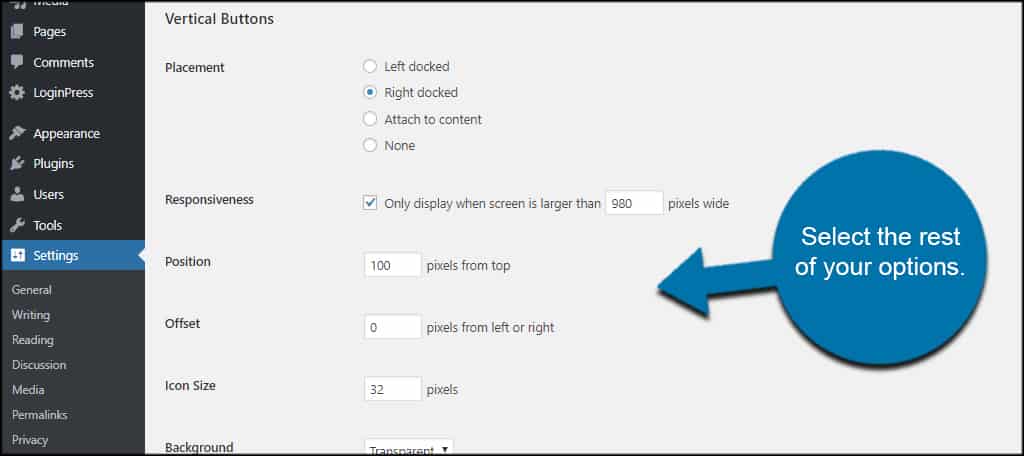 After making your adjustments, click the «Save Changes» button on the bottom.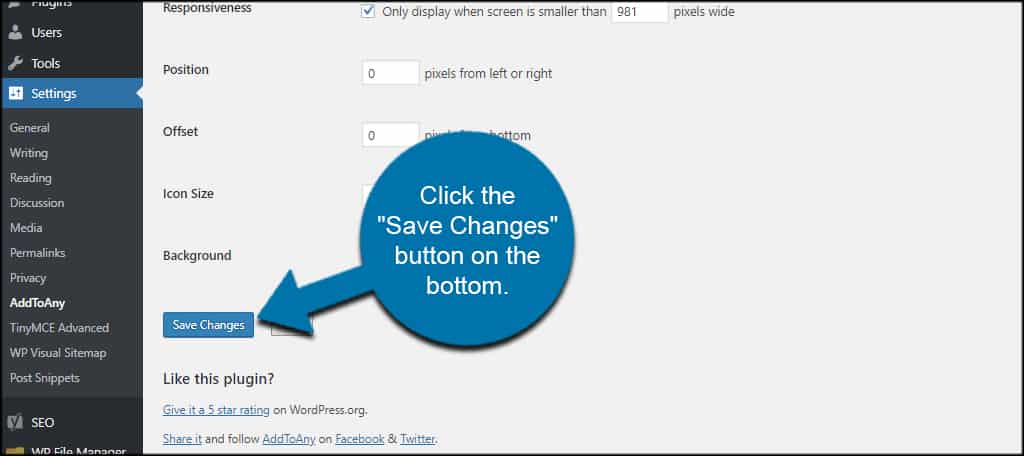 Your floating WordPress share buttons will now appear on your site.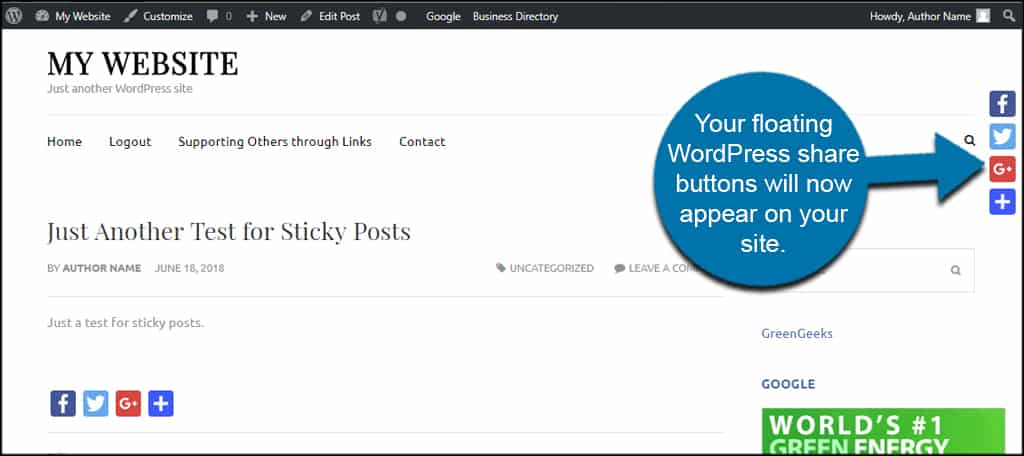 Other Plugins to Consider
While AddToAny is a favorite among many, it's not the only quality WordPress social media plugin available. Here are a few more that may pique your interest for engaging the audience.
Social Media Share Buttons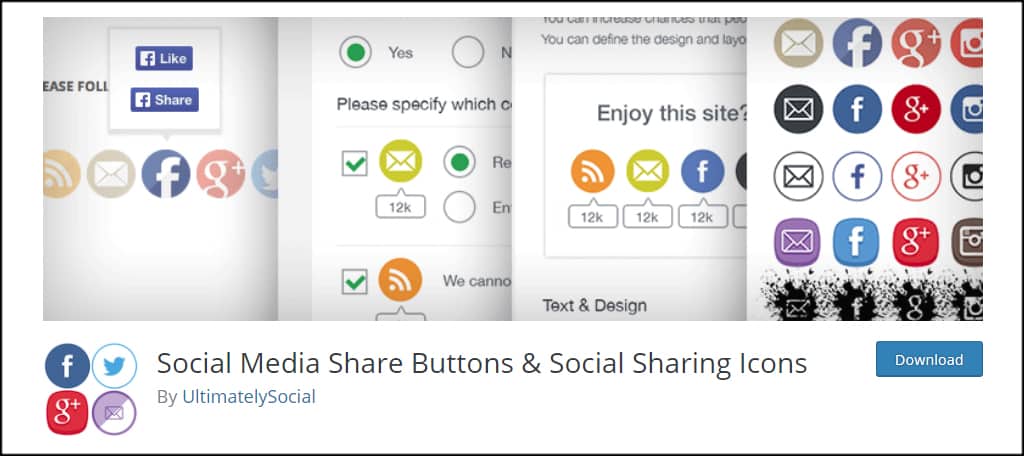 Social Media Share Buttons & Social Sharing Icons is another popular plugin with options for customization. Not only can you deliver a floating social bar in WordPress, but you can also make them «sticky.» It works the same as sticky posts in WordPress by keeping the share buttons readily available.
Social Share Icons
Social Share Icons & Social Share Buttons is similar to the plugin above. It handles floating as well as using widgets and shortcode. It is built with a variety of features including animations and share counts. You can also display a pop-up as a call to action to share or follow your content.
Super Socializer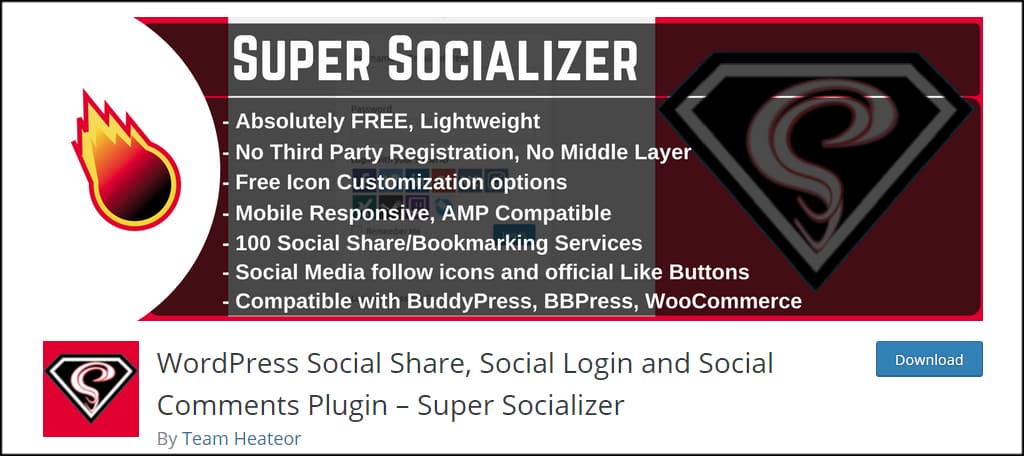 Super Socializer gives you floating options as well as icon customization. This means you can create your own images to use on your site. It adds a bit of flare by giving the site a sense of individuality. Like the others, Super Socializer also includes widgets and shortcodes in addition to floating social bars.
Social Sharing in a Jiff
Most social sharing plugins are quick and easy to set up. In literally minutes, you can allow users to distribute your content. This, in essence, turns your visitors into your own micro-marketing group. It's all about getting your site attention, and letting people share the content does just that.
What is the most successful way to market your website? How often do you notice others sharing links to your site on social media?
Kaumil Patel is the Chief Operating Officer of GreenGeeks and has over 13 years of experience in the web hosting industry working for and owning web hosting companies. Kaumil's expertise is in marketing, business development, operations, acquisitions and mergers.