Not all websites are family-friendly. Some may have adult-only content or other sensitive materials for a mature audience. Being able to verify the user age in WordPress reduces liability while making the visitor aware of the sensitive nature of the content.
For instance, what if your website promotes R-rated material, language or adult themes? Adding a WordPress age gate overlay is beneficial in this situation.
Today, I'll show you how to verify the user's age for WordPress content.
Using the Age Gate Plugin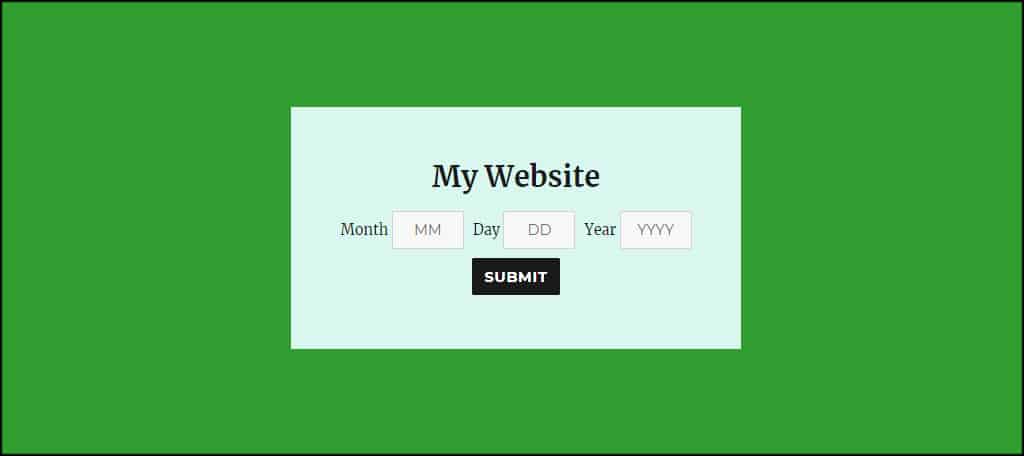 For this tutorial, I'm going to demonstrate what Age Gate can do for your website. It's an easy-to-use, free tool with various customization options, SEO-friendly and compatible with multilingual plugins like Polylang.
This plugin uses cookies to remember information about the user.
Install and activate, «Age Gate.» You want to make sure you install the correct plugin. There are quite a few, but you're looking for the one by Phil Baker.
Click Age Gate from the left admin panel.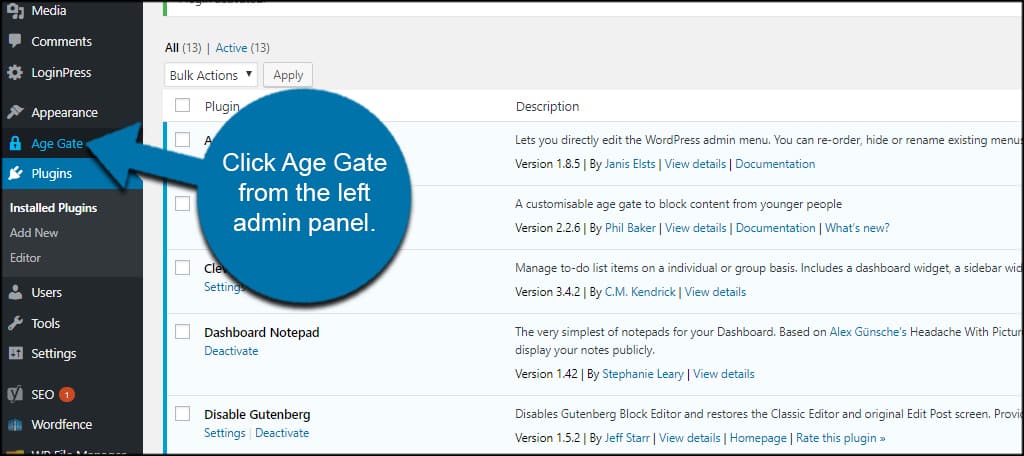 Restriction Settings
In this first screen, you can modify the restrictions put onto the users when they first visit your website.
This includes the default age of the user, selecting certain types of content, varied ages, user memory and ignoring logged in users.
For example, you can set the default age to 18 and allow the system to remember the user for 30 days.
Set the restriction options and click, «Save Changes.»
Messaging Settings
Click the «Messaging» tab on the top.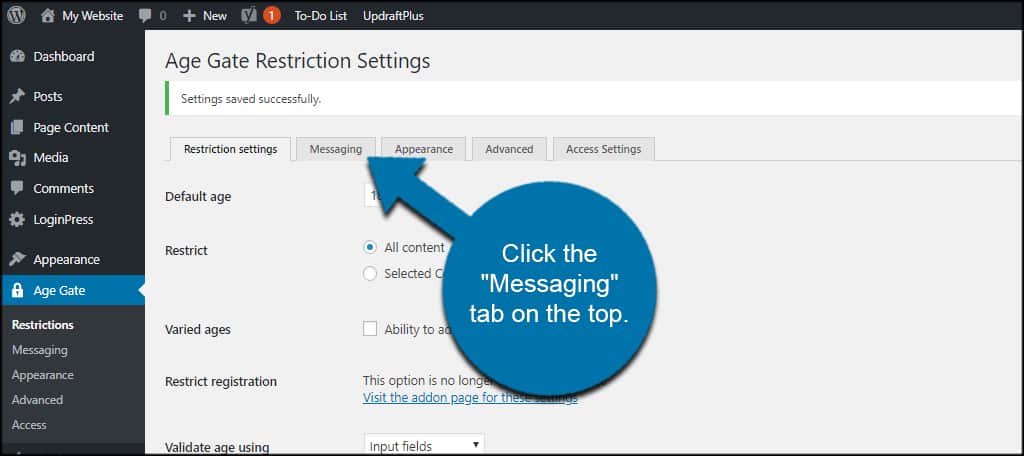 In this section, you can change the messages the plugin gives to users. Headlines, remember me text, buttons, and any additional content can be added here.
This gives you the ability to change nearly any text used by this age verifier for WordPress.
Once you've customized the texts, click the «Save Changes» button on the bottom.
Appearance Settings
Click the «Appearance» tab.
This age verification plugin provides several options for changing the design of the gated overlay.
For instance, you can add your own logo, alter background colors and images, change the foreground, text colors and the page title itself.
Using the settings in this area, you can make the WordPress age verification screen fit your site's aesthetics.
Advanced Settings
Click on the «Advanced» tab.
In this area, you have access to more advanced adjustments.
For instance, you can change to use JavaScript Age Gate for an uncachable version and additional adjustments. You can also set an anonymous gating challenge.
These options include import and export, toolbar options, editor adjustments and assigning custom bot control if you need.
If you know your way around CSS, you can add your own visual adjustments with the custom field.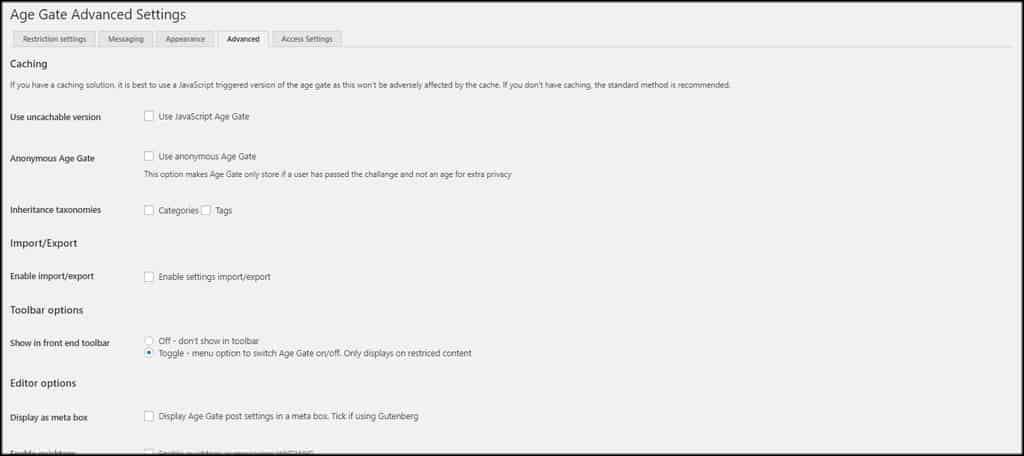 Access Settings
Click the «Access Settings» tab.
In this section, you're able to control what user roles can make changes to the age warning in WordPress.
For instance, you can set the Editor role to manage the Messaging settings by checking the box next to it.
These settings also include the ability to allow the age gate bypass for individual content.
One of the things that make this WordPress adults-only plugin worthwhile is its ability to utilize custom user roles. This means roles you've created for other purposes are part of the age gate system.
This makes it very useful if you have a custom role for making website adjustments without the admin account.
Age Gate is also compatible with custom post types. Using the options in the Access Settings screen, you can turn off the age gate for specific types of content on the site. So if you have age-friendly material, this could be an option.
Keep the Content Secured
Adding a way to verify user age in WordPress helps keep sensitive materials away from young eyes. Although it's not a fool-proof method, it does contribute to securing your content.
What parts of your site are age-gated? Have you ever thought about using a paywall to limit access to your content?
Michael has been in the tech industry in some form or another since the late 1990s. He's built a variety of websites using HTML, Joomla and WordPress. Starting his freelance writing career in 2012, he's completed thousands of projects world-wide covering a wide scope of topics. Michael is currently the Content Marketing Team Lead. Today, he manages a team of writers to create tutorials, blog posts and support content for customers. Outside of GreenGeeks, he manages a YouTube channel that helps others learn how to become freelance writers, bloggers and overall professionals.