Question and answer websites can be very popular if they are built and used correctly. They work specifically well when they are tailored to a specific set of topics or a specific region. For example, a question and answer website about everything Hawaii would be popular. Luckily, you can achieve this by using a great plugin called CM Answers.
Why Have a Question and Answer Website?
There are several reasons you may want to do this. If you have an informational website that provides certain information on a topic, you may want to give users the ability to ask and answer more questions within a community.
You can also jump in and answer questions as well. This type of site can be very useful for people who can't find answers to a certain topic in other places and want to interact with a community who has knowledge.
There are a few different tools to get something like this done. You can code it all yourself from the ground up, but that will take you a while. A better way to do it is to use a smooth plugin that has all the functionality you need to build a question and answer website.
Today I am going to go over a plugin I found that does all of this and more. Remember, there are forum style websites, but then there are specific question and answer sites like Quora.
Let's take a look at the plugin in question and see what all it has to offer.
Using CM Answers in WordPress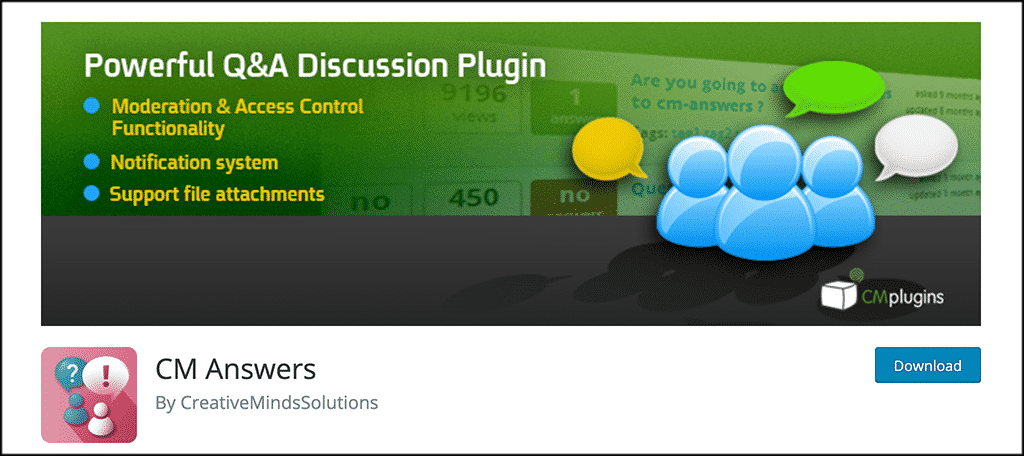 CM Answers is a plugin that will give your website the ability to allow site users to post questions and answers to things in a stack overflow layout. The plugin comes with some really great built-in options including voting, moderation, notifications, and access control.
You can even post your own questions and answers from the back end of the website. That being said, once installed and activated, this plugin will give you the ability to create a fantastic website for users to ask questions and get them answered.
Answer websites oftentimes get more traffic from Google because of the content. So if built correctly, this type of setup can drive website traffic. Simply put, CM Answers allows users to post questions and answers, leave comments, vote, and upload files in a discussion board format.
As the main admin, you have full control over what happens on your question and answer website. Some of the things you control include:
Full Moderation Access

Restrict User Capabilities

Create Multiple Forum Categories

Customize Questions and Answers

Filter Unwanted Content

Add Answers

Keep Track of User Actions

Fully Customizable

Voting Options for Questions and Answers

File Uploads

Private Messages

Subscribe to Categories
All-in-all, the CM Answers plugin gives you everything you need to start your own dedicated questions and answers website.
Let's take a look at how to get the plugin installed and set up for use.
Note: CM Answers does have a pro version. In this case, the pro version does offer quite a bit more in terms of functionality. If your site gets large, you may want to look into it. That being said, this tutorial is based on the free version. As stated above, the free version does give you all the tools needed to start a great Q&A website.
1. Install and Activate the Plugin
In order to start using CM Answers to build a question and answer website, you first need to install and activate the plugin. You can do this by going to the Plugins page in your WordPress admin dashboard.
Simply search for the plugin by name using the search field and install and activate it right from there.
Once the plugin has been installed and activated, you want to access the main settings and configuration page to set it all up. If the plugin doesn't automatically take you there when activated, simply click on CM Answers > Settings.
You will see this is now an available option in the left side menu area of the dashboard after you activate the plugin.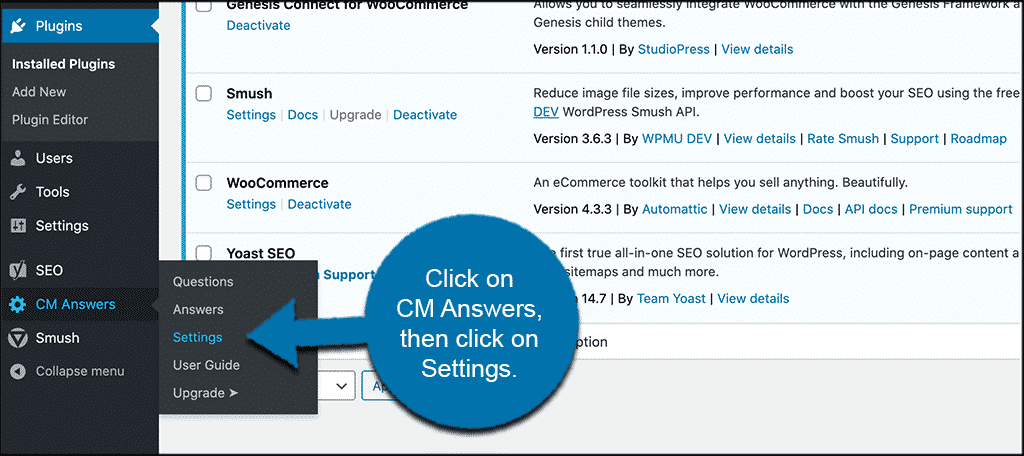 This takes you directly to setup, where you can configure everything and get the plugin running live on your site.
Let's go over setup together and get it squared away.
2.Configure CM Answers
At this point, you should be on the main configuration page for the plugin. Remember, the plugin can be used for a number of different reasons. Some of the more popular uses include:
Forum

Support Forum

Community

Questions and Answers

Customer Support

StackOverflow

Paid Support
On the main configuration page, you will see there are four tabs. These include:
Installation Guide

General Settings

Notifications

Upgrade
Let's run over these together and get everything set up for you.
3. Installation Guide
The plugin comes with access to an installation guide. Having trouble getting something done, or something doesn't seem to be working? Refer to the guide on this page.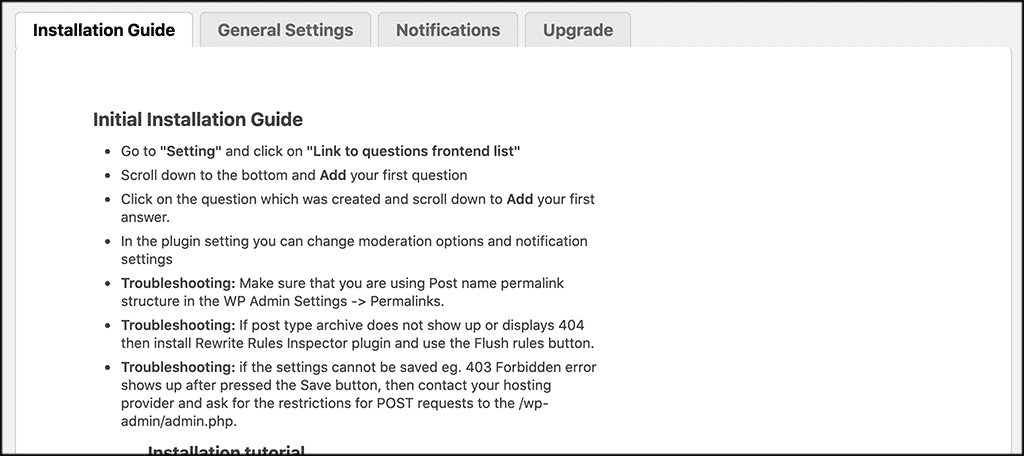 General Settings
This is the meat of the plugin. Here, you will set up everything how you see fit. Configure all the options, styles, and settings the way you want them to run on your particular website.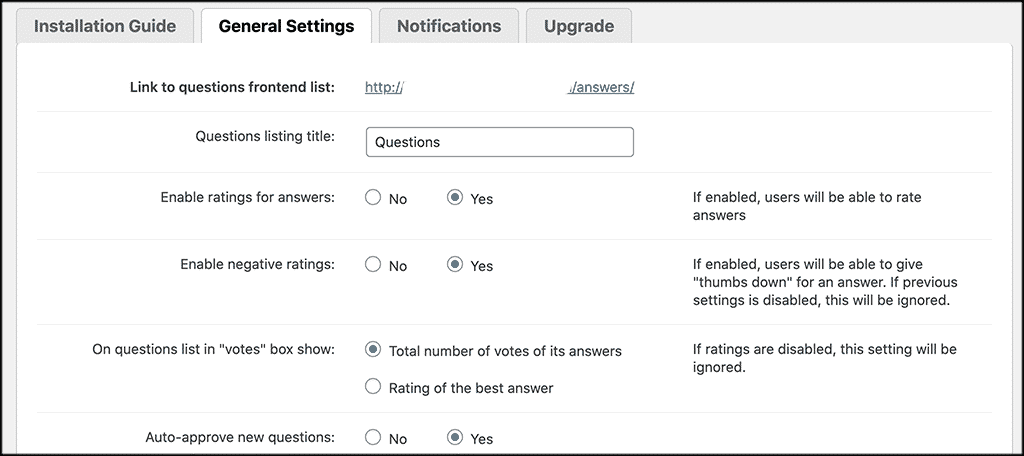 Notifications
This is another very important tab. Here, you will set up all the notifications and notification styles you want for the CM Answers plugin.
Upgrade
If you do want the upgrade to the pro version, then the plugin gives you the option to do so fairly easily right from this tab.
That's it! You have now successfully installed, activated, and configured the CM Answers plugin. It is ready for use.
An automatic permalink is created when you activated the plugin. To access the main questions and answers page, simply click on that link. You will find it at the top of the «General Settings» tab. You see that the domain (permalink) layout reads like this:
https://yourdomainname.com/answers
This is where everything will show and be housed over time. Now people can start asking and answering questions on your website. Depending on your theme style, it will look something like this:
Note: You can add questions and answers in the relevant link tabs located under the main CM Answers tab in the left menu area of your dashboard. This is also where you will be able to see all questions and answers that have been created by users over time.
Final Thoughts
Building a question and answer website does not have to be overwhelming or difficult. Sure, it may take some time for users to come and get familiar with it. But over that time, you should be able to start building a nice forum of questions and answers.
Using a solid plugin like CM Answers makes this even easier. Instead of trying to find a bunch of third-party tools to stick together and build one thing, you can use this plugin that provides you with everything you need in one place.
I hope this tutorial was able to show you how easy it is to build a question and answer website. With the use of the right tools, you can have one up and running in no time at all.
Have you been using another tool or plugin to build a question and answer section on your site? Did you find that CM Answers was simple and easy to configure and use?