Twitter is a powerful marketing tool when used properly. It is one of many excellent social media marketing tools to use for business. There are multiple things you can do if you integrate a WordPress Twitter feed into your website.
What is a Twitter Feed?
A Twitter feed (also called a timeline) is your list of updates from users you are following. It is also where your tweets appear to your followers. Your list is constantly being updated in real-time.
This list contains usernames of other Twitter users (also called Handles), as well as a list of followers. Twitter also made Hashtags famous.
A Hashtag is a word or word phrases after the number sign (#). Hashtags can contribute to making your tweets go viral, and creating and connecting with communities on Twitter. They are now used as a way to find subjects and trending topics you want to see.
Let's take a look at how to easily customize a WordPress Twitter feed for your site users.
Custom Twitter Feeds
Custom Twitter Feeds is a WordPress Twitter plugin that will allow you to easily create custom WordPress Twitter feeds to display on your website. The plugin is lightweight, totally customizable, and SEO friendly.
The Custom Twitter Feed plugin comes packed with features for you to generate amazing displays from your account. Some of these features include:
Responsive and Mobile Friendly
Display Multiple Feeds
Display Multiple Account Feeds
Load More Button
Easy to Use Widget
Custom Twitter Feed Header
Custom CSS When Needed
This Twitter widget for WordPress has everything you need to build a custom feed. It has a variety of options to help you streamline what is seen by site visitors.
WordPress Twitter feed. Let's take a look at how to install and setup this plugin.
Install and Activate
In order to use this WordPress Twitter plugin, you first need to install and activate it. You can do this from the plugins page of your admin dashboard.
Once the plugin has been installed and activated, click on "Twitter Feeds." You will see this tab on the left side menu of your dashboard.
This tab will take you to the full settings and configuration page for the plugin. From here we can perform setup and start using WordPress with Twitter feeds.
Add a WordPress Twitter Feed
Once you land on the main settings page for the plugin you will see five main tabs. These include:
Configure
Customize
Style
Display Your Feed
Support
Let's go through the tabs and setup real quick so you can get your first WordPress Twitter feed up and running on your website.
Configure
This is where you will actually connect Twitter. You will first need to login to your account and connect the relevant feed by getting your access token and secret.
The plugin walks you through the process; simply click on the "Log in to Twitter and get my Access Token and Secret" button.
Note: You can also manually enter information, but I suggest using the button.
Once you have that code plugged in, click on the "Save Changes" button and move on. You can now configure your feed settings from this tab.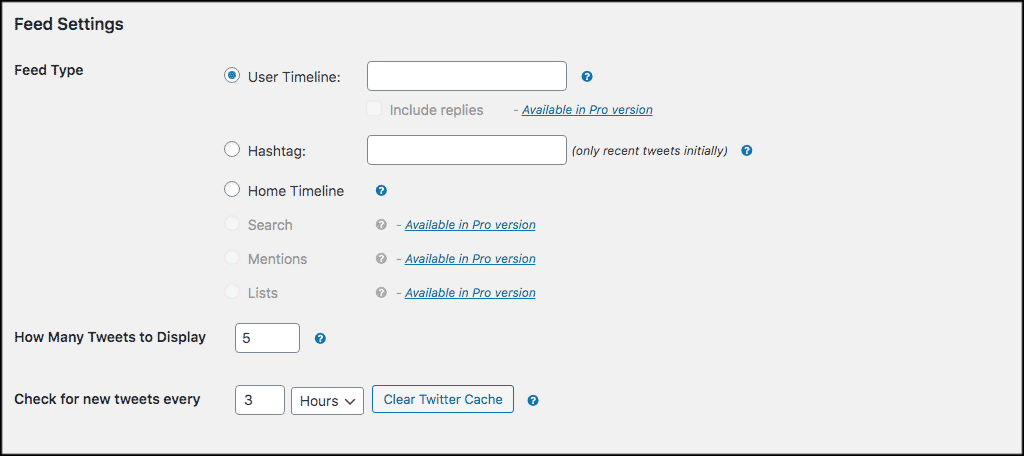 Customize
Customize the layout and look of your Twitter feed from this tab. You can set width and height, add Custom CSS, choose layouts, and more.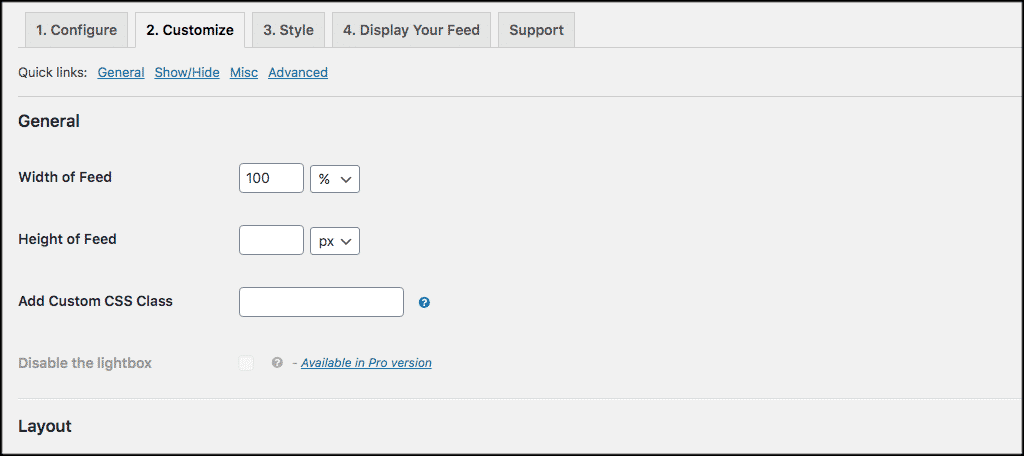 Style
Style your feed in this tab. Colors, headers and dates can all be customized here.
Display Your Feed
This tab tells you how you can easily display your custom WordPress Twitter feed on your website. There are two ways to do this:
Use the shortcode options given.
The plugin will add a widget to use as well.
Support
The Support tab will display help links and some system information. You can use these resources for troubleshooting if needed.
That's it! You have successfully customized WordPress and a Twitter feed for your website. Use the shortcode options to add it to any post or page. Or, use the widget to add it to any area such as the sidebar.
Final Thoughts
If used the right way, your new custom WordPress Twitter feed will display relevant information you may want your site users to know. This is an easy way to market your business products or services.
Have you ever used a Twitter feed plugin on your website before? Have you found that you gain more followers on Twitter by using one?