Are you looking for a way to run a poll in WordPress to get answers from visitors? If so, the Democracy Poll plugin is perfect for the job. Collecting information from visitors is extremely important for any business including blogs.
Polls can be used in a variety of ways, but one of the most popular is to gauge visitor interest in a variety of topics. And luckily, they are really easy to set up because there are so many plugins to choose from.
Today, I will demonstrate how to set up polls with the Democracy Poll plugin.
How Polls Help Websites
A visitor poll is a terrific tool to collect information from visitors in a very engaging way. Not only can you see the information, but others can as well, which makes them exciting.
For example, you can run a television or streaming service popularity poll to find out which character is your reader's favorite. This can help you gear content towards the most popular character to get more views and it also gives the community a place to share their thoughts.
It's a win-win situation.
Of course, polls aren't just about fun and games. You can ask more serious questions like how was their experience on your website or at a physical location. It's also a good way to collect feedback on design changes, like WordPress themes.
This information is vital to ensuring the best visitor/customer experience possible.
How to Use Democracy Poll in WordPress
Step 1: Install Democracy Poll
The Democracy Poll plugin makes adding a survey in WordPress quick and easy. It allows you to present a question to visitors and have them answer. The results are then viewable to both the developer and visitors.
One of the coolest features the plugin offers is its ability to allow visitors to add their own answers to a poll. This is particularly useful when you present your community with a question like «Who is your favorite character in South Park?»
The plugin is very simple to use, so let's get right into it.
Click on Plugins and select the Add New option on the left-hand admin panel.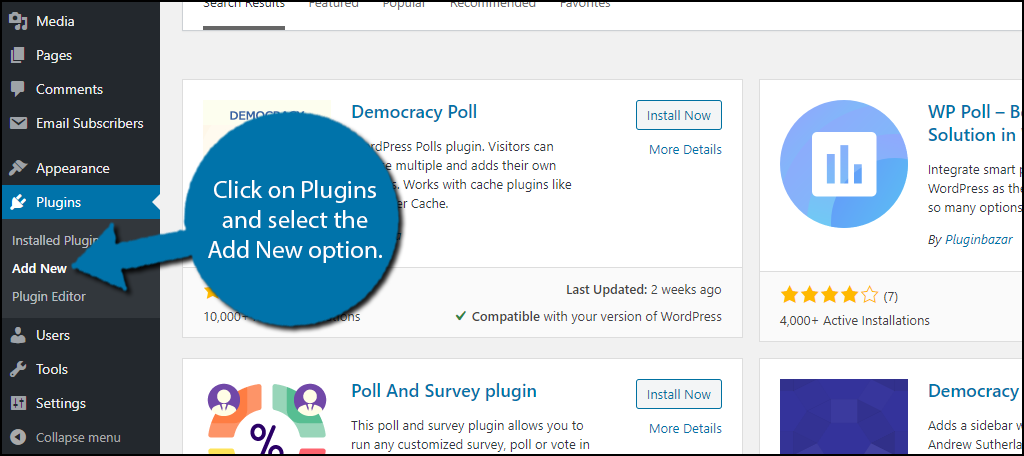 Search for Democracy Poll in the available search box. This will pull up additional plugins that you may find helpful.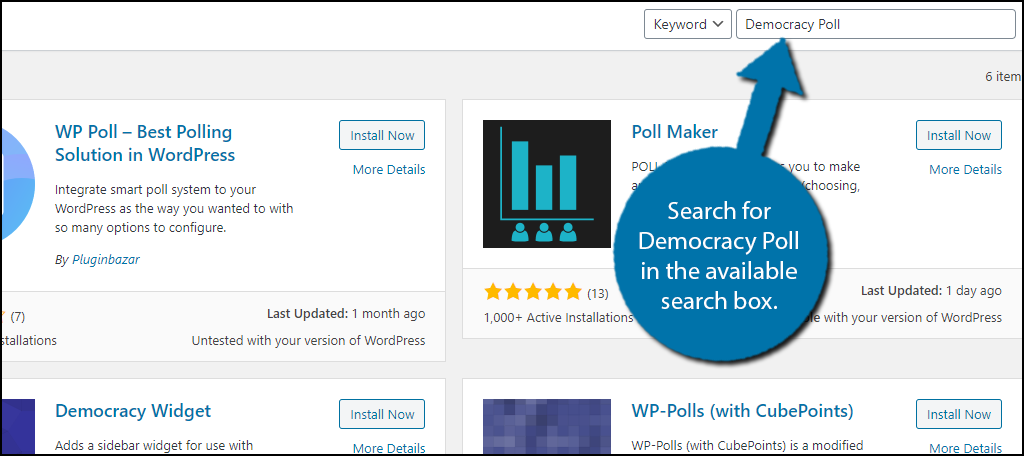 Scroll down until you find the Democracy Poll plugin and click on the «Install Now» button and activate the plugin for use.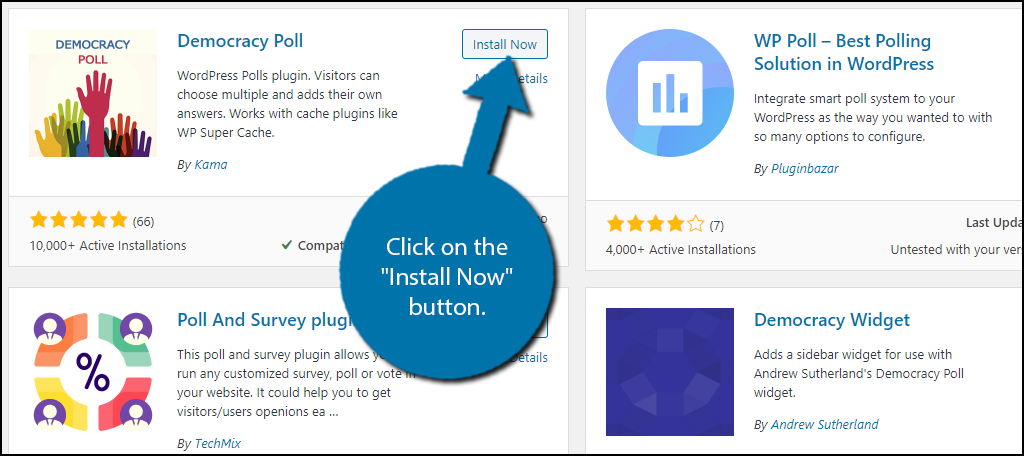 Step 2: Configure the Settings
Before you create any polls, it's important to take a moment and configure the settings. These include a variety of choices with the most important one being who can vote. You can open it up to anyone who stumbles upon your website or keep it restricted to registered members.
This can be changed at any time, which is ideal because you will likely want to collect information from both groups.
On the left-hand admin panel, click on Settings and select the Democracy Poll option.
Everything related to this plugin, including poll creation, is located in this area. It is broken up into several tabs. For this step, click on the Settings tab.
There are quite a few settings to configure, and I highly recommend going through each one. The plugin does a great job at explaining what each does by including a short description underneath the options.
Most importantly, in the Global Polls options section, you will find all of the choices that relate to the polls including who can vote and how poll results are displayed.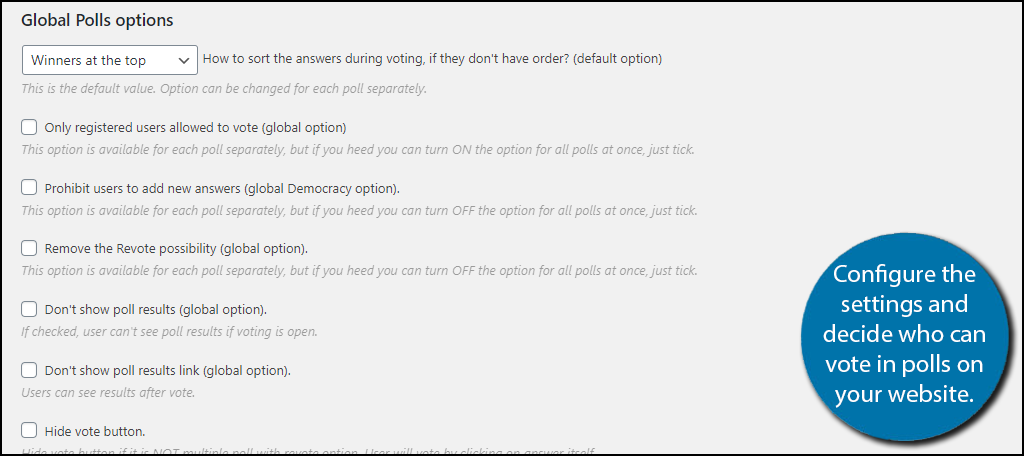 Once you have gone through all of the settings, click on the «Save Options» button at the bottom.
There are also theme settings that can be used to alter the appearance of polls to make them match your theme's presentation.
Step 3: Create A Poll
Now it's time to create a poll, which is really easy to do. The plugin allows you to create an unlimited number of polls, and you can view the results at any time.
Click on the «Add new poll» tab.
Simply add the question into the question text box and answers into the answer text box. Additional text boxes for answers are added whenever you fill-up the available ones. Thus, there is no limit on the number of answers you can add.
Underneath the answers, you will find a small checkbox that will allow visitors to add their own answers. You may check it or leave it unchecked.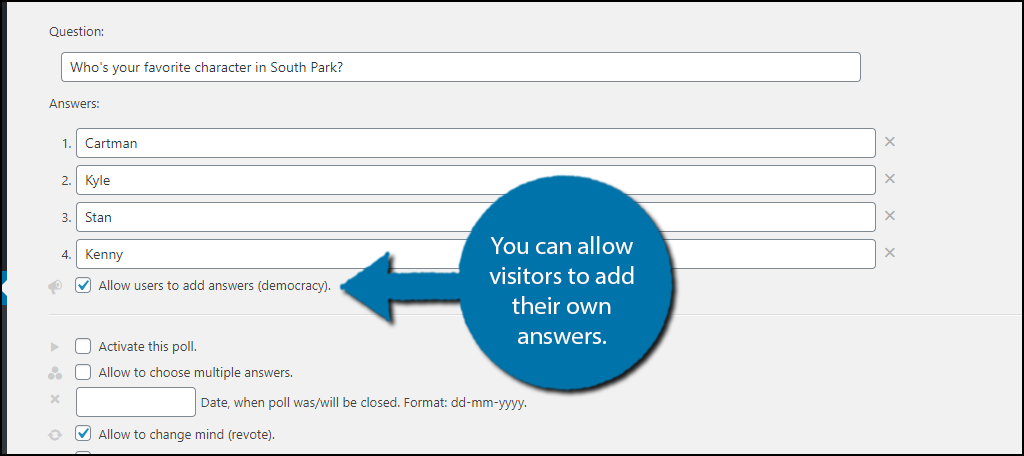 You will then find some additional options specific to the poll. These include things like visitors being able to select multiple answers, the date at which the poll will close, allow visitors to revote if they change their mind or made a mistake, allow visitors to see the results, and more.
Note: You can extend polls by changing the end date at any time. This is perfect if you don't get many participants.
Most importantly, you must check the «Activate this poll» for the poll to work.
Once you are happy with the poll, click on the «Add Poll» button.
The poll is now created and available for use, now it's time to add it to the website.
Step 4: Display Poll
This plugin utilizes shortcodes to display polls in WordPress.
You can find your poll shortcode by clicking on the Polls List tab. They will be located underneath the question when you hover your mouse over it.
Note: The Poll shortcode is also displayed after clicking on the «Add New» button in the previous step.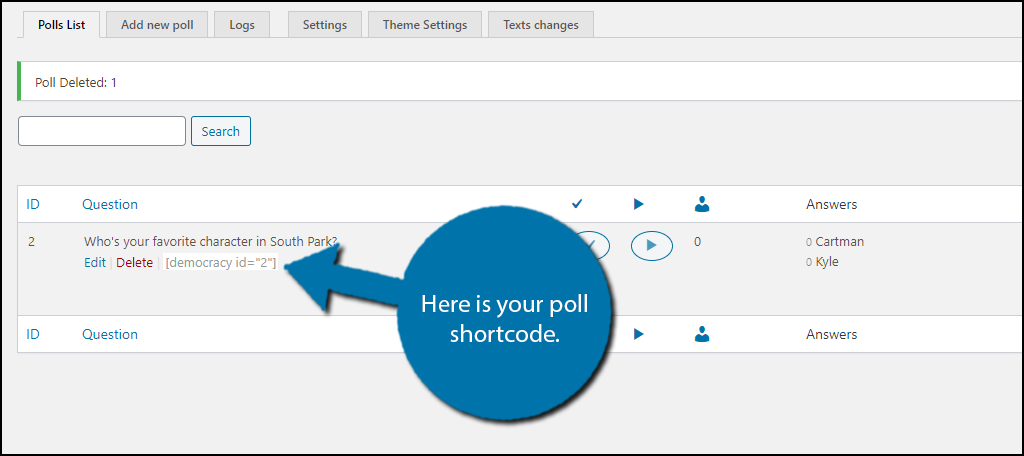 Copy the shortcode and paste it into a shortcode block on any post or page in WordPress. You can also add it to a text widget if you want the poll to appear in a sidebar.
Regardless of where you add it, the poll will now be visible on your website.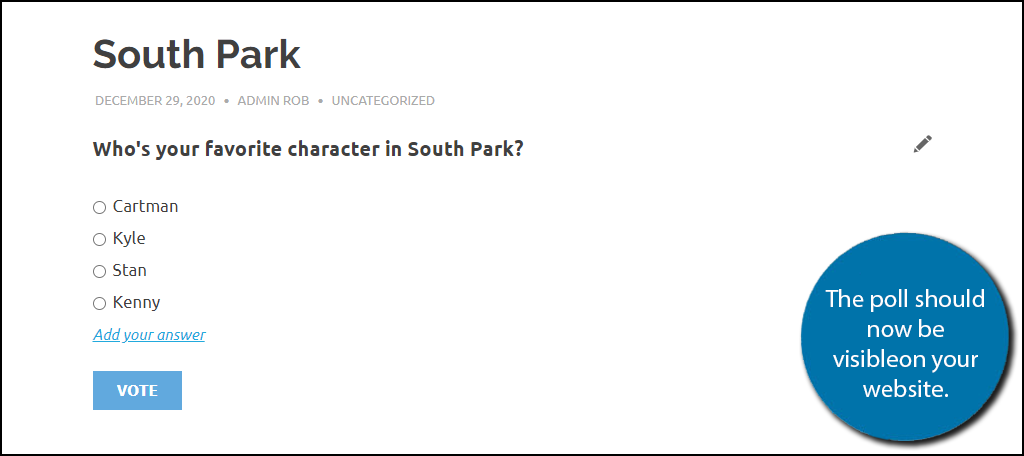 If you plan on adding polls regularly, you may want to consider creating a survey page in WordPress. This can house all of your polls and other user inquiries. Of course, you could also add them directly into posts that they are relevant for.
Congratulations on using the Democracy Poll plugin to add polls in WordPress.
Engage Your Community
Polls are a fun activity to see what your community thinks about a certain topic and allows you to gauge interest in certain content. It is also a great way to engage with the community, after all, you are using what they tell you to shape the content you create.
Thus, I highly recommend mentioning the results of the popularity poll in content.
For example, if you ran a character popularity poll, create a follow-up post about that character and mention that it is based on the results from the community. This will encourage more users to vote that did not and may help new visitors discover your polls.
Keep in mind the «losers» of these polls are also excellent options for content if you are creative. For example., you could take the least popular character and explain why said character is not popular or why they are easy to hate.
This is content visitors love to read, so no matter what the results are, the information is useful.
What kind of WordPress polls do you plan on creating for your website? How often do you plan to release new polls?