There are a ton of options to back up a WordPress site, however, many of them require more knowledge when it comes to things like software or coding. The biggest appeal of WordPress is the ease of use, thus backups should be easy too.
Developers put a great deal of effort into creating easy ways to back up the entire site. With automatic functionality, you don't have to remember to create a backup in order to protect your website.
Today, I will share the easiest ways to back up a WordPress website.
The Importance of Backing Up Your Content
A variety of things can happen to any website. Although GreenGeeks offers a cPanel backup tool, keeping your own backup copy of files and data can be greatly beneficial when you have to rebuild everything from scratch. Reasons you would need a copy of your site include:
Malicious coding from hackers
Bad coding from third-party plugin vendors
Hosting server corruption
Accidental deletion of important files
Moving the site from one server to another
Restoring data back to a previous working copy
Keeping a personal backup of your data ensures that if something goes wrong, you do not have to wait to contact a web host or third party to restore your website.
For instance, let's say a critical error was made and your website no longer loads for visitors as a result. This will stop your website from functioning and could cost you thousands of dollars in sales. Restoring your website is critical for success.
Leaving a website in a broken state could also impact your search engine rankings. After all, Google will not rank broken websites highly.
Thus, having instant access to your backup is good for business.
Back Up Your WordPress Site With A Plugin
You can create a manual backup of your WordPress website, but there are quite a few cons to this. The first is that you have to do it manually. Most developers will forget to back up their website and only remember after disaster strikes.
Instead, the best and easiest way to back up a WordPress site is to use a backup plugin.
Luckily, there are a ton of plugins to choose from when it comes to backups in WordPress. Here are some of the best plugins I could find.:
1. Backup Guard
With Backup Guard, you can set your system to automatically save files according to a schedule you set. The plugin also has the ability to let you download the files directly to your computer. This can help when it comes time to migrate your site from one platform to another.
Backup Guard also has integration abilities with Cloud-based tools such as Google Drive and Dropbox. One of its other noteworthy features is the email notifications it sends when a backup or restore is finished.
2. UpdraftPlus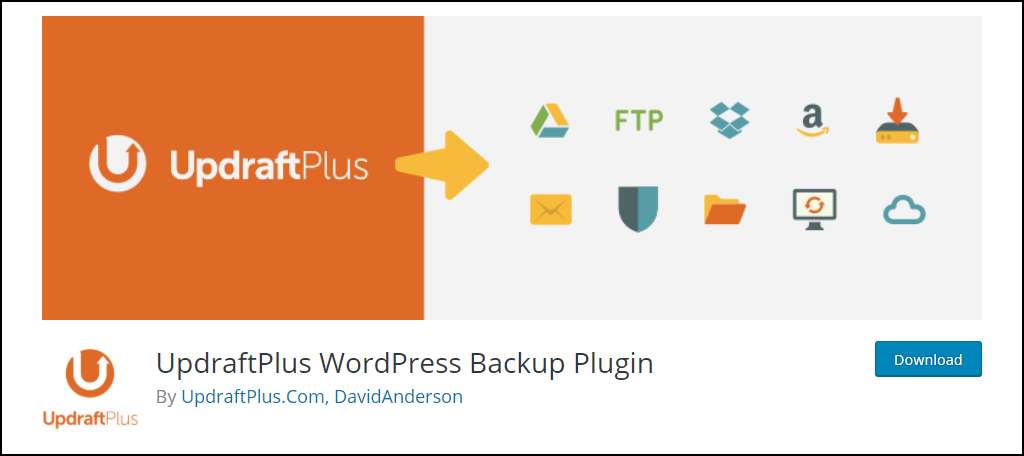 When it comes to integration with Cloud systems, UpdraftPlus is one of the most versatile plugins available. Capable of uploading backups to many different Cloud-based systems, this tool can fit a variety of strategies.
You can differentiate file and database backups according to your scheduling. Failed backups will be automatically resumed or retried until the process has been completed. And that's why it's the most popular backup plugin with over 3 million active installs.
3. BackWPup
Another powerhouse to consider using is the BackWPup plugin. This plugin supports automatic backup scheduling and can even store the files directly on your computer using a zip format. It also supports more common storage methods like Dropbox.
The plugin really shines when you upgrade to the Pro version. With it, you can encrypt your backup files to ensure that if your backup storage is compromised, no one can access your website data. This is incredibly important when important billing information is stored within.
4. Backup & Staging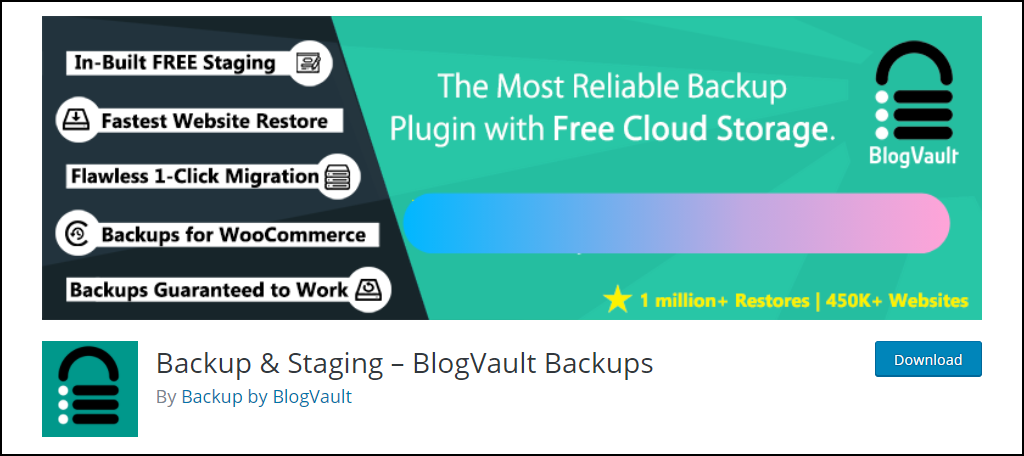 If your looking for a free cloud storage backup plugin, look no further than Backup & Staging. You can schedule regular backups of your website and store them on cloud servers. And you never have to worry about your access to the backup.
They are available 24/7 and it is one of the best ways to migrate your website to another server. All you would need to do is install the plugin on the new server and, in one click, download your backup from the cloud.
5. Backup & Migration
Looking for an all-in-one backup and migration tool? If so, the Backup & Migration plugin is exactly what you are looking for. This tool offers free scheduled backups and helps migrate your website to a new server in just a few clicks.
It supports automatically sending your backups to the most trusted data storage sites like Dropbox, OneDrive, Google Drive, and more. A unique benefit of this tool is identifying unused images in your media library. This will help you save space on your website and backup.
6. WP All Backup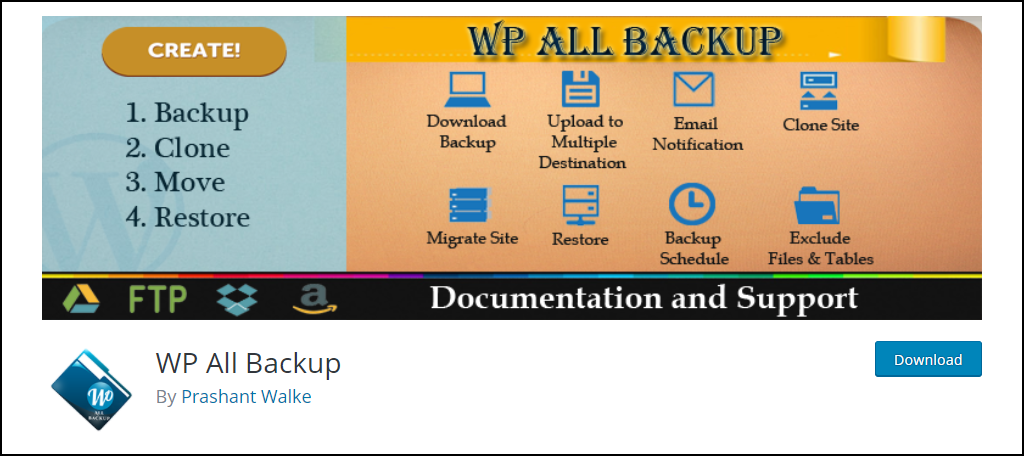 Although this plugin isn't as popular as many of the others, WP All Backup offers an automated system with a one-click restore feature. It can be integrated with FTP servers as well as Dropbox should you need the files saved elsewhere.
It also provides a «Clone» and «Move» feature which may make it easier to transfer your WordPress website to a new location, domain, or server. As an added bonus, this plugin supports multisite use for those who manage more than one installation of WordPress.
7. BackUpWordPress
Another excellent plugin to consider is BackUpWordPress. As you would expect, it supports scheduled backups and can even handle multiple schedules. It doesn't use a lot of resources, which makes it great in a shared hosting environment.
However, one feature it is lacking is the ability to transfer your backup to a cloud-based storage site like Dropbox. However, you can manually upload your zip file once the backup is complete so there is a workaround.
8. Using Softaculous to Back Up Your WordPress Site
The above plugins are a great choice to solve your backup problems, however, you don't actually need a plugin. Instead, your web hosting environment should provide an eighth option, Softaculous.
Softaculous is an app installer that can install just about anything. In most cases, you will use it to install the CMS of your choice, but it can also be used to regularly update those installs and even back them up.
And unlike many plugins, it is a free service to take advantage of if your web host supports it. On a side note, we at GreenGeeks do.
If your web host has not enabled this feature, well, you can't use it to back up your website. But if they do, you simply need to check a box on that installation to enable it.
So in this case, you would view your WordPress installation through Softaculous and enable backups.
However, I strongly recommend still using a plugin alongside Softaculous. This is because your backup is saved in the same location as your website, thus, it doesn't do you any good if a hardware failure occurs on the server end.
If You Don't Back Up Your WordPress Site, It Could Cost Everything
There's a great saying among web developers, «The most expensive backup is the one you didn't make,» and it is absolutely true.
Not making a backup of your website is a mistake. Sadly, while we would like to think we have control over our website data, there are way too many factors that we cannot control. For instance, what happens if your website is hacked?
Even with great security plugins, it could still happen. And if a hacker gets in they could delete everything or severely damage your website to the point of no return. Alternatively, they could encrypt your website data and hold it for ransom (ransomware).
And sadly, this could happen at any time.
Yet, with a backup, you could recover from such an attack within minutes and avoid extended downtime. And backups have become so common, that they are now free for the most part. So, there's really no good reason to not keep an up-to-date backup at all times.
Back Up Your WordPress Site Today
You could have the website operational for years before something happens that could corrupt the pages. A method for backup ensures that your data is not lost in the event of a disaster. Don't put your website at risk from problems that could arise at any moment.
Install a WordPress auto backup plugin and breath easier knowing your data and designs are protected.
What kind of system do you use to ensure you don't lose all of your website data? Do you have plugins that integrate with systems such as Dropbox?