Your website's performance is extremely important to both visitors and search engines. However, WordPress does not have a built-in way to check the performance. And a lot of people trust using GTMetrix with WordPress.
The good news is there are numerous ways to do this with plugins. The GTMetrix WordPress plugin is a great tool that you can use to monitor your website. You can use it to see if the changes you are making are having an impact.
Today, I will demonstrate how to use GTMetrix plugin to boost site performance.
Why Use GTMetrix?
The major advantage of using the GTMetrix plugin is that it allows you to perform an analysis from your WordPress dashboard. A lot of other analytic tools require you to leave your website to see the performance, which can be annoying.
The plugin will show you exactly how fast your pages are loading, the total page size, and how many requests are required. However, if you are a new web developer, these values might not mean much to you. Luckily, the plugin makes it easy to understand.
It does this by displaying two ratings. One is from Google Page Speed and another from YSlow. Each one will offer different tips on how you can boost the website's performance.
Overall, the plugin is extremely easy to use, which makes it ideal for beginners
Installing GTMetrix
GTMetrix is a free WordPress optimization plugin, but the amount of analyses you are allowed is limited. You start off with 100 API Credits. Each test costs 1 API Credit, except for tests that include videos. Those will cost you 5.
You are also limited to 20 tests a day with the free version. You can purchase more API Credits or purchase a plan that suits your needs on their website.
Alternatively, you can also use the website to run tests, but this tutorial will focus on the free WordPress plugin.
Begin by clicking on Plugins and selecting the Add New option on the left-hand admin panel.
Search for GTMetrix in the available search box. This will pull up additional plugins that you may find helpful.
Scroll down until you find the GTMetrix plugin and click on the «Install Now» button and activate the plugin for use.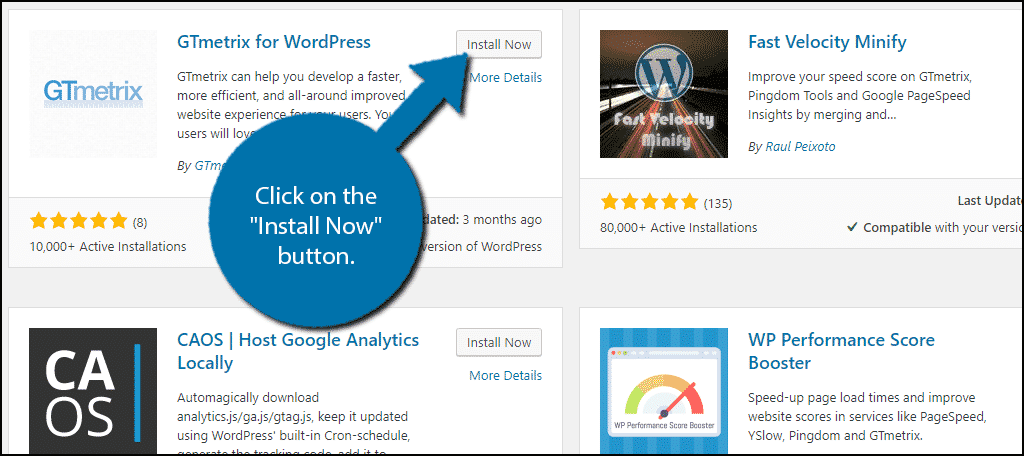 On the left-hand admin panel click on GTMetrix. This will pull up the plugin's Settings page.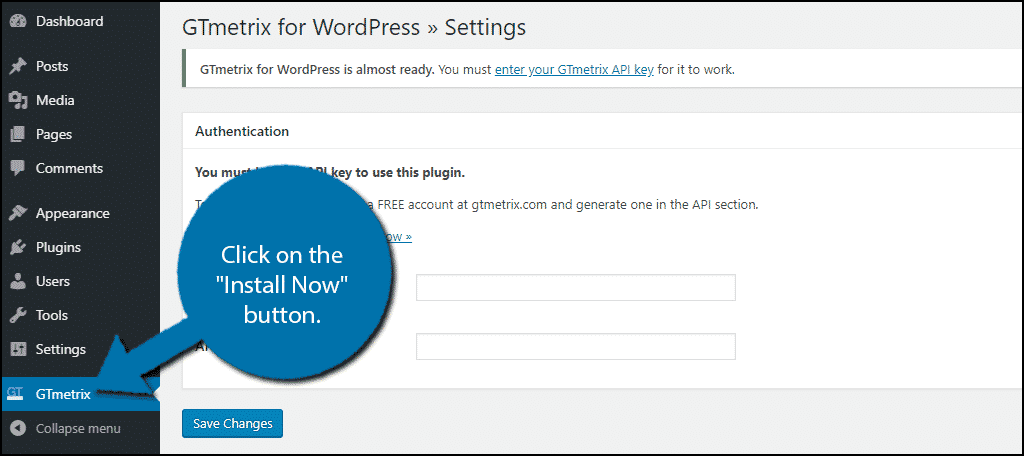 Getting Started
To use this plugin you will need to start a GTMetrix account and obtain an API key. The process is very simple.
Click on the «Register for a GTmetrix account now» link.
Click on the «Log In» button if you have an account already. Otherwise, click on the «Sign Up» button to start a new one.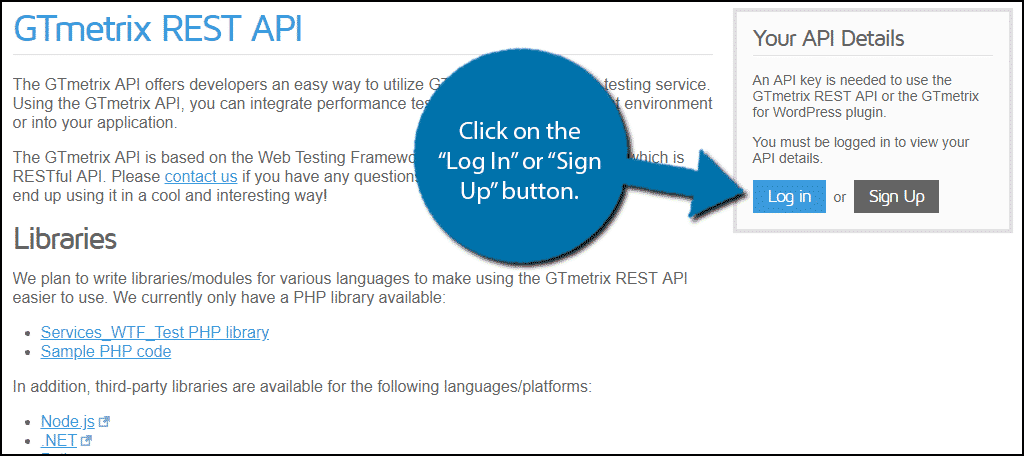 Fill in your personal information and click on the «Create an Account» button.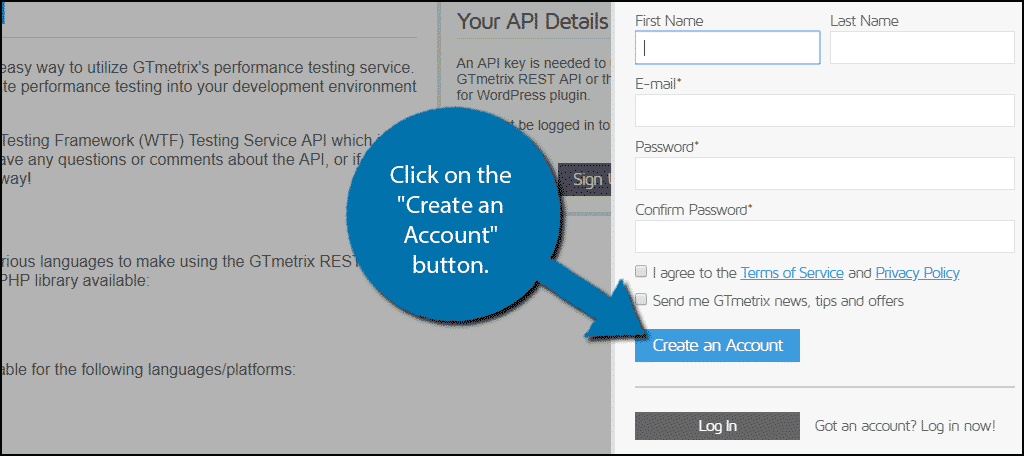 You will receive an email that you must confirm. You cannot get an API Key until your email has been confirmed.
Once your email has been verified, click on the «Generate API Key» button. This is located on the page you created an account on. If you can't find it, go back to your WordPress website and follow the link again.
Your email address and API Key will now be visible in the same spot. Copy the API Key.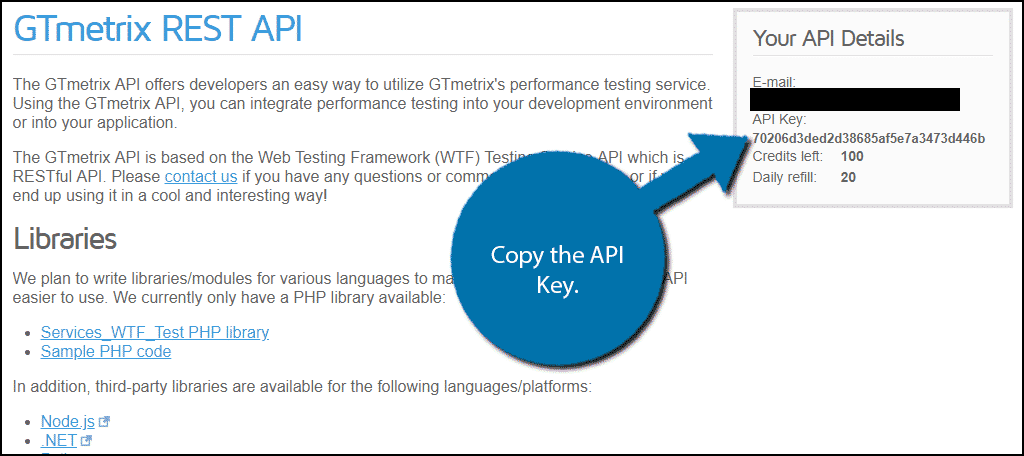 Enter your email address and paste the API Key into the appropriate box on your WordPress website. Click on the «Save Changes» button when you are done.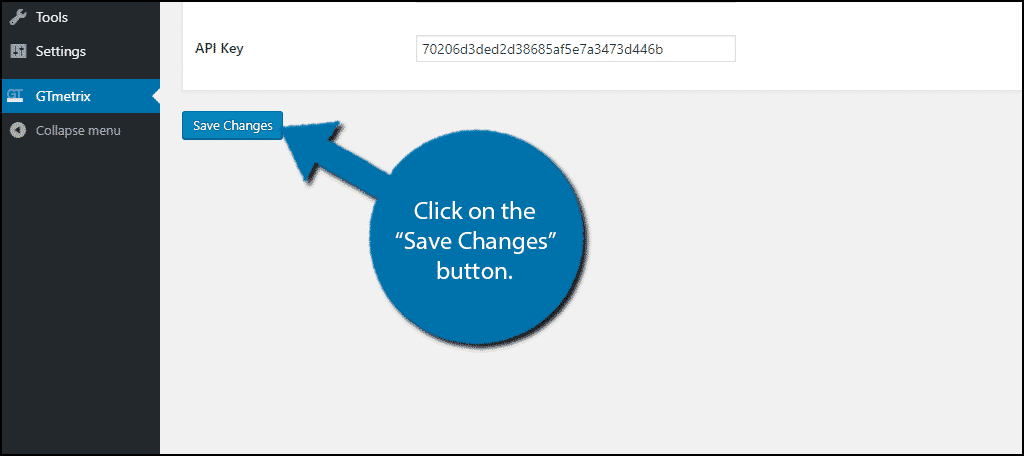 The plugin will now be ready for testing!
Using GTMetrix
To get the most accurate results, select the location that is closest to you. Save the changes.
On the left-hand admin panel, click on the Tests option.
Here you can perform tests on any page on your website.
Note: Video clips cost 5 API Credits, make sure this option is not selected by accident before running any tests.
You can use the «Test your Front Page Now» button to run a test on your homepage.
Alternatively, you can copy a page's URL in the «Test Performance Of» section.
This allows you to test any page on your website. Click on the «Test URL Now!» button when you are ready.
Once the test is over, you will be able to view the results on the same page.
Click on the «Detailed report» option to see the full report.
This will open up a new page that allows you to view all of the results. This includes recommendations on how to boost your website's performance.
If one of your scores is low, click on it. If you are not sure how to fix it, click on the «What's this mean?» button.
Congratulations, you have successfully set up the GTMetrix WordPress plugin. It's a great tool that can help you make your website faster.
Speed Is King
Ultimately, speed is one of, if not the most important part of a website. The longer it takes a page to load, the more likely a visitor is going to leave. Speed is also a factor that search engines like Google use to determine your rankings.
Speed is not only based on the amount of content on your page, but also by the quality of your web host. If you feel that your website is optimized, but are still getting bad results, it may be time to switch web hosts.
What rating did you receive from GTMetrix? How easy did you find the plugin to use?