A privacy policy is a statement detailing a website's practice when it comes to personal information. It often tells how and why data is collected from visitors. This is a common practice in eCommerce because of the personal information required to make purchases. In some areas of the world, a privacy policy page is required by law.
If your website collects information from guests, you may need to set up a privacy policy in WordPress. In this tutorial, I'm going to show you how to do this without installing additional plugins or components.
What is a Privacy Policy?
The privacy policy needs to disclose how you collect data and your intentions regarding that information. For example, you must state whether or not you plan on selling the information to third parties. Keep in mind that breaking your own policy can lead to legal repercussions.
When it comes to the privacy policy, there is only one guideline that is enforced by law – it needs to be obvious and easily accessible. This is why many website developers will include the a link to the policy in the footer. This area is accessible from any webpage of the entire site in most cases.
Also bear in mind that a privacy policy is different than a «Terms of Service» page. The TOS is an agreement between yourself and the visitor that he or she will essentially not abuse the system.
Creating a Privacy Policy in WordPress
To create the policy, you'll need to know how it works and what information you'll need to put into the statement. The Better Business Bureau has a good sample layout for you to use as a guideline. However, you can probably find more samples online.
Take the time to create a policy that protects yourself as well as your visitors. You want everyone to feel safe when using your website, and covering all contingencies may take a bit of planning.
Once you're ready to post your statement, it's time to create the WordPress privacy policy page.
From the WordPress dashboard, click on Pages and select the Add New option. This is located in the left column of the admin screen.
Name the page Privacy Policy and insert or create your privacy policy in the editing screen. If you created the policy in a text editor document, you can simply paste it into WordPress.
Once you're done creating the policy, click on the «Publish» button.
Now, the statement is live and ready for visitors. However, it's not yet quite visible enough. This is especially true if you disabled turning new pages into menu items.
Because the footer is one of the most common places for the policy, let's create a link in this section. This will require access to the foot segment of your website. If you don't have access to the foot or if it's blank, you may want to consider installing a new theme into WordPress.
A lot of themes give you access to sidebars, content areas, headers and the footer.
In this next part, you're going to create a custom menu for your website. Click on Appearances and select the Menus option.
Set up a new menu for things like the privacy policy, terms of service, contact and other similar pages. Click on the «Create Menu» button after organizing your pages in this new section.
Once the menu is saved, click on Appearances and select the Widgets option. In this section, you're going to add widgets to customize the appearance of your site.
The Widgets section is separated by two areas: widgets and locations. Using a drag-and-drop interface, you pull widgets from the list on the left and drop them into the locations on the right. This section may include Sidebar, Content, Header or Footer. Unfortunately, not all themes are designed the same way.
For instance, I am using the BusinessBuilder theme which has access to three footer areas. It also has a Search element in the first Footer component. If your theme has this, click on Search.
Delete the Search option and drag the Custom Menu widget into Footer area.
Title this widget something logical for the menu you built earlier. For example, you could name it «Company Info» if the menu has the privacy policy, contact page, about us and other elements. Select the menu item you made earlier containing the privacy policy.
Click on the Save button when you are done.
Congratulations! You have successfully added a privacy policy to your website into the footer. If you don't have access to the footer and don't want to change your theme, you can always add the policy to either the navigation menu or as a sidebar menu. The point is to make sure everyone can access it easily.
Using Auto Terms of Service and Privacy Policy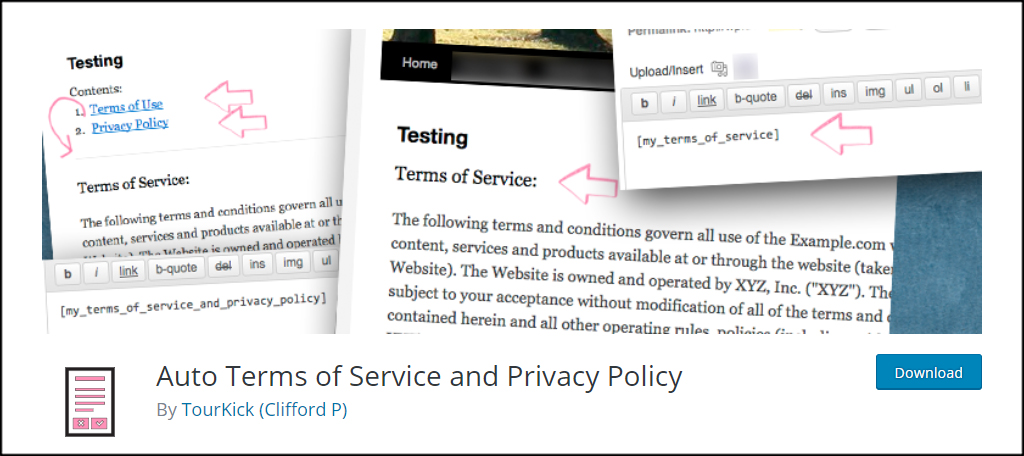 You can install plugins to take some of the work out of creating a privacy policy page. In fact, tools like Auto Terms of Service and Privacy Policy provide several shortcodes while creating the pages for you automatically. This gives you a bit more flexibility when it comes to displaying your statements while keeping the content organized.
This particular plugin also includes an automatic privacy policy generator. It's a generic agreement that can be modified later. In the settings of the plugin, you simply add your name and other vital information. The plugin then uses the data to create the statement based on common policies on the Internet.
In reality, it's a good place to start if you're unsure how to create a privacy policy page.
Keep Your Visitors Informed
It's always best to be transparent when it comes to visitors interacting with the website. Not only is the privacy policy required by law in certain locations in the world, but it also helps strengthen the site's reputation.
Think of it this way; don't you feel safer knowing how your favorite online store uses and stores your personal data?
What kind of page links do you keep in your footer area? Does your theme have footer widgets built into it? Was it difficult to create a privacy policy for your website?