WordPress website translation has become an important part of the overall outlook of your website. So many people are visiting sites from all over the world, and it's important to have the ability to translate a WordPress website in different languages.
Now, WordPress does allow you to install and setup WordPress in other languages. For instance, if you are building a multilingual website and want it to be in Spanish, you would simply assign that language to the install and you are good to go.
But what if you want site visitors to be able to translate your WordPress website into the language of their choice? Luckily, there is a great plugin option to achieve WordPress website translation.
Let's take a look at how to quickly and easily give users the ability to translate a WordPress website.
Why Translate a WordPress Website?
There are a number of reasons you may want to translate a WordPress website. Let's just jump to the most important reason. You are a business owner and your audience doesn't always share the same linguistics.
This is reason enough for WordPress website translation to be made available. Opening up your website to a broader audience can only help to boost sales and overall popularity of your brand.
There are a lot of great WordPress translation plugin options available. However, let's take a look at Gtranslate and how to use it.
The GTranslate Plugin
Today we are going to translate a WordPress website by installing the Translate WordPress with GTranslate plugin. The GTranslate plugin uses the Google Translate automatic service and harnesses the power of that to make any WordPress site multilingual.
The plugin allows your website to be translated into 103 different languages, which covers around 99% of all Internet users. There is also a paid version with SEO options and other add-ons, but today we are going to go over the setup of the free version of the plugin.
The GTranslate plugin is used by over half a million websites around the world and is the best free plugin available for WordPress website translation. The plugin offers a ton of available options and will enable you to produce a website that is easy to understand by many.
Translate a WordPress Website
The first thing you need to do is install and activate the Translate WordPress with GTranslate plugin.
Once the plugin has been installed and activated, click on Settings > GTranslate and you will be taken to the main setting's page for the plugin.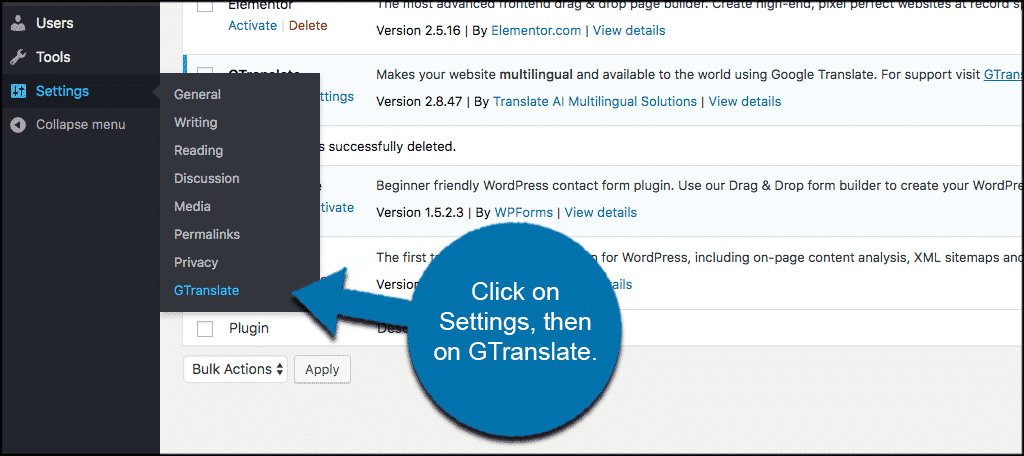 Here you will find an assortment of useful setup options for the GTranslate plugin. These will include a list of options for layout, languages, plugin code and a shortcode.
Let's take a look at some options.
The top part of the setting's page allows you to pick a number of different settings for the widget including:
Widget Look
Translate From Language
Analytics Options
Browser Options
Show In Menu Options
Show Native Language Names
As you play around with the options for the widget, you will be able to see a live preview of what the widget looks like located on the right side of the page.
If you scroll down some, you will see all the flag language checkboxes. Simply check the boxes of the languages you want to enable for translation and they will be automatically added into the widget in the style you have chosen.
Note: You can also drag and drop the languages to reorder them the way you want. Otherwise, they will be displayed alphabetically by default.
Directly below the flag checkbox area, you will see a couple of options for widget code and the GTranslate shortcode option. It should be noted that the use of the widget code is for more advanced users only.
Instead, use the GTranslate shortcode in post or pages to put it where you want. Otherwise, you have the actual widget option available and also the option of showing the translation menu within one of your navigation menus.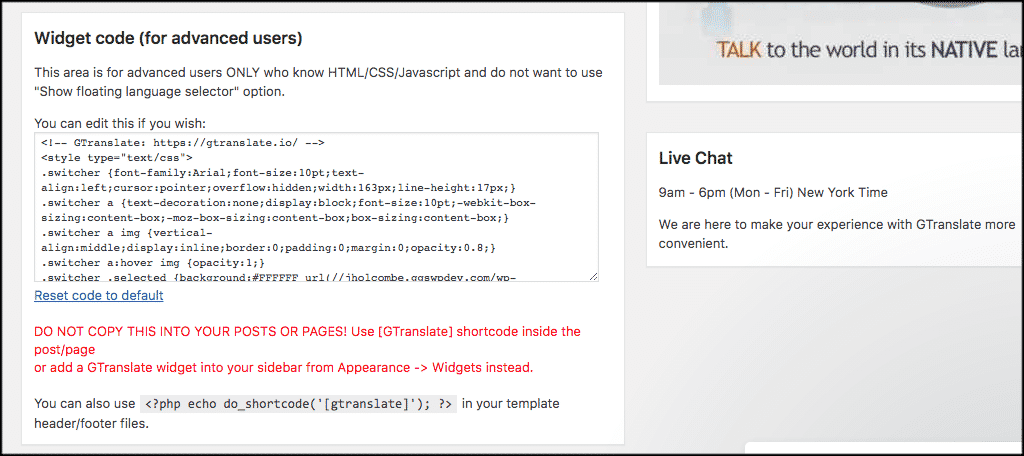 GTranslate also has a very unique option not available in most plugins. They have a built-in live messaging system that you can use to get help or ask questions when needed.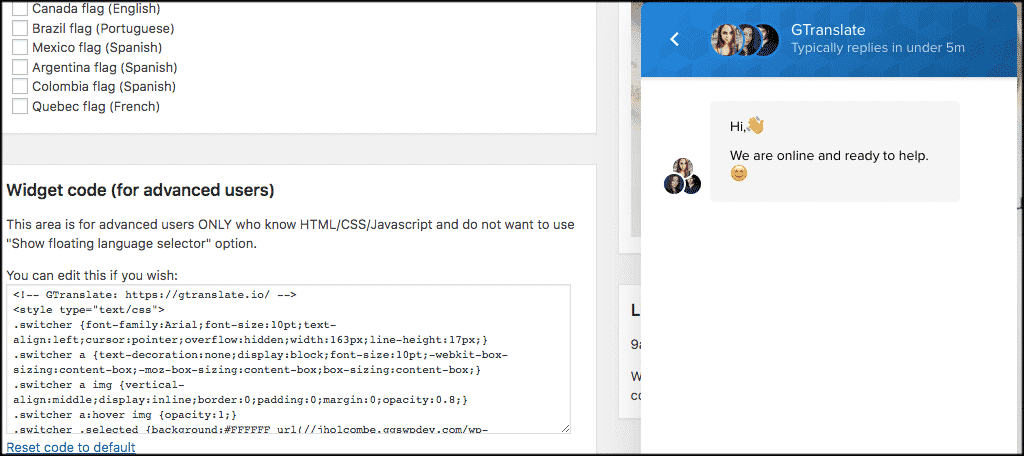 Place the GTranslate Plugin On Your Site
To place the GTranslate widget in any area on your WordPress website click on Appearance > Widgets and that will take you to the widgets page in the WordPress admin dashboard.
Drag and drop the GTranslate widget into any sidebar area that you want to display it on your website.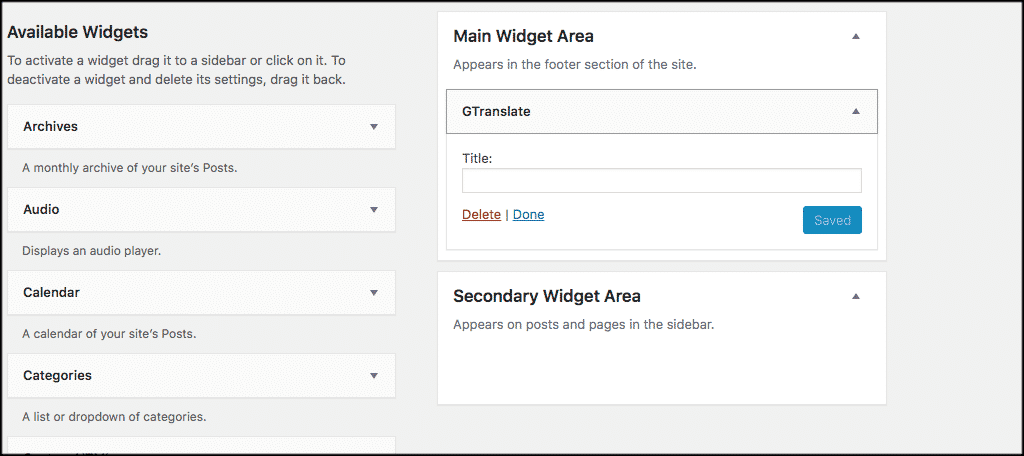 Now go to the front end live version of your site to see the GTranslate widget in action.
As stated above, you also have the option to show it in a navigation menu or to show a floating version of the widget in different locations on screen.
Finally, you can also show the WordPress website translation plugin in any post or page by using the "[gtranslate]" shortcode.
Paid Version of GTranslate Plugin
If you are interested in some extra options, including a more SEO friendly version of this plugin, there is a paid tool. Some of the paid version advantages include:
Search engine indexing
Search engine friendly (SEF) URLs
Human level neural translations
Edit translations manually
Metadata translation (keywords, page description, etc…)
URL/slug translation
Language hosting (custom domain like example.fr, example.es)
Seamless updates
Increased international traffic and AdSense revenue
Works in China
Priority Live Chat support
You can access the paid version directly from within the free installed version of GTranslate.
I hope this article has shown you how easy it is to translate a WordPress website. Do this to gain visitors and to allow people who are multilingual to enjoy your site.
Have you tried the GTranslate plugin before? Do you use another plugin to translate your WordPress website?