Social media plays a big part in everyday life for many people. It has such an influence that businesses are spending more time marketing on these platforms to engage users. Of these, Twitter is one of the more active.
Twitter allows anyone to communicate any message as long as it falls within 140 characters. However, you can share images and videos with potentially thousands of people simultaneously.
In this article, we're going to demonstrate how to install a Twitter widget in WordPress.
Why would you want to add a Twitter feed to your website?
Having a Twitter feed on your website gives it a sense of continuity. Even if you don't post content every single day, the feed from Twitter can still give the website a sense of activity. As it takes just a few seconds to add a new message on the system, your website can essentially get new content rather quickly.
The Twitter widget also allows people to interact with you directly from the website. Using the right buttons and configurations, people can message you directly from the site. It's merely one method that is used to integrate social media into your website and engage the visitor.
Visitors will be able to follow the Twitter account from the widget as well. This is beneficial when you're trying to develop a following on the social media hub. It lends to reputation and can inspire others to join your network.
Adding the Twitter Widget to WordPress
Adding a Twitter widget is a relatively simple process. There is no coding involved aside from copying and pasting and will take you minutes to install. To do this:
Step 1: Log into your Twitter account.
Step 2: Go to the Widgets area of Twitter.
Step 3: Click the «Create new» button on this screen.
Step 4: You'll have several options to choose from. You can have a widget to show:
Profile – Displays your tweets along your own timeline
Likes – Only shows the tweets you like
List – Displays the lists you belong to
Collection – Shows collected works from timelines
Search – Displays messages regarding a specific hashtag
Step 5: For now, select «Profile» from the list.
Step 6: You will need to input the URL of your profile. For instance, it will look something like this:
https://twitter.com/Your_Twitter_Account
Step 7: Select the display option. You can choose to embed the timeline or simply display buttons. For this example, we're going to choose the timeline.
Step 8: Set your customization options by clicking the link that appears. Here, you can change:
Height
Width
Background color
Link colors
Language settings
NOTE: if you know the width of your sidebar in WordPress, it may be useful to put it into the width setting. However, the coding you get is responsive and will change its width according to your sidebar settings in WordPress.
Step 9: Once you have your adjustments made, Twitter will give you the code you need to embed your feed into your website. Copy this code.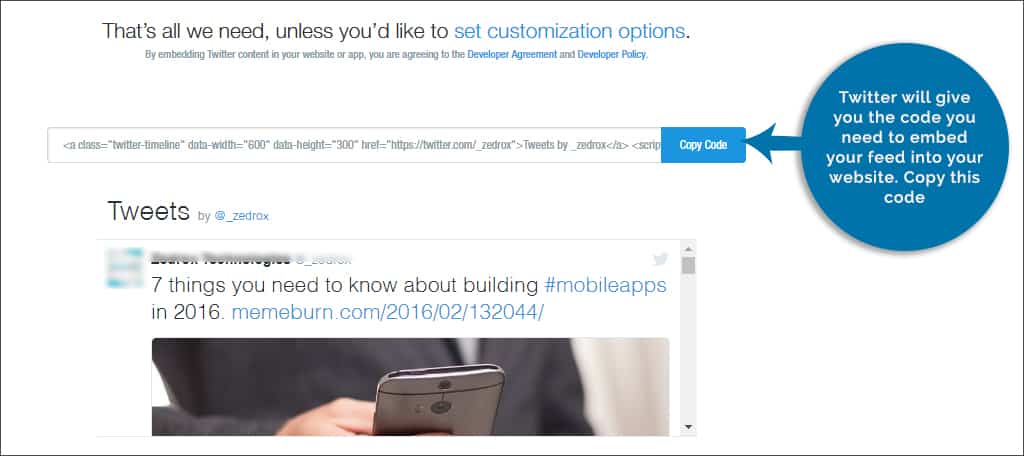 Step 10: Log into the admin panel of WordPress and go to the appearance area.
Step 11: Click the «Widgets» link.
Step 12: Scroll down until you find the Text widget.
Step 13: Drag and drop the Text widget into your sidebar or anywhere else you can place widgets.
Step 14: Title the widget, «Twitter Timeline.» In reality, you can name this anything you wish.
Step 15: Paste the code you copied into the content box of the widget.
Step 16: Click the «Save» button on the bottom.
Now, you have a fully functional and updating Twitter feed on your website. Using the Profile selection above gives visitors access to see your Twitter profile page. It also comes with an embed link in the event they want to add your account to their own site and a «View on Twitter» link that works the same as clicking your profile name.
Best Practices
It's always good to put social media engagement as part of your marketing strategy. Here are a few ways to get the most out of using Twitter on your site.
Although a feed of your tweets is beneficial in making the site look active, adding Follow or Mention buttons can increase exposure and interaction. These are copied from Twitter in the same fashion as mentioned above. The only difference is that you select «Twitter Buttons» instead of an embedded timeline. Copy the code and paste it in the text widget directly under or above your tweet feed.
Placing the widget in your sidebar of WordPress will make sure it gets the most exposure. Although you can paste the code almost anywhere, the sidebar is one of the areas that is displayed in nearly every post and page on your website. This will maximize the effort of sharing your updates with anyone who visits.
Encourage people to interact with your feed when writing your posts. A lot of developers will include a «call to action» sentence at the end of a post or page. You can write something like, «Leave me a message on Twitter,» or maybe, «Don't forget to follow me by clicking on the feed to the right.»
Gauge how tall you want your feed in the sidebar. By default, it is very long. It may simply be too much information to share in one space. Try to keep your displayed tweets 300 to 500 pixels high. This can be changed when making your widget on Twitter by setting the customization options.
Set customization options that are better suited for your website. For instance, you don't want a dark feed if your website uses lighter colors. It delivers too much of a contrast and may be distracting. Also modify your link colors to reflect the color scheme of your site. It may be more attractive to visitors.
Notable Plugins You Can Use
Although simply embedding the code is easy to add a clean feed to your site, there are a few plugins that are of some use. This is especially true if you want further options available to you.
Another Twitter Plugin
Using Another Twitter Plugin allows you to set up to five different usernames or hashtags you want to collect tweets from on your site. This is convenient if you want to display information regarding various topics of interest or key people. This may work great in a business where visitors can contact staff directly through tweeting.
Rotating Tweets
Rotating Tweets gives you a platform that will rotate the latest messages from timelines, favorites, searches and lists. You can govern over the number of tweets, the speed and the direction of the rotations. It comes with its own widget that is easily set up with any account or using the added shortcode for posts and pages.
Twitter Feed for WordPress
The Twitter Feed for WordPress gives you a stylish way of displaying tweets and a few templates to help you customize the appearance. You have access to a variety of settings such as format, displaying usernames, caching and total number of feeds. It also comes with a button installed so visitors can start following the account with a few clicks of the mouse.
A Twitter widget in WordPress is invaluable when trying to engage a larger audience. It gives people a sense of activity, especially if you update your feed regularly. As social media is a major component of the Internet, any method of using it on your site may work to your advantage.
What kind of social elements do you use on your WordPress website? How often do you use Twitter to share information?