If your business deals with changing prices, you might need to do a mass markup of products. Otherwise, you could be losing money. While you can do this on an individual level with WooCommerce, the Markup by Attribute for WooCommerce plugin can make it easier.
This plugin allows you to group up products that include certain ingredients or commodities. For instance, if you run a restaurant and the price of cheese has suddenly increased, you could raise the prices across the board on all products that include that cheese.
Today, I will demonstrate how WooCommerce attribute pricing works.
What is Attribute Pricing?
Attribute pricing is the process of adjusting prices based on a specific attribute. The attribute can be anything included in a product or service.
One of the best examples would be a gas station. The price of gasoline changes on a daily basis, and what you pay at the pump could change several times throughout the day. This is attribute pricing at its purest form.
Of course, there are also cases like our restaurant example where it was just the price of one ingredient that went up. This can also apply to services, like staying at a hotel. If the price of labor increases, well, that means the cost of paying the cleaning staff increased.
Thus, the overall price will go up with the labor cost being the attribute.
Generally speaking, almost every business will end up using attribute pricing in one form or another. That is as long as you're looking to make a profit from the business.
As a result, your online store needs this ability.
How to Add WooCommerce Attributes
Step 1: Install Markup by Attribute for WooCommerce
Markup by Attribute for WooCommerce is a great tool for any online business that might need to make sweeping price changes on a regular basis. With it, you can either do a percentage increase or you can add a flat rate across the board.
You simply need to add the attributes and the products/services that contain them and you're ready to go. It's pretty straightforward so, you shouldn't have any trouble.
Note: As an add-on for WooCommerce, you need to have the actual WooCommerce plugin installed to use it. Otherwise, you will see an error message.
To start, click on Plugins and select the Add New option on the left-hand admin panel.
Search for Markup by Attribute for WooCommerce in the available search box. This will pull up additional plugins that you may find helpful.
Scroll down until you find the Markup by Attribute for WooCommerce plugin and click on the «Install Now» button and activate the plugin for use.
Step 2: Configure the Settings
As with most add-ons for WooCommerce, you need to configure the settings to better fit your store before using it.
On the left-hand admin panel, click on WooCommerce and select the Settings option.
Click on the Products tab and select the Markup by Attribute option.
The settings are pretty straightforward and do a great job at explaining what each one does. Go through the settings and pick the options that work best for your store.
One setting I would like to point out is Round Markup. Many stores try to have their prices end with a certain value and you've probably noticed it when going through other stores. For instance, many items typically end «XX.99» or «XX.95» and maintaining that is important for some.
This option will ensure prices are rounded to a specific value.
Click on the «Save Changes» button when you are done.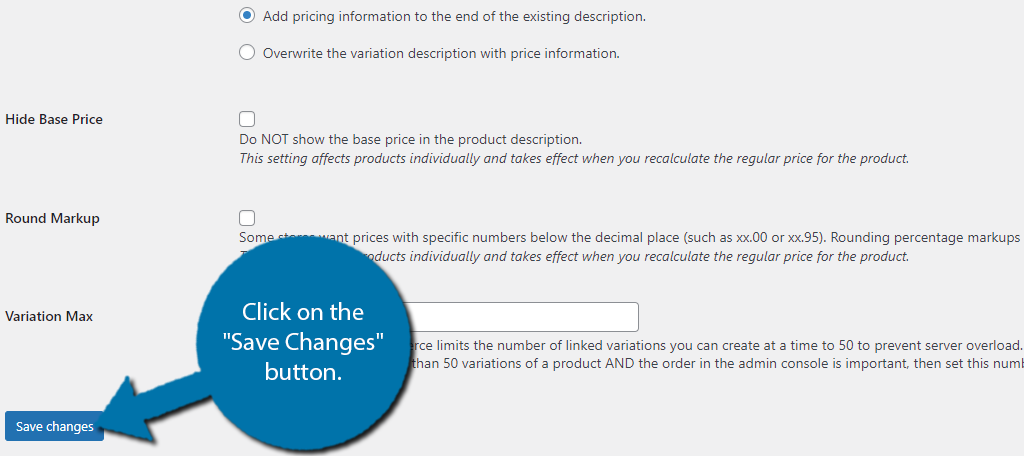 Step 3: Create Attributes
Click on Products and select the Attributes option.
This is pretty similar to creating a category or tag in WordPress. Enter the attribute name, check any boxes that apply, and click on the «Add attribute» button.
Create as many as you feel are necessary. Once you have one or a few created, click on the Configure Terms option next to the name.
You can enter a new name, think of this as a subcategory, where it's reliant on the main one. In this case, we're talking about attributes.
At the bottom, you will see a field labeled Markup (or Markdown) where you can enter the relevant price adjustments. So let's do a quick breakdown of how this box works.
You can enter two different values, a flat rate (like 5) or a percentage (like 5%). This change will be applied to any product that uses this attribute and can be adjusted at any time. For price decreases, you simply need to add the negative sign in front of the value (-5 or -5%).
Be very careful to not forget the % sign if that is what you are using. This can really impact prices if a mistake like that is made.
Note: You can technically add a plus sign in front of a markup value, but this is unnecessary.
Fill in the markup/markdown box.
Click on the «Add New [Attribute Name]» button. In my case, the attribute was gold.
You can repeat this to create multiple price variations of a specific attribute. These will be available in the drop-down when you choose to apply them. You can also edit existing ones on the fly.
Step 4: Add Attributes to Products
The final step is to actually add the attributes to products, and this will be the most time-consuming part of the tutorial, but it's really easy.
Go to any existing product in your store and scroll down to the Product Data section. Click on the Attributes option.
Use the drop-down box to select an attribute, then click on the «Add» button.
Next, you need to select the value, which is another drop-down box. This allows you to select the markup or markdown you created. And yes, this is why naming it is important.
Click on the «Save attributes» button.
Repeat this for all products.
Congratulations on learning how to add markup values to products in WooCommerce.
How to Reduce the Workload
While there's no getting around adding attributes to each product individually, you only have to do this once. At least in theory.
In reality, you can just customize that single attribute that is already applied to the products on a regular basis. This will allow you to make sweeping changes on the fly in less than a minute. However, in these cases, you definitely want to use percentages.
This is because adding a flat rate could go very wrong on certain products. For instance, say the price of gold went up. Adding $5 to every product might seem fine, but what about inexpensive items?
For instance, say a necklace that contained gold cost $20. A flat-rate increase of $5 would be a 25% price hike. That's way too extreme. In comparison, adding a 5% increase would only result in a $1 increase.
TL;DR: Percentages adapt to each product, flat rates don't.
Sometimes Price Hikes Can Hurt Business
It's no surprise that raising the price of your goods can turn customers away. Many desperate business owners will try to increase the price if the profit margin is too low, but in many cases, this backfires.
While you need to make sure you are not losing money, there are cases where it's worth it. For instance, did you know Costco actually loses millions of dollars on their famous rotisserie chicken? They're okay with that because it's a marketing tool. The loss is justified because of the amount of money they make in other purchases from those customers.
If something brings in customers, raising the price is probably the wrong choice.
How many attributes did you need to use? Did you find it easy in WooCommerce to add a price attribute?