Are you looking for a safe way to edit your htaccess file in WordPress? Editing this file can allow you to do some pretty awesome things on your website. However, it is notoriously difficult to edit because one syntax error could take your website offline.
Luckily, there is a simple and safe way to edit the WordPress default htaccess file with a plugin. Today, I will demonstrate how to use Htaccess Editor to do just that.
What is the htaccess File in WordPress?
The htaccess, or hypertext access, file allows you to change how settings affect your web server. By default, if the file is generated (it may not exist in your directory), the webserver will fill it with information.
You can use the file to access additional functionality from your web server that is turned off by default. However, since the file represents the connection between your website and server, one mistake can sever that connection.
Thus, you need to be extremely careful when editing this file.
Where is the htaccess File in WordPress?
The htaccess file should be in your public_html directory, however, it is very common for the file to not be generated at all. There are also a variety of situations that could end up removing it without your knowledge.
If this happens, don't worry there is an easy way to create it.
Note 1: Your website does not actually need the htaccess file to operate. It is only useful when you want to customize the way your web server operates.
Note 2: Depending on your server settings, usually only the administrator account can edit the WordPress default htaccess file. Since the file can easily brick your website this is highly recommended to leave it this way.
Can I Just Use the cPanel to Edit the htaccess File?
Yes, you can.
However, it is far superior to do so using this plugin. But if you are against using the plugin for some reason, then you should edit it in a test environment.
A great way to do this is to create a subdomain, clone your website onto it, and make the changes there. If everything works correctly, you can then just copy and paste the changes to your main website.
Another instance is perhaps you have someone helping you with site development and you don't want them to have root access to your site? Editing the file from WordPress instead of through cPanel prevents someone from making a lot of mistakes or moving files without your permission.
How to Edit the htaccess File in WordPress
Step 1: Installing Htaccess File Editor
The Htaccess File Editor plugin is truly the best plugin to use to safely edit the WordPress htaccess file. Unlike directly editing the file in the file directory via cPanel of an FTP, this plugin will automatically scan your htaccess file and look for syntax errors that would cause a fatal error.
On top of this, the plugin automatically generates a backup of your website each time you edit the file. This ensures that if it does not catch an error, you can still easily restore your website within minutes.
Luckily, getting started with the plugins is really simple, so let's get started.
Note: If you are new to coding it is important to understand the difference between a syntax and logic error. A syntax error is when you type something out incorrectly or forget a semicolon. A logic error is when what you type is correct, but it does something different than intended. This plugin will only catch syntax errors.
Let's start by clicking on Plugins and selecting the Add New option on the left-hand admin panel.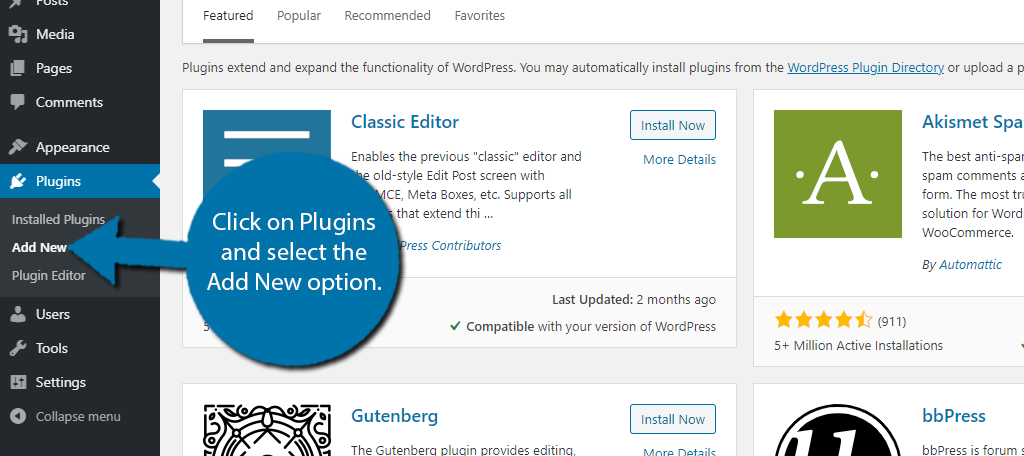 Search for Htaccess Editor in the available search box. This will pull up additional plugins that you may find helpful.
Scroll down until you find the Htaccess Editor plugin, click on the «Install Now» button and activate it for use.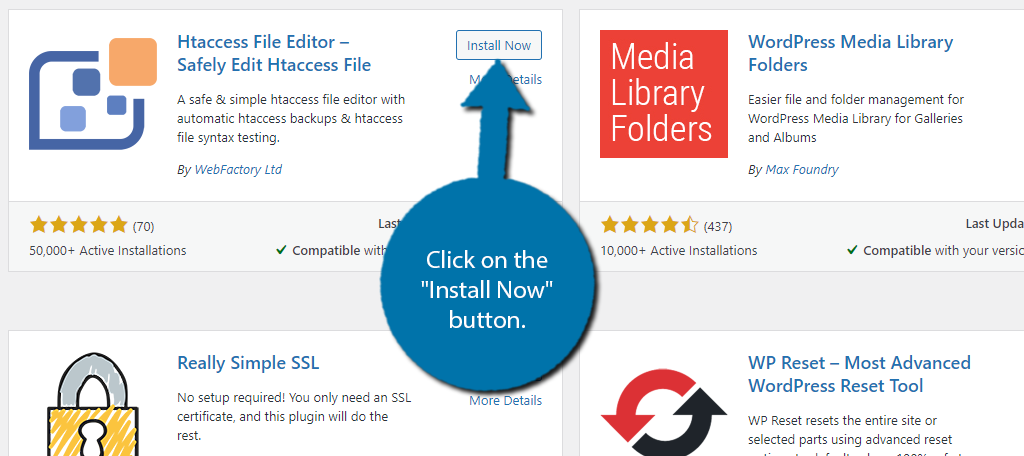 Before going forward, it is very important to talk about the dangers of messing up the htaccess file. Doing so can completely take your website offline and you will not be able to access your website. You will know it is an htaccess error if you see error 500 or a white screen.
If this happens, you will need to use an FTP client to upload a backup of your website. This can be a very frustrating experience if you are new to WordPress. Thus, I only recommend editing the htaccess file if you have the proper knowledge.
Step 2: Using the Htaccess File Editor Plugin
On the left-hand admin panel, click on Settings and select the WP Htaccess Editor option.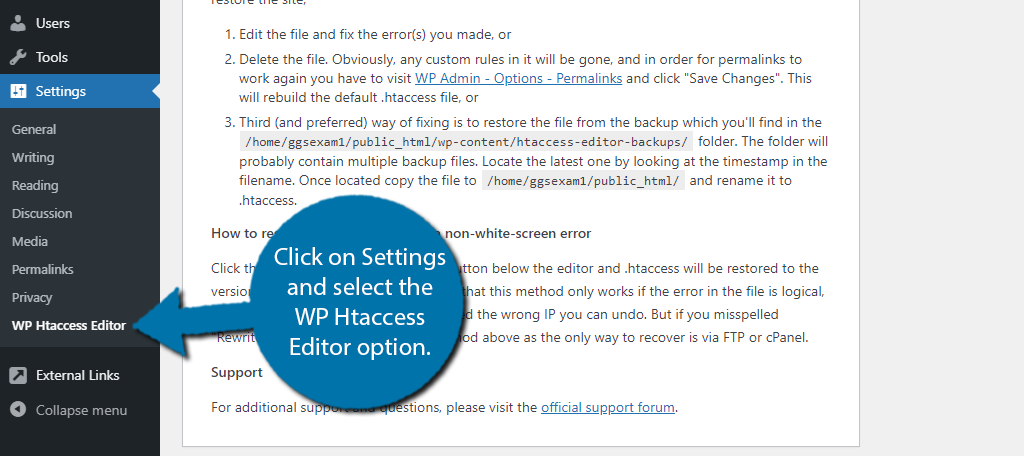 The first thing you should see is the «please read carefully before proceeding» section.
This outlines what to do if you do not correctly edit the file. I highly recommend copying everything in this section and paste it into a Notepad or Word document. If you make a mistake, you will not be able to access your website to read it.
Underneath this section, you should see a red box warning you about editing the htaccess file. It also informs you that a backup is created when you make a change.
Click on the «I understand. Enable the editor.» button.
You will now have full access to edit your Htaccess file. At the bottom, you will notice three buttons. These include the Save Changes, Test Before Saving, and Restore Last Backup buttons.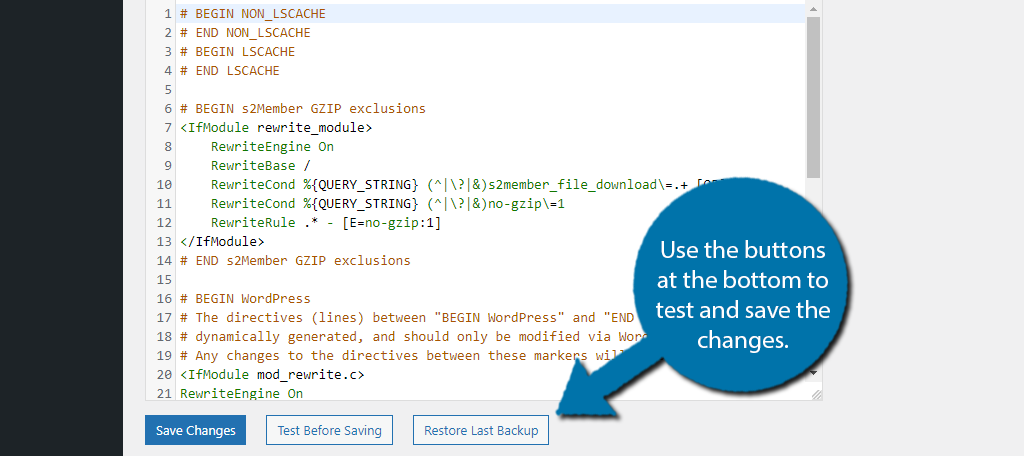 Always click on the Test Before Saving button first. This will check for syntax errors.
If something is not working correctly after making a change and you are not experiencing an Error 500, you can use the Restore Last Backup button to correct the problem.
Congratulations on learning how to safely edit your htaccess file in WordPress.
Uses for the htaccess File
Now that you know how to safely make edits, here are a few of the things you can do when you edit the WordPress htaccess file.
Redirect Users to a Custom Error Page
There are many common WordPress errors that you will encounter while running a website. These errors are very inconvenient and can hurt your SEO. You can mitigate the effects by redirecting visitors to a customer error page.
Note: This can be used for general redirection as well.
Decide What File to Use as the index File
By default, when visitors access your website, they will encounter something along the lines of www.ggsexample1.com/index.html or www.ggsexample1.com/index.php. You can actually change what file will act as the index within the htaccess file.
Password Protect Files
Security is a big concern for every website, and one way to improve it is to password protect your files. This ensures that only people who are supposed to access a file do so. You can do this through the cPanel, but it is far quicker to do so through htaccess.
Caching
Caching can help speed up your website by removing temporary files that slow the experience. You can actually clear your cache from within the htaccess file, but you really should consider using a caching plugin to get the best results.
Additional Plugins to Edit htaccess in WordPress
If you are interested in looking at some other plugins that allow you to easily edit htaccess in WordPress, here are a couple you might want to consider looking into.
WP htaccess Control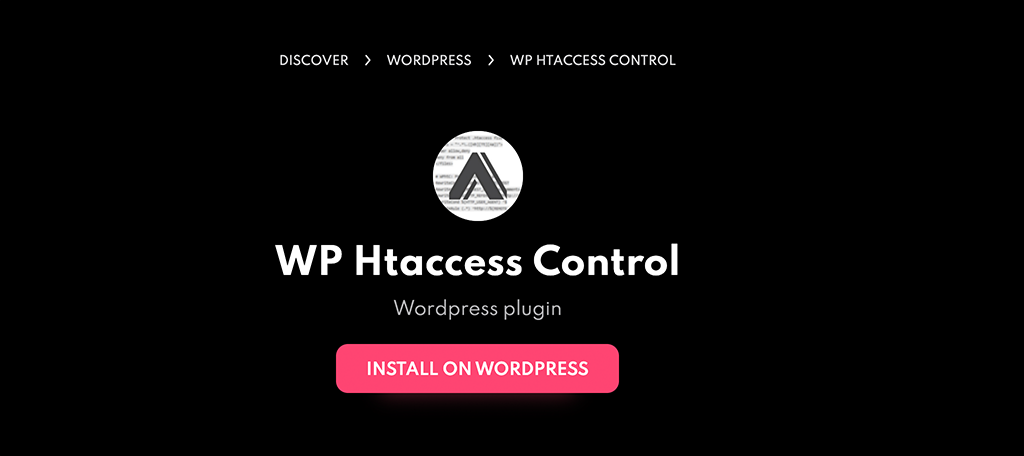 WP htaccess Control will provide you with an interface to customize the htaccess file generated by WordPress. You will also get access to its permalinks (author, category, archives, pagination, and custom taxonomies). Give it a look to see if it is right for you.
Ht Access File Editor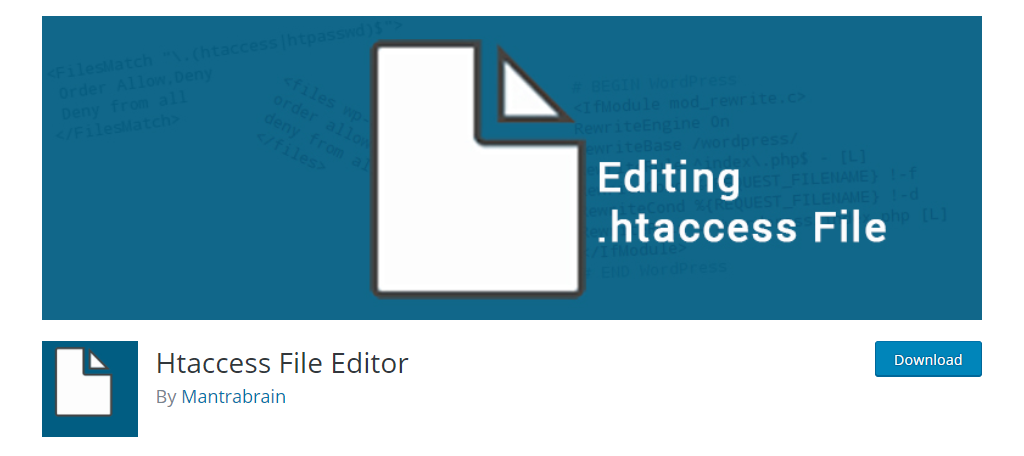 Htaccess File Editor is another great plugin to use if you need to edit the htaccess file in WordPress. The plugin gives you the ability to edit the file without having to use FTP. Simple as that.
Yoast SEO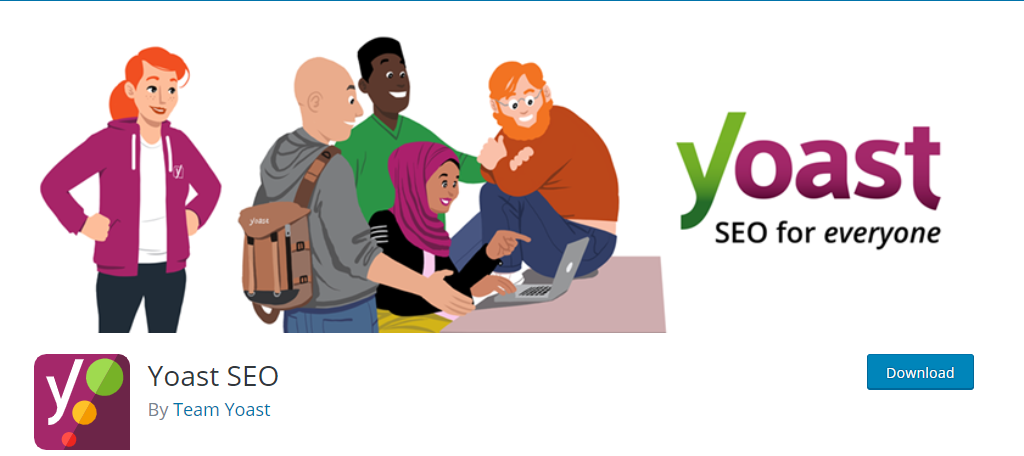 You might already have Yoast SEO installed on your website. On top of its SEO tools, you can also edit the htaccess file. Yoast offers a superb file editor that can edit the htaccess file and others. This is one plugin every website should install.
Consider if You Need to Edit the htaccess File
The htaccess file is convenient for making a variety of changes in one single location, but it is risky.
You can achieve the same result with a plugin or by editing a less important file in almost every case. Thus, you should ask yourself, do I really need to edit the htaccess file?
To be perfectly honest, if you are not experienced in coding, you should not do it. The biggest appeal of the WordPress platform is that you can create an amazing website without writing a single line of code.
Why do you want to edit the htaccess file? Did you consider using a different method instead of editing htaccess?