Have you ever watched a movie but just couldn't remember the actor's name? If so, you probably used IMDB to find out who was in the movie, and you can do the exact same thing with the Shortcode IMDB plugin in WordPress.
This plugin is perfect for any website that talks about movies on a normal basis, like a fan site or one that focuses on reviews. You can easily add all of the IMDB data to any post or page on your website with a single shortcode.
Today, I will demonstrate how to improve a fan site with the IMDB Shortcode plugin.
What Is IMDB?
IMDB is the most popular movie and television database. You can find information about every movie or show including the actors, summaries, ratings, trivia, and more. It's the ultimate resource when it comes to movies.
And visitors do not have to pay a penny to access it, which is why it's so popular.
Why Add IMDB to WordPress?
Depending on the nature of your website, it can be extremely useful to add IMDB information to your posts or pages.
For instance, perhaps you are creating a trailer breakdown post. Since it is still just a trailer, many visitors might want to know more about the movie, and that's exactly where IMDB shines the most.
You can provide all of the movie info from a source people trust.
Of course, IMDB isn't just for movie data. It also contains actor biographies and any position they held in the industry. Such as being an actor, producer, or director.
This can be great if your website ever finds itself talking about specific celebrities. It can show all of the movies they have been in, their biography, where they studied, and just about anything else the internet knows about them.
Overall, an IMDB tag can really help provide more information to their audience.
How To Use Shortcode IMDB
Step 1: Install Shortcode IMDB
Shortcode IMDB allows you to grab data directly from IMDB and display it on WordPress. To put it simply, all you need to do is copy part of the IMDB URL and paste it between the shortcode tags. It's really that simple.
It even has integration options for WooCommerce. This is perfect if you sell DVDs or Blue Rays on your site because you can include all of the information most people may look up naturally.
This keeps them on your website and improves sales. However, this feature is a premium add-on.
Let's start by clicking on Plugins and selecting the Add New option on the left-hand admin panel.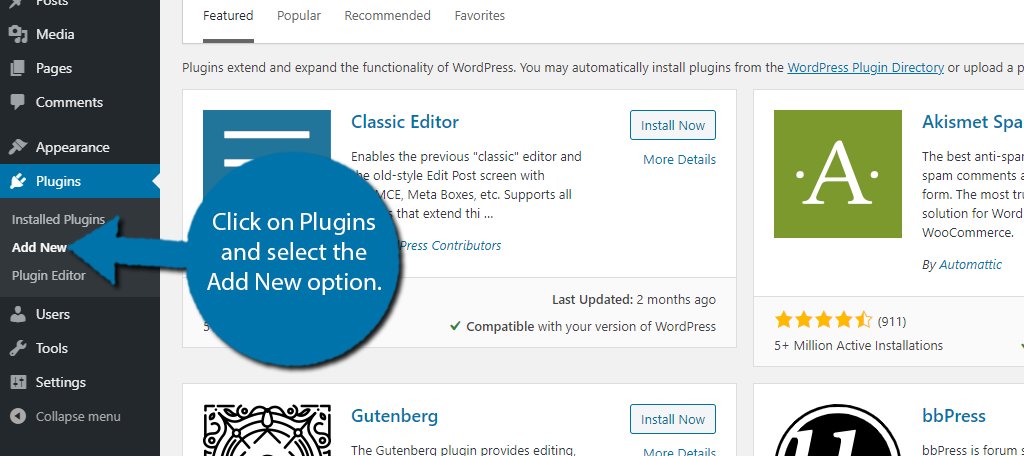 Search for Shortcode IMDB in the available search box. This will pull up additional plugins that you may find helpful.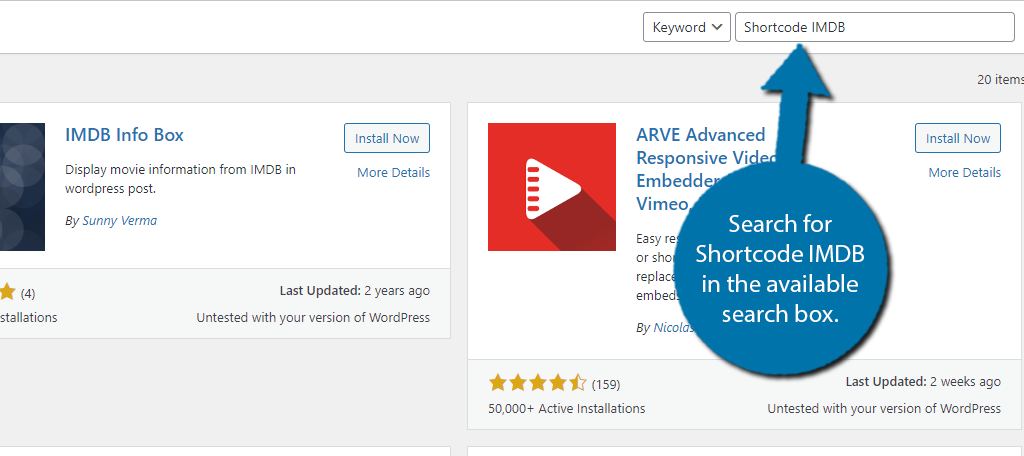 Scroll down until you find the Shortcode IMDB plugin and click on the «Install Now» button and activate the plugin for use.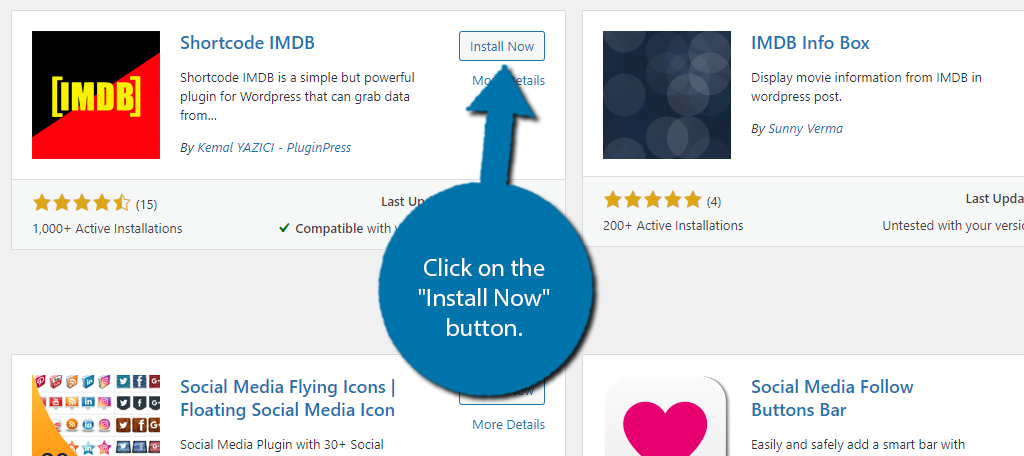 Upon activation, you will see quite a few messages saying an API Key is required. These messages can be closed by clicking on the small «x» to the right. Otherwise, you will need to get an API Key from PluginPress.
If you want one, I'll highlight where to find it in the next step. If not, skip to step 3.
Step 2: Obtain An API Key (Optional)
The plugin is fully functional without a shortcode. All of the messages you see about needing an API Key are for the premium add-ons. They can be very annoying, and that by itself, might be enough to keep people from using this plugin.
On the left-hand admin panel click on Shortcode IMDB and select the Shortcode IMDB option.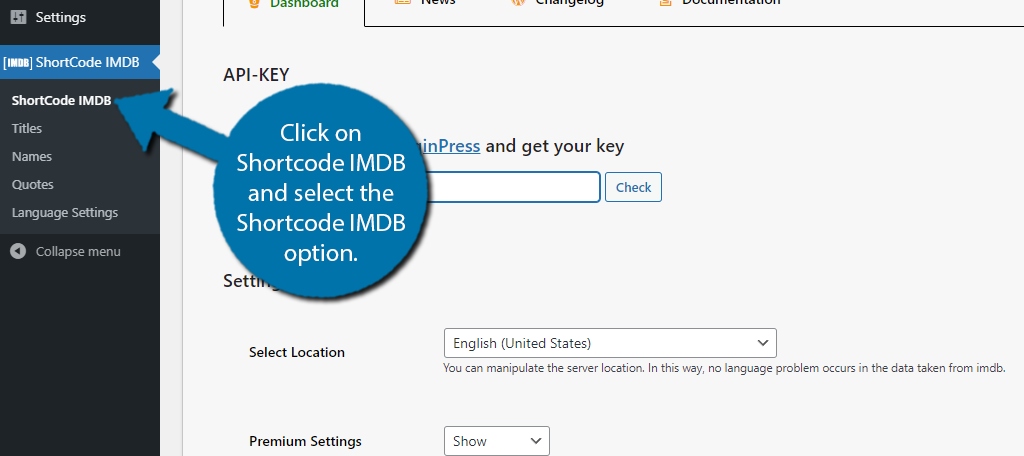 You should notice that the first option is for an API Key. You can get one from the PluginPress website (they made the plugin). Click on the PluginPress link.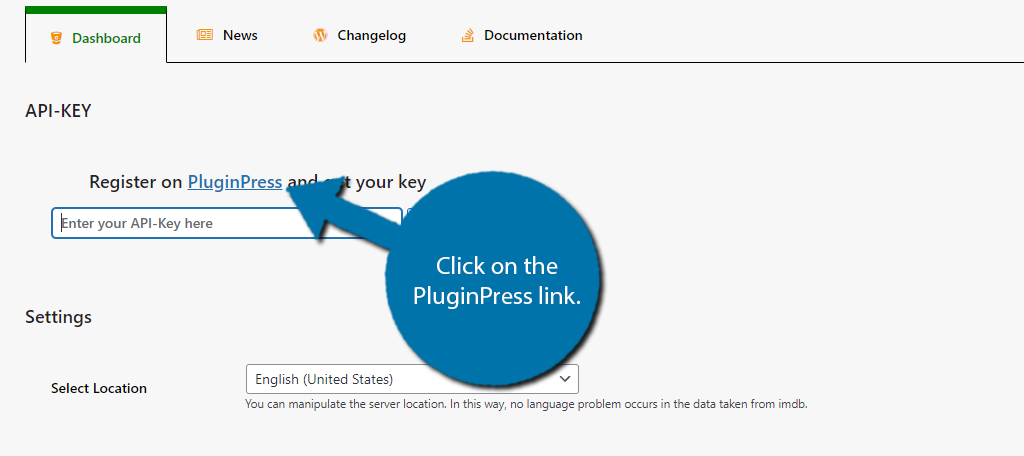 On the PluginPress website, scroll down and click on the «Register Now!» button to start an account. If you already have an account from one of their other plugins, feel free to log in.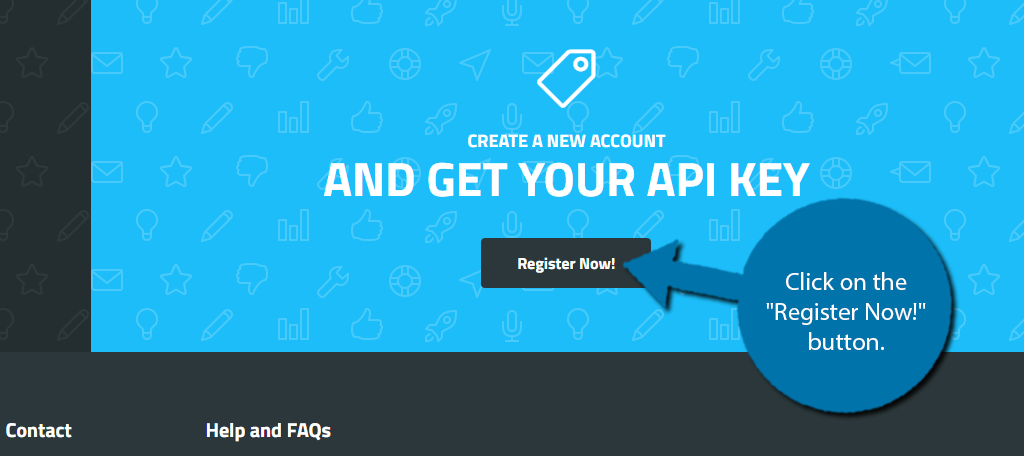 Fill in the necessary information and go through the registration process. This will require billing information as the API key is for premium add-ons.
Then, simply locate the API Key in your account and insert it into WordPress.
Step 3: Create An IMDB Shortcode
As you might have guessed from the name, you are going to use shortcodes to add IMDB data to your website. The good news is that they just consist of the IMDB shortcode tag ([IMDB][/IMDB]) and a small piece of information from the IMDB URL.
First, let's get the IMDB information.
In this example, I will include an IMDB box of Robert Downey Jr. in WordPress. The process is identical for anyone else, or for any movie. Visit IMDB search for the actor or movie you want to include information about and take a look at the URL.
You should notice a series of letters and numbers at the end of the URL, copy it.
Next, go to any post or page on your website and add a shortcode block.
Now you need to create the shortcode, but that's really simple. In my case, I simply add the IMDB shortcode tag and paste the piece of the URL I copied in between, like so:
That's it. Now just save the changes, and view the post or a preview to see the IMDB box on your website.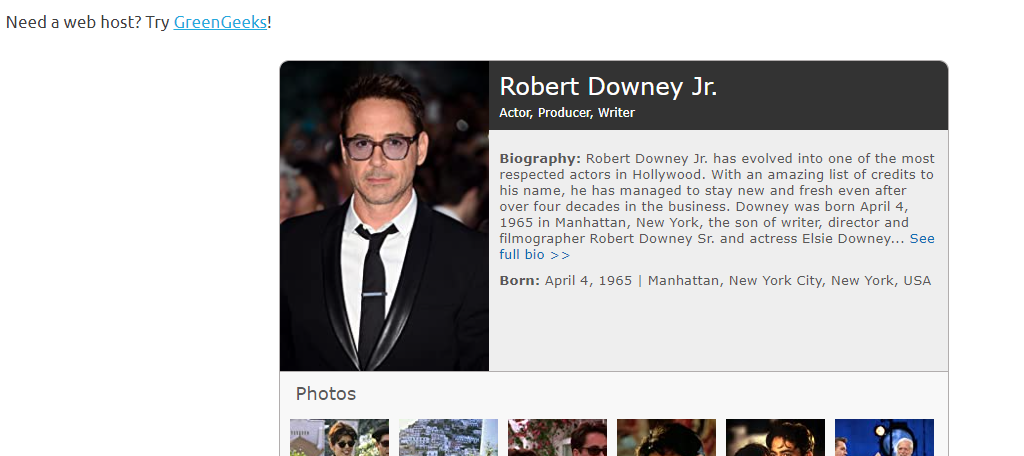 If you are wondering how to add movie IMDB data in WordPress, it's the exact same process.
The box is similar for movies, but the main difference is that you can find the IMDB rating in the top right corner and it also includes a trailer for the movie.
Here is Iron Man as an example: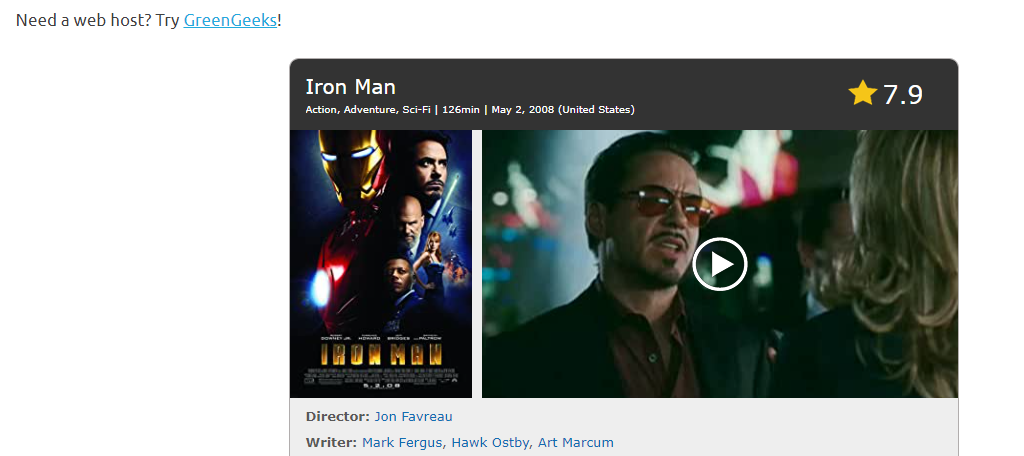 Congratulations on learning how to use the Shortcode IMDB plugin. Remember that you will need to add the shortcode onto each page or post individually.
Does This Work For Widgets?
Sadly it does not, at least when I tested it. But this could change in future updates. And this is most likely due to the size of the IMDB box that it adds. It is not small by any means and would take up too much space in a widget area.
In fact, it might take up all of the space. It also wouldn't make much sense.
After all, unless your website is dedicated to Iron Man, it would be a bit strange to see an IMDB report on Iron Man on every post or page of the website as a sidebar widget.
IMDB Is the Ultimate Movie Database
When it comes to movies and television shows, IMDB is the most recognizable resource on the internet. Thus, it's the best option for your own website. The only exception is if you were trying to build a better one, but good luck with that.
One of the biggest advantages of using this plugin is that it also includes movie trailers. This can be a great tool when you want to talk about a new trailer that is available.
Of course, you might already have a plugin dedicated to videos, so be sure to avoid having the same video twice on a page or post.
Not only does it look sloppy, but it also slows down your website.
How do you plan to use IMDB data on your website? Did you find creating shortcodes easy to do?