One of the most important aspects of setting up an online presence is your domain name. You want to be recognized and remembered, so getting the right domain name is key.
What is a Domain Name?
Simply put, a domain name is an address that you type into a website browser address bar when you are trying to go to a particular site.
For example, the domain name for our website is:
A domain name is unique to your website. Think of it kind of like a fingerprint. In other words, if you own a domain name, then no one else can get it. This is another reason why picking a solid domain name is so important.
Different Parts of a Domain Name
There are several parts of a domain name and each has it's own purpose when used correctly. These include:
Top-Level Domain or TLD
Generic Top-Level Domain or gTLD
Country-Code Top-Level Domain, or ccTLD
Sponsored Top-Level Domain or sTLD
Second-Level Domain
Subdomain
Domains can also be registered using dozens of different available domain extensions. You are probably most familiar with .COM, .ORG, .NET, and a few others. However, there are dozens and dozens of different domain extensions to choose from.
How To Register a Domain Name
You can register a domain name with GreenGeeks two ways. If you are opening a hosting account, then you get 1 free domain name as part of the registration process.
Simply click on any of the "Get Started" green buttons on the plan of your choice and you will be walked through the hosting and domain registration process.
If you want to register another domain at any time, then follow these steps.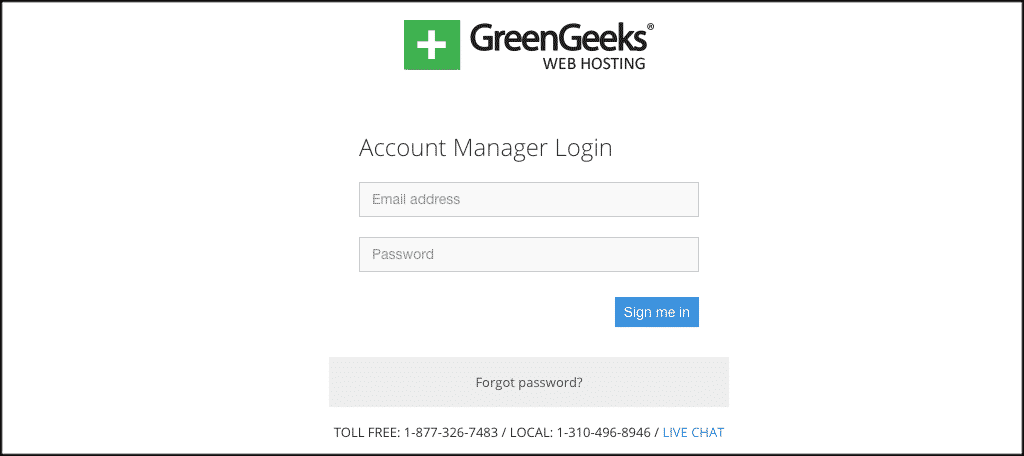 On the left side menu click on Domains > Register a Domain.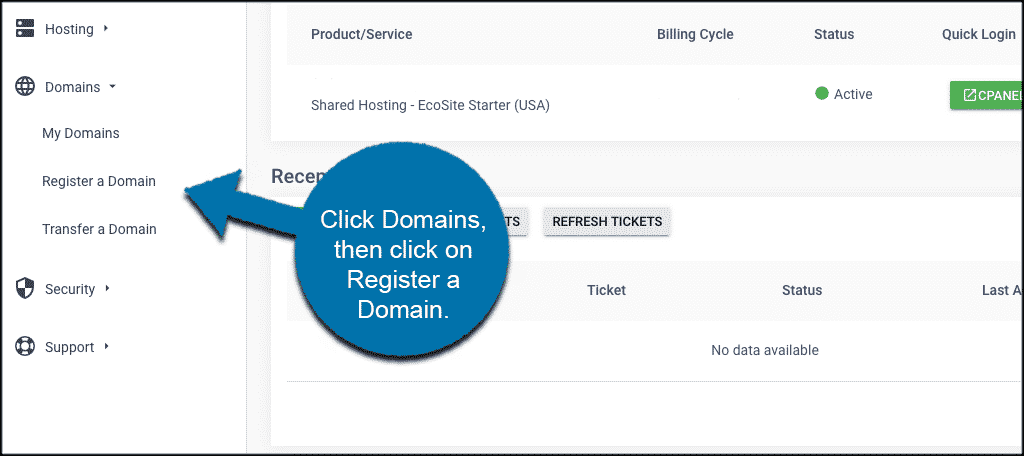 Enter the domain name you want to register and click on the "Domain Lookup" button to see if the name is available for registration.
If it is, you will get a text telling you that is available. Click on the "Go To Next Step" button to move on
If the domain you looked up isn't available, then you will have to try a variation of what you want.
Note: Remember that you can try the domain name using different domain extensions if you want. For instance, "yourdomain.net" or "yourdomain.biz."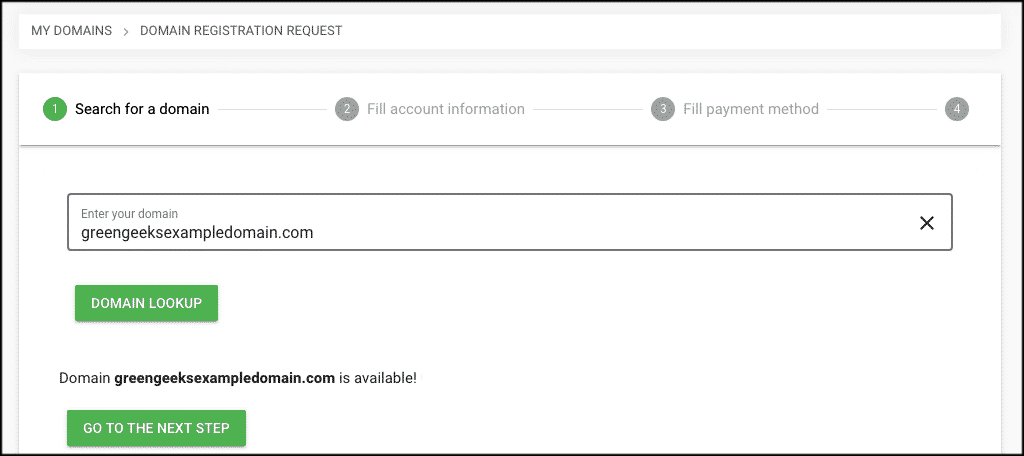 Since you already have an account with GreenGeeks, no additional account information will be needed and you can go to the last step. Click on the "Go To Payment" button.
Now go ahead and fill the payment information out. When you are ready, click on the "Purchase Domain" button and that's it!
You have successfully registered a domain.
Other Helpful Domain Information
If you are still in need of some domain name related help, then use these resources to find what you are looking for.