GreenGeeks has released a new dashboard update concerning account privacy. Customers can now request account records and delete their profiles completely from the dashboard.
Go To the Privacy Page
Log into your web hosting account. In the top right corner, click on the downward arrow and select the My Profile option.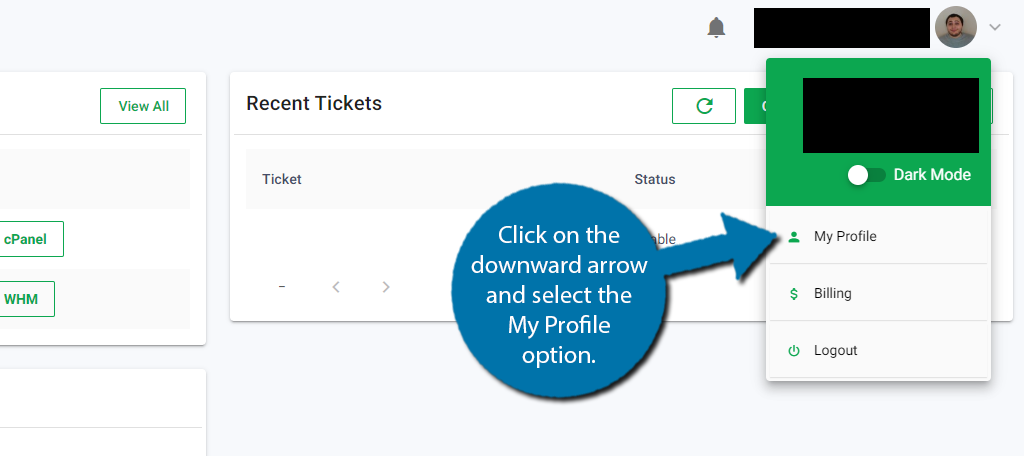 There are two new additions to this page.
Access My Data Records
First is Access My Data Records.
This is a listing of all data held by GreenGeeks in regard to the customer's account. This includes things like service information, ticket history, invoices, and more.
Customers can click on the "Access My Records" button.
This will open an additional dialogue box asking you to confirm that you want the records.
The request will be shown in the request table below and the download button will be made available once the request has been fulfilled, and the data generated.
The data is supplied as a JSON export and may take up to 24 hours to generate, and the export JSON will be available to download for 60 days.
Request Profile Removal
This is to request that GreenGeeks will delete any data held about the customer's account. Only the customer can make this request. A customer service representative cannot do it on their behalf.
Simply click on the "Request Account Closure" button to remove your profile.
NOTE: The client can only request removal if they have no active services. Clients with active services cannot be deleted.