It's not difficult to create a new subdomain for your GreenGeeks website. All it takes is a few minutes of your time.
You can also edit, remove, or redirect subdomains, which are covered further down in this article.
Creating Your New Subdomain
Step 1: Log into cPanel
Step 2: Click the Subdomains Link
Scroll down to the Domains section of cPanel. Here, you'll find a host of features. Click on the Subdomains link.
Step 3: Input Subdomain's Name or Title
Enter the subdomain you wish to create. For example, if you wanted a special section of your website for posting tutorials about your products or services, you could enter, "tutorials."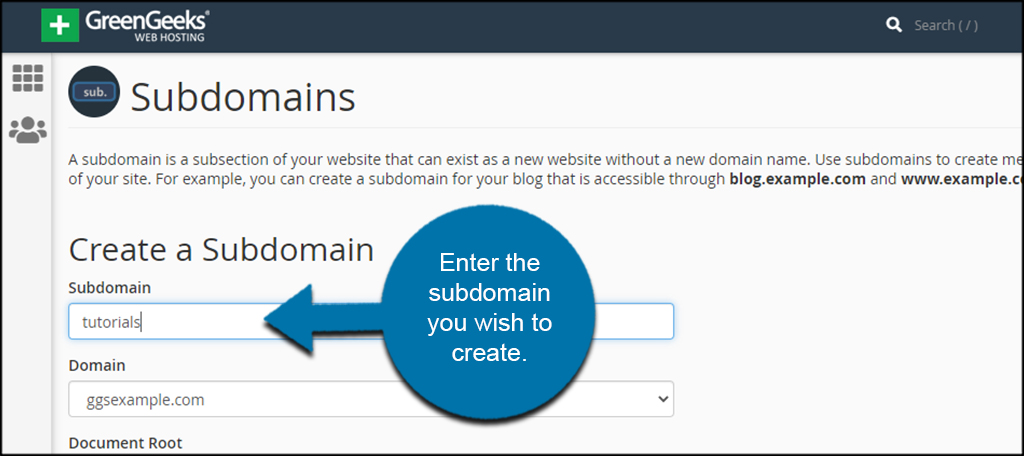 Step 4: Make Sure Primary Domain is Correct
Before creating a subdomain, make sure the primary Domain in the drop-down list is correct. If you only have one website, this should be your primary domain by default.
But if you have more than one website hosted at GreenGeeks, use the drop-down box to select the domain you want to associate with the subdomain.
Step 5: Input Document Root (if necessary)
By default, cPanel will use the name of your subdomain as the root folder on your account. This is perfectly fine in most instances. But if you want to save the subdomain in another directory, you can change it here.
Step 6: Click the "Create" Button
Once you enter the information for the subdomain, just click the "Create" button.
But as I said, in most cases, using the default is recommended. It helps with organizing and finding your files later on.
You should see a success message.
Edit, Delete, or Redirecting Subdomains
Any time you want to make adjustments to your subdomains, access the list by using the same methods above for cPanel.
Then, scroll down to the section, "Modify a Subdomain."
Changing the Root Directory
To change the root directory of the subdomain, click the pencil icon next to it under "Document Root."
Input a new root directory and click, "Change."
Deleting the Subdomain
To delete a subdomain, click the "Remove" link under the Actions column.
This will bring up a new screen. Confirm you want to permanently remove the subdomain by clicking, "Delete Subdomain."
Redirecting Subdomain
To redirect the subdomain to a different URL, click the "Manage Redirection" link for the subdomain.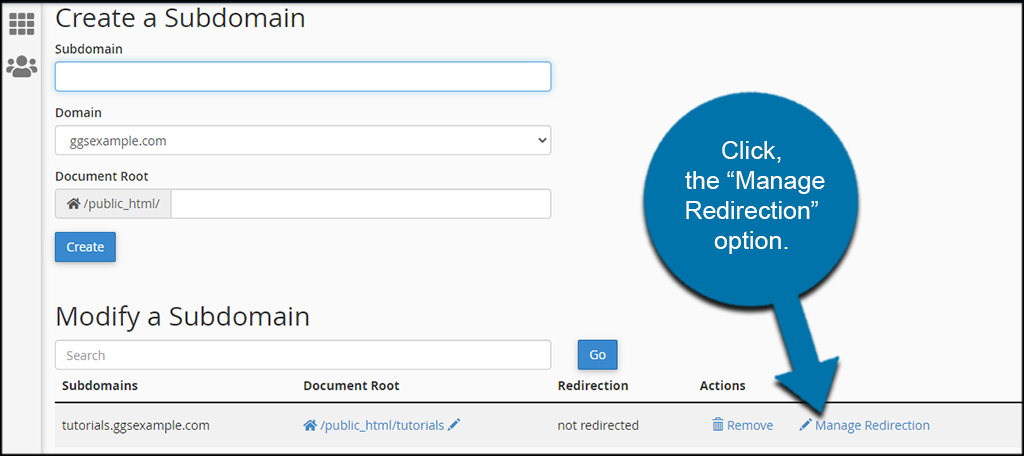 Insert the URL you want the subdomain to forward traffic to and click, "Save."