What Are Private Nameservers?
Private name servers are your own DNS name servers, for example, ns1.ggexample.com and ns2.ggexample.com.
What Are the Benefits of Private Nameservers?
The benefits are mainly in branding; there are no technical benefits. If you prefer not to use private name servers, you can use the anonymous name servers chi-ns1.websitehostserver.net and chi-ns2.websitehostserver.net.
What Are My Private Nameserver IP Addresses?
In the "Reseller Account Information" email you received when you set up your account, look for the "NS Private IP" entries.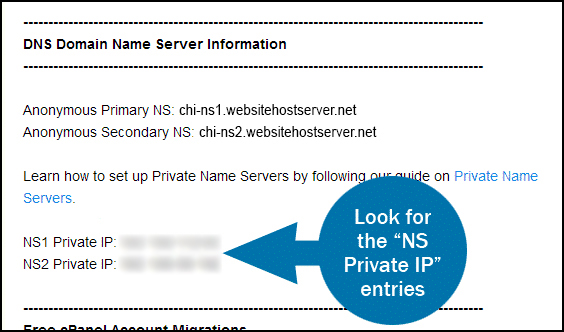 How Do I Set Up Private Nameservers?
If you registered your domain through GreenGeeks, the article, Registering Private Nameservers for Domains Registered Through GreenGeeks will step you through the process.
If you registered your domain name elsewhere, you will create private name servers at the registrar that manages your domain. Look for a control such as "Register DNS," "Create DNS," or "Add DNS" in your domain management portal. If you have any questions, contact the domain registrar and let them know that you would like to register private name servers for your domain.
My Private Nameservers Have Been Registered, Now What?
See the article, How to Set Default Nameservers in WHM.